Monday, 7 December 2020
What we're tracking on 7 December 2020
Good morning, friends. It's an oddly quiet Monday on the global front — and a busy newsday here at home — so let's jump right in:
WHAT'S HAPPENING TODAY- President Abdel Fattah El Sisi is meeting today with France's Emmanuel Macron in Paris, where El Sisi landed yesterday for a two-day visit.
The Coptic Church has suspended masses and other church services including funerals in Cairo and Alexandria for a month starting today due to rising covid-19 cases, it said in a statement. We have more in Last Night's Talk Shows, below.
Time is running out for EGX-listed companies without a woman on their BoD, market regulator warns: Companies listed on Egypt's bourse are fast approaching the 31 December deadline to comply with a regulatory decision to have at least one woman sitting on their board of directors, the Financial Regulatory Authority reiterated in a statement (pdf).
By our math, just under half of the EGX30's constituents have no women on their boards. Egyptian businesses are lagging behind the rest of the world when it comes to gender diversity in the boardroom, two recent studies found (here and here). Nasdaq-listed companies could also face the same requirements under a new policy proposal, while Germany already imposed the one-woman quota for listed companies' BoDs last month.
The dispute between real estate developers and the Finance Ministry over the imposition of VAT on non-residential properties could be resolved this month. Developers have been less than pleased by the ministry's plans to charge 14% VAT on the rent and sale of non-residential properties, and have been trying to persuade it to scrap the plans entirely. But the Federation of Egyptian Industries' real estate division can broker a compromise by agreeing to an effective 1.4% VAT rate, the local press reports.
CIRCLE YOUR CALENDAR-
The Egyptian-American Enterprise Fund is hosting a webinar on the future of Egypt's private sector at 11am EST (6pm CLT) on Tuesday, 8 December. Speakers include our friends Ashraf Sabry (Fawry) and Magda Habib (Dawi Clinics). You can register for the event here and check out the flyer here (pdf). Note the time change from yesterday's issue, please, folks.
Other key dates for your diary this month:
Inflation data for November will be released on Thursday, 10 December.
The CBE's Monetary Policy Committee will meet on 24 December to review interest rates.
** Take a few minutes to look up at the sky after dark on 21 December to see Jupiter and Saturn in their closest visible alignment in nearly 800 years. The conjunction will make the two planets and their moons appear to be as close together as the width of a dime — although in reality they will remain 400 mn miles apart. If you miss it? You're gonna have to wait until 2080 to see this phenomenon again, the New York Times says.
Check out our full calendar on the web for a comprehensive listing of upcoming news events, national holidays and news triggers.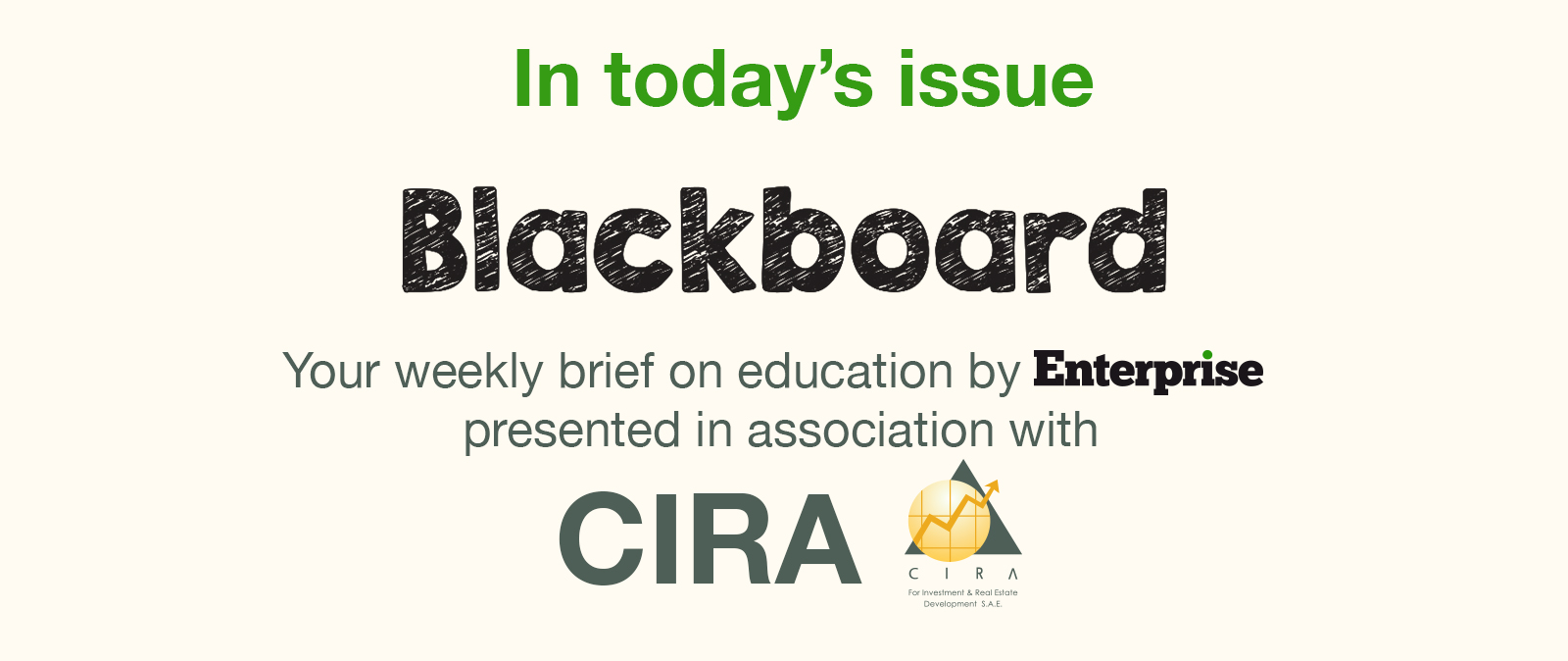 *** It's Blackboard day: We have our weekly look at the business of education in Egypt, from pre-K through the highest reaches of higher ed. Blackboard appears every Monday in Enterprise in the place of our traditional industry news roundups.
In today's issue: Back in June, we ran a poll asking how online learning was working out for children and parents, with many of you saying that online platforms needed to be more interactive and less reliant on parental involvement. Now, three months into the new school year, a follow-up survey asks whether the blended learning models being run by schools are an improvement. The short answer? Blended learning tops online learning, but many of you still see it as a poor substitute for being in the classroom full time.