Monday, 21 September 2020
What we're tracking on 21 September 2020
Good morning, friends, and welcome to another busy September morning. Let's jump right in:
It's interest rate week: The Central Bank of Egypt's Monetary Policy Committee meets to review interest rates this Thursday. All 11 analysts and economists we surveyed expect rates to be left unchanged for a fifth consecutive meeting.
The Madbouly Cabinet's decision to relax some restrictions on mass gatherings comes into effect today. Public wedding celebrations, funeral prayers, expos, and some sports and educational activities will resume — subject to restrictions — for the first time since March after the government last week agreed to ease curbs on gatherings.
EFG Hermes' virtual investor conference kicks off today and wraps next Thursday, 1 October. You can visit the conference website here.
The building that will house the newly-constituted Senate will be ready to hold sessions by the end of the week, state news agency MENA quotes the body's acting secretary-general as saying. Sessions will be held in the old Shura Council building before the Senate moves to the new administrative capital as early as next year.
The date of the first session is still TBD: President Abdel Fattah El Sisi is expected to appoint the remaining 100 senators to the 300-seat chamber "during the next few days," after which the first official session will be held. Nationwide elections held in August and September saw 200 representatives elected to the Senate.
---
GOOD COVID (related) NEWS- It's time you started thinking big once again, says the Wall Street Journal, noting that CEOs are rediscovering they had big ambitions as the pandemic grinds on. Company leaders are shifting "from survival mode to strategic moves with takeovers, leadership changes and restored financial targets" all on the agenda. A must-read.
GOOD-BAD COVID NEWS- The coronavirus may be mutating to become less lethal, according to a study in the Lancet. But it might be worth rethinking that "flight to nowhere": The virus really appears to like attacking folks on airplanes, per a CDC paper.
CREEPY NEWS- WhatsApp knows when you're sleeping, it knows when you're awake… It's time to break out your tinfoil hats, ladies and gentlemen. Tracking apps allow creeps to use your WhatsApp activity to "figure out when you're sleeping and who you're talking to on the app," CNBC reports.
---
The Health Ministry reported 115 new covid-19 infections yesterday, down from 128 the day before. Egypt has now disclosed a total of 102,015 confirmed cases of covid-19. The ministry also reported 20 new deaths, bringing the country's total death toll to 5,770. We now have a total of 89,532 confirmed cases that have fully recovered.
The first post-covid flight operated by Swiss carrier Chair Airlines landed in Hurghada yesterday, the Civil Aviation Ministry said in a statement.
Private carrier Nile Air saw revenues plunge 90% during FY2019-2020 as it struggled amid competition from budget airlines and the suspension of flights during the pandemic, Vice President and Managing Director Yossrey Abdel Wahab told Al Mal. The company shelved in May its plans to IPO on the EGX this year and scaled back ambitions to upgrade the size of its fleet.
Russia inks agreements to sell covid-19 vaccine globally: Russia has reached early agreements to ship its Sputnik V vaccine to more than 10 countries in the Middle East, Asia, and South America, the Wall Street Journal quotes officials as saying. Russian authorities are in talks with some 10 others, and have received inquiries and requests for nearly 1.2 bn vaccine shots. Egypt, the UAE, and Belarus were among the countries Russia recently announced it partnered with on vaccine clinical trials.
Take a moment to breathe in and watch the beauty around. It's time for your mind to wander to beautiful places at Somabay and let nature work its magic.
Emerging market bond funds are enjoying their longest rally since 4Q2017, when the asset class saw 12 straight weeks of gains, according to EPFR Global data. Driven by the collapse in yields in the US and Europe, EM bonds have now seen 10 consecutive weeks of net inflows, with most of the money coming during a three-week period in late August and early September when flows hit USD 8 bn. Despite falling considerably from March as EM central banks slashed policy rates, yields continue to remain attractive: sub-investment grade EM bonds are currently paying a 7.6% yield, more than 300 bps higher than their counterparts in the US, according to JPMorgan and Bloomberg Barclays index data. The Wall Street Journal and Bloomberg have the story.
Global trade is rebounding faster from the covid slump than it did from the 2008 financial crisis, despite suffering the sharpest y-o-y drop since the Great Depression, the Wall Street Journal reports. This comes as consumers up their spending on imported goods and shipping activity begins to normalize following months of turmoil caused by the Great Lockdown.
The big banking scandal of 2020: Thousands of leaked documents have revealed the extent of complicity between some of the world's largest banks and organized criminal networks. The documents, handed to Buzzfeed and the International Consortium of Investigative Journalists, show that banks such as JPMorgan, HSBC and Deutsche Bank facilitated the movement of dirty money across borders, assisted ponzi schemes and enabled money laundering.
Also worth knowing about this morning:
Saudi energy firms are eyeing consolidation to weather the pandemic's blow to the oil industry: Saudi Industrial Investment Group (SIIG) and National Petrochemical Co. (NPC) have kicked off merger talks to create a USD 11 bn energy company amid slumping oil prices, according to Bloomberg.
Donald Trump's blessing may not be enough to get the TikTok sale over the line: The TikTok-Oracle agreement to split the Chinese media giant's US operations is coming under scrutiny. The key sticking points: ownership and a USD 5 bn donation to a "patriotic" education fund. (Bloomberg | FT | WSJ)
Antitrust momentum is building against Big Tech as the EU mulls new measures that could see it gain the power to break up firms or force them to sell some of their European operations if their market power threatens consumer and small business interests, the Financial Times reports. This comes as the US Justice Department prepares to file an antitrust case against Google parent Alphabet as soon as this month.
---
US ELECTION WATCH- The stage is being set for a pre-election Supreme Court showdown: House Speaker Nancy Pelosi yesterday refused to rule out impeaching The Donald or his attorney general after the president vowed to appoint a new judge to the Supreme Court following Justice Ruth Bader Ginsburg's death, CNBC reports. Trump promised to name Ginsburg's successor "without delay" and says he will nominate a woman.
The story, and its potential impact on the election, dominates the front pages this morning: New York Times | Washington Post | Financial Times | Wall Street Journal | Bloomberg | BBC.
The Emmy awards were still rolling at dispatch time, with Schitt's Creek sweeping the comedy categories and HBO again winning top drama for Succession. The NYT's liveblog is worth checking out to get up to speed.
SIGN OF THE TIMES- American MBA programs are starting to lose their appeal: Put off by online learning and the Trump administration's strict visa rules, international graduate students are less keen on the US as a top MBA destination, a Bloomberg Businessweek survey of over 3,500 students from 95 business schools worldwide shows. Local and international students seemed to have the same reading on the efficacy of online learning and the quality of the material, but international students, who accounted for 38% of those surveyed, reported lower levels of confidence in the return on investment from getting their degree online. Speaking of which: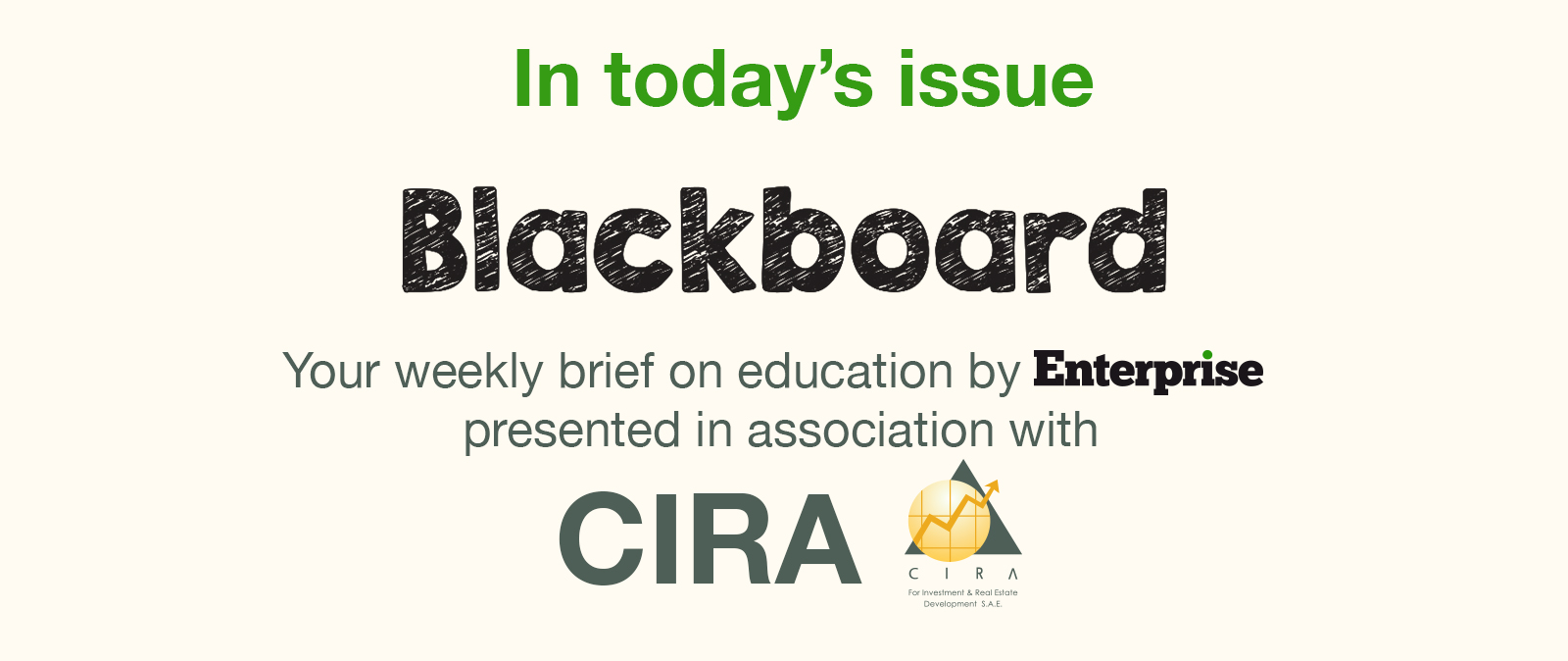 *** It's Blackboard day: We have our weekly look at the business of education in Egypt, from pre-K through the highest reaches of higher ed. Blackboard appears every Monday in Enterprise in the place of our traditional industry news roundups.
In today's issue: With covid-19 forcing international students to think about their study choices harder than ever, will the UK and US government's chaotic responses to the pandemic persuade Egyptians to look elsewhere?