Wednesday, 16 September 2020
What we're tracking on 16 September 2020
It's another busy news day as we hurtle toward the end of the week, so let's get this show started.
The Central Bank of Egypt has extended until the end of the year the decision to waive fees associated with EGP transfers and ATM withdrawals put in place on 15 March as part of its measures to drive transactions to online channels and cushion the economic impact of the covid-19 pandemic, a bank statement (pdf) said. The bank will also defray itself the c. EGP 50 mn total cost of fees associated with withdrawals of pensions to alleviate the financial burden on the elderly, it said.
And that's not all: There will be no fees for the opening of e-wallets, the issuance of prepaid cards, and balance transfers between mobile phone users. The CBE also instructed banks to waive fees for merchants on contactless "tap & go" transactions worth less than under EGP 600. The measures were designed to cut footfall at banks and financial institutions, promote social distancing, and gradually move Egypt toward becoming a cashless society, the statement added. The bank decided earlier this week not to extend payment holidays on bank facilities.
We'll know today the results of last week's run-off elections for the Senate. The first round of voting last month saw 174 members elected to the newly-constituted upper chamber, and the run-off will determine the outcome in another 26. President Abdel Fattah El Sisi will appoint the remaining 100 members of the 300-seat Senate after the final results of the votes are announced.
The Food Export Council will hold a meeting tomorrow with Brazil's ambassador to discuss increasing exports under the 2017 Mercosur Agreement, Youm7 reports. Egyptian exports to Brazil have surged 74% in the three years since the trade agreement was signed.
Today is the second day of the US Federal Reserve's meeting to review interest rates. The bank may announce new three-year interest rate projections and elaborate on its recent break with tradition to allow inflation to shoot past 2% and unemployment to fall further than previously allowed, per CNN.
---
The Health Ministry reported 163 new covid-19 infections yesterday, down from 168 the day before. Egypt has now disclosed a total of 101,340 confirmed cases of covid-19. The ministry also reported 18 new deaths, bringing the country's total death toll to 5,679. We now have a total of 85,745 confirmed cases that have fully recovered.
Egypt is strategically placed to serve as a distributor of Russia's Sputnik V covid-19 vaccine to Africa, Kirill Dmitriev, head of the Russian Direct Investment Fund, told MENA news agency, Al Mal reports.
The Emirati government has approved an emergency use of a vaccine candidate by China's Sinopharm and will give first access to "frontline workers," Foreign Ministry spokesperson Hend Al Otaiba said on Twitter. Phase three trials conducted in the UAE involving 31k participants were successful, she said, paving the way for the government to begin rolling out the vaccine.
Saudi Arabia is easing entry restrictions for some categories of visitors, according to a statement from EgyptAir yesterday. As of today, EgyptAir will board Saudi nationals returning home; non-Saudis (including spouses and children) accompanying a Saudi citizen; and male travelers who already have a valid visa or work permit. Hit the link to see if your circumstances are covered and remember — you'll need to cough up the results of a PCR test completed no more than 48 hours before you board.
---
STC mulls IPO for internet services arm as Vodafone Egypt acquisition talks continue: Saudi Telecom Company (STC) is considering the sale of as much as 30% of its internet services subsidiary Solutions by STC in an IPO on the Saudi exchange next year that could value the company at c.USD 2.7 bn, Bloomberg reports, citing sources familiar with the matter. STC has invited banks to pitch for the financial advisor role on the transaction, Reuters said. The move comes as STC remains in talks with Vodafone Group to purchase its 55% stake in Vodafone Egypt in a transaction that, if executed, could be the biggest-ever M&A in Egypt.
Global demand for oil is likely to be even lower than previously feared as a resurgence in covid-19 cases around the world hits consumption, according to OPEC and International Energy Agency (IEA) forecasts published this week. The IEA now sees demand falling by 8.4 mn bbl/day to 91.7 mn bbl/day in 2020 (down from 8.1 mn bbl/d forecast in August), while OPEC expects an even more dramatic fall of 9.5 mn bbl/d, down 9.5% from last year. The gloomy outlook comes after BP suggested this week that demand may have already started a terminal decline as the pandemic delivers a knockout blow to the fossil fuel.
Also worth knowing this morning:
Has ByteDance found a way to calm US natsec fears? ByteDance will place TikTok's global business in a new US-based company of which it will be majority shareholder, and Oracle (and perhaps Walmart) investing as a minority shareholder, the Financial Times reports, citing unnamed sources familiar with the matter. Secret Agent Orange is expected to sign off on the transaction today.
The US-China trade war is making US-based passive funds think twice about buying into Chinese equities, as an increasingly hostile political climate towards Beijing heightens risk, suggests this piece by the Financial Times.
Daimler will pay out USD 2.2 bn in penalties and settlements over allegations it rigged vehicles to cheat on diesel emissions tests, CNN reports.
The UAE and Bahrain formalized their normalization treaties with Israel at a signing ceremony at the White House south lawn yesterday. Presided over by US President Donald Trump, the accords were sealed by Israeli Prime Minister Benjamin Netanyahu and the Gulf states' foreign ministers. "We mark the dawn of a new Middle East," Trump said, thanking the leaders for taking steps "toward a future in which people of all faiths and backgrounds live together in peace and prosperity." The three countries will soon exchange embassies and collaborate across sectors including tourism, trade, health care and security, he added.
The story is getting top billing in the global press: AP | Reuters | NYT | Washington Post | Bloomberg | WSJ | BBC.
Libya's UN-recognized Prime Minister Fayez Al Serraj could announce his resignation by the end of the week ahead of talks to end the country's civil war in Geneva next month, Bloomberg reports, citing unnamed officials. The leader of the Tripoli-based government would likely stay on in a caretaker capacity through the negotiations with eastern military commander Khalifa Haftar's Libyan National Army, which aim to agree a new presidential council to unify the fractured country.
---
US ELECTION WATCH- Presidential cagefight? While observers have mused about the idea of podcast host and MMA commentator Joe Rogan moderating a presidential debate, President Donald Trump tweeted on Monday that he would actually do it. The Joe Rogan Experience is one of the country's most popular podcasts and hosts guests from both sides of the political aisle, even if considered fringe, giving Rogan's show a reputation for impartiality. Rogan's guest, retired MMA fighter Tim Kennedy, proposed an improbable, uncut, 4-hour one-on-one debate, which The Donald said he would accept, the New York Post reports. The first of the three actual US presidential debates will be held on 29 September in Cleveland, the second on 15 October in Miami and the third on 22 October in Nashville.
Apple announces revamped iPad, Apple Watch 6, Apple One subscription plan: Apple yesterday unveiled a raft of new and revamped products, including a redesigned iPad Air (if you can make do with the smaller of the two iPad Pros and you're the market today, but the new iPad Air and not the smaller Pro, tbh) and the sixth generation of the Apple Watch with a blood oxygen sensor. The company also announced its new Apple One subscription plan, giving users access to all of the company's subscription services through a single plan. The plan will also include its soon-to-launch Fitness+ package, which features online fitness classes integrated with Apple Watch plus your iPhone, iPad or Apple TV. Want to dive deeper? 9to5Mac, the Verge and Business Insider have wall-to-wall coverage.
But wait, where's the new iPhone? There was no "one more thing" last night — thanks to covid-19, it seems we won't be getting a peak at the next iPhone (or Arm-based Macs or the Apple tiles) until sometime next month at the earliest.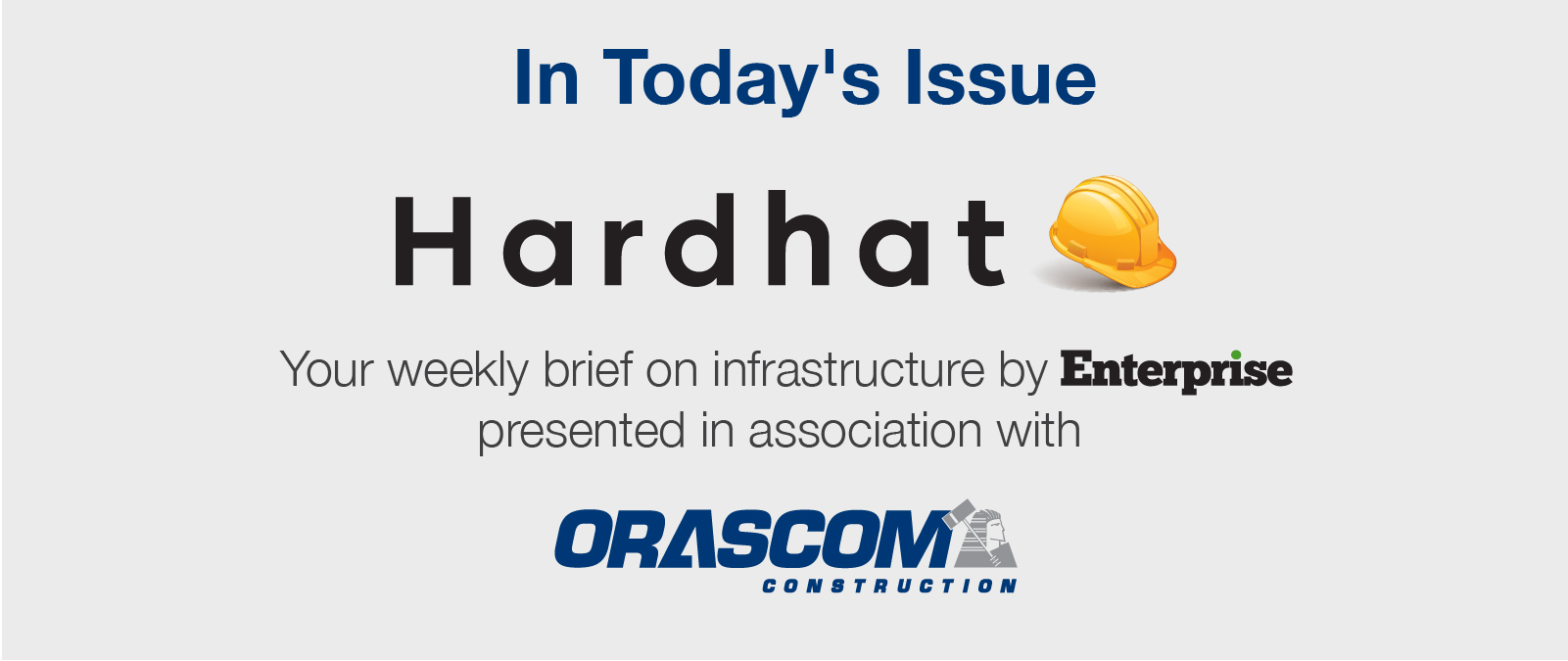 *** It's Hardhat day — your weekly briefing of all things infrastructure in Egypt: Enterprise's industry vertical focuses each Wednesday on infrastructure, covering everything from energy, water, transportation, urban development and as well as social infrastructure such as health and education.
In today's issue: We look at how the covid-19 pandemic has affected the outlook for Egypt's construction industry, particularly after construction sites across the country were shut down at the outset of the crisis.