Monday, 17 August 2020
What we're tracking on 17 August 2020
Good morning, friends, and welcome to a reasonably quiet Monday morning as we putter toward the last holiday long weekend of summer.
SMART POLICY- Officials are conducting sweeps through the nation's ports in a search for dangerous and abandoned materials, Finance Minister Mohamed Maait told MPs yesterday. Maait said all ports should be fully cleared by December of any unclaimed goods that could present a danger to public safety. A separate sweep is looking for dangerous goods at the nation's airports, the Civil Aviation Ministry said. The drive comes after the 4 August blast that devastated Beirut after abandoned ammonium nitrate caught fire and exploded.
The results of last week's Senate elections are due this Wednesday, with any runoffs set for 8-9 September. Voters will elect 200 members of the newly reconstituted upper house of parliament, with the other 100 set to be appointed by the presidency.
Cairo Metro ticket prices go up by at least EGP 2 today. Commuters whose journeys only cover lines 1 and 2 will be charged EGP 5 for the first nine stops (up from EGP 3), EGP 7 for up to 16 stops (up from EGP 5), and EGP 10 for anything more than 16 stops (up from EGP 7). Those passing through Line 3 will be charged a notch higher. Youm7 has the full price list. The price hike comes a day after President Abdel Fattah El Sisi inaugurated the fourth phase of the EGP 32 bn Cairo Metro Line 3; the section covers six stops in New Cairo. Arab Contractors and Orascom Construction were the main contractors on this phase.
At least one conference organizer thinks we're unlikely to see a second-wave lockdown this fall: The Cityscape real estate exhibition will take place on 4-7 November at the Egyptian International Exhibition Center in New Cairo after being postponed back in March due to covid-19.
We're still waiting on official confirmation that this Thursday will be off for banks, the stock exchange, and the private sector in observance of the New Islamic Year. Prime Minister Moustafa Madbouly confirmed over the weekend it will be a paid holiday for the public sector.
3 SIGNS OF THE TIMES to keep you occupied during your next endless conference call:
1- People aren't reading or watching movies — they're gaming, writes Ruchir Sharma, Morgan Stanley Investment Management's head of emerging markets and chief global strategist, in a piece for the New York Times that is equally about how we're spending our leisure time — and where the next battleground is for Big Tech. Need to get up to speed? Go over to John Gruber's Daring Fireball and start skimming down the page.
2- Working parents are hitting their breaking point, the WSJ writes, and businesses need to step up to the plate and give them a helping hand if they want to retain talent. Yes, even with school starting next month.
3- Is Kamala Harris Gen X? Does reality really bite? After the hand-wringing in some quarters over whether the US presidency would "skip" Gen X (the small, influential-in-business generation sandwiched between the boomers and the millennials), Kamala Harris joining the Biden ticket has sparked a flurry of op-eds about how her nomination represents "Gen X's moment" and "the Fall of House Boomer."
ALSO: Can we all agree that the word "glamping" must die? And that the FT should be banned from ever again using the word "glampervan"?
How do you use that in a headline? "Inside Kim and Kanye's glamping getaway" or "Kim & Kanye: Family glamping photos — not your average vacay."
COVID-19 IN EGYPT-
The Health Ministry reported 139 new covid-19 infections yesterday, up from 116 the day before, as well as 19 new deaths, bringing the country's total death toll to 5,160. Egypt has now disclosed a total of 96,475 confirmed cases of covid-19, after the ministry reported. We now have a total of 59,743 confirmed cases that have fully recovered.
Inspired by nature to combine utmost comfort with a world of unparalleled privacy, Mesca's signature design-led luxury hotel is an elegant amphitheater of sea, sky and sand, redefining waterfront hospitality on the Red Sea.
Saudi to test Russian covid-19 vaccine: Russia has reached an agreement in principle with an unnamed Saudi company to conduct phase 3 clinical trials of its newly announced Sputnik V covid-19 vaccine, CEO of the Russian Direct Investment Fund (RDIF) Kirill Dmitriev told Arab News. RDIF is Russia's sovereign wealth fund, which is positioning itself as having played a key role in developing the vaccine. Dmitriev said that Russia has already shared data from the first two testing phases. Russia is also looking to start clinical trials in the UAE sometime this month, and in the Philippines and Brazil at a later date.
Italy is closing nightclubs as cases among youth spike and will make it mandatory to wear face masks at night in some areas, Reuters writes, saying this is the "first reimposition of restrictions as cases of coronavirus pick up across the country, especially among younger people."
---
GLOBAL HEADLINES-
Joe Biden will be declared the Democrats' presidential candidate this week as the party's national convention gets underway today. No major political figures, including Biden and running mate Kamala Harris, will be in Milwaukee for the event as the Dems prepare for their ever "digital convention." The official convention website is here if you want to poke around or check out the schedule of when the major speeches take place. We're looking forward to Crooked Media's Pod Save America episode on Thursday night, live from the convention, as part of the pre-show that will ultimately include Biden's acceptance speech and a string of speeches by party luminaries.
For political junkies: The full convention schedule is here.
The latest NBC News / WSJ poll has Biden well ahead of Trump nationally as more than 60% of voters say his administration has bungled its response to covid-19. "According to the survey, Biden leads Trump nationally by 9 points among registered voters, 50 percent to 41 percent," CNBC reports.
Oil majors will have to come to terms with "stranded assets" worth bns of USD that may now never be pumped out of the ground, Bloomberg suggests. The pandemic has accelerated a trend toward renewable energy that will see fossil fuels become cheaper and the cost of their emissions rise, meaning that production in many fields will no longer be commercially viable. Rystad Energy expects around 10% of the world's recoverable oil to become obsolete (that's about 125 bn barrels worth, for those of you keeping track at home) — forcing companies across the world to abandon assets.
Israel and the UAE are hitting the ground running now that each admits the other exists, signing the first strategic business agreement yesterday just days after their normalization pact. The UAE's APEX National Investment and Israel's Tera Group set up a JV to work on covid-19 research and potential treatment development, and the two countries are expected to sign several more accords on investment, tourism, aviation, security, and telecoms within the week. The two countries' foreign ministers also spoke on the phone yesterday in a first since the UAE lifted its block on calls to our eastern neighbor. Bloomberg and Reuters have the story.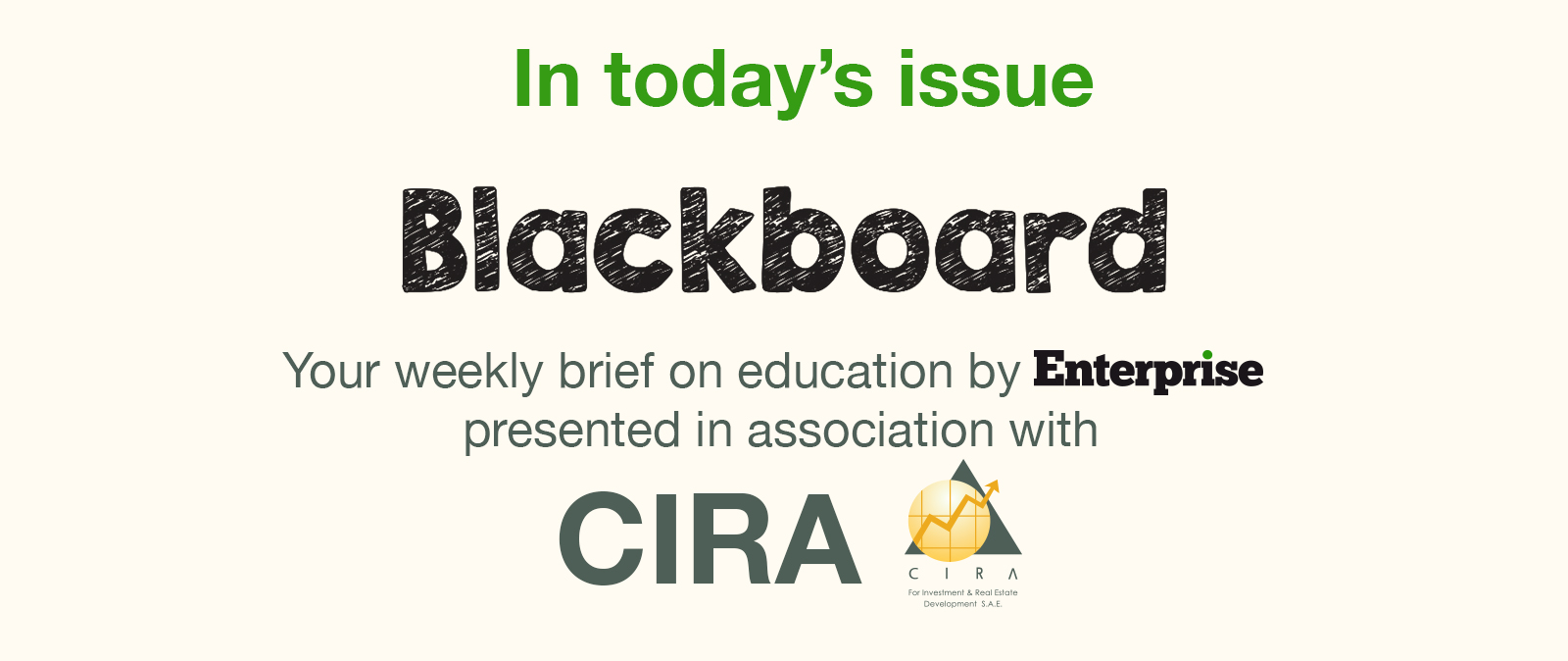 *** It's Blackboard day: We have our weekly look at the business of education in Egypt, from pre-K through the highest reaches of higher ed. Blackboard appears every Monday in Enterprise in the place of our traditional industry news roundups.
In today's issue: School operator GEMS and EFG Hermes' e-finance platform ValU are working together to facilitate school tuition payments, making this the latest in a series of partnerships between education providers and e-payments companies that began to emerge since the outbreak of covid-19. These partnerships are helping to provide parents with financial perks, including more installment options, at a time when some are struggling to keep up with tuition fee payments.