Monday, 20 July 2020
What we're tracking on 20 July 2020
Good morning, friends. We hope this holiday-shortened workweek is treating you well and that you're looking forward to the coming long weekend.
The most frequent question we've been asked in the past 24 hours: What does this 17 October start date for schools mean to parents with kids in private schools? We have an answer of sorts in this morning's Blackboard (below), and it's simple: Nobody knows just yet. An Education Ministry official told us yesterday that private international schools are free to start teaching whenever they want, but wouldn't say how much of that instruction could be face-to-face. Education Minister Tarek Shawki later took to the airwaves and strongly hinted that blended learning will be on the menu this fall.
Whether you're the CEO or the head of people at your company, take note: It looks as if you're going to have to be flexible with your support of working parents when schools go back.
---
It's shaping up to be a big day in the House: Urging all MPs to attend the session, Speaker Ali Abdel Aal said yesterday that today will feature a "long" and "important" meeting. Here's what we know:
MPs will discuss whether to grant President Abdel Fattah El Sisi a mandate to intervene militarily in Libya — but there are conflicting statements about how the vote is going to be held. Deputy Speaker Sayed El Sherif told Ala Mas'ouleety's Ahmed Moussa last night that parliament would discuss the proposal in a closed session today (watch, runtime: 8:24), while House spokesperson Salah Hasaballah said on El Hekaya that it would likely to be put to a public vote in the general assembly (watch, runtime: 7:50). The vote comes a day after President Abdel Fattah El Sisi told security chiefs that "no effort will be spared" in safeguarding Libya's security and less than a week after lawmakers in eastern Libya called on Egypt to deploy forces to the country.
The House will also vote on extending the emergency law if a quorum is met.
Major economic legislation may also be put to a final vote today, Abdel Aal suggested yesterday, without providing specifics. Final votes on the Banking Act, the amendments to the Public Enterprises Act, and the 1% corona tax on salaries were postponed during yesterday's session. We have more on yesterday's legislative activity in this morning's Speed Round, below.
Some 762 candidates will be running in next month's Senate elections. The tally includes candidates running on lists and those standing as individuals. The National Elections Authority rejected paperwork 150 candidates who failed to complete their paperwork, Authority head Lasheen Ibrahim said in a statement late yesterday. The 300-member chamber was reconstituted earlier this year.
The EGX is now the worst performing exchange in the region this year: Egyptian stocks fell for the fifth consecutive session yesterday, leaving the index the worst-hit in the region so far this year, down 26.4% year-to-date. Shares fell 1.5% during yesterday's session in light trading as investors became skittish over the prospect of military intervention in Libya.
Government entities are now required to collect dues electronically, according to a new Finance Ministry directive. All government agencies will now rely on the ministry's e-payments platform managed by E-Finance.
Egypt will be one step closer to a future filled with electric vehicles with the Public Enterprise Ministry set to present to Cabinet this week its strategy to stimulate sales of EVs, Minister Hisham Tawfik tells Al Mal.The news comes after a state holding company inked an agreement with China's Dongfeng Motor Corporation to start assembling EVs in Egypt late next year.
The future of HHD may be a bit clearer today as the Holding Company for Construction and Development is set to hand Tawfik its plan for Heliopolis Housing and Development, according to a local press report. The plan comes after HHD failed earlier this year to find an investor willing to purchase a stake with management rights.
Foreign Minister Sameh Shoukry is in Ramallah this morning as part of a regional tour that saw him visit Amman yesterday, the ministry said in a statement.
---
COVID-19 IN EGYPT-
MORE GOOD NEWS- Yesterday saw another large fall in new infections: The Health Ministry reported 603 new infections yesterday, a significant fall from the 698 confirmed on Saturday. Egypt has now disclosed a total of 87,775 confirmed cases. The single-day death count also fell to 51 from 63 on Saturday, bringing the country's total death toll to 4,302. We now have a total of 28,380 cases who have fully recovered.
Some 74% of Egyptians have seen their incomes shrink since the covid-19 pandemic, according to a study by CAPMAS adviser Heba El Leithy, Al Masry Al Youm reports, with about 33% saying their income was no longer sufficient to cover their basic requirements. At least 56% were working less hours and 18% were out of work, she found. She recommended the government look at expanding social assistance (including cash transfers) and school meal programs.
Japan is providing a USD 9 mn grant for covid-19 medical equipment to the Health Ministry, according to an International Cooperation Ministry statement (pdf).
ON THE GLOBAL FRONT-
The coronavirus might be on the wane here in Egypt, but the pandemic is still gathering strength globally: The World Health Organization reported a record rise in global cases for the second consecutive day, Reuters reports. Almost 260k cases were reported in 24 hours on Saturday, breaking the previous record of 237,743 set on Friday.
EU deadlock on covid-19 stimulus: European leaders remained divided over what shape their package of covid-19 recovery loans and grants would take until the end of a three-day summit that wrapped up yesterday in Brussels, reports the Financial Times. The deadlock: A group of richer member states — comprised of the Netherlands, Austria, Denmark and Sweden — are demanding large cuts to the non-repayable grants proposed in the EUR 750 bn package.
A "devastating" and sustained rise in joblessness could be in store for Europe, as furlough schemes begin to wind down and job cuts ramp up, Bloomberg reports.
GLOBAL MACRO-
Beware the 'W' as covid-19 cases continue to rise in some of the world's largest economies: The likelihood of the global economy experiencing a rapid 'V-shaped' recovery is diminishing as infection rates spiral in the US, Brazil and India, economists at IHS Markit have warned. The failure of these countries to get the outbreaks under control, as well as governments of other developed countries resorting to localized lockdowns, heightens the risk of an uneven 'W-shaped' recovery caused by an extended demand slump, they said in the research firm's July World Flash report.
And BNP Paribas is also here to shoot down the idea of a V-shaped rebound: The CEO of BNP Paribas Asset Management is forecasting the "mother of all recessions" as most economies around the world see a "very, very substantial drop" in activity, the Financial Times reports. "We have a view that the recovery will be more U-shaped than V-shaped in most countries," Frédéric Janbon said, warning that most of us are likely to be spending a longer time in recession before returning to growth.
US companies are thinking the same: Large US companies are beginning to resort to layoffs and production cuts as CEOs lose faith that the economy will recover quickly from the crisis, the Wall Street Journal says. The news comes as the global airline industry is bracing for the recovery to last 3-4 years after the pandemic cut air traffic by 55-75% this year, according to Moody's (pdf).
Bond markets are signaling a risky future for the US economy, with 10-year real yields — which are a "more-pure read on growth" as they strip out inflation — having dropped over the past six weeks to reach -0.85%, says Bloomberg. Unlike equity indices, which remain well above the early pandemic lows, the plummeting bond yields are reflective of the growth in covid-19 cases and expectations of more Fed easing. "The decline in real yields and the bid for safe-haven assets, such as gold, is another troubling signal of uncertainties ahead," the business information service says.
AND THE REST OF THE WORLD-
Israel takes a step closer to directly shipping natgas to Europe — and undercutting our plans to become the region's gas hub: The Israeli cabinet approved yesterday plans to install a pipeline linking its east Mediterranean gas fields to Europe, in a plan that could undermine Egypt's ambitions to be the premier exporter of the region's gas. The plan for the USD 6 bn pipeline, agreed by energy ministers of Israel, Greece, Cyprus and Italy, would allow Israeli and Cypriot gas to be shipped directly to European markets by 2025. Bloomberg has the story.
Equitativa Dubai, the company that manages Nasdaq Dubai-listed Emirates REIT, faces investigation by the Dubai Financial Services Authority (DFSA) over "matters connected to the management" of the trust, the DFSA said in a statement on Sunday (pdf). The DSFA is probing (among other matters) possible violations to corporate governance regulations, according to the statement. The move comes after a group of shareholders accused Equitativa of "misrepresenting" REIT's market value to investors. "Equitativa intends to co-operate with the DFSA investigation," according to the statement.
REIT may resort to delisting: The fund will launch a "comprehensive review of strategic options … including a potential de-listing from Nasdaq Dubai," it announced in a statement (pdf) yesterday. "The advantages of remaining publicly listed are heavily outweighed by the disadvantages," it said, referring to the "current climate" in UAE stocks and the country's real estate downturn as having a "significantly large impact" on its share price. The FT and Bloomberg both picked up the story.
Kuwait's ruler, Sheikh Jaber Al Ahmad Al Sabah, underwent surgery yesterday, state news agency KUNA reported without providing details on the procedure. The kingdom's crown prince has had to rule the country temporarily since Saturday, when it was announced that the 91-year-old emir was receiving treatment.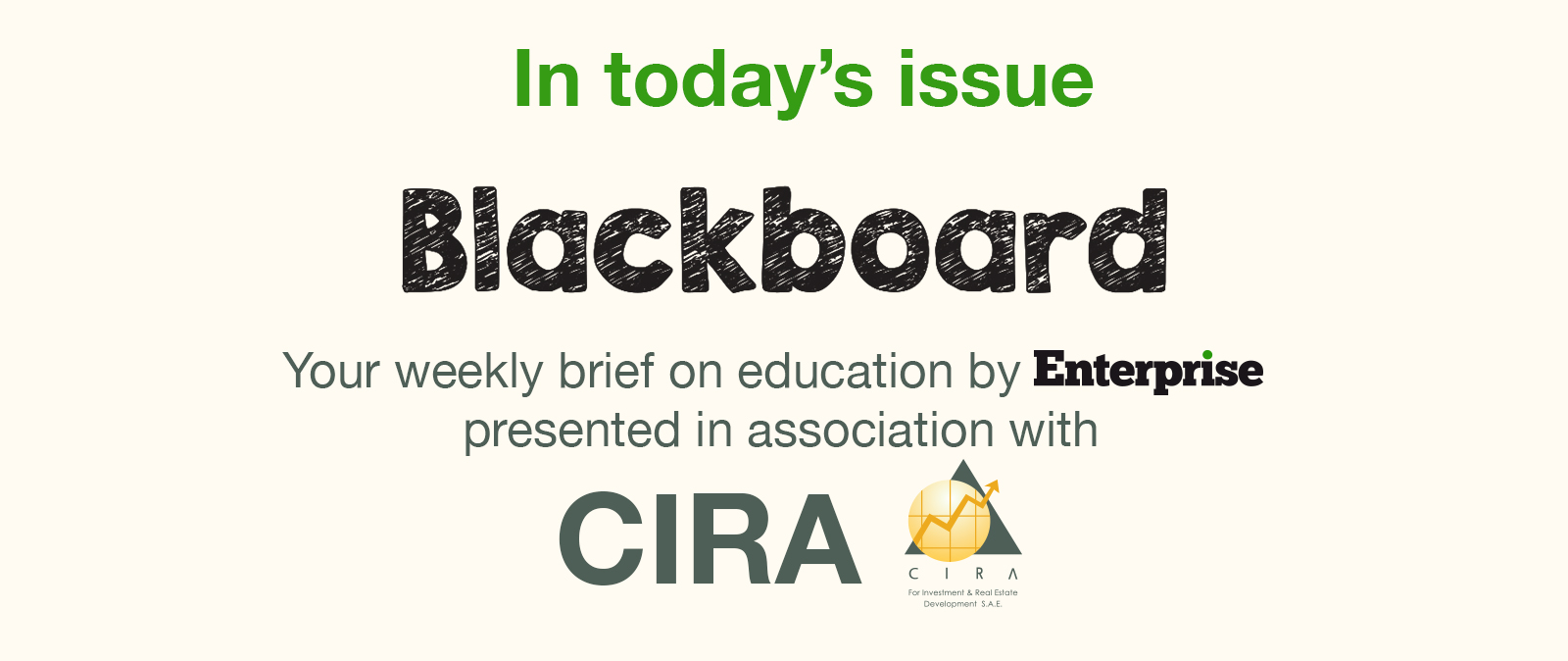 *** It's Blackboard day: We have our weekly look at the business of education in Egypt, from pre-K through the highest reaches of higher ed. Blackboard appears every Monday in Enterprise in the place of our traditional industry news roundups.
In today's issue: When can private international schools reopen?