Monday, 13 July 2020
What we're tracking on 13 July 2020
Good morning, friends. It's a busy news day, but there's no "major" story dominating the front pages as we slide toward the dog days of summer.
SMART POLICY- If there's one thing that made us smile this morning, it is the Sisi administration's suggestion yesterday that a white cab-style vehicle replacement program may be in the works for passenger cars >20 years old. It's good news for the environment, potentially pulling the most inefficient and polluting gas burners off the road — and hopefully good for business, including local assemblers, distributors, banks and non-bank financial services outfits.
We did this before, and it worked: The white cab replacement program, announced in early 2009, saw the government give incentives to cabbies at the wheel of what were then some 70k black-and-whites. Vehicle owners could pick up a locally assembled white cab on a subsidized, no-interest payment plan if they scrapped cars that had been on the road more than 20 years. There was a movement afoot by early 2011 to expand the program to civilian vehicles, but that initiative died on the vine with the events subsequent to 25 January.
Taking thousands of beaters off the road was good for the environment: Government estimates in early 2011 suggested the program had contributed to a significant drop in the capital city's total carbon emissions in the first six months it was in place. A World Bank feature on the program in 2018 suggested the program would prevent the release of more than 350k tons of carbon emissions by the end of that year. More than 45k cars have been scrapped under the program. Green bonds as a financing mechanism, anyone?
Last time, cabbies could only source finance from state-owned banks. We're hoping this time around the program will be expanded to include private-sector banks and NBFS players.
A companion program will offer no-interest financing to owners of cars less than 20-years old who want to convert their vehicles to run on natural gas. Conversions will cost EGP 8-12k per car, Trade and Industry Minister Nevine Gamea said yesterday. One question here: Can we build out CNG filling station infrastructure fast enough if the program takes off?
COVID-19 IN EGYPT-
The Health Ministry confirmed 89 new deaths from covid-19 yesterday, bringing the country's total death toll to 3,858. Egypt has now disclosed a total of 82,070 confirmed cases of covid-19, after the ministry reported 912 new infections yesterday. We now have a total of 24,419 cases who have fully recovered.
Some 273 nurseries across 14 governorates have been cleared to resume working with new health and safety regulations, including operating at 50% student capacity, making available an isolation ward, temperature checks and sanitizing products, and banning guests, Social Solidarity Ministry spokesman Muhamed El Aqabi told the MENA news agency.
New Dubai travel requirement: EgyptAir has announced that all travellers to Dubai will be required to present a negative PCR test from an approved lab before flying.
---
ON THE GLOBAL FRONT-
A tale of two states: Formerly the hotspot of the US coronavirus epidemic, New York City yesterday reported zero virus-related deaths for the first time since the pandemic first entered the state, Bloomberg reports.
But all is not well in Florida, which yesterday smashed the country's single-day record for new cases: One of the new centers of the epidemic, the Sunshine State yesterday reported 15,299 new infections, the highest number of new daily cases in any state since the crisis began, CNN reports.
Covid has put a damper on the global coffee industry, which once relied on morning runs and afternoon social breaks. With coffee shops closing down since the onset of the pandemic, global consumption of the beverage fell this year for the first time since 2011, according to Bloomberg. Citigroup predicts that futures for Arabica beans could drop roughly 10% — nearing breakeven cost — in 2H2020, which would severely affect the 125 mn people who make a living from the crop.
GLOBAL MACRO-
The worst is over for the oil market, but the demand slump is set to continue: Demand for oil will slowly recover through the second half of 2020 but will remain down by 5.1 mn bbl/d, the International Energy Agency said last week. This is roughly a 50% recovery from the nadir of oil shock, which saw demand collapse by 10.75 mn bbl/d during the first half of the year.
Enjoy a memorable summer with Somabay's exclusive dining experience built around family atmosphere and love to deliver exceptional service at every step of your journey.
EGYPT BEYOND COVID-
A new program will help small engineering outfits export: The NilePreneurs initiative is offering a new program to help SMEs in the engineering sector develop, promote and export their products to global markets. The CBE-funded initiative will see the program managed by Nile University's Export Excellence Center and financed by Banque du Caire. Companies with three years' of experience in the field have until 20 July to apply.
Merit Publishing House owner Mohamed Hashem was arrested on Saturday on charges of alleged [redacted] harassment of several women former employees, Ahram Gate reports. Hashem's arrest comes at a time where harassment is in the limelight following the case of Ahmed Bassem Zaki.
AND THE REST OF THE WORLD-
Nasdaq Dubai-listed real estate investment trust Emirates REIT could be facing a regulatory probe over its finances and valuations after a group of shareholders accused fund manager Equitativa of "misrepresenting" its market value to investors, Gulf News reports. The shareholders are demanding a freeze on management fees from its non-performing assets pending a full investigation into the fund's operating expenses and property valuations, which they claim have been misrepresented to support the fund's "excessive" fees.
The widening discount to net asset value has raised questions about the fund's valuations as the covid-19 pandemic puts more pressure on the UAE's property market, already suffering an extended downturn. Shares in the Sharia-compliant asset manager are now trading at just USD 0.16 apiece, compared to the net asset value of USD 1.57 at the end of 2019. Equitativa CEO Sylvain Vieujot claimed in May that an "aggressive campaign of negative stories and false rumours" was partly responsible for the low share price and said that the fund had reported the "potentially abusive market practices" to the regulator. Fitch placed Reit's BB rating on negative watch earlier this month, citing "uncertainty over its ability to increase occupancy and rent across its portfolio in current challenging economic conditions in Dubai."
Emirates REIT's USD 175 mn IPO in 2014 broke a five-year IPO dry spell for the emirate.
Meanwhile, the region's poster child for bad corporate behaviour is looking to restructure: Embattled healthcare provider NMC Healthcare is considering filing for restructuring and insolvency proceedings in the UAE, Reuters reports, citing two people familiar with the matter. This comes three months after the company was forced into administration by a UK court at the behest of its creditors amid allegations that it had cooked its books.
Uber is serious about becoming a major player in home delivery: The soon-to-be completed acquisition of food delivery service Postmates and Latin American grocer Cornershop are moving Uber towards CEO Dara Khosrowshahi's vision of becoming "an everyday service," the FT says.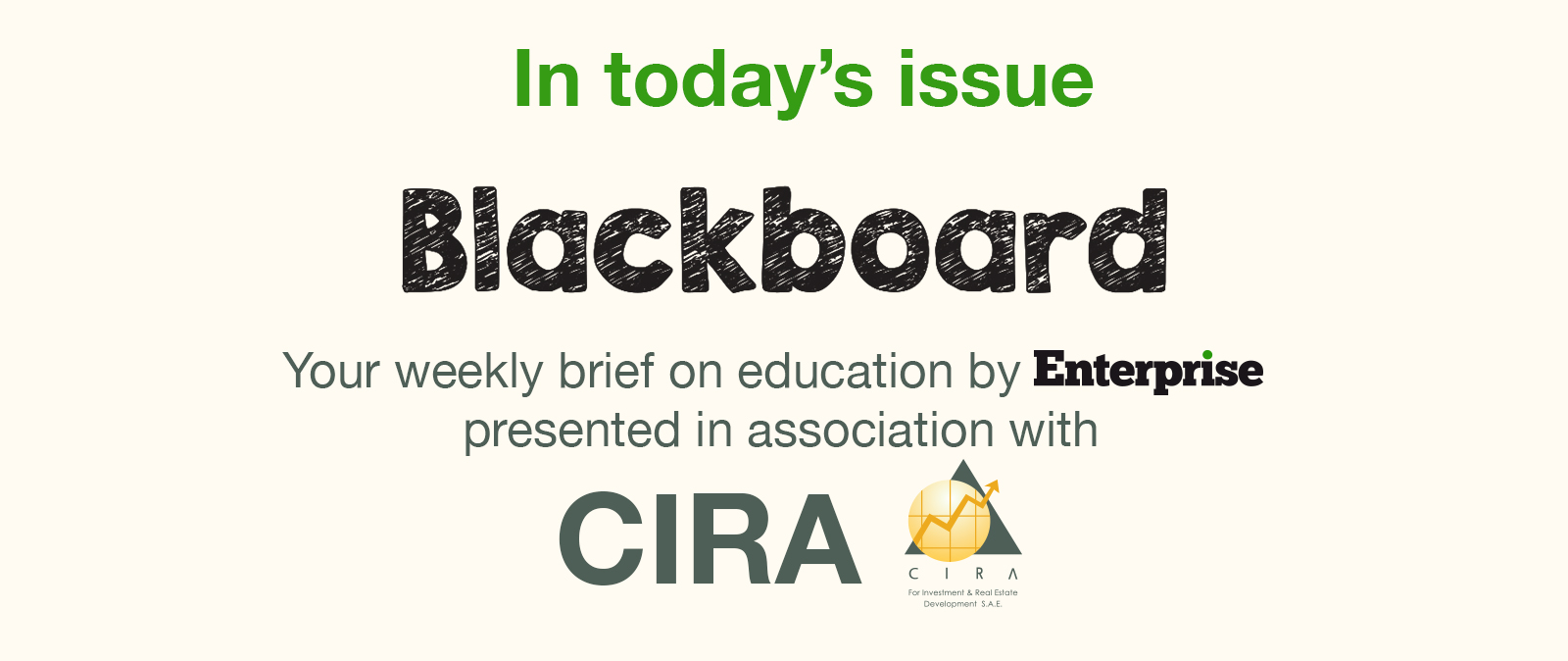 *** It's Blackboard day: We have our weekly look at the business of education in Egypt, from pre-K through the highest reaches of higher ed. Blackboard appears every Monday in Enterprise in the place of our traditional industry news roundups.
In today's issue: We revisit some of the Higher Education Ministry's top policies for this year — namely the International Branch Campus program and the UCAS-style enrollment system — and explore how the covid-19 pandemic has impacted their implementation.