Monday, 6 April 2020
What we're tracking on 6 April 2020
Egypt's PMI figures for March are out and, well, they could have been worse. With output at three-year lows and exports falling to the lowest point in seven years, it doesn't make particularly great reading. But a glance across the Mediterranean (more on this below) and a look to our neighbors in the Gulf, and our economic situation doesn't quite look so bad. We have the full story in this morning's Speed Round, below.
The EGX fell almost 2% in trading yesterday: Telecom Egypt was the biggest loser of the session, falling 9.2% on news that Saudi Telecom had postponed loan talks for its Vodafone Egypt acquisition. Trading volumes were low at EGP 365 mn, 39% below the 90-day trailing average.
Markets this morning: Markets to our east are mixed this morning. Up: Japan, Hong Kong, South Korea, Australia. Down: China, India, New Zealand. Futures suggest US markets will open the week in the green.
Things to keep an eye on this morning:
#1- Mixed signals out of America: Epidemiologists and health officials are warning that this could be a horrible week for covid-19 infections in the United States, with the surgeon general telling a TV interviewer that this could be "the hardest and the saddest week of most Americans' lives, quite frankly. This is going to be our Pearl Harbor moment, our 9/11 moment."
But The Donald and his VP say they see things stabilizing. Meanwhile, Bill Gates (who has given thought to these things more than most human beings) says that while a national lockdown would result in a "huge economic price," it could see casualties fall "well short" of the 100k-240k deaths predicted by health officials. All of that is leading to (muted) optimism about the market as JP Morgan Chase said a "slowdown in the growth rate of new U.S. coronavirus cases may help put a floor under stocks and dampen volatility," Bloomberg reports.
#2- What will oil do to global sentiment today? Brent crude was down 3.6% as we rushed toward dispatch on news that the Opec+ meeting has been tentatively rescheduled to Thursday, according to Bloomberg. It was originally scheduled to take place today. Saudi and Russia are trying to get the US, which has recently become the largest producer, to join or at least support what could be the biggest ever coordinated output cut to save plunging oil prices, which have fallen by 50% so far this year. Canada and the US are now both threatening tariffs on Saudi Arabia and Russia if they don't agree on a production cut, the Financial Times reports.
---
COVID-19 IN EGYPT-
Egypt now has 1,173 confirmed cases of covid-19 after the Health Ministry reported 103 new infections yesterday. The ministry also said that another seven people had died from the virus, taking the death toll to 78. We now have a total of 346 people who have tested negative for the virus, of whom 247 have fully recovered.
The Health Ministry received 477,257 inquiries about the virus through its telephone hotlines last month, according to a ministry statement. Most callers inquired about prevention methods, common symptoms, complications, and what they should do when symptoms manifest. The hotline numbers are 105 on a landline and 15335 on mobile. The ministry's covid website is here.
---
Egypt is expediting approvals for international funding that backs our covid-19 response: Egypt will fast-track approvals for international financing earmarked to help the nation respond to covid-19, International Cooper Minister Rania Al Mashat announced (pdf) on Sunday. Al Mashat outlined Egypt's strategic priorities on the virus in an unprecedented video call with more than 100 representatives of international development partners including UN agencies, the World Bank, IMF, USAID, African Development Bank, European Bank for Reconstruction and Development, and others. Mashat's (very solid) presentation is here (pdf).
Al Mashat also showcased Egypt's improved results in the Global Partnership for Effective Development Cooperation survey (pdf), which measures the level of Egypt's cooperation with development partners in things such as information sharing and transparency. The minister also outlined the narrative the ministry will use to communicate its covid-19 response strategy (pdf).
The bottom line: Mashat is taking the same systematic approach she took to helping rebuild the tourism industry when she ran that portfolio, sending a clear message that should resonate with donors not just now, but when we are lining up funding and assistance to help the country weather the economic fallout of the pandemic.
SMART POLICY- Egypt should issue "coronabonds" funded by international lenders to stave off a liquidity crisis in the private sector that could result in mass layoffs, former partner at private equity group Abraaj Ahmed Badreldin suggests, according to Al Mal. This initiative would be similar to that launched by the African Development Bank, which recently issued USD 3 bn-worth of three-year coronabonds to help cushion African economies. The proceeds from the issuance can then be used to pay for a three-month VAT and income tax holiday for businesses, a salary insurance scheme, and corporate loans to finance working capital, he said.
---
Former Libya premier Mahmoud Jibril has died in Cairo from covid-19 at age 68, Libya's Al Arabiya reports. Jibril, who served as Libya's prime minister following the ouster of longtime leader Muammar Gaddafi in 2011, had reportedly been in quarantine in Cairo since he was diagnosed with the illness on 26 March.
Some 77k government offices, places of worship, schools and public gathering spots have been disinfected by sanitation crews and over 7k cafes saw all their shisha gear confiscated before they were shut down as part of the government's efforts to curb the spread of the covid-19 outbreak, a cabinet statement said. Another 7k schools and educational centers, more than 2k public markets and another 2k social clubs and wedding halls were closed, according to the statement.
Carrefour sees 6x increase in online sales: The Majid Al-Futtaim-owned supermarket has seen demand for online shopping skyrocket since the onset of covid-19, reports Al Mal.
Store owners at Cairo Festival City are complaining of inadequate financial relief: A number of small businesses have voiced concerns over financial obligations and rent payments due to Al Futtaim Group, which owns Cairo Festival City Mall, amid a significant reduction in sales, according to Al Mal. Al Futtaim (not to be confused with Majid Al Futtaim — a separate company that has given its tenants a rent holiday) has formed a committee to discuss the tenants' requests for a rent holiday while covid-19 restrictions remain in place.
IN AND OUT- There are no direct flights to the US scheduled after the departure of an EgyptAir flight yesterday, the US embassy said. The Canadian embassy has arranged an EgyptAir flight to Toronto departing Cairo on Wednesday at 11am. Flights can only be booked directly with EgyptAir. On the inbound leg: An EgyptAir flight from Washington, DC, brought Egyptians home to quarantine in Marsa Alam, while media reports suggest 37 Egyptians have been repatriated from Nigeria.
DONATIONS-
Our friends at Sodic are redirecting all their marketing resources towards covid-19 awareness raising and are working in coordination with the Health Ministry to deliver community support programs, according to a statement (pdf). Sodic is donating ventilators and monitors to the Sheikh Zayed Specialized Hospital and is distributing protection packages with immunity boosters, sanitization material, and hygiene instructions in Ezbet Khairallah. The real estate company is also making use of all its outdoor billboards and digital platforms to raise awareness about the virus.
Our friends at Edita are donating EGP 2 mn to the Misr El Kheir foundation in support of the Breathe Campaign, which is raising funds to acquire ventilators from suppliers around the world, according to a statement (pdf). The donation, which will also be used to support the purchase of critically needed personal protection equipment (PPE) for medical personnel, will be disbursed from the EGP 5 mn Edita Foundation for Social Development, which was set up last month.
ON THE GLOBAL FRONT-
Making headlines this morning around the world: UK Prime Minister Boris Johnson has been hospitalized for tests following 10 days of "persistent symptoms" from his covid-19 infection. The story is getting front page treatment in the Financial Times as well as the Wall Street Journal and Reuters.
The news came after a rare televised address from the UK's Queen Elizabeth II (watch, runtime: 4:31).
Covid deaths may have peaked in Italy, where the daily death toll fell on Saturday to its lowest level in two weeks and the number of people in intensive care dropped for the first time since the outbreak began, according to Reuters. Spain's death toll eased for the third consecutive day yesterday, but the number of confirmed cases is still rising. Italy and Spain, together with China, are so far the three countries hardest-hit by the virus.
The latest from Stimulusland: The European Union is rolling out a USD 110 bn job support program — the fund would "lend directly to national governments to pay for short-term job programs," the Wall Street Journal writes. Closer to home, the UAE has kicked it up a notch as the central bank said it will inject AED 61 bn (USD 16.6 bn) into the economy to support lending. The central bank has also cut banks' reserve requirements, Bloomberg reports.
---
The euro composite PMI saw its biggest monthly drop ever to a low of 29.7 in March from 51.6 in February. The composite index measures activity in both the manufacturing and service sectors. The plunge was worse than the flash figures, which estimated the index would fall to 31.4. France, Spain, and Germany all saw business activity hit historic lows, but it was Italy which suffered the most, delivering a stunning PMI figure of just 20.2. Readings above 50 indicate expansion while figures below that mark show contraction.
Global data wasn't that much better: Global manufacturing and services activity fell to 133-month lows of 39.4 last month as the services PMI fell to its lowest reading on record and the contraction in manufacturing easing marginally on better Chinese data, according to JPMorgan Global PMI figures (pdf).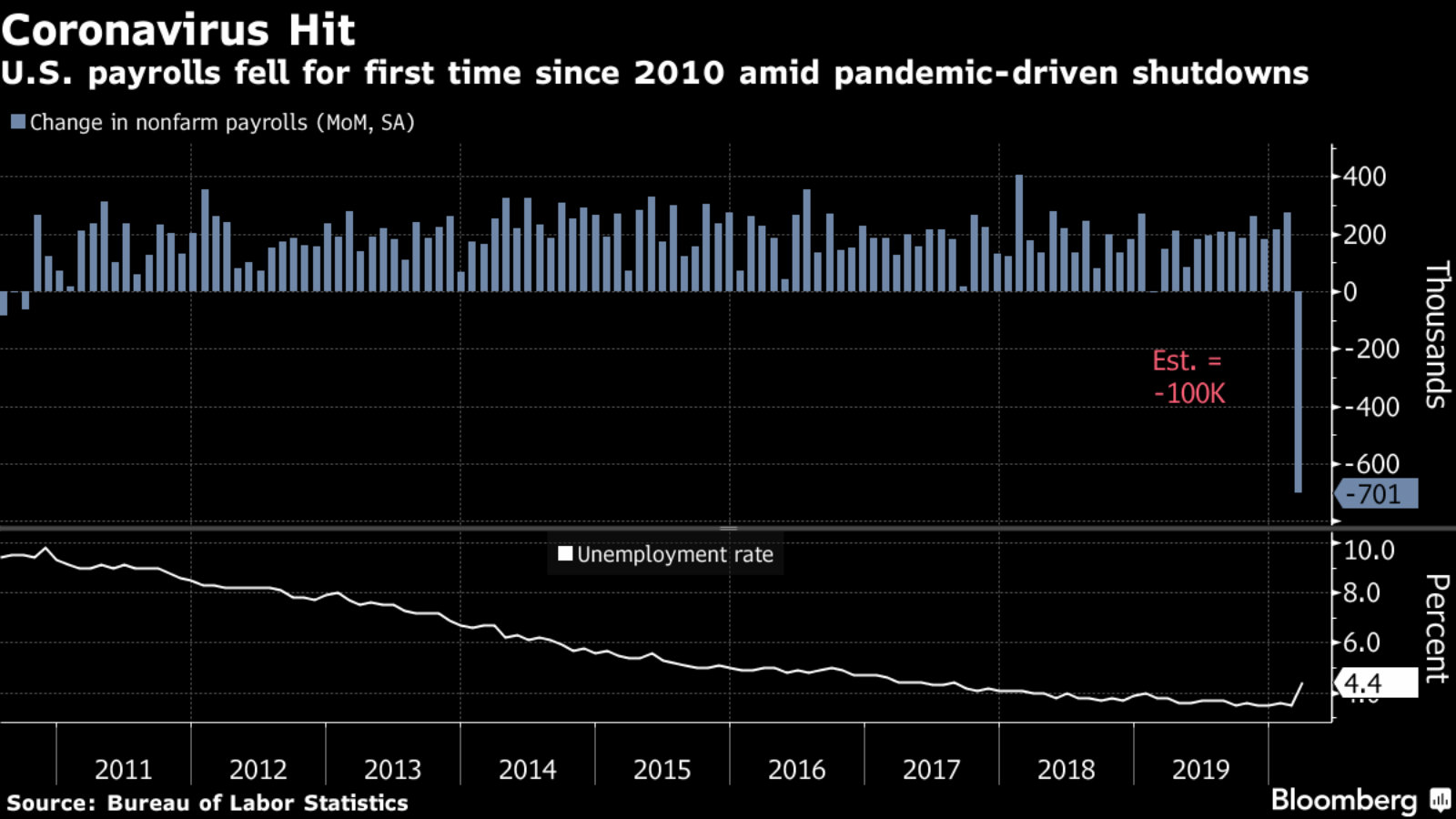 US delivers disastrous payroll data: Fresh US payroll data has shown that 10 mn new unemployment claims were filed in the past two weeks in what the Associated Press calls "the swiftest, most stunning collapse the US job market has ever witnessed."
Unemployment forecasts "unprecedented since the Great Depression": The US and Europe are expected to see unemployment rates "well up into the teens," Peter Hooper, global head of economic research at Deutsche Bank, told Bloomberg. "Given the pain that we see near-term in the U.S. and Europe, this is unprecedented since the Great Depression, in terms of magnitudes."
Africa faces economic breakdown as a result of covid-19, UNDP regional director Ahunna Eziakonwa tells the Associated Press. Mns could lose jobs across the continent with several sectors being battered by the global upheaval.
And emerging markets are looking at their first collective recession … ever? The warning on Africa comes as Capital Economics estimates that "economic output in emerging markets is forecast to fall 1.5% this year, the first decline since reliable records began in 1951," the WSJ notes.
Covid-19 flight restrictions are delaying the delivery of pesticides needed to wipe out swarms of locusts attacking crops in east Africa, Reuters reports. Kenya, which is among the hardest-hit, could see some 4 mn more people struggling to feed their families as a result, says the FAO's head of resilience for Eastern Africa.
Send in the ducks: China's solution when Pakistan faced its own locust emergency in February was to mobilize an army of ducks, any one of which can apparently eat over 200 locusts a day.
The UAE's largest healthcare provider could be heading into administration: Abu Dhabi Commercial Bank (ADCB) has applied to the UK High Court to place embattled healthcare company NMC into administration and investigate allegations of fraudulent accounting, Bloomberg reports. ADCB is one of the NMC's largest creditors and said last week that it has USD 981 mn of exposure to the company, risking more than 80% of its projected 2020 profits. The chairman of NMC — the UAE's largest healthcare provider — accused the bank of jeopardising the country's ability to fight the covid-19 pandemic even as its debt load brings closer to insolvency and other creditors step up efforts to recover funds. Bloomberg has the full rundown on how the UAEs largest healthcare provider was brought to the brink.