Tuesday, 1 November 2022
THIS MORNING: IMF gives Egypt kudos for devaluation as EGP appears to bottom out against the greenback
Good morning, friends, and welcome to the first day of November. We feel we ask this every year, but: Where the hell has 2022 gone? The Colonel was right: Time accelerates as you age.
We're really looking forward to having breakfast this morning with 20 bold-name CEOs to discuss our focused, five-point plan to build a new Egyptian economy that is export-led and can turn us into a magnet for foreign direct investment. We'll be talking lots more about this once we get over the hump of COP27, which is going to keep all of us very busy in the couple of weeks to come.
Also this morning: We've got the results of our Enterprise Reader Poll on your appetite for electric vehicles (EVs), where we found one in five of you intend to buy an electric car in the next 12 months. Check out this morning's Going Green, below.
THE BIG STORY THIS MORNING- IMF gives Egypt kudos for deval + rate hike as it looks like the EGP is bottoming out: The IMF's Middle East and Central Asia boss has praised the Central Bank of Egypt's (CBE) policy moves last week, saying that the shift to a flexible exchange rate will protect the economy against external shocks and calling the decision to raise interest rates a "step in the right direction," Reuters reports. (We join them in cheering the deval — but still can't get behind the rate hike.)
Rewind: The IMF and Egyptian authorities announced a staff-level agreement on a USD 3 bn loan program on Thursday, just hours after the CBE went ahead with a series of measures aimed at restoring liquidity to the FX market. These measures include moving to a "durably flexible foreign exchange rate regime" that allows market forces to determine the value of the EGP — a key condition from the IMF ahead of the assistance package — and hiking interest rates by 200 bps. The move triggered a devaluation of the currency that has seen it fall more than 22% over the past three days.
What the IMF said: A flexible exchange rate "will help the Egyptian economy to be protected from term-of-trade shocks as well as external shocks, especially at a time when global financial conditions have tightened and became more challenging," Jihad Azour told the newswire. "The measures that the central bank took last week in hiking interest rates … go in the right direction. It's very important to control inflation."
EGP WATCH- The EGP moved fractionally lower against the greenback yesterday, edging down a very slight 0.2% to 24.1875, according to central bank figures. The currency has now fallen 22.4% since the central bank's decision to move to a flexible exchange rate on Thursday, and is down 53.3% since the CBE first devalued the currency on 21 March.
In fact, we may have (very slightly) overshot: JP Morgan thinks the EGP will be at 23.50 to the USD at year's end, and Enterprise readers earlier this fall told us last month they were using (on average) 22.12 in their 2023 budgets. Deutsche Bank is the most bearish on the EGP that we know of right now, and it's penciling in 25.00 to the greenback by year's end.
Here's another company that's going to have a rough time with the float: Suez Cement expects to suffer around EGP 800 mn in FX losses on the back of the devaluation, CEO Mohamed Hegazy told Bloomberg Asharq yesterday. The company, like others in the sector, is reliant on imported coal to power its factories, and also imports many of its components and spare parts. Hegazy's statements came a day after Ezz Steel warned it could lose EGP 2.2 bn due to the weaker EGP.
MEANWHILE- Some legit relief for food manufacturers? Authorities will begin releasing today some of the food manufacturing inputs that have been piling up at ports because of restrictions on import finance, the Supply Ministry was quoted as saying in a statement by state TV (watch, runtime: 0:18). The ministry said all inputs would be released from ports by the end of this week to allow factories to resume production.
A quid pro quo? The decision was taken following a meeting between Supply Minister Ali El Moselhy and food producers. During the meeting the minister implored companies not to raise prices in response to the float.
PSA- But there's no interest rate meeting this Thursday: The Central Bank of Egypt's (CBE) won't hold its scheduled policy meeting on Thursday in light of last week's special meeting when it hiked interest rates by 200 bps in tandem with the EGP float, it said in a statement (pdf) yesterday. This means that the Monetary Policy Committee will next meet on 22 December in what will be the final meeting of the year.
HAPPENING TODAY-
November has come: Here are the key news triggers coming up this week and the next.
PMI: We'll know how Egypt's private sector fared in October tomorrow when S&P Global releases the purchasing managers' index. A 22-month contraction in private sector activity didn't show signs of abating in September as high inflation continued to weigh on demand and output.
Foreign reserves figures for October will be released next week.
Inflation: Capmas and the central bank will release October's inflation figures on Thursday, 10 November.
The two-day Arab League summit starts today in Algiers: President Abdel Fattah El Sisi will be among the attendees at the regional summit, which will be the first since the start of the covid-19 pandemic two years ago. This year's gathering takes place amid a diplomatic spat between Algeria and Morocco which has resulted in Morocco's King Mohamed VI declining an invitation to attend and arguments break out among diplomats in a pre-summit meeting. Among the other notable absences: Saudi Crown Prince Mohamed bin Salman, who is reportedly not attending for medical reasons, UAE President Mohamed bin Zayed, Kuwait's Emir Nawaf Al Ahmad Al Sabah and Jordan's King Abdullah II.
It's the final day of Egypt Energy: The three-day energy conference brings together policymakers and business leaders from the regional energy sector to discuss topics including power generation, clean energy, and PPP and foreign investment. The event is taking place at the Egypt International Exhibition Center.
DATA POINT-
Egypt wants to raise gas export revenues to USD 12 bn this year "if [gas] prices remain elevated," Oil Minister Tarek El Molla told Sky News Arabia and CNBC Arabia (watch, runtime: 7:46) in interviews yesterday. Export revenues reached USD 7-8 bn in 2021, El Molla said, speaking on the sidelines of the Adipec expo in Abu Dhabi. The ministry expects export volumes to reach 8 mn tons this year, he said.
That's nothing on where Qatar wants to be by the end of this decade: Qatar is planning to raise LNG output capacity by 60% by 2030, allowing it to export 126 mn tons of gas a year. "I think we will be one of the largest, if not the largest, LNG trader in the world," energy minister and QatarEnergy CEO Saad Al Kaabi told Bloomberg yesterday.
IN THE HOUSE TODAY-
The November bonus: MPs will take a final vote on the government's decision to pay a one-off EGP 300 bonus to public-sector workers and pensioners this month to mitigate the impact of the EGP float. The House Manpower Committee approved the move on Sunday.
Simplifying property registration in new cities: The House is also expected to give the thumbs up to amendments that would simplify the real estate registry and notarization process in new urban communities. "Citizens living in new housing communities have long complained of facing many obstacles standing in their way registering their property units or owned plots of land in real estate notarization offices," the House legislative and housing committees wrote in a recent report. The bill will "help eliminate such obstacles, simplify notarization procedures, and also stimulate private investments," they wrote.
FYI- The Senate is taking a two-week break due to COP27 and will reconvene on Sunday, 13 November.
COUNTDOWN TO COP (5 days to go)-
Egypt and Iran scored the worst in the region for children's exposure to climate and environmental shocks, according to the Unicef Children's Climate Risk Index, which looks at climate risk to children in the MENA region with a special focus on Egypt as this year's COP host. Our overall score of 7.3 out of 10 means Egyptian children are at "extremely high risk," with some 5.3 mn children exposed to heatwaves after temperatures rose 0.53 degree Celsius on average every ten years over the past 30 years. Children in Iraq, Morocco, Yemen, and Sudan were the next most exposed to climate risk.
The world's most famous climate activist is passing on coming to COP: Swedish activist Greta Thunberg said she will not attend the COP27 summit, criticizing the event for "greenwashing" and criticizing our human right record. "I'm not going to COP27 for many reasons, but the space for civil society this year is extremely limited," she said during a book signing on Sunday. "The COPs are mainly used as an opportunity for leaders and people in power to get attention, using many different kinds of greenwashing."
The story is leading the conversation on Egypt and the COP27 summit: Reuters | AFP | Washington Post | The Guardian | Fortune | Independent.
The young activist has also joined the international campaign to secure the release of activist Alaa Abdel Fattah: Thunberg joined Abdel Fattah's sister Sanaa Seif and other protesters outside Whitehall on Sunday, according to the Times.
Conservation group Greenpeace held a boat tour in Hurghada to promote sustainable brands and start a dialogue with local communities in the lead-up to the summit, it said in a press release (pdf).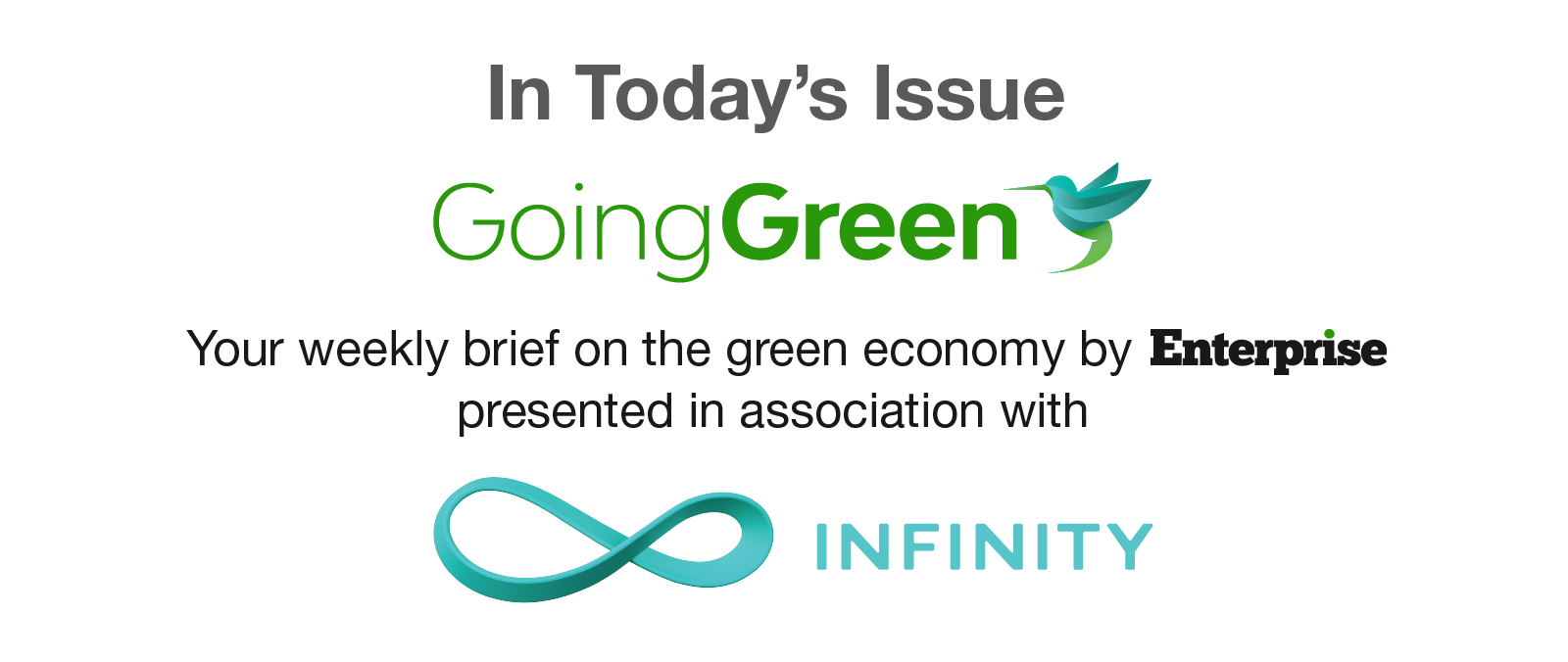 *** It's Going Green day — your weekly briefing of all things green in Egypt: Enterprise's green economy vertical focuses each Tuesday on the business of renewable energy and sustainable practices in Egypt, everything from solar and wind energy through to water, waste management, sustainable building practices and how you can make your business greener, whatever the sector.
In today's issue: The results of the Enterprise EV Survey.