Wednesday, 21 September 2022
THIS MORNING: Egypt to launch intellectual property strategy today + It's Fed Day.
Good morning, ladies and gents. Today's issue brings a double helping of good news for importers, promising news for Egypt's ambitions to become a regional hub for green energy, and some not-great news for the Tawasol-LimeVest consortium's bid for Alex Medical.
WHAT'S HAPPENING TODAY-
Intellectual property strategy launch: Egypt will launch its intellectual property strategy today. World Intellectual Property Organization (WIPO) Director-General Daren Tang will make an appearance at a ceremony being put on to launch the program.
It's the second day of the general debate at the UN General Assembly: Among today's speakers are US President Joe Biden, Libyan President Mohamed Menfi, and Iranian President Ebrahim Raisi, according to the schedule. President Abdel Fattah El Sisi will deliver an address at the event though it remains unclear when.
The UN chief opened proceedings yesterday with a cheery speech: In his opening address, UN Secretary-General Antonio Guterres warned of "colossal global dysfunction" created by climate change, the conflict in Ukraine and rising economic crises in the developing world. "Our world is in peril — and paralyzed," he said. French President Emmanuel Macron and Germany Chancellor Olaf Scholz both made the invasion of Ukraine the centers of their address yesterday, both decrying what they termed Russian "imperialism."
The Federal Reserve begins the second and final day of its policy meeting today amid rising economic uncertainty and market volatility surrounding the pace at which it's raising interest rates. The central bank is widely expected to announce a third successive 75-bps hike when the meeting wraps tomorrow on the back of last week's disappointing inflation data. An increase of this magnitude would take the Fed Funds Rate to its highest level since March 2008.
Markets are nervous ahead of the decision: Asian markets are in the red across the board this morning and it's looking to be a similar story in Europe and the US later today. US stocks fell back during yesterday's trading session, US treasury yields hit 15-year highs, and the USD rose to near-record highs.
HAPPENING TOMORROW-
The Central Bank of Egypt will meet to discuss interest rates, and the signs are pointing towards a third hike of 2022. Six of seven analysts and economists surveyed in our regular poll expect the Monetary Policy Committee to raise rates during its meeting tomorrow as inflation rises and the EGP continues to weaken. HC Securities also added its voice to the chorus, saying earlier this week it sees the central bank raising rates by 100 bps at this meeting and another 100 bps in the November meeting due to Egypt's deteriorating external position and expectations for inflation to accelerate in the coming months.
THE BIG STORY ABROAD-
Things are moving quickly in Ukraine amid fears that Russia could escalate the conflict: There is speculation that Moscow could be about to order a general mobilization after the country's parliament toughened punishments for crimes committed during military mobilization and combat operations. Russian-occupied territories in Ukraine have also announced plans to hold referendums on whether to formally join Russia, a week after Russian forces were sent into retreat in Kharkiv province. Nato condemned the planned referendums, describing them as "a further escalation" of the war. (Reuters | New York Times | FT)
PSA- The last call for coastal governorates to join the e-invoicing system: Companies across Alexandria, Beheira and Marsa Matrouh can now sign up to the eighth and final phase of the rollout of the government's electronic invoicing platform, the Tax Authority said yesterday.
Up next: The second part of the final phase will target companies in Sharkia, Gharbia, Kafr El Sheikh, Menoufia and Damietta and will kick off on October 15.
What e-invoicing system? The government is working to digitize all B2B and B2C invoices, a move designed to give the government greater oversight over tax and reduce the size of the informal economy. The Tax Authority launched a pilot in late 2020 and has been gradually extending the system since then. All B2B and B2C invoices across the country are expected to be fully automated by December.
Attention iSheep: Apps and in-app purchases will be pricier starting next month: Apple is raising prices of apps and in-app purchases through the App Store in the eurozone and nine other countries, including here in Egypt, as soon as 5 October, the company said in a blog post to developers. The tech giant did not specify the level of the increases.
Behind the move: Apple may be looking to protect its margins against currencies weakening against the USD, Bloomberg writes.
CIRCLE YOUR CALENDAR-
Our friends at HSBC are hosting an energy transition webinar series next Tuesday-Thursday, 27-29 September. The series will look at the "latest climate analysis in relation to the global energy market and transition to net zero" in six different sessions covering energy security, what is required to ensure the success of COP27, financing and investment needs for the energy transition, and the scaling up of renewables in the region, among other topics. You can register for the series here.
WANT MORE on the region's energy transition? Catch this op-ed in EnterpriseAM by HSBC's Group Head, Center of Sustainable Finance and Head of Climate Change Middle East, North Africa and Turkey, Zoe Knight on to the capital that's needed to help drive that shift.
A Spanish business delegation will be in town next Tuesday and Wednesday (27-28 September) for the Egypt-Spain Multilateral Partnership Forum, organized by the Spanish Institute for Export and Investment, according to a press release (pdf). The two-day conference will include seminars and panel discussions on trade and investment in transport, energy, and water with Egyptian ministers and representatives from government bodies, alongside officials from international financing institutions and Spanish Secretary of State for Trade Xiana Méndez Bértolo. The agenda for the conference is available here (pdf).
GITEX Global is being held at the Dubai International Convention and Exhibition Center from 10-14 October. The event, which is running under the theme "enter the next digital universe," will bring together players in Big Tech to discuss AI, cybersecurity, blockchain, the metaverse, and more.
Check out our full calendar on the web for a comprehensive listing of upcoming news events, national holidays and news triggers.
***
WE'RE LOOKING FOR A SMART, TALENTED HEAD OF PEOPLE to help us develop and deliver a comprehensive people strategy to help grow Enterprise and our sister company, Inktank Communications. Attracting and retaining top talent is the lifeblood of our business — are you the right person to help us do it?
WHO YOU ARE- Our Head of People is responsible for aligning HR practices with business objectives and works alongside some very smart people, including our C-level and leadership teams, to design and develop HR strategies and monitor their effectiveness. Candidates should have at least 10 years of experience in human resources, with extensive knowledge of key HR disciplines including performance and talent. We are looking for someone who isn't afraid to challenge, innovate, experiment, and move at a fast pace — not to mention creating some very cool new things to drive people engagement and improve a high-performance culture.
INTERESTED IN APPLYING? To apply for the Head of People, drop us a line at jobs@enterprisemea.com and mention "Noha" in your subject line — she's our outgoing Head of People and the first person who's going to be reading your application. Please send a solid cover letter telling us a bit about who you are and why you're a good fit for our team. We want to see your CV, but the most important thing is a cover letter that makes us want to pick up the phone and give you a call.
***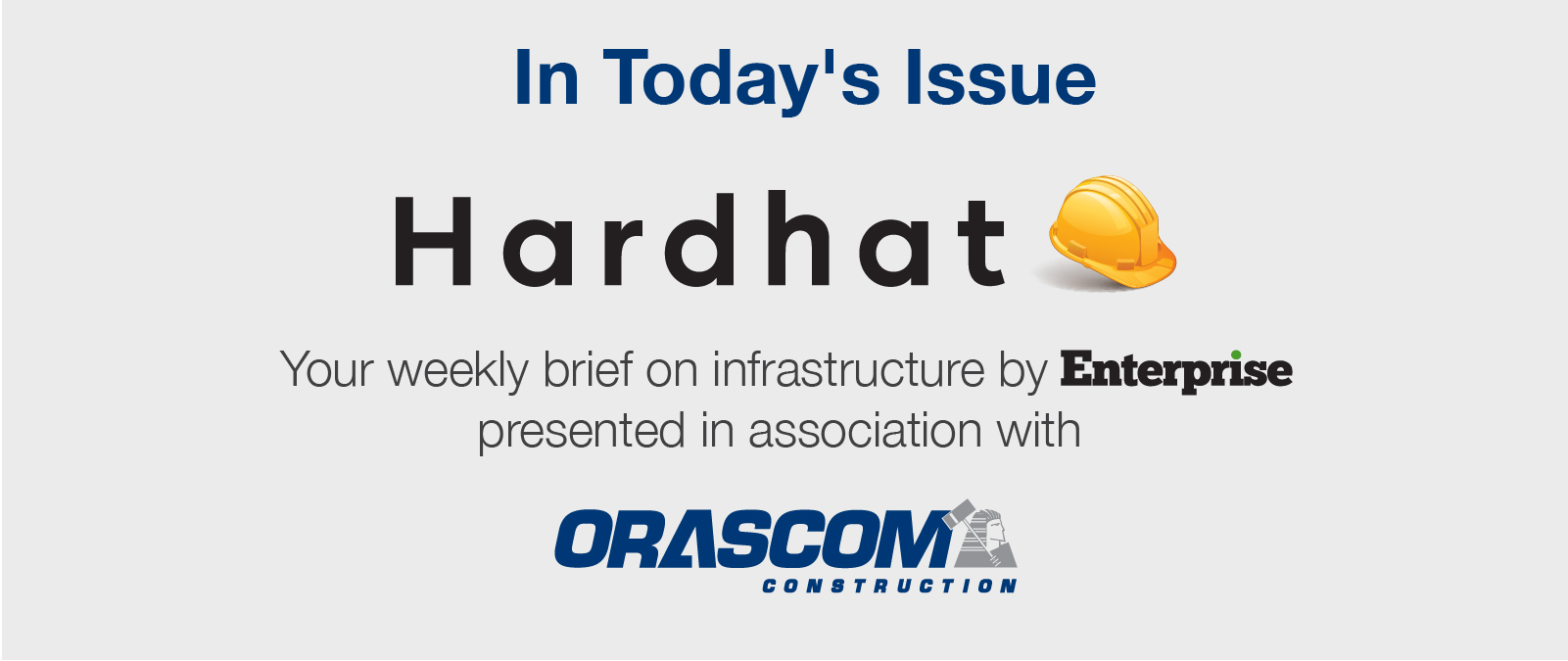 *** It's Hardhat day — your weekly briefing of all things infrastructure in Egypt: Enterprise's industry vertical focuses each Wednesday on infrastructure, covering everything from energy, water, transportation, and urban development, as well as social infrastructure such as health and education.
In today's issue: We look at how the biggest EGX-listed CIT infrastructure players performed during 2Q 2022 amid rising inflation, FX shortages and the EGP devaluation — and review the outlook for the sector in the second half of the year.