Wednesday, 2 February 2022
THIS MORNING: Gov't to privatize "as many state companies as possible" + it's gonna get windy out there
Good morning, friends. We're drinking from a fire hose of news this morning, with tons of news on everything from privatization (hello, EGX) to an exclusive sit-down with the Finance Ministry's Ahmed Kouchouk — with stops at the green economy, Planet Startup and subsidy policy in between. Let's jump right in:
THE BIG STORY HERE AT HOME- The government is looking to list "as many state companies as possible" on the EGX in 2022, PM Moustafa Madbouly said yesterday during a follow-up meeting on the state privatization program, according to a cabinet statement. The meeting looked at the list of companies that could debut before the end of June, as well as preparations for the IPOs of military-owned firms (think: Safi and Wataniya). The PM's remarks come after Finance Minister Mohamed Maait on Monday said the privatization program would resume in March, and days after Planning Minister Hala El Said revealed plans to sell stakes in state-owned companies every month or two
Likely up to list or offer more shares this year: Heliopolis Housing and Development (which is eyeing a secondary offering) and state fertilizer producer Mopco. Misr Ins. Holding subsidiary Misr Life Ins. is looking at an IPO, and perennial candidate Banque du Caire could also make its EGX debut.
The caveat: As always, IPO windows open and close with global market conditions — and things are looking a bit choppy globally this winter.
ALSO FROM CABINET- Replacing bread subsidies with EGP handouts could add to inflationary pressures, Supply Minister Ali El Moselhy was quoted as saying in a Reuters interview, adding that "when inflation is stable, then you can introduce cash." Handouts ringfenced specifically for bread would be Moselhy's preferred option, he added. The ministry is discussing several scenarios to rework the expensive bread subsidy system and expects to announce its plans by the end of March.
WATCH THIS SPACE- The Finance Ministry is mulling whether to lower the mandatory 0.25% tithe on corporate revenues that funds (in part) the universal health ins. program, Al Borsa quotes Finance Minister Mohamed Maait as having said.
WHAT'S HAPPENING TODAY-.
The 6% fee hikes for most ships transiting the Suez Canal came into effect yesterday as scheduled, Suez Canal Authority head Osama Rabie said in a statement. LNG carriers and cruise ships are exempt from the increase, which comes as the authority starts to wind down a range of pandemic-era incentives and reductions
Suez Canal revenues rose 10% y-o-y in January to record USD 544.7 mn, Rabie added.
Revenues have been on the up for some time — hitting a record USD 6.3 bn in 2021 — amid a global supply chain crunch that has seen shipping costs soar.
PSA- We're in for a few days of wind + rain: Wind will pick up across Greater Cairo, Upper Egypt and the North Coast tomorrow and Friday, bringing light to moderate rainfall to parts of the country, the national weather service forecasts
THE BIG STORY ABROAD-
Putin speaks on Ukraine — and it's not what the West wanted to hear. Russian President Vladimir Putin has accused the US of trying to lure Russia into a war over Ukraine, breaking a near-six week silence on the escalating Ukrainian crisis. Putin claimed that the US was using Ukraine as a "tool" to impose sanctions that would dent Russia's development, while ignoring Russian demands for a promise that its neighbor would not become a NATO member.
An alternative explanation for the rising tensions: Putin has sent more than 100k troops to the Russia-Ukraine border in recent weeks. US officials urged Russia to pull back from the border and return to diplomatic negotiations in response to his latest comments.
Everyone and their mother had coverage of the developments, from Reuters and the Financial Times, to the Washington Post, the New York Times, and the Associated Press.
ON A RELATED NOTE- The Netherlands received its first ever LNG shipment from Egypt on Monday via the recently reopened Damietta LNG Plant, as Europe continues to suffer from an energy crisis that sees it attempt to diversify its gas imports. That bid for new supply will only get worse if Russia turns off the taps.
MARKET WATCH-
Swvl is now set to close its merger with blank-check firm Queen's Gambit in either February or March, company CFO Youssef Salem said, confirming a report in Al Mal. The transaction is waiting on final approval from US regulators, he added. Streaming platform Anghami, meanwhile, has a deadline to close its SPAC with Vistas Media Acquisition Company by 11 February.
OPEC+ is set to agree on more gradual production increases in its meeting today, Bloomberg reports.
Laughing all the way to the bank: ExxonMobil and Chevron, which saw earnings rise to levels not seen in eight years in 2021 on the back of spiraling crude prices. Shell and BP are expected to follow suit when they reportlater this week, the Wall Street Journal reports. Brent crude prices threaten to break the USD 100-per-barrel mark this year. The international benchmark settled just a touch under the USD 90 mark on Tuesday.
CIRCLE YOUR CALENDAR-
Key news triggers to keep your eye on in the first days of this new month:
Interest rates: The Central Bank of Egypt will hold its first policy meeting of 2022 on Thursday. All analysts surveyed in our regular interest rate poll expect the CBE to keep rates on hold, as they anticipate our rates continuing to attract portfolio inflows even amid Fed tightening and global inflationary pressures.
PMI: January PMI figures for Egypt, Saudi Arabia, and the UAE are also due out on Thursday.
Foreign reserves figures for January should be out from the Central Bank of Egypt before the week is out.
Inflation: Inflation figures for January will be released next Thursday, 10 February.
A call to logistics and cargo transport firms for rail freight privatization: Egyptian National Railways (ENR) is inviting private sector players to a forum at its headquarters on Tuesday, 22 February, to gauge interest in its plans to delegate the management and operations of freight transport to the private sector, Al Mal reports. You can register for the forum by sending the organizers an email.
From our friends at the US embassy: Women can now apply to join Fortune Global Women's Mentoring Program which will take place from 8-28 May 2022. The program aims to bring emerging women leaders from around the world to the US to meet and learn from the Fortune Most Powerful Women community, which includes executive women mentors from companies such as Accenture, Johnson & Johnson, and Aetna. The deadline to apply for the program is 8 February. You can begin your application by signing up here.
ALSO- The embassy is now accepting applications for Cultural Property Agreement Implementation projects that would help Egypt protect cultural property from looting, theft, and illicit trafficking. The guidelines state that concept notes should be sent in by this Thursday, 3 February, while shortlisted applicants will need to submit full applications by 4 May. Each project will receive USD 50-100k, with around USD 500k earmarked for the entire program.
Check out our full calendar on the web for a comprehensive listing of upcoming news events, national holidays and news triggers.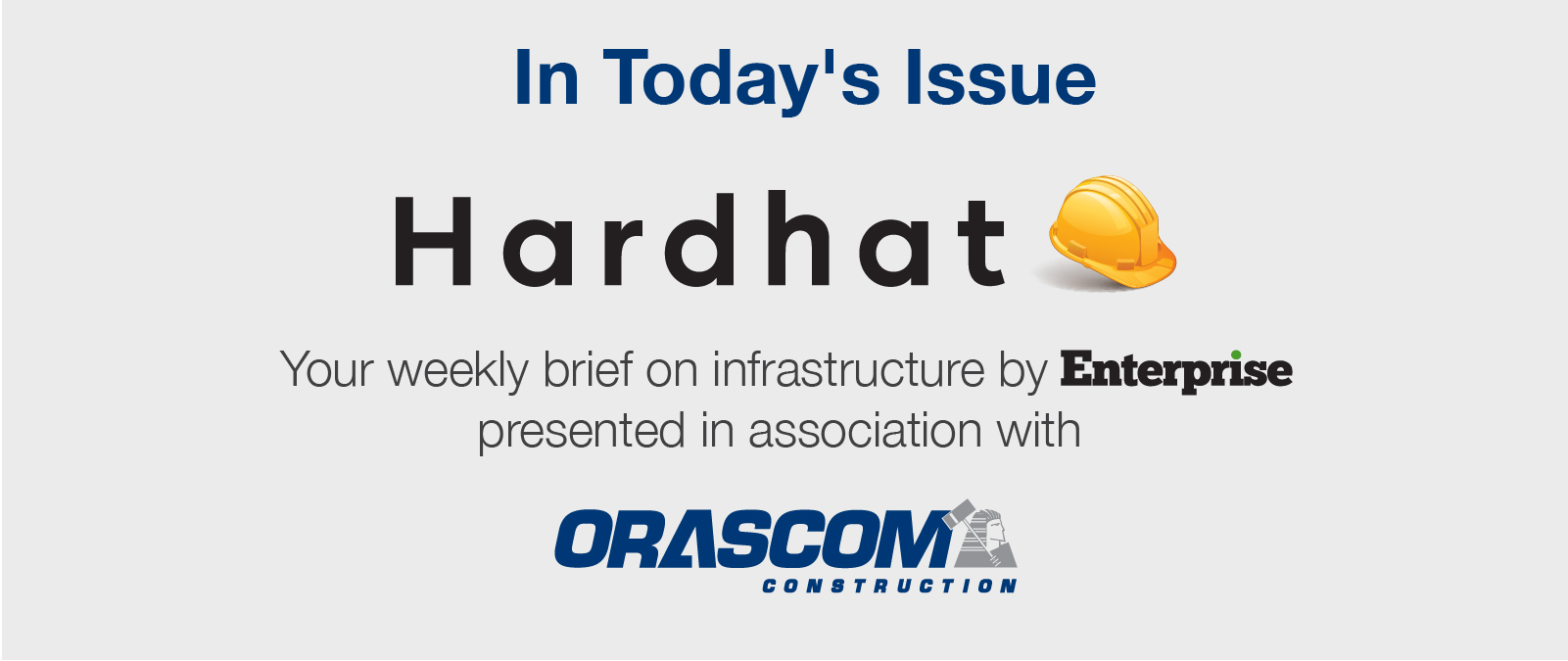 *** It's Hardhat day — your weekly briefing of all things infrastructure in Egypt: Enterprise's industry vertical focuses each Wednesday on infrastructure, covering everything from energy, water, transportation, and urban development, as well as social infrastructure such as health and education.
In today's issue: A long neglected component of Cairo's urban and historical core, Old Cairo is finally on the cusp of revitalization. With restoration work already underway in the former capital of the Islamic world and at least EGP 4 bn designated for the first of the three-stage government project, we take a look at what has been accomplished so far and what might be in store for residents and tourists in the very near future.