Monday, 4 October 2021
THIS MORNING: No Egyptians in Pandora Papers (yet) + it's Nobel Prize week
Good morning, wonderful people, and welcome to Nobel Prize week. The festivities kick off today with the prize in physiology or medicine (expect an announcement around 11:30am CLT). Up next:
Physics — Tuesday
Chemistry — Wednesday
Literature — Thursday
Peace — Friday
Economics — Monday, 11 October
You can track it all on the Nobel website here, if you're so inclined.
WHAT'S HAPPENING TODAY-
The House Planning and Budgeting Committee is getting to work today, with two meetings scheduled. At least one will focus on the proposed Unified Budgeting Act. The House is settling into its new legislative season, having just yesterday (re-)elected committee heads. We have the full rundown on who's running business-relevant committees in this morning's Speed Round, below.
First Vice President of the European Commission Frans Timmermans is in town today for the Union for the Mediterranean ministerial climate conference. A side event on food security during the transition to green and circular economies will be livestreamed at 16:30. Lamees El Hadidi spoke to the Union's secretary-general Nasser Kamel for a rundown of the event's agenda (watch, runtime: 8:18).
Timmermans will also hold talks with a number of Egyptian ministers, the European Union Delegation to Egypt said in a press release (pdf). He will be joined by Carl Hallergard, the bloc's co-director for the Middle East, and other EU officials. The release didn't say which ministers Timmermans will be meeting.
Foreign Minister Sameh Shoukry took off to Moscow Sunday evening: Expect bilateral ties and regional issues to feature in talks with his Russian counterpart Sergey Lavrov, the foreign ministry said yesterday. Shoukry will also meet with Russian Security Council Secretary Nikolai Patrushev to discuss enhancing coordination in the upcoming period.
OPEC and its Russian-led allies will hold their output-setting meeting today. Expect a debate on how much oil to let loose into the bull market, where prices recently reached a three-year high of over USD 80 a barrel, as the world recovered from supply disruptions and weak demand. The cartel could consider adding more output that it had originally agreed in June, when it decided to boost supply by 400k barrels per day every month until at least April 2022, four unnamed insider sources told Reuters yesterday. Any potential increase would come into effect in November at the earliest, since output for October has already been set.
PSA- It's official: You have a short workweek. The nation will take Thursday, 7 October off in observance of Armed Forces Day, the cabinet said yesterday in a statement. We can also expect to have a Thursday off later in the month thanks to the Prophet Muhammad's Birthday, which is formally observed on Monday, 18 October.
HAPPENING THIS WEEK-
A preparatory conference for the Intra-African Trade Fair 2021 — which is scheduled to kick off in South Africa in mid-November — is being hosted tomorrow by the African Export-Import Bank (Afreximbank) at the Westin Cairo Golf Resort & Spa. Here's the day's agenda (pdf).
The Cairo International Fair continues today at the Cairo International Conference Center, running through 8 October.
It's the final day of Techne Summit: The three-day investment and entrepreneurship event in Alexandria held under the auspices of the CIT ministry bringing together some 600 startups.
THE BIG STORY ABROAD- The Pandora Papers: One of history's largest leaks of financial information has exposed the wealth of hundreds of rich and powerful people from across the globe — from the family of former UK Prime Minister Tony Blair to Jordan's King Abdullah. The investigation — which focuses on how more than 330 politicians, 130 Forbes bn'aires, and others use offshore firms to stack wealth and avoid taxes — surpassed the 2016 Panama papers leak in size and scale, with more than 2.94 terabytes of data leaked from 14 offshore service providers.
This is but the tip of the iceberg: The Pandora Papers team have initially released data on 50 politicians, touching on Vladimir Putin's secret assets in Monaco and Azerbaijani President Ilham Aliyev's involvement in GBP 400 mn worth of property transactions in the UK. Kenyan President Uhuru Kenyatta and the inner circle of Pakistani Prime Minister Imran Khan, among others, are also alleged to have used offshore vehicles. There are still hundreds more implicated in the leak, and the folks who have control of the documents are trickling out stories in batches, often with global media partners. Look for this story to have legs in the weeks to come.
No Egyptian appears to be in the first batch of the papers: Unlike the Panama Papers — which had implicated members of former president Hosni Mubarak's family and several other prominent local names — there don't seem to have been any Egyptian politicians or business figures identified in this latest leak.
Wait, haven't we heard this before? Nope. Those were the so-called Paradise Papers back in 2017.
You can read the Pandora Papers here, or you can check out one of the many outlets giving the story coverage: The Financial Times | Bloomberg | BBC | NPR.
RUNNING A CLOSE SECOND in competition for your reading attention: The whistleblower who made the WSJ's Facebook Files possible has gone public. Former Facebook employee Frances Haugen says she "wants to fix the company, not harm it." She went public in the Wall Street Journal and her account is getting lots of play on the front pages of the global business press: WSJ | FT | CNBC | Reuters.
SIGN OF THE THE TIMES- PwC has told some 40k staff in the United States that they can work remotely forever — but employees run the risk of pay cuts if they move to lower-cost areas. The news comes as CNBC says a growing number of US CEOs are going bonkers over not having staff in the office. The CEO of leading gaming company Electronic Arts says that while hybrid working is taking off, "people want to come back into our offices for the moments that matter." Companies across North America are delaying return-to-office orders because of the spread of the delta variant.
***IN CASE YOU MISSED IT– Stories from yesterday's edition of EnterprisePM:
CIRCLE YOUR CALENDAR-
The final quarter of 2021 is here. Get these dates in your diary:
PMI: September's purchasing managers' indexes for Egypt, Saudi Arabia and the UAE will land on Tuesday, 5 October.
The Senate will convene for its 2021-2022 legislative season on Tuesday.
Foreign reserves: September's foreign reserves figures will be out sometime during the first week of October.
Public schools are back in session this coming Saturday, as are universities.
Inflation: Inflation figures for September will be released on Sunday, 10 October.
IMF + World Bank meetings: The IMF and the World Bank will hold their annual meetings during the week beginning 11 October.
Interest rates: The Central Bank of Egypt will meet to review interest rates on Thursday, 28 October.
Check out our full calendar on the web for a comprehensive listing of upcoming news events, national holidays and news triggers.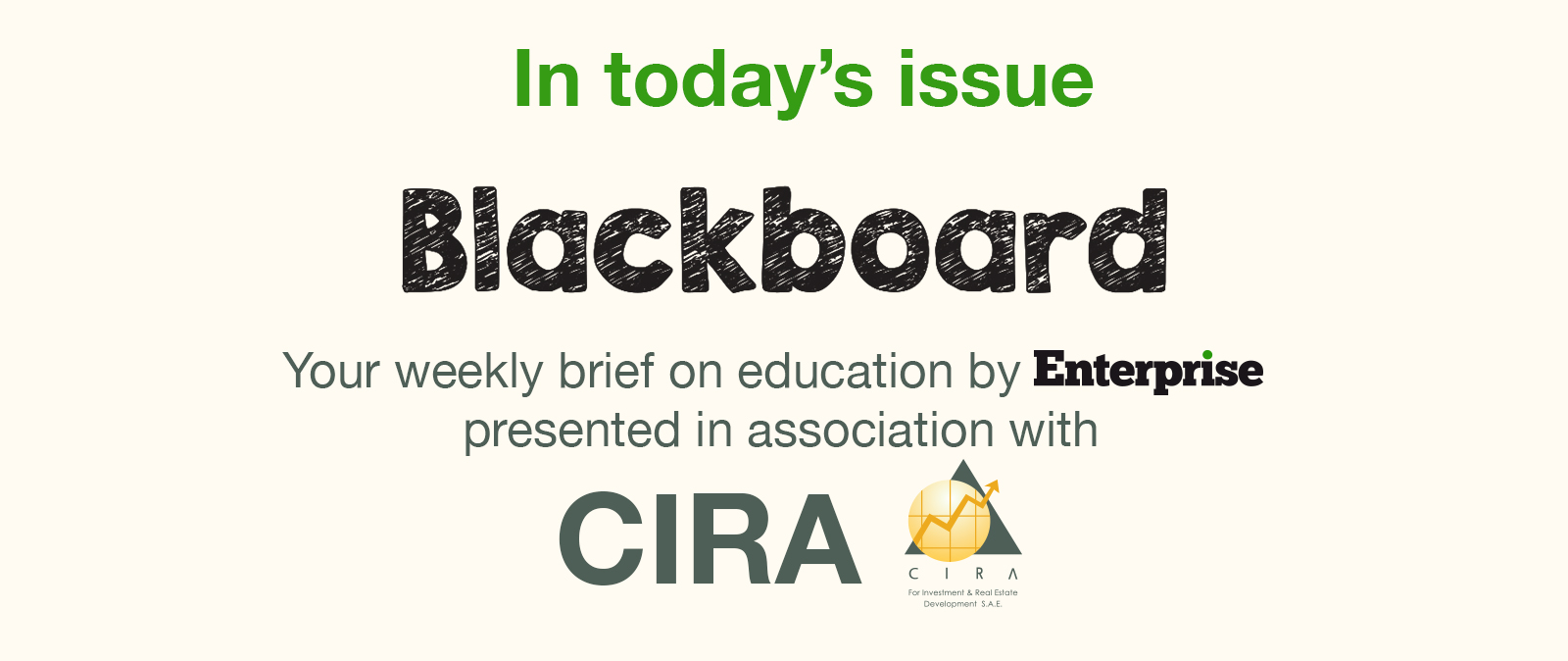 *** It's Blackboard day: We have our weekly look at the business of education in Egypt, from pre-K through the highest reaches of higher ed. Blackboard appears every Monday in Enterprise in the place of our traditional industry news roundups.
In today's issue: Microschooling — often defined as non-traditional education taking place at a very small scale, with a high instructor-to-student ratio — existed in Egypt before covid-19, but leading players say the movement was already fragmented because of structural issues. And while the pandemic has enhanced the appeal of microschooling for some families, it's also compounded the challenges in keeping the schools afloat, they say.