Monday, 23 August 2021
Delta variant has landed + vaccine passes might become a thing in Egypt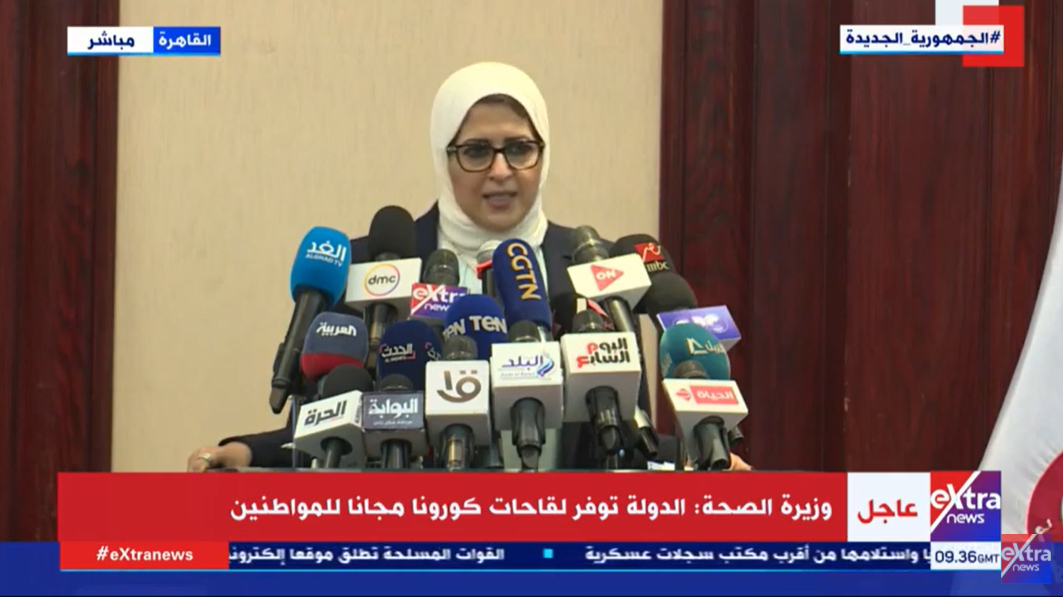 Egypt has recorded its first official case of the delta variant, Health Minister Hala Zayed said during a presser this morning (watch, runtime: 28:31). The first case appears to be a 35 year old woman in July that did not require hospitalization, said Zayed. She wasn't the only one to be infected with the strain, as other cases have since been detected. None required hospitalization.
You may soon need a vaccine to attend large gatherings. Zayed said QR-code vaccine certificates are being expanded and will run on a traffic-light system: red for those who are unvaccinated, yellow for those who have received one dose, and green for the fully-vaccinated. The system could soon be needed for admission to any large gathering. Zayed said that a green passport may become mandatory for entry to football matches, for example.
A call for arms: Zayed called on Egyptians to sign up for covid vaccines , during which she warned that registration rates are falling at a time when cases are on the rise. Some 10 mn people have so far registered with the ministry, 7.5 mn of whom have so far received at least one dose of a vaccine, she said.
Cases have been climbing in recent weeks: The minister said that Egypt is witnessing a rising curve in infection rates and that while the numbers were still negligible in comparison to many countries, the trend should ring alarm bells that higher case numbers can be expected by the end of September.
The first 1 mn Egypt-made Sinovac shots will be supplied to vaccination centers starting tomorrow, Zayed said. All of those who are registered will receive a first jab as soon as the shots become available, she added. State-owned vaccine maker Vacsera has so far made 15 mn doses of the vaccine, and will ramp up capacity to produce 15-18.5 mn each month. In addition to the home-made Sinovacm, some 5.2 mn doses of Pfizer and Moderna are set to arrive in September, along with more shipments of Johnson & Johnson vaccines are also anticipated.
New vaccination targets: The ministry said last week that it is planning to give at least one dose of a vaccine to some 35 mn people over three months. The plan would see more than half of the 60 mn people eligible for vaccination receive a shot.
The number of vaccination centers is being bumped up again ahead of the anticipated fourth wave: 800 centers will be operational by the end of August, the health minister said. The number of operational centers has been climbing at a rapid pace this month and currently stands at 657 facilities nationwide.
Egypt will produce a vaccine that will be "recognized in 100% of countries" through a partnership with an unnamed Europe-based vaccine maker, Zayed said. A final agreement will be announced within days, she said, without disclosing further details.
Egypt could become one of Africa's vaccine export hubs: Egypt has been asked to produce 1 bn doses of the vaccine annually at its Vacsera factory to meet the needs of the entire African continent, following visits from the African Union and the African Export and Import Bank around two weeks ago, the minister said.
Vaccines will also be doled out to travellers younger than 18 years of age who need to travel abroad for work or study.
IN GLOBAL COVID NEWS-
Pfizer booster shots have been found to significantly reduce covid infection among people aged 60 or above, according to Reuters. Data released from the Israeli health ministry suggests that, 10 days after the third shot, patients were four times more immune to the virus than those who received two jabs, and were five to six times less likely to develop serious illness and be hospitalized. An increasing number of countries are turning to booster shots as concerns about long-term vaccine immunity and the strength of the delta variant grow.
AstraZeneca's antibody therapy could be good at preventing covid symptoms: An antibody therapy treatment developed by AstraZeneca lowered the risk of developing covid symptoms by 77%, the company said in a statement Friday. The three-month late-stage trial featured 5.2k participants, and found a "statistically significant reduction" in covid symptoms after people received the treatment. More than 75% of participants had conditions that have been reported to reduce the immune response to covid vaccines.