Tuesday, 16 March 2021
What we're tracking on 16 March 2021
Good morning, nice people, and welcome to a policy- and legislation-heavy issue after the run of M&A that has dominated headlines for the past week and a half.
We're also feeling very green this morning. Not because it's nearly St. Patrick's Day, but because we're launching our new green economy vertical. And in the news well this morning, we have coverage of the FRA's drive to push non-bank financial services players to put all things green at the center of their business models.
THE BIG STORY INTERNATIONALLY: The list of countries pausing the rollout of AstraZeneca's vaccine grows bigger: France, Italy, Spain and Germany are temporarily suspending the use of the vaccine, pending further investigation after a handful of cases in which people reported developing blood clots after taking the jab. Austria, Norway, Ireland, the Netherlands and Denmark have also pressed pause in recent days.
But the WHO insists there is "no evidence" of a direct link between the jab and blood clotting incidents, saying in a statement picked up by Euronews yesterday it is reviewing the reports and adverse effects. The organization urged governments to press ahead with vaccine rollouts to "save lives and stem severe disease from the virus."
Uh, can we talk statistics for a moment? The European Medicines Agency is a voice of reason here, with the New York Times quoting it as saying, "the numbers of such problems reported in vaccinated people did not seem higher than those usually seen in the general population." As one top British regulator put it: "We are closely reviewing reports but the evidence available does not suggest the vaccine is the cause."
So would we take AstraZeneca this morning, if offered the chance? Yep. 100%.
The AstraZeneca vaccine — one of Egypt's jabs of choice — is still being administered in Canada, Belgium, Poland, the Czech Republic, and Ukraine. Thailand is also set to begin rolling out the jab today, after safety concerns led to a "brief delay," BBC notes.
Egypt is set to receive some 40 mn doses of the vaccine this year, with the first batch of 6 mn doses set to arrive by the end of the month as part of an 8.6 mn dose order placed through the Gavi / Covax program.
*** CATCH UP QUICK from Monday's edition of EnterprisePM:
Egytrans has conditionally approved Hassan Allam Utilities' purchase offer to take over a controlling stake in the company via a reverse merger.
GSK Egypt has turned down Acdima's request to start due diligence, closing sale talks.
Taaleem Management Services has valued its initial public offering on the Egyptian bourse at EGP 5.48-6.02 per share. Taaleem submitted its formal request to list on the EGX and its shares could start trading as early as next month, according to a report in this morning's print edition of Al Mal.
---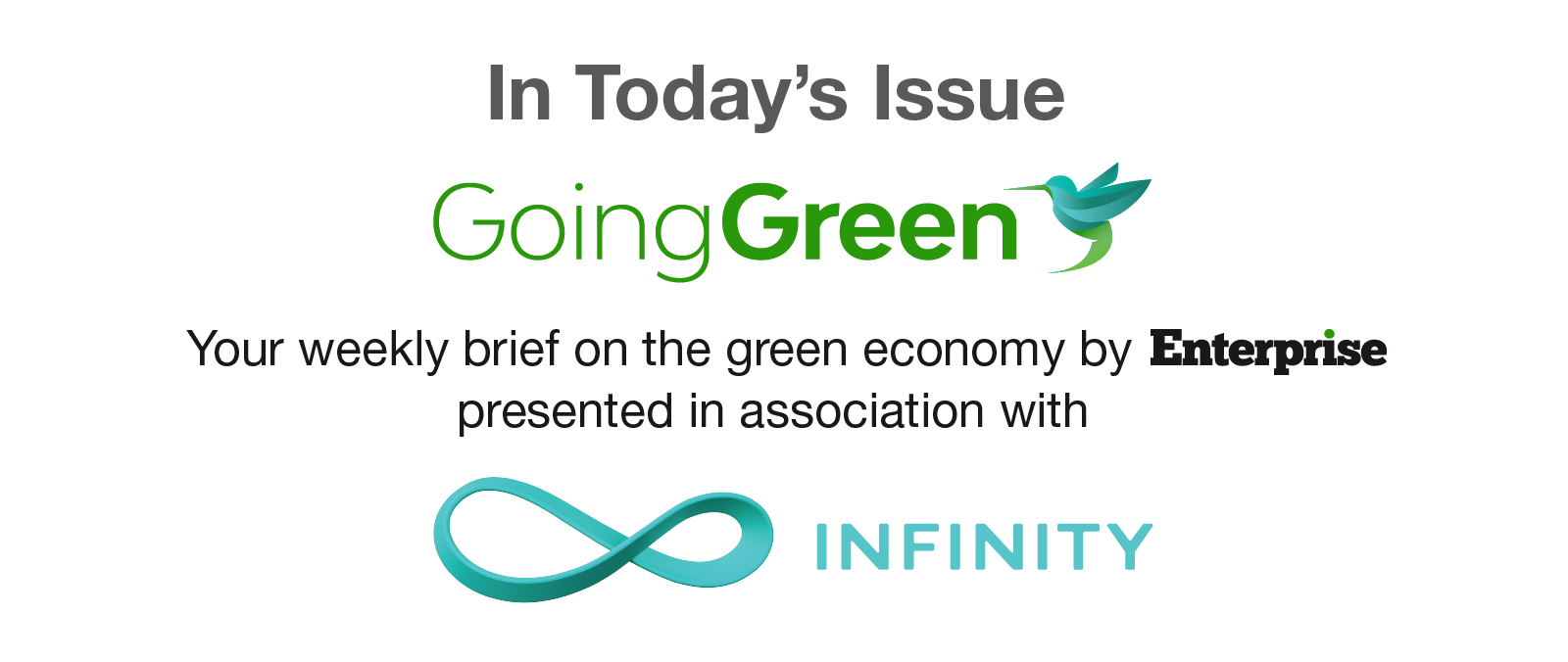 We promised you late in November that we were redoubling our focus on the issues that will define our generation. The list of policy issues that will shape our lives (in business and out) is long, but few are more all-encompassing than climate. With that in mind:
We're honoured this morning to launch Going Green — your weekly briefing of all things green economy in Egypt — with the support of our friends at Infinity. Our third weekly industry vertical, Going Green will focus on the business of renewable energy and sustainable practices in Egypt. The scope of the Going Green is massive, covering everything from solar and wind energy through to water, waste management, sustainable building practices and how you can make your business greener, whatever the sector.
Look for Going Green every Tuesday for a hand-picked selection of stories, analysis pieces, explainers, interviews, and reports that will help keep you informed on the green economy.
In today's issue: Egypt's USD 750 mn sovereign green bond issuance made waves last year. But other planned issuances stalled amid covid turbulence. This looks set to change in 2021, with more sovereign green bond issuances planned and CIB looking to close the first tranche of its USD 100 mn corporate green bond issuance — Egypt's first — by 1H2021. This is all being spurred by investor appetite for Egyptian debt, green bonds, and ESG investment, sources tell Enterprise.
---
WHAT'S HAPPENING TODAY-
The Federal Reserve begins its two-day meeting to decide interest rates today. The consensus: No rate hikes until 2023 and the USD 120 bn-a-month bond buying program will be left untouched. But the recent rise in US treasury yields means markets are pricing for an earlier than originally expected rate hike, writes DoubleLine Capital portfolio manager Gregory Whiteley for the Financial Times, and the Fed may have to scale up its asset purchase program to increase its support if it wants to achieve its target of full employment before enacting an increase.
It's also interest rate week here at home: The Central Bank of Egypt meets on Thursday to review interest rates. All 12 analysts we spoke with for our regular poll believe the central bank will leave rates on hold. A Reuters poll published yesterday indicates the same anticipated outcome.
Local banks will be able to settle USD transactions for their retail clients within the same working day beginning 1 April, and EUR transactions shortly thereafter, Central Bank of Egypt (CBE) Deputy Governor Rami Aboul Naga told Al Arabiya yesterday. The CBE will first introduce the quicker settlement mechanism to foreign currency interbank payments on 22 March, under a recent decision that aims to make FX transfers in Egypt less costly for banks and faster for clients, and then extend the system to the day-to-day USD payments made by bank clients to third parties.
PSA- Visit your local moroor and get an RFID sticker affixed to your car's windshield before the deadline on 30 March, the Interior Ministry said in a reminder yesterday.
CIRCLE YOUR CALENDAR-
Business tech expert and TEDx speaker Patrick Schwerdtfeger will explain how entrepreneurs, businesses and investors can harness disruptive tech during a two-hour webinar hosted by AmCham today at 3:00pm CLT. The two-hour event will see Schwerdtfeger talk block chain, AI and crypto, and discuss how the business community can reposition in a world undergoing rapid technological change. You can register for the event here.
Egyptian tennis champion Mayar Sherif will participate in the Miami Open Main Draw, with the 2021 tournament taking place between 22 March and 4 April, Sherif announced on Facebook. As a "wild card" Sherif was directly invited to play by the tournament organizers.