Monday, 15 March 2021
What we're tracking on 15 March 2021
Good morning, friends, and welcome to another brisk news day in which M&A news takes a back seat to the latest developments in the pandemic and the launch of an EGP 100 bn program to offer 30-year mortgages to low- and middle-income earners with subsidized rates.
*** CATCH UP QUICK from yesterday's M&A-heavy edition of EnterprisePM:
M&A Watch #1: Emirati real estate firm Aldar Properties has submitted a non-binding offer to acquire at least 51% of real estate giant Sodic, raising hopes for much-needed foreign investment in the real estate sector.
M&A Watch #2: GlaxoSmithKline has temporarily shelved plans to sell its units in Egypt and Tunisia following the breakdown of talks with UK-listed Hikma Pharma.
M&A Watch #3: A bidding war for hospitals operator Alexandria Medical Services is beginning to heat up after a consortium of Mabaret Al Asafra Hospitals and investment firm Tana Africa Capital said it plans to submit an offer rivaling another led by Saudi's Tawasol Holdings and Speed Medical subsidiary Speed Hospitals Company.
PICKING UP WHERE WE LEFT OFF- Acdima Pharma expects to hear back from GlaxoSmithKline today on its request from last week to start due diligence on GSK's Egypt operations. GSK had previously rejected separate takeover bids by Acdima and Rameda Pharma, saying last month it was focusing instead on talks with Hikma Pharma. GSK acknowledged yesterday that Acdima asked last week to start DD, but noted its parent company has backed away from a sale. Its board was due to meet yesterday. The breakdown of talks pushed GSK's lightly-traded shares on the EGX to close down 10% yesterday.
WHAT'S HAPPENING TODAY-
Proposed changes to the Bankruptcy Act could finally see the light of day when MPs reconvene today to finalize their discussion of the bill, according to the local press. The bill was approved at the committee level earlier this year, and would, if passed, give creditors more power to decide the future of bankrupt businesses and allow debtors to request bankruptcy protection, among other things.
The 2021 Grammys were still underway at dispatch time. Taylor Swift walked away with Album of the Year, while H.E.R.'s "I Can't Breathe" — a protest about last year's police violence in the US, particularly the murder of George Floyd — landed the Song of the Year award.
CIRCLE YOUR CALENDAR-
The US Federal Reserve is likely to decide to keep rates on hold at near zero levels during its two-day meeting beginning tomorrow, despite the successful vaccine rollout and the Biden administration's recently passed USD 1.9 tn relief bill, Bloomberg reports. Economists surveyed by Bloomberg projected steady rates until 2023, whereas most economists in an earlier survey said they did not expect any rate changes until 2024. The Fed is also expected to continue with its USD 120 bn monthly asset purchase program, and to raise its estimates of 2021 growth to around 5.8%.
The Central Bank of Egypt meets on Thursday to review rates, with all 12 analysts we spoke with for our regular poll saying they think the CBE will leave rates on hold.
Life coach Arfeen Khan is giving a talk at a virtual AmCham event today.
Business tech expert and TEDx speaker Patrick Schwerdtfeger will explain how entrepreneurs, businesses and investors can harness disruptive tech at a webinar hosted by AmCham tomorrow. The two-hour event will see Schwerdtfeger talk block chain, AI and crypto, and discuss how the business community can reposition in a world undergoing rapid technological change. You can register for the event here.
The British-Egyptian Business Association (BEBA) will host a virtual conference on how Egyptian and UK firms can work together on sustainable manufacturing in Africa in the post-Brexit environment on Tuesday, 23 March. Check out the agenda here (pdf).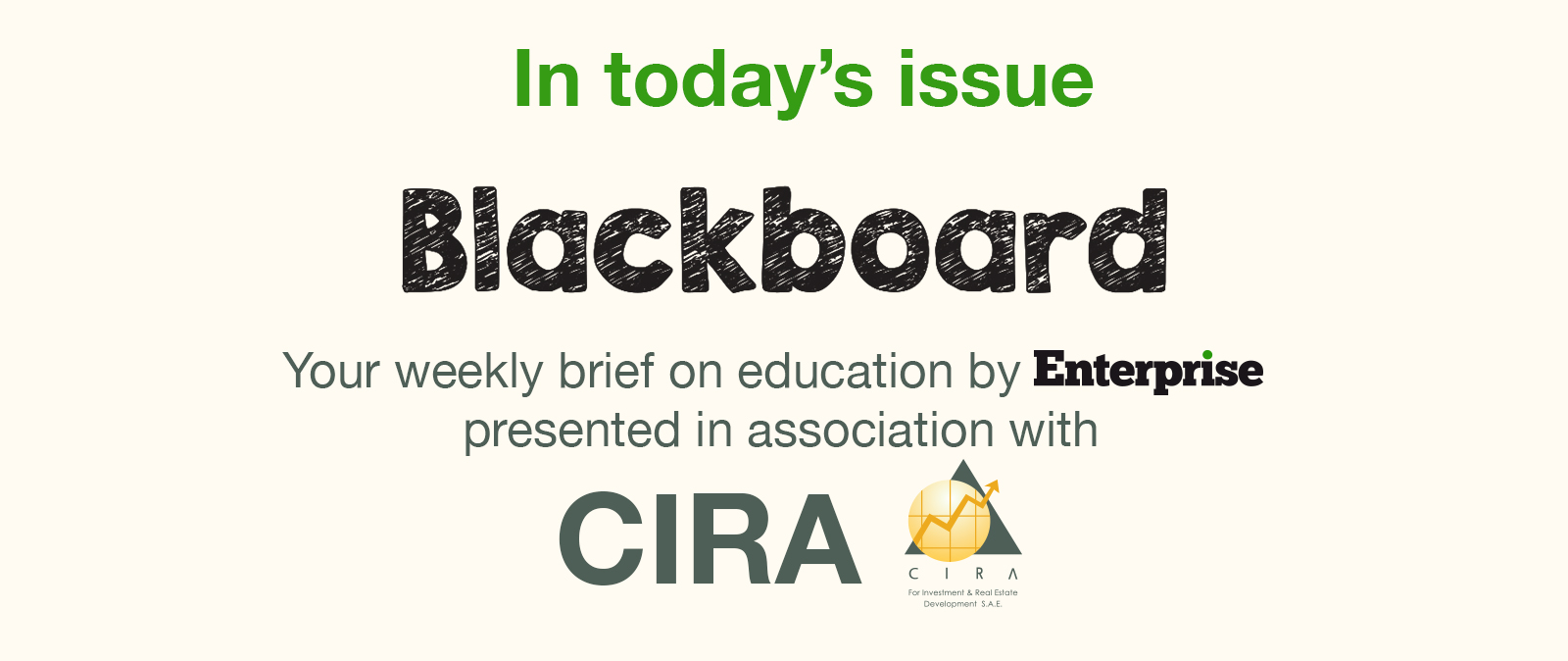 *** It's Blackboard day: We have our weekly look at the business of education in Egypt, from pre-K through the highest reaches of higher ed. Blackboard appears every Monday in Enterprise in the place of our traditional industry news roundups.
In today's issue: The Higher Education Ministry is looking to give Egypt's universities more of a tech focus, with six new tech universities planned and scientific research flagged as crucial to Egypt's sustainable development. The shift in government policy priority is also encouraging the private sector to pour investments into tech universities.