Monday, 14 December 2020
What we're tracking on 14 December 2020
Good morning, friends, and welcome to an unusually busy Monday in which we have plenty of corporate news to keep you entertained on your morning commute, whether that's across the hall or across the city.
WHAT'S HAPPENING TODAY- The final results for parliamentary elections held in Cairo and 12 other governorates will be announced today.
(We said 11 other governorates yesterday, but that was apparently because we decided Dakahlia should go missing. Our apologies for accidentally disenfranchising all Dakahlians.)
The US electoral college votes today and looks set to deliver Agent Orange "a withering blow to his increasingly hopeless effort to overturn the results of the US presidential election when 538 members of the electoral college cast their ballots and formally send Joe Biden to the White House," the Guardian reports.
It's vaccine day in the US of A as wide distribution of the Pfizer / BioNTech vaccine begins nationwide following the FDA's emergency approval. The Associated Press has the story.
That has the tinfoil hat brigade muttering about fundamental changes to human DNA and "toxic metals in vaccines that literally make our bodies into an antenna for 5G" wireless signals that will somehow benefit Bill Gates and allow him to biometrically monitor us all, among other things. We're not joking — a viral video on the subject (to which we won't be linking) has gotten a second lease on life in the past couple of days. Don't bother trying to set recipients straight — just send them this video to watch.
NOT HAPPENING TODAY- A post-Brexit trade pact. But neither have talks melted down: The UK and the EU have pushed the deadline to strike a post-Brexit trade agreement, asking their negotiators to "go the extra mile," European Commission President Ursula Von der Leyen and UK Prime Minister Boris Johnson said in a joint statement (BBC | Sky News). The issue now boils down to creating a "level playing field" on regulation, the Financial Times reports. The new deadline for an agreement is 31 December in this chapter of The NeverEnding Story Part XXCVII.
In the meantime, investors have pulled some USD 42 bn from UK-exposed funds since the Brexit referendum.
Egypt will co-chair a UN Support Mission in Libya (UNSMIL) technical meeting today and tomorrow alongside the US and the EU. On the agenda: Discussing possible economic policy reforms with Libya's main financial institutions, according to a UNSMIL statement. The meeting will convene in the UN Office in Geneva.
Expect to see a flurry of energy news tomorrow as Al Ahram's annual energy conference gets underway today.
CIRCLE YOUR CALENDAR-
The House of Representatives will reconvene from its fall recess tomorrow. Look for MPs to have their noses to the grindstone until our next class of elected representatives is seated in the new year.
The US Federal Open Market Committee kicks off its two-day policy meeting tomorrow to review interest rates. US policymakers are expected to expand a USD 120 bn per month bond-buying program launched at the onset of the pandemic to maintain recovery momentum, senior economists and policy watchers said, according to the Financial Times. An extension would make it harder to walk back and would mean easy monetary policy for years ahead, complementing a promise to keep interest rates at close to zero until inflation exceeds 2% and the economy achieves full employment.
Germany is set to enter a nearly month-long hard lockdown on Wednesday, the Financial Times reports. All schools and shops will be closed and private gatherings of more than five people banned until at least 10 January, with a slight relaxing of restrictions between 24 and 26 December to allow for Christmas gatherings.
The Central Bank of Egypt's Monetary Policy Committee meets a week from Thursday for the final time in 2020 to review interest rates.
Indonesia, Russia, the Philippines and Mexico all look set to leave rates on hold as at least 10 EM central banks are set to make decisions in the coming weeks. Bloomberg has a solid rundown.
Ethiopia and Sudan are talking GERD next week, but it's not clear whether Egypt is invited to the sit-down. Sudan has opted out of talks for now.
Check out our full calendar on the web for a comprehensive listing of upcoming news events, national holidays and news triggers.
START THIS BUSINESS- An old folks' home. Yes, our population is ridiculously young. It's also ridiculously large, which makes the absolute number of folks over the age of 65 equivalent to the population of a small European nation. And there are just about zero services catering to the needs of seniors. From retirement communities to homecare and long-term care facilities, both the olds among us and their Gen X and Millennial children / grandchildren are going to need help, sooner or later. Even KSA is ahead of us in this, as a piece by Colliers on the market there (pdf) reminded us yesterday.
SIGN OF THE TIMES- Inexpensive tracker funds are outperforming private equity in developed markets, the FT writes. Read the underlying study here.
Meet the new "coach class": Low airplane prices (thanks, collapsing tourism market) and skyrocketing demand for e-commerce have created a boom market for converting airliners into cargo aircraft.
Anyone over the age of 30 will feel nostalgia watching this Bell Canada holiday ad, no matter where you grew up.
Prolific spy thriller author John le Carré has died at the age of 89. Obits are everywhere, from the New York Times to the FT and the Journal. The SIGN OF THE TIMES here? The obit writers are at pains to note that he did not die of covid-19.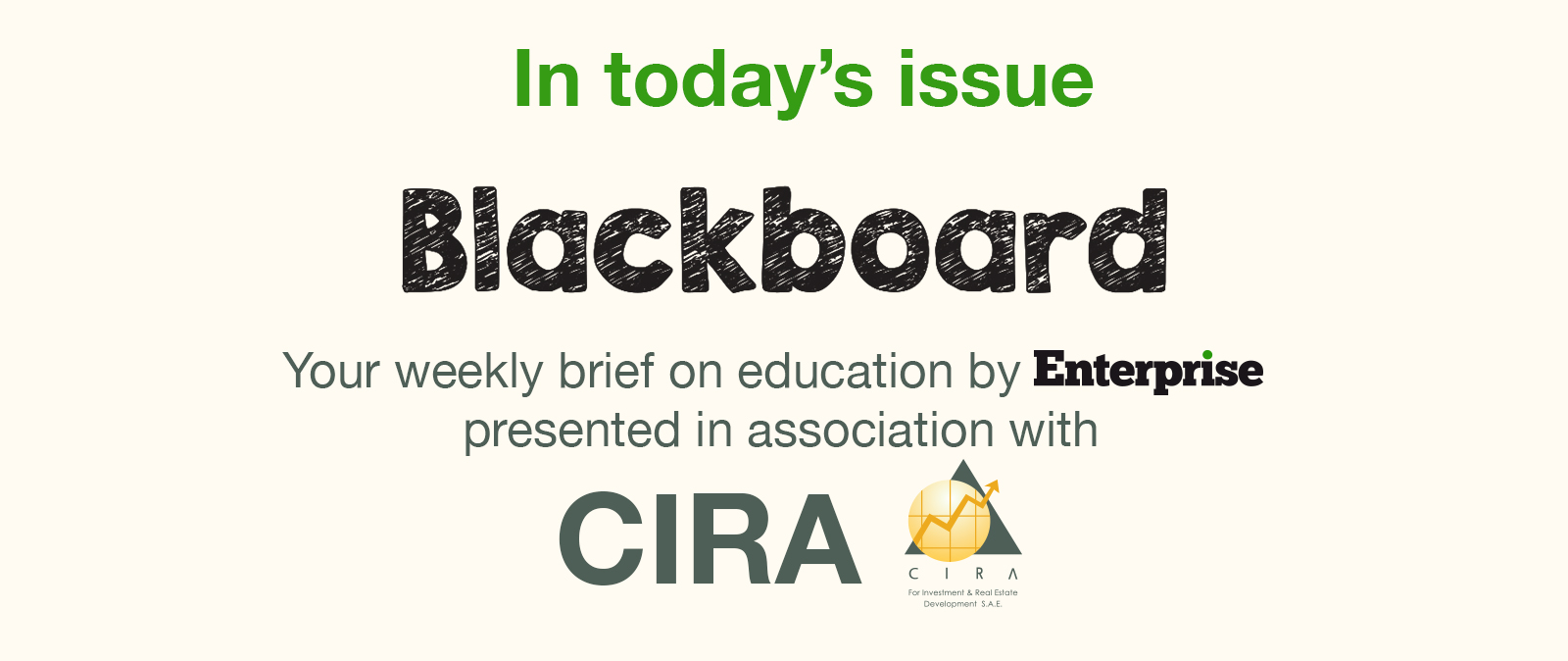 *** It's Blackboard day: We have our weekly look at the business of education in Egypt, from pre-K through the highest reaches of higher ed. Blackboard appears every Monday in Enterprise.
WE'RE DOING SOMETHING DIFFERENT THIS MONTH- It's been a little over a year since we published our first issue of Blackboard – and what a year it has been. So, we decided to reflect on the ups and downs of the education sector during this exceptionally turbulent year, in a special two-part Blackboard Year in Review. In part 1, we look at how covid-19 drove changes in the sector and how despite this, education proved a defensive sector, with equities staging a rapid comeback and CAPEX investment remaining strong.