Monday, 24 August 2020
What we're tracking on Monday, 24 August 2020
It's an unusually heavy news day for a Monday, and on the whole the news is generally good as we speed toward the end of summer and the start of fall budget / planning season.
The EGX outperformed its regional peers yesterday on optimism tourism may be staging a comeback, with the benchmark EGX30 up 2.1% at the closing bell. The market picked up on signs tourism is gaining ground despite covid-19 and traders welcomed the notion that the central bank seems set on renewing relief measures for the companies hardest-hit by the pandemic. Trading was heavy, with EGP 1.4 bn-worth of shares changing hands — around 36% above the trailing 90-day average.
Safety precautions at Egyptian tourism sites got a thumbs-up from UNWTO Secretary-General Zurab Pololikashvili, who lauded covid-19 precautions Egypt is implementing at its hotels. Pololikashvili is currently on an inspection tour in Hurghada, which he said in a tweet is "ready to welcome tourists." The WTO boss' visit to Egypt is his first trip outside Europe since the onset of the pandemic.
---
Today could be the last day of the House of Representatives' current legislative cycle, leaving just one more get-together before MPs reconvene for a brief session this fall ahead of elections in October or November. Our elected representatives have some 60 agenda items before them, from committee reports to bills, according to the House's schedule. House Secretary-General Mahmoud Fawzy had said earlier this week that Parliament would only break for summer recess if it completes its entire agenda. We had a rundown yesterday on what's still pending, ranging from a waste management bill to new capital requirements for SME lenders.
President Abdel Fattah El Sisi will be in Amman sometime this week to take trade, and investment cooperation and regional developments with Jordan's King Abdullah and Iraqi Prime Minister Mustafa Al Kadhimi, according to the Jordan News Agency.
More covid loans? The government is now seeking to double the size of the USD 1 bn loan it was planning on requesting this year from UAE banks, Al Mal reports citing a House Legislative Committee report (pdf) approving the move. The government will be looking to obtain a USD 2 bn covid-19 loan to be used for covid stimulus from a consortium led by Emirates NBD and First Abu Dhabi Bank and that also includes Mashreq and Citibank. This would be the third major loan in the pipeline for Egypt after the IMF last month disbursed a USD 2.8 bn rapid financing instrument, and green-lit a USD 5.2 bn standby loan.
The Madbouly government has 10 new mining exploration tenders in the works for late 2020 or early 2021, including iron, copper, phosphate, and lithium, Tamer Abu Bakr, head of the Federation of Egyptian Industries' petroleum and mining division, told Al Mal yesterday. The first tender will be issued after the government awards licenses in a gold exploration tender that's been ongoing since earlier this year.
---
The Health Ministry reported 103 new covid-19 infections yesterday, up from 89 the day before. Egypt has now disclosed a total of 97,340 confirmed cases of covid-19. The ministry also reported 19 new deaths, bringing the country's total death toll to 5,262. We now have a total of 65,927 confirmed cases that have fully recovered.
The Coptic Orthodox Church will resume holding weekly mass every Friday starting 11 September, its spokesperson said yesterday. Egypt's churches opened their doors earlier this month for the first time in since March, and announced a gradual plan to resume the weekly mass. Worshippers will need to practice social distancing and wear masks, among other precautions. Muslims are also getting ready to return to Friday prayers this week at "major" mosques with health and safety precautions stipulated, cabinet said last week.
Major companies across the US are rethinking plans to return staffers to the office next month, aiming instead to go back next year, the Wall Street Journal reports. The survey included 15 major firms employing 2.6 mn workers. Some 57% cited recent spikes in covid-19 cases as the reason for postponing a resumption of full-time office life, adding that they would introduce additional safety measures, like temperature checks and redesigned workspaces, when they reopen.
US presidential hopeful Joe Biden is willing to "shut down" the country to stop covid if scientists say doing so would stop the spread of the virus and save lives, according to the Financial Times. The Democratic candidate had previously said that he would take the "muzzle" off medical experts to ensure that the public had accurate information about the pandemic.
The Donald is reportedly looking to "fast-track" authorization of a vaccine Oxford University and AstraZeneca are currently developing, the Financial Times reports, citing three sources with knowledge of the matter. The plan comes as the November presidential election is fast-approaching, and the Trump administration looks to shift the narrative on its highly criticized handling of the pandemic — which Biden said last week was "the worst performance of any nation."
---
Will Apple retain its position as the world's most valuable company when markets open across the pond today? Apple's market capitalization topped USD 2 tn on Wednesday, when shares briefly touched USD 468.65, allowing the iPhone maker to take over Saudi Aramco's position as the world's most valuable listed company, according to Reuters. Apple's share price is up around 57% YTD, propelled by investor confidence in its service-based future strategy. This recent rally, however, might have left Apple's shares overvalued as they're currently trading at above 30x analysts' expected earnings, according to Refinitiv data.
Apple's rally is part of a historic surge in tech stocks as people are relying more on digital services and as investors believe tech will emerge even stronger post-covid. Microsoft, Amazon, and Google parent Alphabet — the three most valuable traded US stocks following Apple — are now joined by other tech heavyweights whose values have hit record highs, notes the newswire.
Here at home, Fawry just became the first fintech company in Egypt to be worth more than USD 1 bn as its shares have gained more than 300% since it debuted on the EGX last year. Fawry's share price closed in the green at the closing bell again yesterday.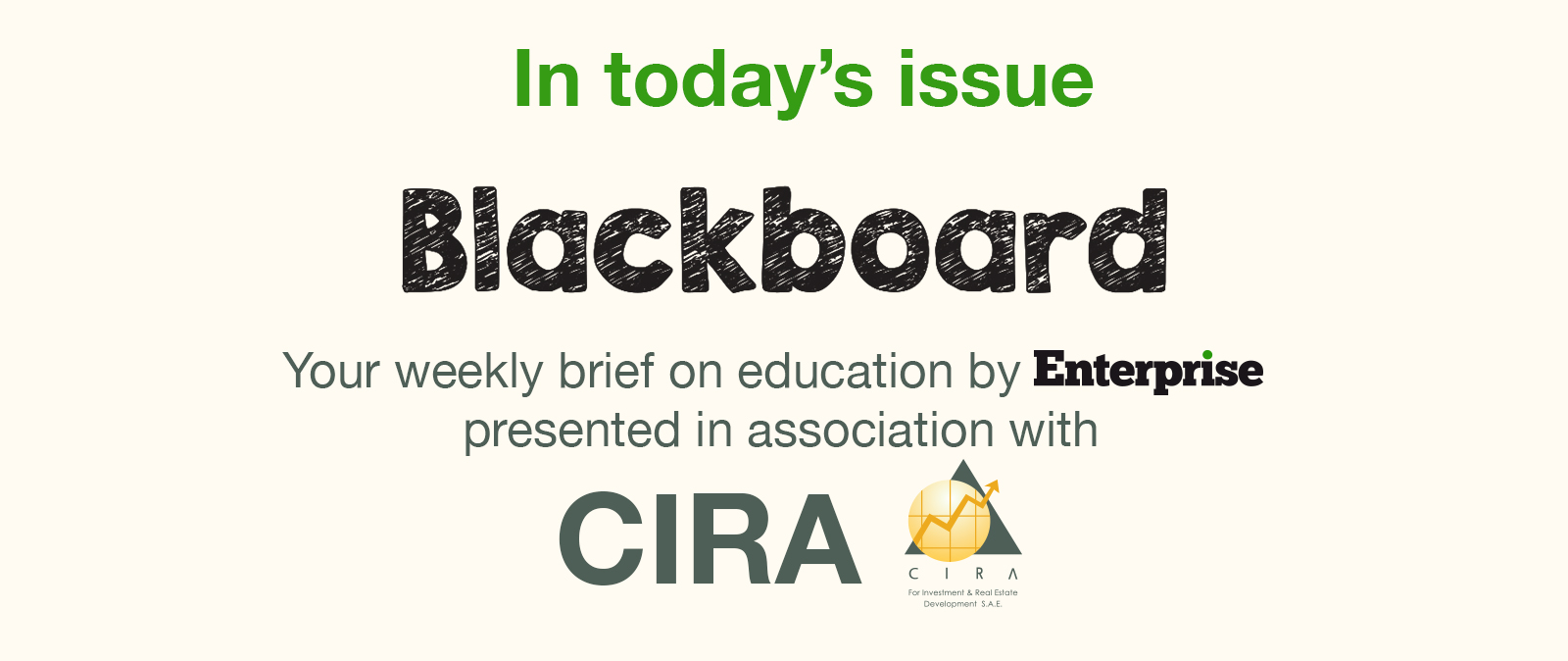 *** It's Blackboard day: We have our weekly look at the business of education in Egypt, from pre-K through the highest reaches of higher ed. Blackboard appears every Monday in Enterprise in the place of our traditional industry news roundups.
In today's issue: After looking earlier this month at how education stocks have weathered the covid-19 storm in equity markets, we dive into how education was also able to prove itself as a defensive sector on the capital expenditure side.