Monday, 9 December 2019
What we're tracking on 9 December 2019
The House of Representatives had a busy first day back in session yesterday, with a pile of legislation receiving general assembly and committee-level approval. We have the full roundup in this morning's Speed Round, below.
Today could be just as eventful, as proposed amendments to the 2005 Income Tax Act and the draft Customs Act will be under discussion in the House Planning and Budgeting Committee, committee secretary Essam El Feky says.
Talk of a cabinet shuffle has new momentum after House Speaker Ali Abdel Aal slammed the Justice Minister for allegedly failing to clamp down on corruption and poor service at his ministry's notary public offices. State-owned Ahram Online says Abdel Aal threatened to call the minister in for a public hearing "unless the government moves quickly to address this situation." Too many members of the current cabinet, Abdel Aal said, are "exporting problems to the public and the president" rather than working on solutions and the Madbouly government needs to "live up to its responsibilities in line with the constitution [and] improve its performance." Al Masry Al Youm also has the story.
GERD talks resume today: The Egyptian, Ethiopian, and Sudanese foreign ministers will meet in Washington today for the third round of US/World Bank-sponsored talks over the Grand Ethiopian Renaissance Dam, the Irrigation Ministry said in a statement yesterday. The three countries have committed to reaching an agreement by the end of the fourth round of talks, scheduled to take place in Washington on 13 January.
Inflation figures for November are out tomorrow. Headline inflation fell to new multi-year lows of 2.4% in October due to cooling food and beverage inflation and a favorable base effect.
Rameda Pharma shares start trading on Wednesday under the ticker RMDA.
The US Federal Reserve will hold its final meeting of 2019 tomorrow and Wednesday: The central bank held fire on making further cuts to interest rates at its last meeting at the end of October, having made three consecutive 25 bps rate cuts in what Fed Chair Jay Powell termed a "mid cycle adjustment." Last week's solid jobs figures mean that rates probably aren't going anywhere this week — and according to a Bloomberg poll of economists may well go unchanged through to the end of 2021.
International news worth knowing about:
Lawmakers could vote this week on impeachment charges against The Donald, the House Judiciary Committee's chairman said yesterday. The White House has suggested that Trump won't mount a defense to the charges. (New York Times | Wall Street Journal)
Tighter climate policies could erase USD 2.3 tn in corporate value in industries "ranging from fossil fuel producers to agriculture and car makers," the UN-backed group Principles of Responsible Investing said in a report. (Reuters)
Goldman Sachs' asset management division will now show you (robotic) love if you have as little as USD 5k to invest as the investment bank plans to launch a robo-advisor. (Financial Times)
MUST READ #1- Are central bankers out of tools? That's the argument in a Bloomberg piece this morning that suggests that after more than 10 years of "crisis fighting" including "this year's rush to support global growth," the world's central bankers are facing the 2020s with "few good options to fight the next downturn."
MUST READ #2- How to take back control from the Big Tech barons, by Rana Foroohar in the Financial Times. It's not a Luddite screed, but a thoughtful look at the defining problem of our age: surveillance capitalism. The bottom line: "Splitting up Facebook will not be enough to solve the problem of surveillance capitalism." Only prohibition, she says, can do that — and save "trust in liberal democracy throughout the world" in the process.
---
PSA- You might need an umbrella today as the capital city could see some light rainfall to accompany the cooler weather. Expect daytime highs of 22°C and lows of 14°C over the next three days, according to Ahram Online.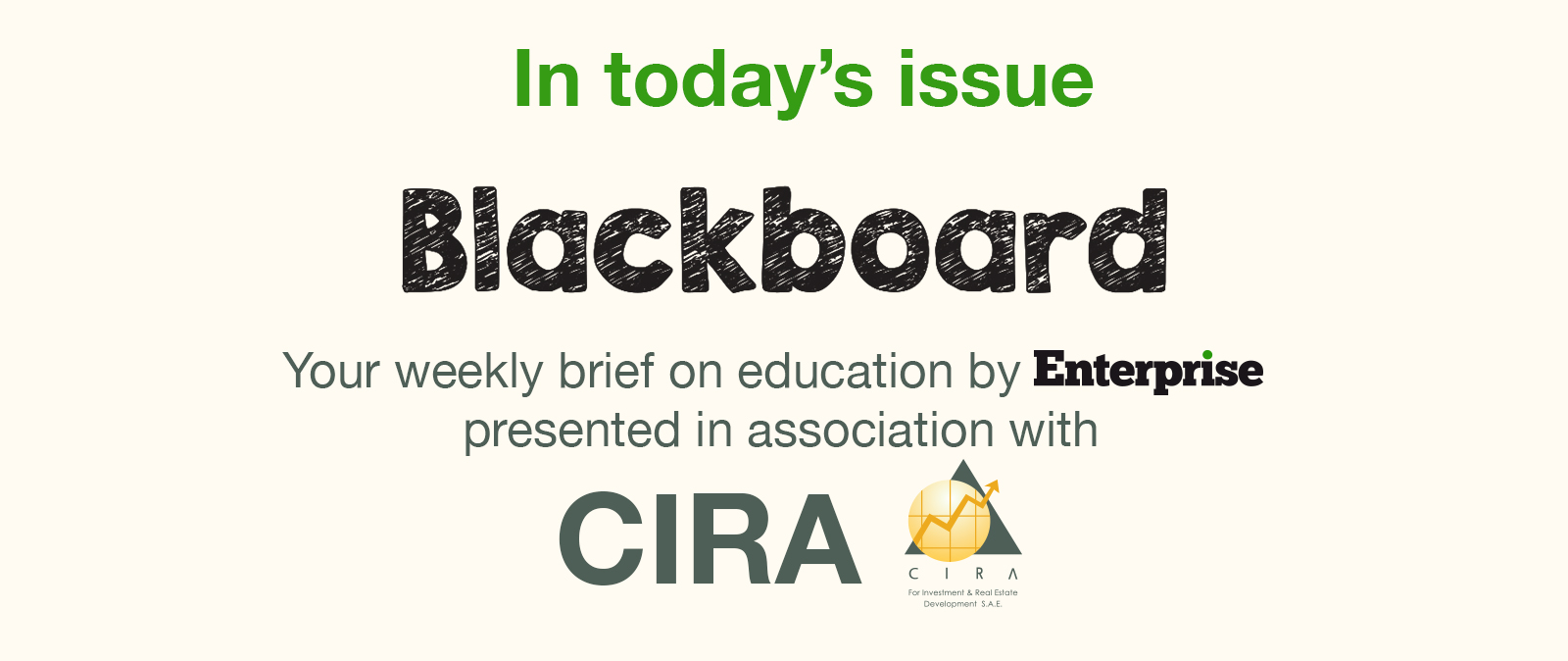 *** It's Blackboard day: Our every Monday look at the business of education in Egypt, from pre-K through the highest reaches of higher ed, focuses this week on an interview with Ahmed Wahby, the new CEO of GEMS Egypt, to discuss GEMS and the Egyptian Education Fund's investments in Egypt, the investment case for Egypt's education sector, what GEMS hopes to achieve in Egypt, and the elephant in the room: the 20% cap on foreign investment.