Monday, 28 October 2019
What we're tracking on 28 October 2019
Look for talk of 5G in Egypt to be in the headlines today as the Ministry of Communications and Information Technology kicks off the International Telecommunications Union's World Radiocommunications Conference running today through 22 November in Sharm El Sheikh. The ITU are the people who allocate global radio spectrum (used by, for example, the 3G or 4G radio in your mobile phone or tablet) as well as satellite orbits — and agree on the technical standards that allow "networks and technologies to seamlessly interconnect."
Why it's a big deal? Well, aside from the fact that the delegates are, effectively, the people who make sure you get the interwebs? Expect 3.5k participants from 140 countries including more than 50 cabinet-level figures to attend. It's the first time in 20 years that the gathering takes place outside ITU headquarters.
You can learn more about the conference here or read the CIT ministry's statement here (pdf).
---
Also today:
German Foreign Minister Heiko Maas will arrive in Cairo to discuss the situations in Syria and Libya with President Abdel Fattah El Sisi and Foreign Minister Sameh Shoukry, the German embassy in Cairo said in a statement.
The Munich Security Conference Core Group Meeting in Cairo wraps up today. The meeting brings together senior foreign policy decision-makers from around the world to discuss regional security issues, political developments in Sudan, and the African Continential Freetrade Agreement, Ahram Online says. We re-cap yesterday's discussions in brief in this morning's Diplomacy + Foreign Trade section, below.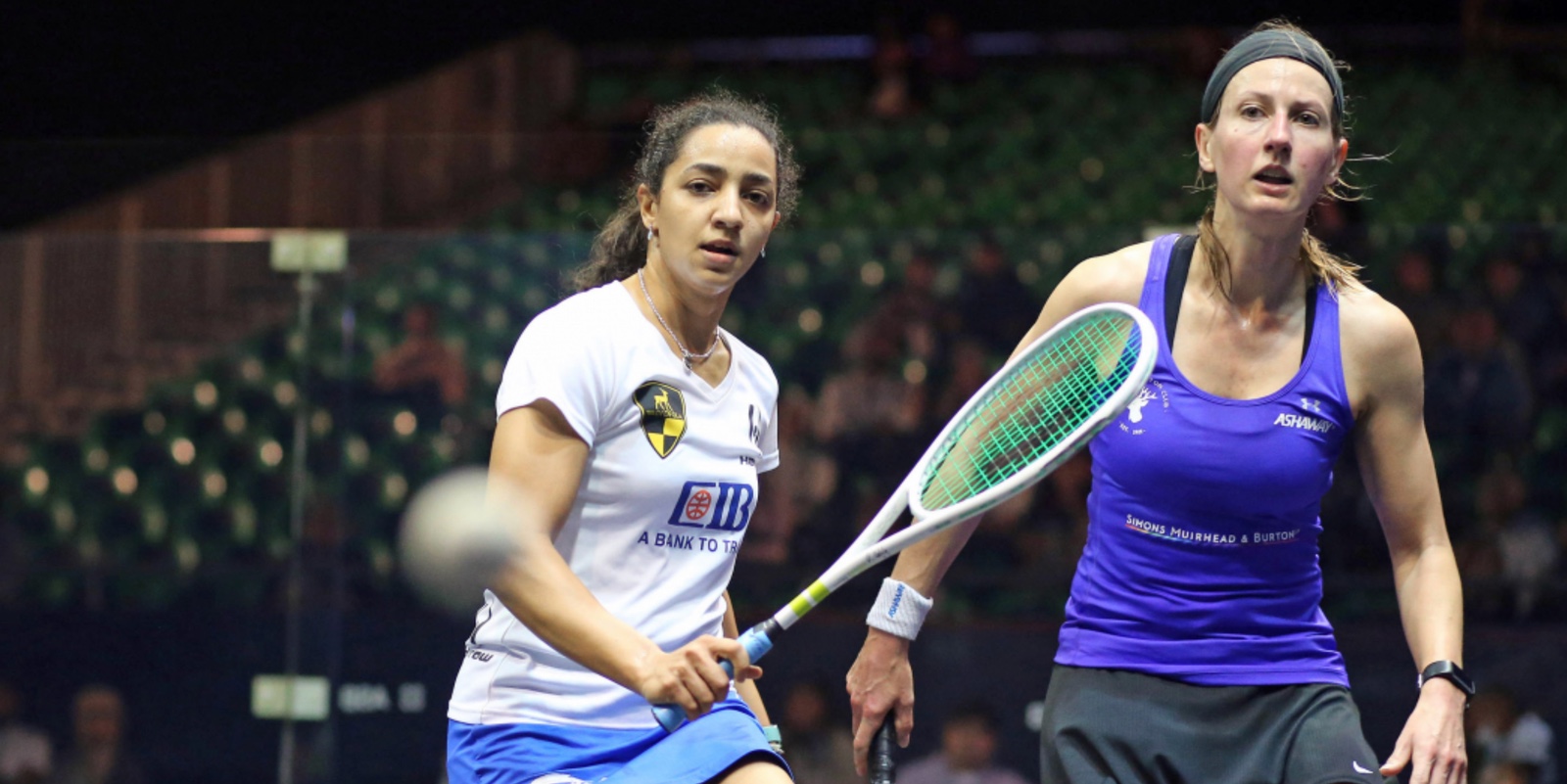 The CIB PSA Women's World Championship and CIB Egyptian Squash Open Men's Platinum at the Giza Pyramids are on their fifth day today. The world's biggest squash event will award the women's champion nearly USD 49k and the men's world champion nearly USD 46k.
We have an all-Egyptian women's quarter-final: Raneem El Welily and Nour El Tayeb will face off in the quarter-finals after they dispatched in straight sets the UK's Alison Waters and compatriot Salma Henry, respectively. World number five Nouran Gohar, also of Egypt, advanced to the final eight after beating Belgium's Tinne Gilis.
In the men's draw: Egypt's World No.1 Ali Farag secured his spot in the quarter-finals yesterday after beating fellow Egyptian Mazen Hesham in three sets. Fares Dessouky also advanced, defeating India's Saurav Ghosal. Marwan El Shorbagy and Mostafa Asal will fight it out for a quarter-final spot today, while World number three Karim Abdel Gawad will play Hong Kong's Leo Au.
Round three matches continue today, with women's matches kicking off at the Pyramids starting at 17:30pm and men's games starting at 12 noon at the Shooting Club Six of October and, according to the PSA website.
---
Other dates to pencil into your agendas this week:
The Egyptian Medical Expo to Africa openedf yesterday and runs until tomorrow. The three-day event brings together seven countries to strengthen African medical cooperation in production and expertise, according to a Cabinet statement.
A B2B conference for German and Egyptian companies will take place today in Cairo. Click or tap here to register.
Across the pond, all eyes will be on the Fed tomorrow and Wednesday, when the Federal Open Market Committee is widely expected to deliver the third consecutive interest rate cut. The real question is whether this week will see the end of what Fed Chairman Jay Powell has said is a "mid-cycle adjustment," or whether the central bank will keep its foot down in the months ahead, Bloomberg says.
Both options carry risks: After suggesting a limited period of rate cuts, indicating an extended easing cycle risks undermining the central bank's credibility and widening divisions among Fed officials, a growing number of whom are questioning the need for further cuts. But suggesting otherwise could trigger a market tantrum at a time when demand for durable goods is falling and US-China trade relations continue to be uncertain. The FT has more.
Why are there so few women working in monetary policy? Economics is often an unfriendly profession for women, research shows, with high levels of [redacted] harassment and frequent instances of being interrupted or facing hostile questioning during meetings, the New York Times reports. Women economists are also less likely to have their research published by central banks, and this can directly impact whether or not they are promoted. The US Fed, the Bank of England, and the European Central Bank held a gender equality conference last week to look into the underrepresentation of women at central banks, but largely failed to address how to fix the gender imbalance at the top. While central banks have been taking steps to ensure more women —and those from diverse backgrounds — are hired and promoted, the issue of advancement to top leadership positions is said to be one that is outside their control.
---
Emerging markets are on a roll but investors should be mindful of rising local volatility: Falling US interest rates and hopes for a US-China trade agreement have led EM currencies and stocks to new three-month highs. But investors should be more discriminating in their approach to EMs amid increasing political tensions in the Middle East and Latin America, Anders Faergemann, senior money manager at Pinebridge Investments, tells Bloomberg. "Overall, EMs are benefiting from the global macro backdrop, but we advocate taking a more selective approach and monitor each country flare-up independently."
Lebanon: Demonstrations extended into their eleventh day yesterday, as protesters formed a 170-km human chain between the northern city of Tripoli to Tyre in the south, the Guardian reports. Schools and banks have remained closed for more than a week as protesters shrugged off the government's emergency economic package last week.
Argentina: Left-wing populist Alberto Fernandez is poised to defeat pro-market incumbent Mauricio Macri in the presidential election tomorrow. Bondholders are facing the prospect of a 20% haircut if Fernandez wins.
Chile: The Chilean president yesterday sacked his cabinet after more than one mn people took to the streets of the capital on Friday, the BBC reports.
Dubai construction boom could bring economic "disaster": Dubai faces an economic disaster unless it hits the pause button on constructing new homes, one of the emirate's top developers has said. "We're entering a crossroads now," Damac Properties PJSC Chairman Hussain Sajwani told Bloomberg. "Either we fix this problem and we can grow from here or we are going to see a disaster." Sajwani fears that the banking sector could soon face a liquidity crisis if house prices continue to fall. The value of homes has fallen around 30% over the past five years amid a construction boom that has continued in spite of low demand.
---
Put down your pitchforks and make peace with the robots, WSJ tells us: While the growing awareness of widespread automation has been seen in many quarters as a bad thing, the Wall Street Journal suggests we may all be worse off if we react by destroying the machines. History shows us that countries without the ability — or the will — to innovate have lagged behind their tech-embracing counterparts — and still play catch up to this day. Yes, robotics and AI will erase jobs. The solution is to find alternative sources of employment for humans, rather than resorting to Neo-Luddism, the journal says.