Wednesday, 6 February 2019
Non-oil business activity hits lowest levels in more than a year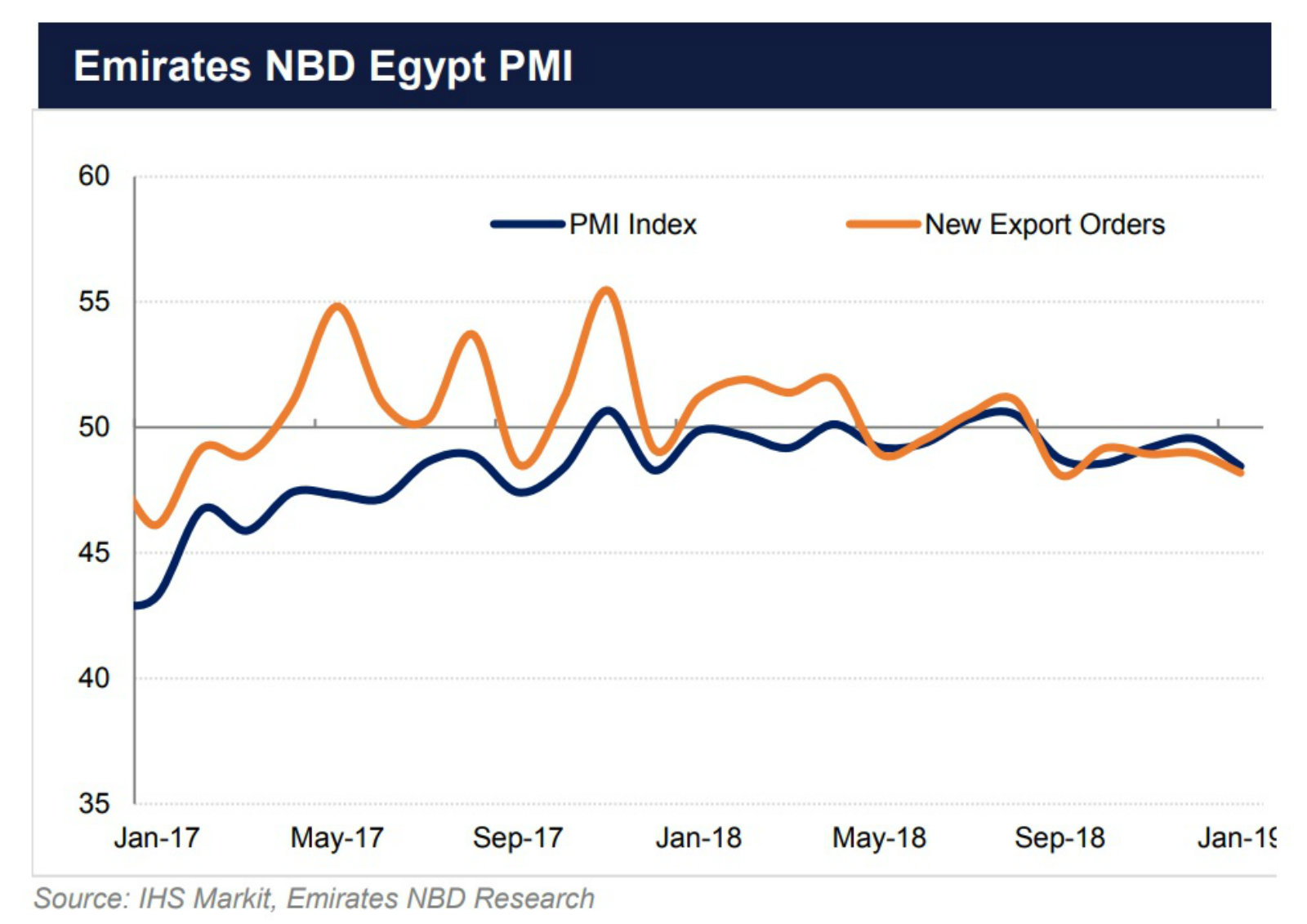 Non-oil business activity hits lowest levels in more than a year: The Egypt purchasing managers' index (PMI) contracted for the fifth consecutive month in January to reach its lowest level since December 2017, according to Markit / Emirates NBD data. The index fell to 48.5 last month from 49.6 in December, reversing two months of gradual improvements. "Egypt's recovery over the past two years has so far largely been driven by external rebalancing and public investment, while the private sector has remained under pressure, in part as a result of the ongoing reforms," Daniel Richards, MENA economist at Emirates NBD, said.
Poor market conditions and bad weather led to the largest decline in output since December 2017 and the biggest fall in new orders since September. Export orders also fell for the fifth month in a row to reach their lowest levels since September.
Falling prices provide relief: Weakening inflation caused input prices to fall to their lowest levels in over two years. In turn, businesses also cut their output prices, which for the first time registered a sub-50.0 reading on the index. "This should contribute to an ongoing decline in CPI inflation, and potentially pave the way for the central bank to begin loosening monetary policy, which would give a much-needed boost to the private sector," Richards said.
And purchasing activity hits 12-month high: Non-oil purchasing activity hit highs not seen since January 2017, as stocks declined for the first time since September.
It's a slightly different story in the Gulf: Conditions for the non-oil private sector in the Gulf are continuing to improve. Saudi Arabia's PMI rose to a 13-month high (up to 56.2 from 54.5) while business activity in the UAE continued to expand, rising to 56.3 from 54.0.