Thursday, 20 December 2018
What we're tracking on 19 December 2018
Some notes as we get underway this morning:
We're deep in the arms of the year-end news slowdown. Expect a pickup late next week ahead of the CBE's interest rate decision. But otherwise, it may actually be safe for you to contemplate leaving on Christmas / New Year's / Festivus vacation.
Our popular weekly My Morning Routine column is on hiatus until Thursday, 3 January. Want to nominate someone? Drop us a line at editorial@enterprise.press and tell us why your friend / acquaintance / idol is someone the rest of the community should get to know better.
Speaking of our community: The business world welcomed to its ranks yesterday Mr. Adam A., age eight, who joined his dad for an interview with one of us at Enterprise World Headquarters in Maadi. That marked Adam's "first business meeting" as he peppered us with insightful questions before we could turn our lens on his dad. Adam "dreams of being a footballer," his father has since told us, "or now maybe a journalist." Welcome, Adam — have fun, make the world a better place, and pay your taxes, sir. (Oh, and follow in your Dad's footsteps, not ours.)
To business:
The US Federal Reserve raised yesterday its benchmark overnight lending rate to a range of 2.25-2.5%, up from 2.00-2.25%, according to a statement released yesterday (pdf). The rate hike — the fourth this year — came despite pressure from US President Donald Trump to keep short-term interest rates where they were, the Wall Street Journal notes. Critically, Fed officials "indicated they think they won't need to raise rates as much next year as they had anticipated three months ago" as a result of the slowdown of foreign economies and an uptick in volatility in financial markets that will act as a headwind to growth.
Fed Chair Jerome Powell's press conference on the decision triggered a sell-off in US markets, with the Dow Industrials, Nasdaq Composite, and S&P 500 all ending the trading day in the red. "Wednesday's declines pulled the major averages further into correction territory, or a drop of at least 10% from their most recent highs. All three indexes have shed at least 8.5% this month alone."
Asian shares opened lower this morning, following Wall Street down.
The rate hike tops global business news this morning. The FT's Instant Insight column notes that Powell put his finger on the "'mood of angst' and made it worse", the Journal has a great recap, and Reuters has wall-to-wall coverage of the hike and sell-off.
The central bank here at home will next review interest rates a week from today — on Thursday, 27 December.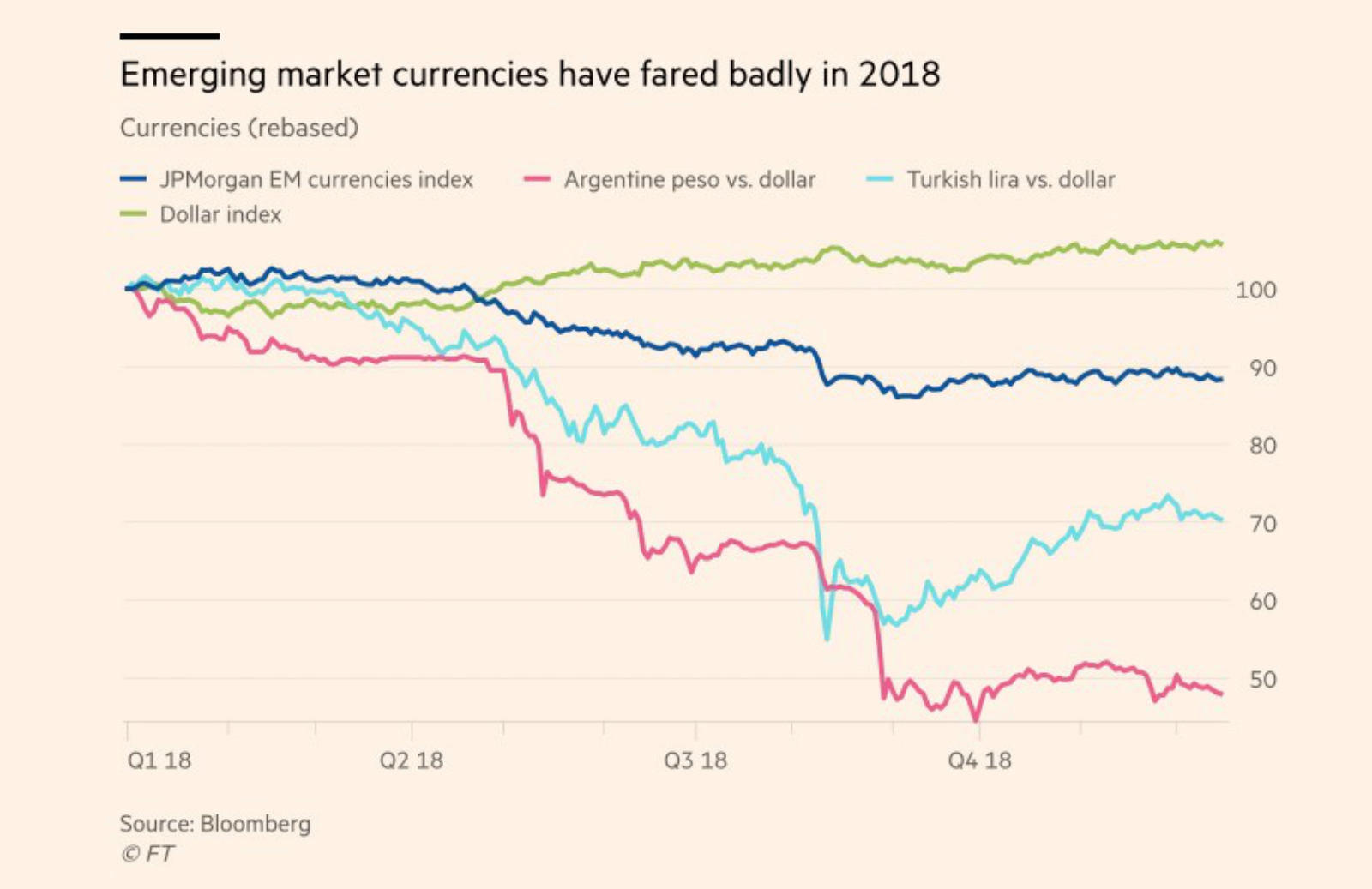 After being clobbered by the EM Zombie Apocalypse in 2018, emerging markets have reason to be optimistic that next year could bring better things, says the FT. EM assets have "taken a beating this year" but have come out the other end with greater resilience and investor confidence, after tumbling currencies proved the pressure on them was localized and did not spark an EM-wide contagion. "The asset class is much better placed to weather negative shocks to risk appetite than it was earlier this year," said analysts at Citigroup. "External financing gaps have closed, interest rates have risen, currencies are cheaper and EM is broadly speaking an 'under-owned' asset class."
Egypt and Ethiopia made Bloomberg's list of political flashpoints to watch in 2019, which warns that the two countries could come to loggerheads if Addis Ababa fills the reservoir behind the dam too quickly, threatening as much as 20% of Egypt's fresh water. That said, the moment of maximum danger has probably been punted back a couple of years: Ethiopia probably won't be able to complete the dam before 2022, an AP report we noted earlier this week suggests.
Foreign Minister Sameh Shoukry is in Brussels today to attend the 8th Egypt-EU Association Council, according to a ministry statement
US President Trump declared victory in the war against the Daeshbags and has ordered the withdrawal of US troops from Syria within the next 30 days, the Financial Times and the New York Times reported. Top Pentagon officials and members of Trump's own party have expressed concern that the move would curb US diplomatic leverage in the region and leaves its Kurdish allies vulnerable.
The most-clicked stories in Enterprise in the past week include:
PSA- There's a chance of rain today in the capital city, according to our favourite weather app, and coastal cities including Alexandria are likely to have wet weather through some time tomorrow,Ahram reports, citing the national weather office. Expect a high of 20°C today and an overnight low of 11°C in Cairo and 19°C / 13°C in Alex.