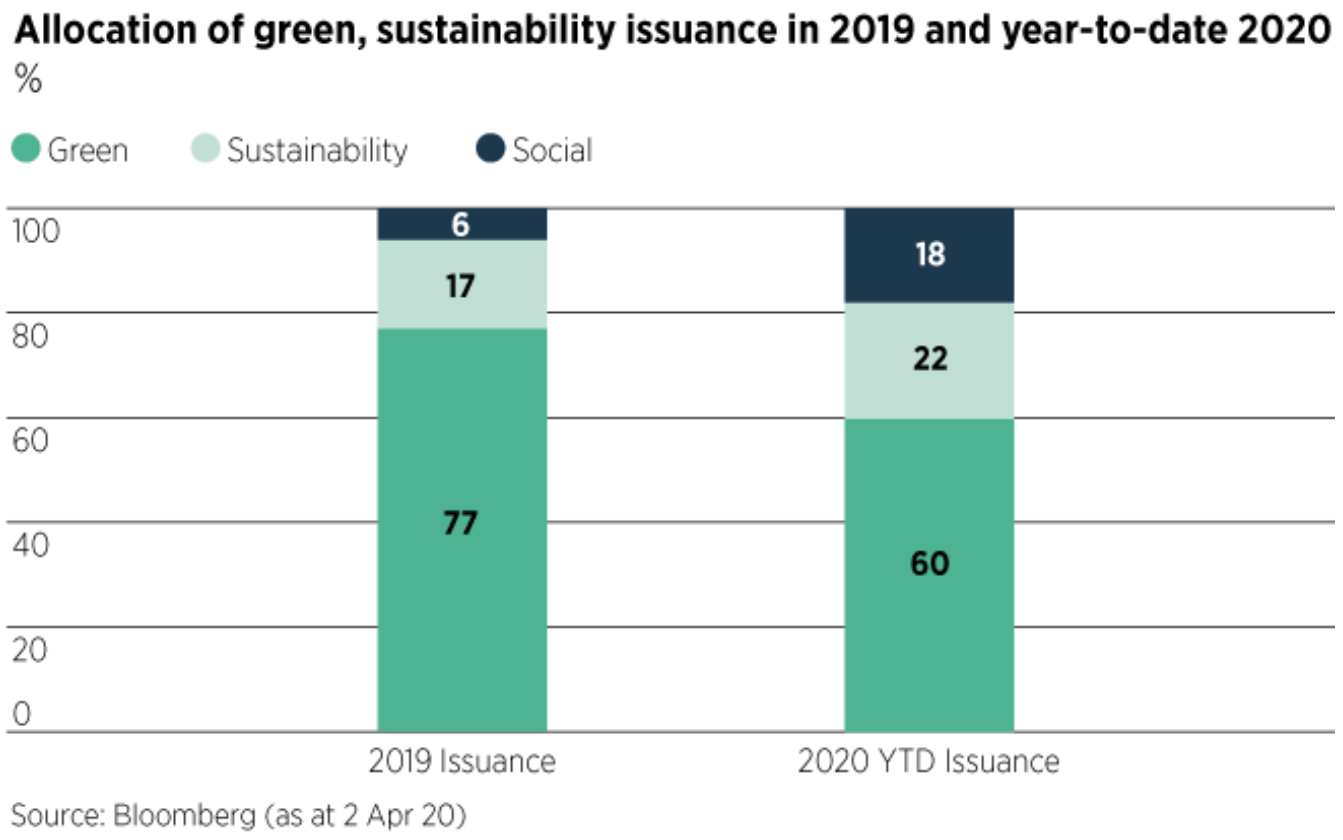 2020 is the year green bonds become real in Egypt: Both the private sector and the government have for long been mulling the issuance of green bonds to diversify funding sources and unlock finance for projects at a lower interest rate against traditional means of funding. The private sector has come out ahead, with CIB already on track to offer Egypt's first green bonds. Next on deck will likely be an issuance from the Finance Ministry, which is cooking up its first issuance in FY2020-21. Green bonds are expected to pave the way for infrastructure bonds, as we noted in our feature on them back in February.
So, what are green bonds? A green bond is a type of fixed-income instrument that is specifically earmarked to raise money for climate and environmental projects. The World Bank was the first organization to offer green bonds in 2008 and has since issued over USD 13 bn equivalent in green bonds through more than 150 transactions in 20 currencies.
The new tool was already picking up momentum in Egypt before the covid-19 crisis, when EFG Hermes was said to be in talks to manage an unnamed state company's green bond offering. Regulators, meanwhile, were deciding whether to approve an EGP 500 mn green bond issuance by an unnamed Norwegian renewable energy company, suggesting demand for this type of funding. At the same time, the Finance Ministry was at the size and timing of the infrastructure bonds the state may issue in FY2020-2021, Finance Minister Mohamed Maait had said.
CIB will be the first to test the water with a USD 65 mn offering: CIB is preparing to take to market a green bond in collaboration with the International Finance Corporation (IFC), Heba Abdellatif, head of debt capital markets at CIB, told Enterprise. The two parties are hoping to finalize the issuance through a private placement by 3Q2020. The proposal, which is still in the due diligence phase, will see the IFC invest USD 65 mn in the first tranche of the five-year bonds. "Though this is a relatively small investment, it is aimed to test appetite for Egyptian green bonds," Abdellatif said. "If successful, the IFC will bring its investment up to USD 100 mn in another tranche."
What will proceeds be earmarked for? It remains to be seen which projects will be financed through this green bond issuance, only that CIB has a pipeline of projects in place. Among them is a program to make buildings more energy efficient, the bank told us. The IFC will also share its expertise in climate finance to help CIB build its expertise in climate finance eligibility criteria, greenhouse gas emission savings calculation, green bond reporting, and green building financing. It could also invest up to spur the construction of green buildings in Egypt.
Globally, green bond issuances were gaining steam — then covid-19 hit. Global issuances of green, social, and sustainable bonds were forecast to rise 24% to USD 400 bn this year, with green bonds alone accounting for USD 300 bn. Through the first five months of 2020, green bond issuances were 36% lower in value than last year at a modest USD 66.6 bn compared to USD 261.9 bn in the same period of 2019. Issuances by financial institutions were halved as the pandemic shifted the banks' priorities towards supporting existing customers as they scrambled to cope with the economic slowdown. Moody's slashed its green bonds sales projections for 2020 to USD 175-225 bn from its original USD 300 bn forecast. This is becoming the trend globally, including in Japan, whose green bond issuance may drop this year for the first time in at least seven years, despite issuing a quarterly record of USD 2.7 bn of green bonds from January to March, according to S&P.
Among those staying the course on green bonds: Deutsche Bank, Russia, Sweden and Brazil, which has announced plans to build 8 GW of renewable energy projects with funding funneled from green bonds.
The global slowdown in issuances doesn't faze CIB. Abdellatif told us that since the bank's bond offering will be through a private placement, they are not worried about finding investors. The IFC is also not alone: Several other multilateral institutions have been in talks with the CIB for similar investments, Abdellatif said without disclosing the details of the talks. "CIB has been considering green bonds for over 18 months and has talked with several institutions to assist the bank's first foray into the green bonds field," she said. "We think it is either now or never."
The government is also undeterred. Unlike other new-to-Egypt debt instruments such as sukuk that require a separate legislation, green bonds don't. Moreover, thanks to the lower interest rate, green bonds will be the leading alternative for traditional debt instruments, such as USD-denominated Eurobonds.
There are four main reasons why the Finance Ministry has been particularly interested in green bonds, Finance Minister Mohamed Maait told Enterprise:
Attracting new segments of investors who are on the lookout for sustainable, ethical, and green projects to finance;
Lower interest rates compared to the traditional Eurobonds issuances;
Diversifying debt resources to hedge against potential market volatility;
And stimulating green projects in the local market.
Efforts have already been made to expedite the Finance Ministry's first green bond since it hired Credit Agricole, Citibank, Deutsche Bank, and HSBC to market the first sovereign green bond issuance back in February. Credit Agricole and HSBC were tapped to prepare the prospectus for the offering. The cabinet had given the Finance Ministry the green light to push ahead with the offering last year, Maait said, noting that the ministry has renewed this approval recently, saying it is only a matter of time before we can see the first offering.
Egypt's maiden issuance could be to the tune of USD 500 mn in FY2020-2021, although the exact figure and timing is still in the works, Assistant Finance Minister for Debt Khaled Abdel Rahman told Enterprise. This small issuance would mainly serve to test the markets' appetite and gauge investors demand and the interest rates they would be seeking.
The transaction should meet significant appetite from Asian investors, Abdel Rahman said, if only because of the interest rate differential. Moreover, the demand from the latest Eurobond offering in May in Asia, Africa, North America, Europe, and the Middle East was so good that the final yield on the offering was cut 50 bps than levels at which the bonds were being marketed earlier in the day.
But it doesn't come without hurdles: Interest rates may be low, but the procedures of marketing bonds in Asia are more complicated, Abdel Rahman said, explaining that Egypt would have to pay higher insurance fees for the companies that would cover the offering. Moreover, the Asian markets do not usually rely on the top three rating agencies to assess bonds (S&P, Moody's, and Fitch), so Egyptian bonds will have to be evaluated through Asian rating agencies, which could lengthen procedures.
The exact type of projects that will be financed through green bonds is still in the works, where the Financial Regulatory Authority (FRA) has been in the process of setting up "green projects taxonomy" that categorizes three types of green projects: low carbon emissions projects, climate change adaptation and mitigation projects, and projects that specifically target the conservation and protection of biological diversity. The FRA has also prepared a preliminary list of international environmental observers to verify the green project criteria; created a register of local environmental monitors; and exempted green bonds issuers from 50% of fees.
And the timing could be good, since the flood of stimulus in advanced markets is pushing many investors to EM in pursuit of yield, helping defuse what some analysts feared would be a debt crisis in EM countries caused by capital outflows earlier in the pandemic. This all comes at a time when the Finance Ministry is exploring ways to ease its debt service burden, having already announced it would limit the number of bids it accepts in EGP-denominated bond sales until the end of FY2019-2020 while also tapping new sources of funding to cover revenue shortfalls caused by the covid-19 pandemic.
The green bonds will open the door to other, new sources of funding: The Finance Ministry has already drafted legislation to unlock access to sukuk and is waiting for cabinet and House of Representatives approvals, Maait told Enterprise, adding that the ministry could also begin considering other types of bonds that would be directed to social projects — are social bonds next?