Egypt's EV industry still has a long way to go — but you folks seem eager for the transition: As Egypt begins to make strides in developing a local electric vehicle industry and the infrastructure to power it, Enterprise readers are excited: 90% of you are planning to buy a EV within the the next 10 years — and one in five respondents said they'll make a purchase in the next 12 months.
Before we get into it, what's the current state of the country's EV industry? Egypt's industry is still nascent, with its first locally manufactured EV expected sometime next year — and that is only after a protracted search for a partner with which state-owned El Nasr Automotive can produce the EVs ends. On the infrastructure side, the government is still working on plans to establish a nationwide charging network — with our friends at renewable energy player Infinity working to set up 6k vehicle charging points at 3k stations across the country. In other efforts to advance the industry, Egypt's House of Representatives just gave its final approval to a bill that will establish a new regulatory body to set policy for auto assembly in the country, including EVs, and provide financial incentives for manufacturers.
Meanwhile: EVs enter the country with zero customs duties. They're not supported by full authorized aftersales service operation, but we're aware of at least two importers with stock of Tesla and Volkswagen EVs for sale in the capital city.
Only a handful of you own an electric car: A whopping 96.9% of you do not own an electric car, but some 20.6% know someone who does, indicating a small but budding trend.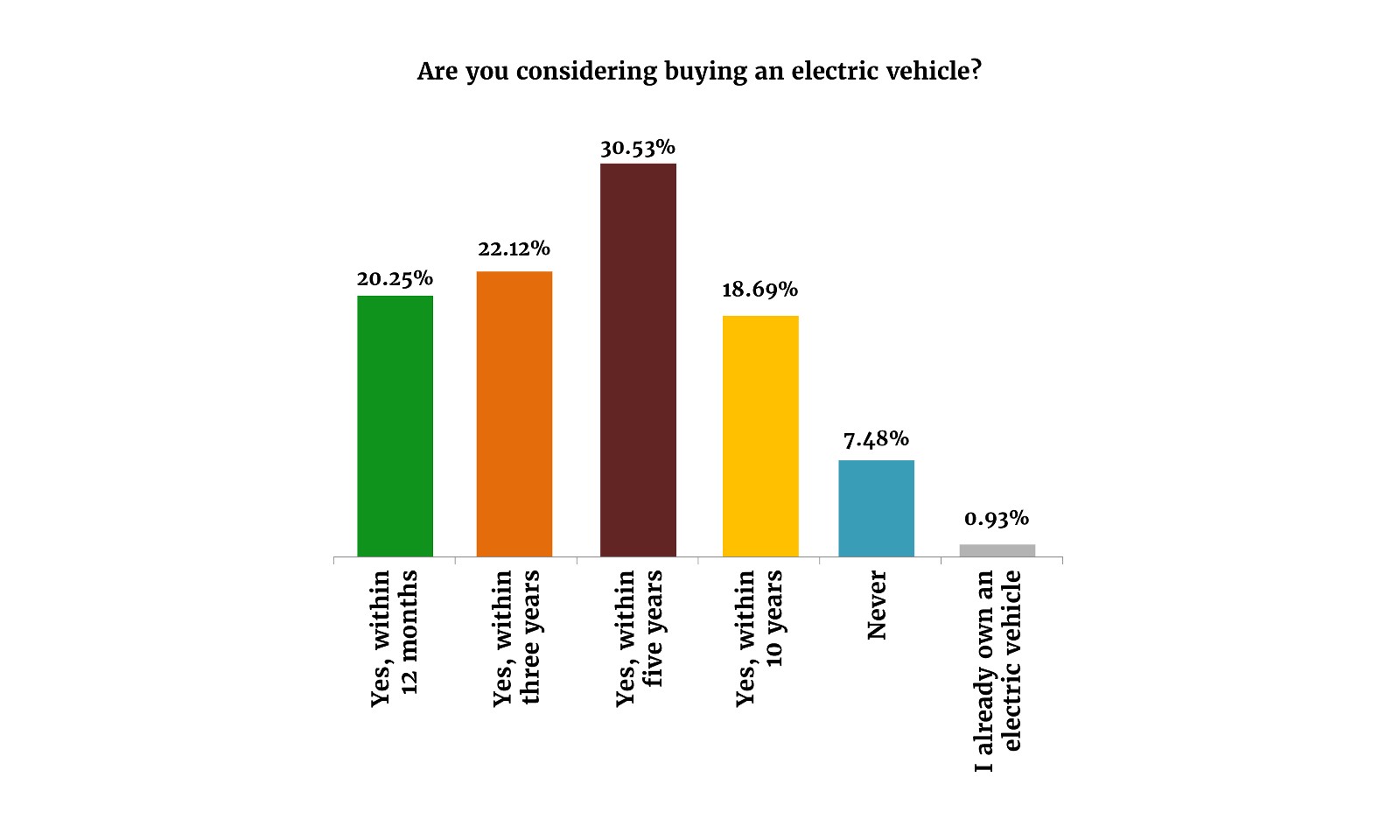 More than 90% of you intend to buy an electric car at some point over the next decade. Some 20.2% of you intend to buy one in the next year, around 22.1% could go for one within three years, while 30.5% are considering buying one in five years, and another 18.7% said they would buy one after ten years.
Only 7.4% of you have ruled it out for good, citing reasons including a lack of charging infrastructure and doubts over the actual "greenness" of the industry.
The law of big numbers: Respondents to our poll in Enterprise Climate and EnterpriseAM are, by definition, at the top of the wealth pyramid — EVs are in no danger of going "mass" anytime soon. But think of it in these terms: If at least 5% of the population can afford to buy an EV (likely an underestimation, in our view), that means the addressable market for the vehicles in Egypt is roughly the same size as the entire population of Denmark, Ireland, Finland or Norway. And thanks to under-motorization and the continued growth of the middle class, the Egyptian passenger car market in 2021 was nearly 2x the size of Ireland's.
What could motivate you to hop on the EV bandwagon sooner? More than two thirds of you (67.5%) would choose to buy an electric car if they were cheaper, and some 59.7% want there to be more charging points in their area before they make the switch. About 48.8% percent want electric cars to charge faster, while 42.5% are hoping for more models to become available in the market. Around 42.8% want there to be more spare parts available for EVs, and a quarter of you care about better performance.
If you do make the switch, a majority of you (55.8%) would go for a hybrid car over a fully electric one, with most saying they want the extra cushion of a combustion engine in case there are no EV charging stations around. Both hybrid and fully electric cars are much more popular among you lot than a natgas- or dual-fuel-run car, with just 3.8% of respondents choosing it over the other two options.
In fact, most of you seem to dislike natgas-run cars, with three quarters of respondents saying they would stick with a gasoline-run car over a natgas-run or dual-fuel one if they were not able to buy an EV.
Why do you dislike natgas-powered cars? Loss of trunk space, where the CNG cylinder goes.
But you are an environmentally conscious lot: Some 43.7% of you say you would buy an electric car for their environmental benefits. More than 34% had look at the money, saying they would go the EV route so they could save on fuel. Only 21.8% would choose to buy an EV to stay up to date with the latest technology, while an even smaller minority would choose an electric car for its resale value.
A wide majority of you (85.4%) believes electric vehicles are the future. That's much more than the 5.3% of you that don't see EVs dominating the automotive industry in the coming years.
Plenty of you have your eyes on a Tesla: Some 24% said they would opt for a Tesla if they chose to buy an electric car. Other EV makers getting interest were Mercedes, BMW, Volvo, Volkswagen, and Toyota. Many survey takers were unaware of the options available in the local market, while others said they are waiting for more models to drop.
A handful of you just don't plan on owning cars at all in a few years, choosing instead to opt for Uber or rentals. A number of you also think owning a regular car — let alone an electric one — at this point is just too expensive, while others are holding out hope for an improvement in public transport infrastructure down the line.
---
Your top green economy stories for the week: