Monday, 24 October 2022
THIS MORNING: It's Day 2 of the Egypt Economic Conference
Good morning, friends. As those of you who tuned in yesterday know, we expect this week's newsflow to be dominated by three major economic gatherings, including the Madbouly government's Egypt Economic Conference (EEC) 2022; a joint economic conference with the UAE; and the ongoing gas exporting countries forum.
Day one of the EEC was yesterday, and cabinet members set the table by reviewing the government's achievements in recent years, including a much-needed program to build infrastructure (roads, bridges, logistics, power generation, natural gas — A+, we think); its handling of global crises including covid-19 (an A, in our view); and the fallout from Russia's war in Ukraine (class is still in session, but they squeaked out a C on the midterm).
Cabinet members speaking at the opening sessions highlighted policy priorities including curbing population growth (smart) and building an industrial base (absolutely necessary). There was comparatively little on how to drive export growth and — in the words of one of the smartest people we know, who was in the audience — "really little sense of needing new policy ideas, of needing to do something different or to turn a new page."
We're more convinced than ever that our five-point recipe for building a new Egyptian economy based on exports and FDI holds water. The feedback from so many of you in the community has been both rich and intense (we'll be talking more about that in the weeks and months to come)…
…and Mahmoud Mohieldin was on-point yesterday, saying that while we have an import problem, we have an export crisis. Dr. Mahmoud is brilliant, and he also speaks from experience, having run a focused investment promotion campaign when he was in cabinet. The solution to our economic challenges, he suggested (watch, runtime: 25:59), is in growing our export base. "Is our problem rising imports — or low exports? We have an import problem, but an export crisis," Dr. Mahmoud said, suggesting that our ratio of imports to GDP is low by global standards — and that most of what we import are goods necessary to support manufacturing, agriculture and services.
"The real problem is not high imports, but the low contribution of exports to GDP. Egypt's exports per capita are lower than almost any other country — we must take steps to grow exports," Dr. Mahmoud said.
Part of the solution is capturing a once-in-a-lifetime chance to integrate with global supply chains — to make ourselves permanently part of the energy, manufacturing and services base serving Europe, the GCC and Africa.
HERE'S THE PROBLEM- We're taking careful steps in the right direction, but everyone else in our neighborhood is running. As Enterprise Climate reports this morning, Saudi Arabia wants to become a global supply chain hub with a special focus on renewable energy. It is also looking to supply India with renewable energy. And Morocco — which already ate our first-mover advantage in automotive assembly and has turned itself into an aerospace hub — is now hammering its position as the top supplier of renewable energy to Europe.
Friends, we need to get moving, and we need to be focused. It's time Egypt launched a private-sector-back investment promotion agency that can speak the language of CEOs around the world — and pitch them on how they _specifically_ can capitalize on our natural position as a global export hub.
TODAY IS DAY TWO of EEC 2022. Attendees will discuss:
The state's policy document on where it will remain in the economy and where it plans to back off;
How to boost FDI, especially for green projects;
Sessions on "priority industries" including renewable energy, electricity, EVs, waste-to-energy, desalination, and real estate.
Tomorrow is all about industry, including how to drive industrial investment, develop national industries, and address the financing gap for manufacturers, as well as solutions to recent import troubles, according to a cabinet statement.
---
MEANWHILE- Talks with the IMF on an assistance package are set to continue "the first week of November" in Cairo, according to remarks to journalists by a top fund official. Jihad Azour, the IMF's director for the Middle East and Central Asia, told reporters that the two sides agreed last week that "I would visit Cairo to resume these negotiations until we reach a new loan agreement," according to the print edition of state-owned Al Akhbar.
Prime Minister Moustafa Madbouly said yesterday that Egypt and the IMF are putting "the final touches" on the agreement. The PM made the remarks at the opening day of the Egypt Economic Conference 2022.
ALSO HAPPENING TODAY-
Egypt is playing host to the annual Gas Exporting Countries Forum meetings: Ministers from the 19 member countries as well as eight observer nations are in Cairo until tomorrow for the annual meetings of the Gas Exporting Countries Forum.
Why this matters: Egypt has been positioning itself for some years now as the premier energy hub in the Eastern Mediterranean, serving as a hub for natural gas and electricity exports to Europe, the Levant, GCC, Sudan and North Africa. Throw in the energy war between Russia and Europe and things look very interesting right now.
THIS WEEK-
Egypt and the UAE will host a gathering marking 50 years of bilateral ties: The conference takes place Wednesday-Friday (26-28 October) and is being produced in association with the two governments. Day one is an economic forum featuring ministers, senior officials and business leaders from the two countries, while the following day will feature a cultural forum.
Davos in the Desert is this week: Saudi Arabia tomorrow kicks off this year's edition of the Future Investment Initiative (FII). The kingdom's annual conference seeks to drum up foreign direct investment for its Vision 2030 plan, which hopes to future-proof the oil-dependent economy by investing in new sectors including tourism and tech. The event will run from Tuesday through Thursday this week.
Wall Street bankers are attending, regardless of what Uncle Joe says: Top Wall Street execs have no plans to cancel their attendance at the summit, despite an escalating war of words between the US and Saudi leadership over recent OPEC+ supply cuts, Reuters and Bloomberg report.
COUNTDOWN TO COP (12 days to go)-
Foreign Minister Sameh Shoukry wants COP27 to focus on climate change without getting bogged down in "political polarization," he said in an interview with state-run Emirates News Agency (WAM). While the conference is being held during a time of "strong geopolitical and geo-economic tension," Shoukry hopes it will not impede tackling common global challenges like climate change as any backtracking on climate pledges would take the world to a "point of no return."
A storm is brewing: Unfortunately, political polarization — or, as Bloomberg describes it, a "geopolitical hurricane" — looks like a dead certainty for the summit, as Western-Russian relations suffer their biggest crisis since the Cold War and US-China tensions rise. Europe is turning to coal and natural gas to mitigate an historic energy crisis triggered by its sanctions war with Moscow, threatening to undo some of the gains made at last year's COP26. Meanwhile, there's growing friction between the global haves and have-nots as poorer countries insist rich nations stump up the bulk of the money for the green transition in the developing world — a demand which they are yet to seriously entertain.
Sharm El Sheikh bids adieu to single-use plastic bags: The Red Sea resort town, playing host to COP27 in less than two weeks, is officially free of all single-use plastic bags, which have been swapped for more environmentally-friendly cloth bags, Environment Minister Yasmine Fouad said during a presser yesterday.
---
MORNING MUST-READ
Rare earth elements in Egypt: EnterprisePM's Inside Industry vertical took a deep dive yesterday into the Hassan Allam-built black sands plant in Burullus. Inaugurated by President Abdel Fattah El Sisi earlier this week, the EGP 4 bn project maks Egypt's foray into rare earth elements.
Why we care: Local black sand deposits are rich not only in a host of heavy minerals used in a wide variety of industries, but also in rare earth elements that are key to the production of everything from solar panels and EVs and to mobile phones. That's good news for our trade balance — it will save on exports and open up a new export avenue for the country. At present, China produces more than 90% of global rare earth output.
---
THE BIG STORY ABROAD- Former UK chancellor Rishi Sunak could today be named the UK's latest prime minister after a comeback bid by Boris Johnson fell wide of the mark. Sunak will be named PM this afternoon if no other contenders can gather the required 100 signatures from Conservative MPs to stand against him. His only remaining public rival, Penny Mordaunt, had fewer than 30 signatures as of yesterday. A leadership race was triggered within the governing Conservative Party after former PM Liz Truss resigned over her disastrous mini-budget, which sent the UK financial markets haywire. (FT | Bloomberg | Washington Post | AP | Reuters | NYT)
AND- Rising inflation is driving a wave of strikes and protests across Europe: Growing dissatisfaction with the rising cost of living threatens to trigger political unrest, the Associated Press reports. German pilots and British railway workers participated in strikes to demand higher pay. Protesters in Romania, France and the Czech Republic expressed outrage over the rising cost of living, called for pay rises that keep up with inflation, and voiced their concerns over the government's handling of the energy crisis.
CIRCLE YOUR CALENDAR-
PSA- The LRT has extended its hours: The new light rail transit system (LRT) has extended its operating hours to 7:30 AM – 9 PM, operator RATP Dev said yesterday.
Check out our full calendar on the web for a comprehensive listing of upcoming news events, national holidays and news triggers.
---
CLARIFICATION- In our story on S&P Global Ratings' latest Egypt rating yesterday, we wrote that S&P Global Ratings had affirmed Egypt's credit ratings at BB. This referred to the agency's foreign and local-currency ratings, each of which were held at B.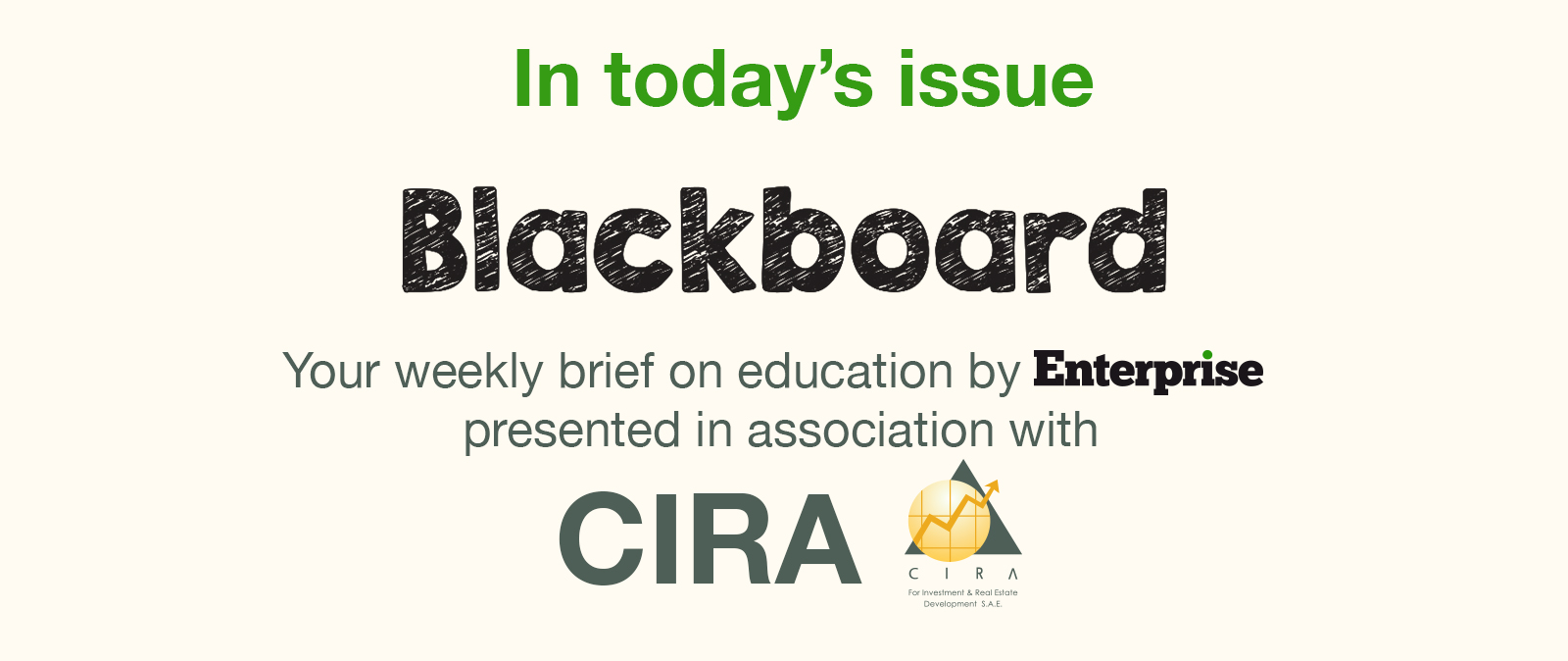 *** It's Blackboard day: We have our weekly look at the business of education in Egypt, from pre-K through the highest reaches of higher ed.
In today's issue: We delve into the topic of financial literacy and ask what needs to be done to boost the population's money smarts.