Sunday, 17 July 2022
THIS MORNING: Egypt is reportedly considering a BRICS bid; Red-hot energy + food prices are easing — but it's not all good news
Good morning, wonderful people. We hope you had a fantastic week off — and that those of you not sunning yourselves in Sahel are looking forward to a productive day, starting with remembering (a) where you work, (b) what you were doing before the break, and (c) what might be on your priority list this week.
WATCH THIS SPACE #1- Do the BRICs still matter? Egypt is apparently positioning itself for membership, planning to apply alongside Saudi Arabia and Turkey for membership in the loose group of major emerging economies. Bids from new countries will be discussed at next year's summit in South Africa, the organization's president told Russian outlet Izvestia last week.
We're going to need a bigger acronym: The loose economic alliance was formed by China, Russia, India and Brazil in 2006, and added South Africa to its ranks in 2010. The news that Egypt, Saudi Arabia and Turkey are considering joining comes a few weeks after Iran and Argentina submitted membership bids.
WATCH THIS SPACE #2- Banque du Caire pushing IPO to after 2022? State-owned Banque du Caire is postponing its long-awaited IPO thanks to miserable conditions in global equities markets, Al Borsa writes, quoting an unnamed source. The bank was set to make its EGX debut before the end of the year as part of the state's privatization plans.
OTHER THEMES YOU'LL WANT TO KEEP AN EYE ON (aside from where the hell the stock market is heading) as we enter the dog days of summer:
Inflation. It's not going anywhere. Yes, it was down (month-on-month) in June (see below). But that's likely a one-off, and concern about food prices is now firmly on the global radar, with BlackRock's Larry Fink being the latest to beat the drum.
The US midterm elections — and the race for the presidency in 2024. Americans head to the polls this November, with campaign season kicking into high gear as we return from Sahel. This comes as Joe Biden faces questions about his age and record-low approval rating — and as Agent Orange is reportedly debating not whether to run, but when to announce he is indeed, seeking another term.
Chinese banks and that real estate crisis that never really went away, particularly after authorities "held emergency meetings with banks after growing alarmed that an increasing number of homebuyers across the country are refusing to pay mortgages on stalled projects." Blomberg and Reuters are on it.
HAPPENING TODAY-
President Abdel Fattah El Sisi is in Berlin today and tomorrow for the Petersburg Climate Dialogue, the German Embassy in Cairo said in a statement. The president will also hold meetings with German officials including Chancellor Olaf Scholz and President Frank-Walter Steinmeier.
HAPPENING THIS WEEK-
An agreement to unlock Ukrainian wheat via the Black Sea could be signed this week, Russian news agency Tass reported on Friday. Turkey said Thursday that it reached an agreement with Ukraine, Russia and the UN to establish a naval corridor in the Black Sea, which would pave the way for Ukraine's Black Sea ports to reopen and wheat exports to resume.
UN Secretary-General Antonio Guterres is (very cautiously) optimistic that an agreement is in reach, noting that it will take "a lot of goodwill and commitment," according to the Financial Times.
THE BIG STORY ABROAD-
Biden's trip to the Middle East has pride of place on the international front pages this morning with global media commenting on everything from what it means for global oil prices and US policy in the region to Saudi-Israel rapprochement and THAT fist-bump. We have all the details on the president's visit to the region in this morning's Diplomacy section, below. (Reuters | AP | Bloomberg | FT | WSJ | NYT | CNBC)
The Russia-Ukraine conflict is making global front pages once more after Moscow said yesterday that it would step up its attacks against Ukrainian positions in "all operational areas." The Russian military has bombed several targets outside of the east of the Donbas in recent days, launching strikes against Kyiv and towns in the central Dnipro and eastern Kharkiv regions. (Reuters | Bloomberg | AP | CNBC | Washington Post)
MARKET WATCH-
We could be finally catching a break from the commodities crunch — but it's not all good news: Wheat and oil prices both fell below pre-war lows last week as optimism builds that the global wheat shortage is easing — and pessimism increases that the global economy is about to fall into recession.
Wheat prices are coming back down to earth: Chicago wheat futures had their worst week since March 2011 last week, falling around 15% to close the week at USD 781 a bushel. That's the lowest price since before Russia invaded Ukraine in late February and down almost 40% from the recent peak. News that grain exports from Crimea are surging and optimism over a pact to reopen Ukrainian ports caused futures to slide again on Friday, extending a sharp descent partly triggered by a spate of good news suggesting that global wheat supply is improving.
Oil prices (briefly) fell to pre-war levels for the first time: Brent crude on Thursday fell below USD 95 a barrel for the first time since Russia invaded Ukraine, easing pressure on oil importers (like Egypt) which have seen their import bills balloon since the war broke out. US crude also fell to a pre-war low of USD 90.45 on Thursday. A late-in-the-week rally took Brent back into triple figures, rising 1.3% to USD 101 / bbl on Friday, while WTI climbed to USD 97.6.
The bad news: Recession fears are driving a sell-off in commodities. Energy, metals and food commodities have all gone into reverse in recent weeks as investors bet that an oncoming economic downturn will curb global demand, and temper the impact of the supply shock that sent them to record highs earlier this year. "Fear of recession is what is driving the market today," one economist told the Financial Times.
CIRCLE YOUR CALENDAR-
State's national dialogue meetings to resume on Tuesday: The board overseeing the Sisi administration's national dialogue will hold its second meeting this week, during which it will set a schedule of debate, discuss the agenda and form subcommittees.
Need a refresher on the national dialogue? We've got you covered.
Check out our full calendar on the web for a comprehensive listing of upcoming news events, national holidays and news triggers.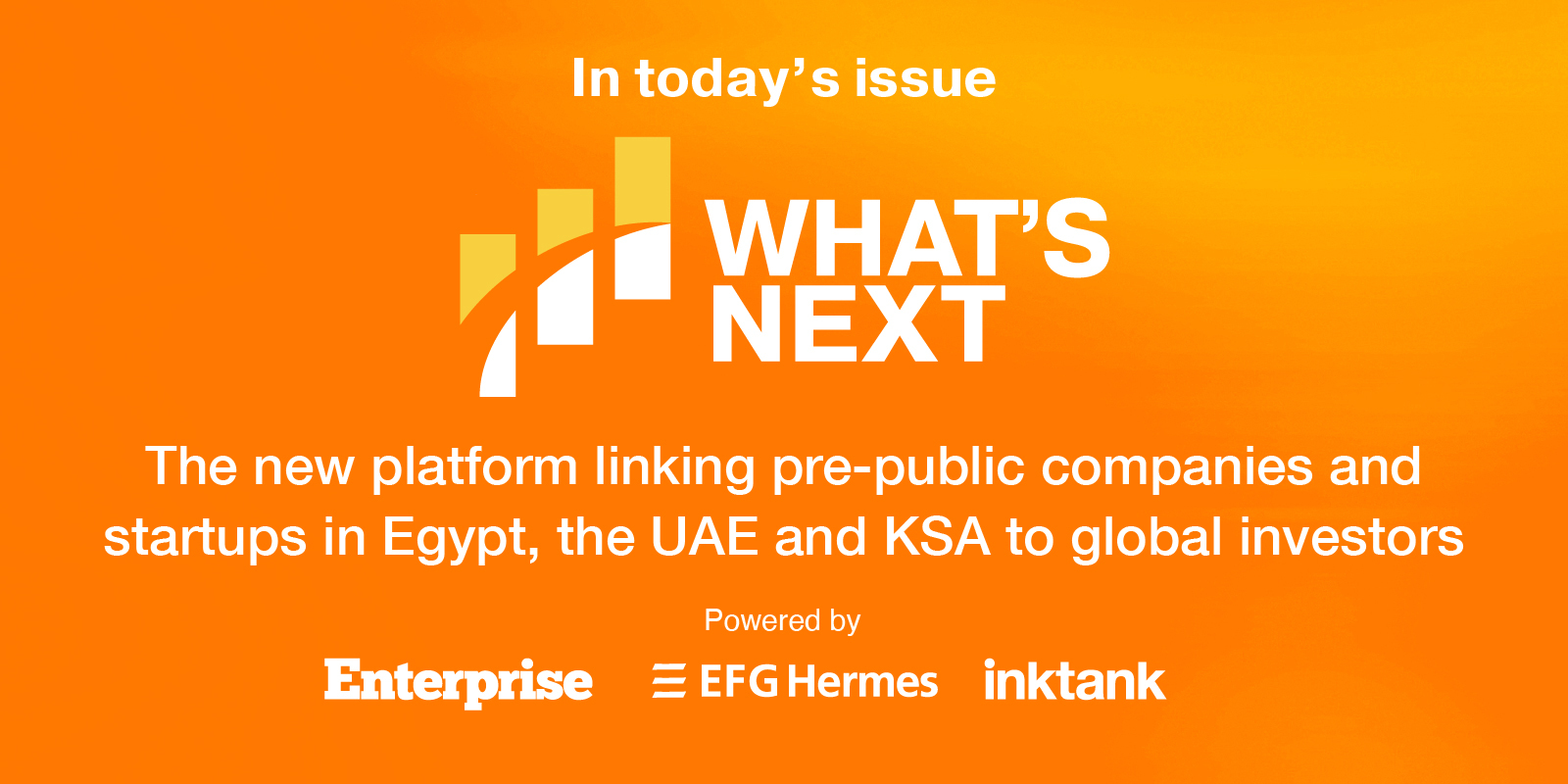 *** It's What's Next day: We have our weekly deep-dive into what makes and shapes pre-listed companies and startups in Egypt, the UAE and KSA, touching on investment trends, future sector insights and growth journeys.
In today's issue — the Enterprise Startup Watch 1H2022 report: With all this news about market turbulence, you would think that Egypt's startup land has been suffering from a funding drought, right? Wrong. Egypt's startups raised more USDs in 1H2022 than during the same period last year over more transactions. We break those numbers down, taking a look at what sectors prevailed and which didn't, and exploring what new trends came out of the first six months of the year.