Monday, 4 July 2022
THIS MORNING: Happy 4 July; The second half of the year probably isn't going to be any better for global markets than the first
We're thankful for a relatively quiet Monday, ladies and gentlemen, that is being punctuated with interesting M&A news and other positive highlights coming out of the business community.
We want to give a special shout out to NBFS players, who seem to be picking up the slack left by banks when it comes to education financing. We have more on that in today's Blackboard.
Eid, which is coming up next week. We're still waiting for the usual official announcements on how many days to expect off for Eid Al Adha, which runs from this Saturday, 9 July to Wednesday, 13 July.
Speaking of national holidays, Happy 4 July, for those of you who like your fireworks, barbecues, and American independence. PS: Expect fewer fireworks at the celebrations in the US this year, thanks to a shortage of supplies and pyrotechnicians, the Wall Street Journal reports. US financial markets will remain closed today for the holiday.
THE BIG STORIES HERE AT HOME- Expedition Investments' bid to take a chunk of Domty has taken a step forward, with the Financial Regulatory Authority announcing yesterday that it has received an official offer from the offshore company to acquire 34% of the EGX-listed cheesemaker. Meanwhile, the local office of Canada-based investment banking outfit Intercap Inc. is planning a new USD 30 mn fund that will invest primarily in Egyptian tech startups.
Transportation was also a big newsmaker yesterday, as President Abdel Fattah El Sisi inaugurated the first phase of the light rail transit system connecting Cairo, the New Administrative capital and 10th of Ramadan in a ceremony today at the Adly Mansour station. We have more on this in Last Night's Talk Shows.
In attendance was European Investment Bank Vice President Gelsomina Vigliotti, who continues her four-day visit to Egypt today. In her first high-level visit since the covid-19 pandemic, Vigliotti is meeting with officials to discuss the bank's support for Egypt's energy and food security, as well as green projects ahead of the COP27 summit in November.
Could cement supply quotas stick around for another year? Over the past year, 23 local cement companies slashed production by more than 10%, in a bid to rescue the ailing sector from a supply glut. Now, these companies are lobbying for an extension of the cuts and seem likely to get it. In this week's edition of Inside Industry — our weekly briefing on all things industrial in Egypt — we look at why local cement players are lobbying the government to extend the cuts, and ask how the quotas have impacted the industry in the past year.
WHAT'S HAPPENING TODAY-
House plenary sessions are expected to continue today and Tuesday as the current legislative cycle draws to a close. Speculation is growing among MPs that recess could begin later this week though there's still a chance that our elected representatives will have to postpone their annual Sahel getaways until after Eid.
Still on the legislative agenda:
Competition Act: We're still waiting on a breakthrough in negotiations over reforms to competition rules (more on this in the news well, below).
Consumer finance: Government-drafted amendments to the Consumer Finance Act will be debated tomorrow. Three articles could be added to the act to provide greater fraud protections to consumers, according to a note seen by Enterprise.
Tax disputes: The House will also discuss government-drafted amendments to tax dispute settlements tomorrow, part of efforts to improve the investor climate and boost tax revenues.
The Egypt Industries Expo continues today at the Egypt International Exhibition Center. The three-day event brings together leading industry players in various sectors to promote their products. The first day of the conference saw Public Enterprises Minister Hisham Tawfik announce the launch of the government's new e-catalogue for Egyptian products, Gosoor, which goes live today.
Foreign Minister Sameh Shoukry is in London today for talks with British Foreign Secretary Liz Truss.
FOR TOMORROW-
Our national dialogue also kicks off this week, with Diaa Rashwan, the general coordinator of the dialogue, convening the first meeting of the 19-member board of trustees organizing the event tomorrow, according to the State Information Service. Board members include lawmakers, journalists, and political and economic experts. President El Sisi also signaled the beginning of the dialogue in a report picked up by Al Oula (watch, runtime: 2:18).
Need a refresher on the national dialogue? You can read our explainer here.
---
THE BIG STORY ABROAD- The global front pages are dominated by yesterday's news that Russian forces have seized the last major town in Ukraine's eastern Luhansk province, a significant military victory for Moscow indicating that the course of the war is shifting in its favor. (Bloomberg | FT | Reuters | AP | New York Times | Washington Post | WSJ)
MARKET WATCH-
Welcome to 2H 2022. It's probably going to be even worse for the global markets. The first half of the year was pretty bad for global markets — and the worst for US equities in decades — but more losses are likely yet to come in the second half of 2022, both the Wall Street Journal and Bloomberg are predicting. The year so far was marred by soaring inflation, a historic bond sell-off, a fall in tech stocks, and the crypto winter. Now, as central banks continue to hike rates, recession has joined inflation as a major threat. "The next 10% will probably be down from here, not up," one investor told Bloomberg, echoing a view held by most market watchers at the moment: We haven't hit the bottom yet.
Could emerging markets benefit from a US recession? That's the opinion of some analysts, including at JPMorgan and Deutsche Bank, Bloomberg reports. Cheap valuations, higher yields, faster growth and the revival of the Chinese economy could make a bull case for EM assets, they say, despite the sharp sell-offs in equities, bonds and currencies alike. "We may be close to peak pessimism," said one currency analyst at Deutsche. "There are reasons to think emerging-market performance could hold up better than in past recessions, including very low foreign ownership of local assets, a relatively high starting point for interest rates and cheap valuations."
Oil prices: Has demand destruction arrived? There are signs that demand for fuel could begin to fall as soaring oil and gas prices increase economic pressure on consumers, according to oil trading giant Vitol. "There's very clear evidence of economic stress being caused by the high prices," Mike Muller, the head of Asian markets at the firm, said during a Gulf Intelligence podcast (listen, runtime: 35:19). Fuel prices have surged to record highs in the US and other countries as reduced flows from Russia amid its war with Ukraine exacerbate supply issues caused by years of under-investment in refineries, Bloomberg writes. Soaring prices are starting to suppress demand for both oil and LNG, he said.
CIRCLE YOUR CALENDAR-
Speaking of which, our own fuel pricing committee could meet this week to review fuel prices for the third quarter sometime this week.
Other news triggers to keep an eye on this month:
PMI: Data measuring activity in Egypt's non-oil private sector will drop on Wednesday, 6 July.
Foreign reserves: Foreign reserves figures will be out sometime this week.
Inflation: Inflation data for June will land on Sunday, 10 July.
Ghazl El Mahalla IPO: The deadline to subscribe to the retail portion of Ghazl El Mahalla's IPO is 14 August.
Check out our full calendar on the web for a comprehensive listing of upcoming news events, national holidays and news triggers.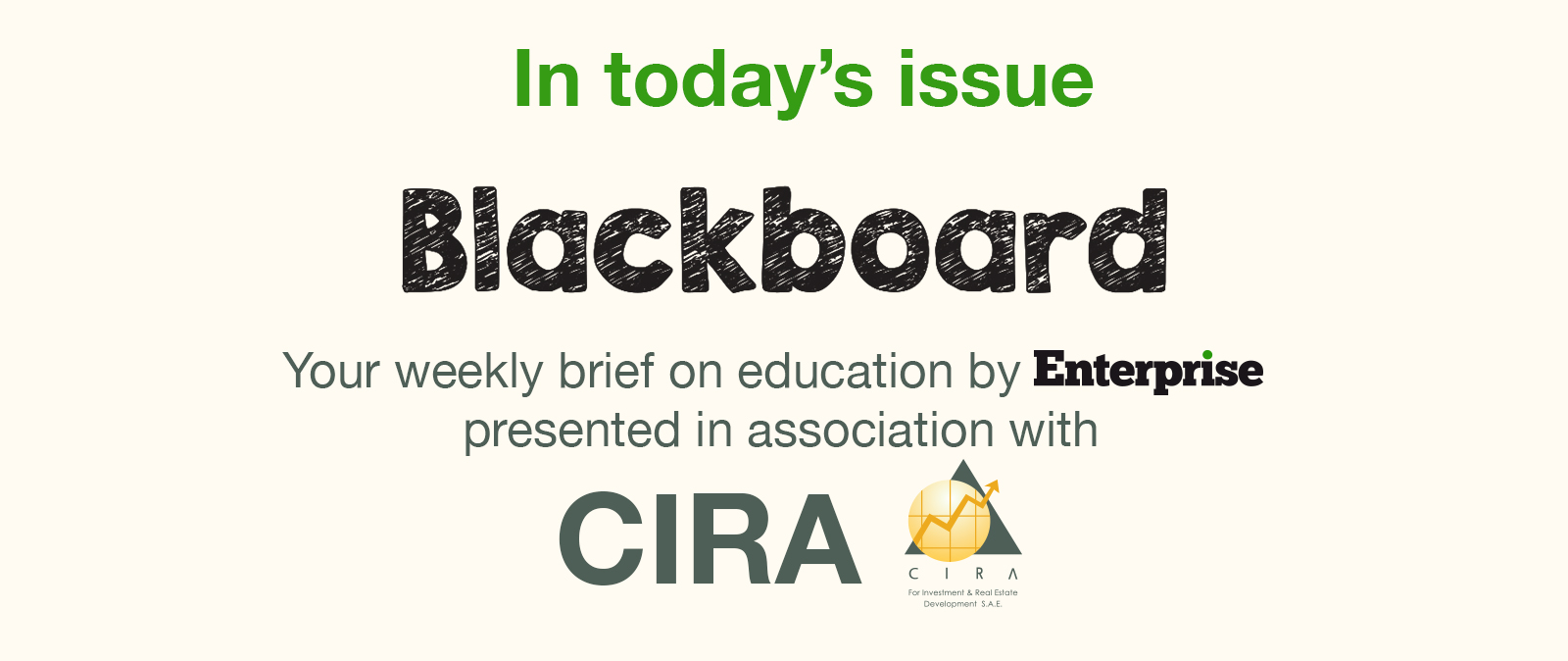 *** It's Blackboard day: We have our weekly look at the business of education in Egypt, from pre-K through the highest reaches of higher ed. Blackboard appears every Monday in Enterprise in the place of our traditional industry news roundups.
In today's issue: Parents looking to put their children through private schooling at the K-12 stage continue to face higher costs, as rising inflation rates push schools to raise their tuition fees. But for the most part, the banking sector has not been an appealing avenue for tuition financing. Last week, we looked at how traditional education loans don't see much demand from customers, with banks either pivoting to different products or tapping new pockets of potential clients. This week, we find out whether non-bank lenders could provide solutions.