Monday, 21 March 2022
THIS MORNING: New measures to cope with Ukraine war fallout coming today (or tomorrow); Arqaam sees huge 200 bps rate hike; Israeli PM coming to Cairo?
Good morning, wonderful people, and welcome to a business-heavy issue of Enterprise as a flood of fundraising, M&A and investment news pushed the local fallout from the war in Ukraine further down our metaphorical front page.
Four stories really stand out: Global Ventures' new, USD 85 mn Nclude fund, to be sure. But also the increasing (and quite welcome) acquisitiveness of Emirati players (as lender FAB eyes a potential acquisition of GB Lease), burgeoning interest in all things green (ammonium, this time) and the rollout of future flow securitization.
That last bit — future flow securitization — is a mouthful, but don't gloss over it. It could be a game changer for many businesses. Imagine you run a school (or a SaaS business or a sports club or anything else with recurring, subscription-like revenues). You have tuition coming in at regular intervals, including from families that are on payment plans. But you want all the cash now to fund innovation, or build an expansion, or simply to smooth out your cashflows. Future flow securitization would effectively allow you to get a big chunk this year's total tuition paid to you today, in a lump sum — if you're willing to give up a bit of the total value to the investors who will front you the cash today.
BUT, BUT, BUT… Excited as we may be this morning about business news, war in Ukraine will be back at the top of the front page later today or tomorrow. That's when the Madbouly government will announce new measures in response to the negative effects of the Russia-Ukraine war, Kelma Akhira's Lamees El Hadidi said yesterday (watch, runtime 3:25). President Abdel Fattah El Sisi yesterday instructed the government to immediately put together a package of measures to soften the economic and social impact of rising inflation caused by the conflict.
MEANWHILE- Foreign Minister Sameh Shoukry's Asian tour continues today. The FM held talks yesterday with his Pakistani counterpart, Shah Mehmood Qureshi, according to a ministry statement. Shoukry has in recent days made whistle stops in Indonesia and Malaysia and is scheduled to attend a summit of the Organization of Islamic Cooperation in Islamabad on this Tuesday and Wednesday.
PSA- "Wintry" weather ahead: The cold is staying with us this week, according to the latest forecast by the folks over at the Egyptian Meteorological Authority. Expect highs of 18°C and lows of 8°C in Greater Cairo and Alexandria through Friday. There's also a 20% chance of light rain this week, it added. Don't worry, though: We're still looking at the mercury entering the 30s by the first day of Ramadan, according to the long-range forecast on our favourite weather app.
It's day two of the maritime logistics conference Marlog, which is taking place at the Hilton Green Plaza hotel in Alexandria. The event closes tomorrow.
CIRCLE YOUR CALENDAR-
It's interest rate week: The Central Bank of Egypt will hold its policy meeting to review interest rates this Thursday, 24 March. Six of the nine analysts we polled last week expect the central bank to raise interest rates in response to rising inflation and tighter financial conditions. There was a lack of consensus on the size of the potential hike, with some forecasting rates to rise by 50 bps and others predicting an aggressive 150 bps increase.
Actually, make that seven of nine (no, not that Seven of Nine): Arqaam is calling a 250 bps rate hike — "well above consensus" when the Monetary Policy Committee meets on Thursday, Head of Research Jaap Meijer said in an email yesterday. "With inflation possibly reaching close to 10% in March, to keep the carry trade continuing, and a low tolerance to see FX reserves slip, we now expect a rate hike in the range of 200-300bps at the next meeting," Meijer wrote in a research note (pdf) yesterday with Aliya El Husseini.
MEANWHILE- Is Israeli PM Naftali Bennett planning a trip to Cairo? That's the assertion in the Times of Israel, citing an unconfirmed report in the Israeli press, which suggests Bennett could meet President Abdel Fattah El Sisi in Sharm El Sheikh this coming September if the plans firm up. The newspaper points to the potential meeting as the latest sign of warming ties between Israel and Egypt.
ALSO- Do you need to dive deeper into e-invoicing? Lynx Strategy Business Advisors are hosting a webinar on Wednesday, 23 March to discuss the system. The Arabic-language gathering will take place 12:00-1:30pm with speakers from the Finance Ministry and the Tax Authority and a panel discussion including the CFOs of PepsiCo, Talabat and Unilever.
Check out our full calendar on the web for a comprehensive listing of upcoming news events, national holidays and news triggers.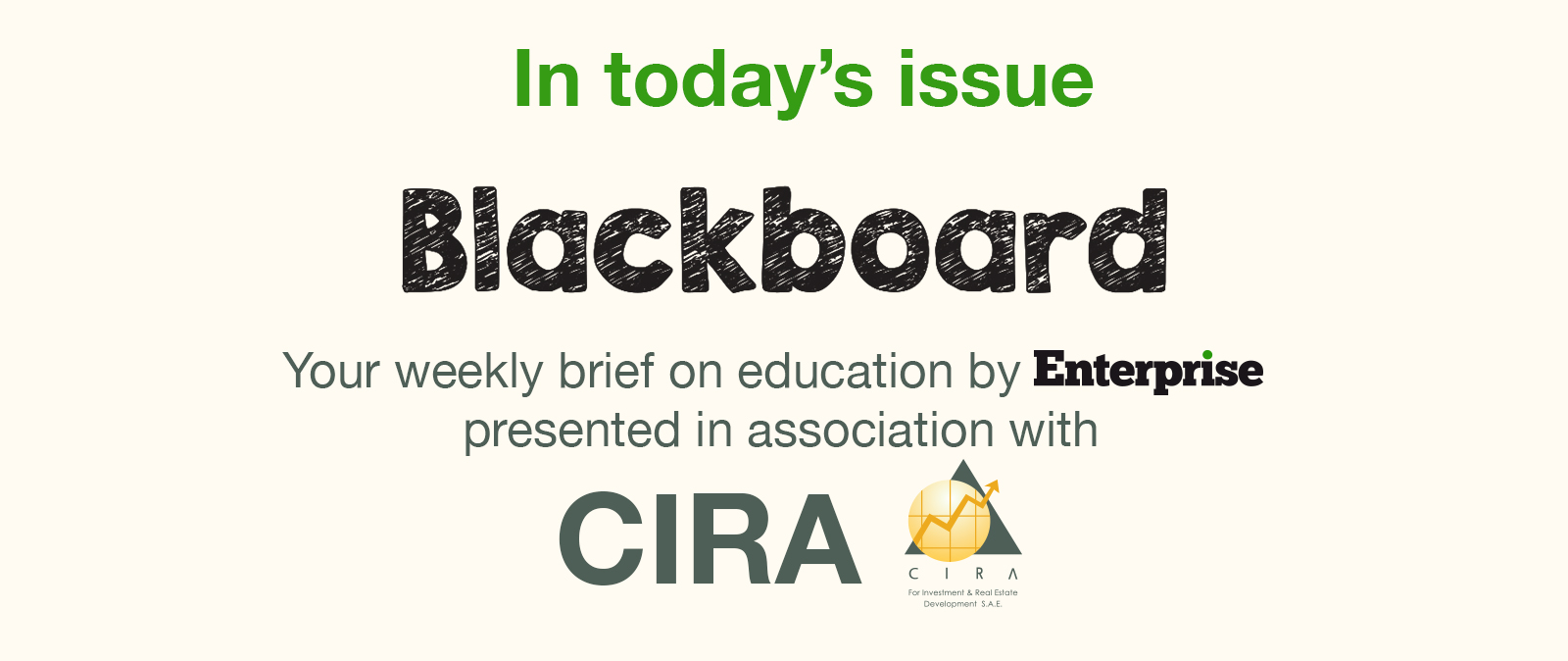 *** It's Blackboard day: We have our weekly look at the business of education in Egypt, from pre-K through the highest reaches of higher ed. Blackboard appears every Monday in Enterprise in the place of our traditional industry news roundups.
In today's issue: Since the September 2020 suspension of the SAT, alternative tests — namely the ACT and EST — have been used for American Diploma students to enter university in Egypt. Though the alternative tests have overcome initial capacity strain, they don't appear to be completely filling the gap left by the SAT — with schools citing difficulties obtaining information as a particularly significant challenge. But perhaps the biggest challenge of all is that the market position of all three tests remains unclear, with some sources noting that greater clarity would offer consistency for both schools and students hoping to sit these tests.