Sunday, 27 February 2022
THIS MORNING: Russia closes in on Kyiv as West steps up financial war
The nastiest war to hit Europe since Yugoslavia disintegrated more than 30 years ago kicked off just after we hit "send" on Thursday's edition. We think this is going to change a lot of things for all of us — the business climate this year, how and where we do business, who will be investing where, and who is allied with whom.
For the next while, we'll be covering what's happening in Ukraine (and its impact beyond that nation's borders) in War Watch, a new section that leads this morning's news well, below.
Here's what you need to know right now:
Russian forces stepped up their assault in Kyiv overnight after the Ukrainian Army and civilian volunteers put up unexpectedly stiff resistance. Pundits on our Twitter are suggesting Russia has so far committed barely a third of the total number of troops it has massed.
Select Russian banks are about to be (kind of) cut off from the global banking system. Unplugging them from SWIFT, the banking world's (archaic) global messaging system, will mean the affected banks need to reach out to other banks on a peer-to-peer basis if they want to transfer funds. And whether those banks will accept transfers is another question entirely.
The big thing to watch for: Sanctions on Russia's central bank. Western nations are preparing measures designed to make it difficult for Russian President Vladimir Putin to deploy his country's >USD 600 mn in reserves to shore up his economy. One catch: Russia's reserves pile is famously well-diversified. Expect the sanctions to be announced as early as today.
Ukraine has captured the world's hearts with tough resistance to invasion — and some very memorable lines. Ukrainian President Volodymyr Zelensky refused an American offer of evacuation: "I need ammunition, not a ride," he said, releasing a video proving he and his top officials were still in the capital. "Russian warship, go f— yourself" indeed.
In Russia, meanwhile, the invasion is playing out on state television as a liberation of two breakaway territories of Ukraine that Putin recognized last week. Protests against the war have cropped up in most major Russian cities, and many Russian celebs have taken to social media to call for peace.
THE IMPACT ON EGYPT-
Emerging markets including Egypt have so far born the brunt of the global reaction to the war, the Financial Times reports. Analysts noted steep sell-offs in Ghana, Turkey, Egypt and Pakistan, citing a "flight to safety from financially vulnerable countries." The EGX closed down 3.6% on Thursday, on turnover of EGP 1.1 bn (7.8% above the 90-day average). Foreign investors were net sellers.
The big question: What does this mean for our access to wheat? We have the full story in this morning's news well, below.
REMINDER- Egypt has deep economic ties to both Ukraine and Russia, which together account for well over 50% of our wheat supply and send us mns of tourists every year. Russia is building a nuclear reactor and an industrial zone here. Ukrainian companies work with us on transport and infrastructure projects.
Egyptian hotels are now required to extend stays of Ukrainian tourists stranded in Egypt under directives from the Egyptian Hotel Association (pdf) and the Tourism Ministry (pdf).
Egyptian citizens in Ukraine have been directed to stay home for the time being, while Romanian and Polish border checkpoints will allow safe passage for Egyptians in the port city Odessa, the Egyptian Embassy in Kyiv said in separate statements (here and here). Egyptians studying at Ukrainian universities have shifted to online learning, the Education Ministry said, according to a cabinet statement.
It's only going to get more complicated as businesses brace themselves for continued high energy prices, jittery stock markets, and the prospect that inflation will be around even longer than expected. Need the rundown? Go read the Financial Times' very good How will Russia's invasion of Ukraine hit the global economy?
ELSEWHERE TODAY-
The Senate is set to discuss the unified ins. act in plenary sessions starting today, Al Mal reports. The draft bill. which has been at least three years in the making, aims to appoint the Financial Regulatory Authority the primary regulator for the ins. sector, make ins. compulsory for SMEs and freelancers, and set up new economic courts to mediate disputes.
CIRCLE YOUR CALENDAR-
The long-awaited tender for the Tenth of Ramadan dry port is kicking off today, Amr Ismail, head of the General Authority for Ports, told Al Borsa, adding that four consortiums — out of six that came forward with offers — are competing to build and operate the EGP 3.5 bn dry port and logistics hub. The four consortiums reportedly include Orascom Construction-Abu Dhabi Ports, Elsewedy Electric-CMA CGM, a consortium led by the Mediterranean Shipping Company, and another by Bollore Logistics.
Consoleya is holding its second Women Meet-up to discuss topics including inclusivity in investment. The program will include a panel discussion on gender-lens funding here in Egypt. The event takes place on Wednesday, 2 March.
ARE YOU BUILDING A FINTECH STARTUP? You might want to apply for Visa's global startup competition, the Visa Everywhere Initiative, which is running in Egypt in partnership (pdf) with the Central Bank of Egypt. Lean more here. The deadline for applications in Egypt is 20 March.
The Diarna Handicrafts Fair kicked off on Thursday and runs through 7 March at Cairo Festival City from 10am until 10pm daily.
Check out our full calendar on the web for a comprehensive listing of upcoming news events, national holidays and news triggers.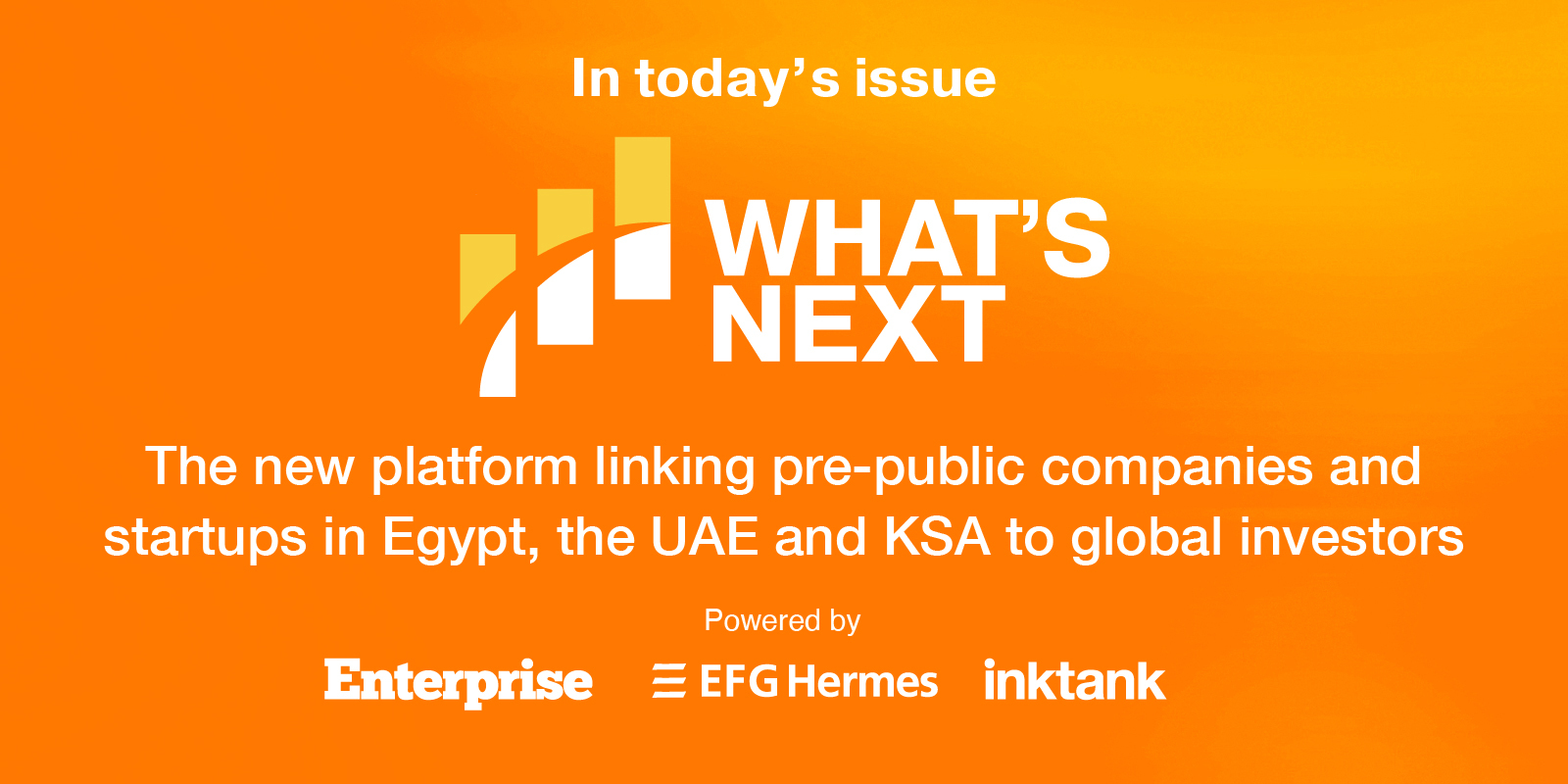 *** It's What's Next day: We have our weekly deep-dive into what makes and shapes pre-listed companies and startups in Egypt, the UAE and KSA, touching on investment trends, future sector insights and growth journeys.
In today's issue: Egypt's fintech scene has grown leaps and bounds over the past few years, with 2021 specifically being a good year to be a fintech startup. This is supported by the Central Bank of Egypt's (CBE) fintech data, which were released last week as part of the Fintech Landscape report (pdf) published by CBE-backed initiative Fintech Egypt. Today, we break down those numbers and what they mean for the local fintech scene.