Sunday, 5 December 2021
THIS MORNING: Omicron's world tour continues + the markets had a wild, wild weekend
Good morning, wonderful people, and welcome to the first full week of December.
Before we get underway, we offer our fellow grammar and typography nerds this break from the hurly-burly of year-end newsflow: Go watch Alexis Gay's homage to the em-dash (runtime: 1:00). Use it wisely, young Skywalker.
THE BIG STORIES ABROAD-
Omicron has now landed in as many as 46 countries, according to a New York Times tracker, up from 38 on Friday. Chile became the latest country to report a confirmed Omicron case in a fully-vaccinated resident who recently traveled to Ghana, Bloomberg reports.
Early data shows that this strain is more contagious than the delta variant, but delta remains more dominant globally, Maria Van Kerkhove, the WHO's covid-19 technical lead said, according to CNBC.
Omicron could have some of the genetic material from the virus that causes the common cold in humans, which might be the reason it is more infectious than other covid-19 variants, a study from biomedical data analytics company Nference suggests. The study, which has yet to be peer-reviewed, also suggests that the strain could be less virulent than other variants.
Oh, and get this: Natural immunity isn't fantastically protective against Omicron, with a preprint paper out of South Africa suggesting that "reinfection is around three times more likely with Omicron than it was with other variants," Axios reports.
The most obvious feature of Omicron so far is how little we know for certain about the strain, Angelica Kutzi, the South African doctor who first detected the new strain, told Kelma Akhira's Lamees El Hadidi last night. It appears that individuals infected with the variant do not suffer from loss of taste or smell — and that the most commonly reported symptom is mild fatigue. Vaccinated individuals also report much milder symptoms than those who have not been vaccinated and no deaths have been reported thus far as a result of infection from the variant, Kutzi said (watch, runtime: 16:02).
The IMF is likely to react to Omicron by downgrading its growth forecast for the global economy, fund chief Kristalina Georgieva said on Friday, Reuters reports. The lender said in October that it expects the global economy to grow by 5.9% in 2021 and 4.9% next year, but the new covid variant has forced new travel restrictions and inflamed turbulence in the financial markets. That could force the IMF to revise figures downwards when it updates its outlook in January. "A new variant that may spread very rapidly can dent confidence, and in that sense, we are likely to see some downgrades of our October projections for global growth," said Georgieva.
WHAT'S HAPPENING TODAY-
It's PMI day: Purchasing managers' index figures for November for Egypt, Saudi Arabia, and Qatar will be released this morning. Figures for the UAE, which normally come out on the same day as Egypt and Saudi, will be released this coming Tuesday, 7 December. You'll find the PMI here when it's out — or go meet David Owen, the guy who builds the PMI, who was our My Morning Routine feature this past Thursday.
THIS WEEK-
Aldar / ADQ MTO subscription window wraps up this week: SODIC shareholders have three more days to respond to the mandatory tender offer submitted by the UAE's Aldar Properties and Abu Dhabi sovereign wealth fund ADQ. The Financial Regulatory Authority set the deadline for Tuesday, 7 December.
The Central Bank of Egypt will issue USD 1 bn of one-year USD-denominated treasury bills on Monday, it said Thursday. The auction will conclude on Tuesday. Egypt has sold some USD 5.1 bn of USD-denominated debt so far in 2021 across five issuances.
MARKET WATCH-
Another volatile trading session on Friday capped a wild week in the markets as a poor US jobs report added to the turbulence caused by the resurgence of covid-19 and increasing hawkishness at the Federal Reserve. US tech stocks were particularly hard hit as sell-offs in Tesla, Facebook / Meta (now technically in a bear market after sliding 20% from its recent peak) and Adobe stock dragged the Nasdaq down almost 2% by the close of play. The Dow and the S&P 500 also saw red, with large intraday swings pushing the volatility index (VIX) to its highest level since the Gamestop short squeeze in January. Bloomberg and the FT have more.
Crypto, meanwhile, fell to fresh lows yesterday. You can thank Omicron and jitters about inflation. Bloomberg, Reuters, and the Wall Street Journal all have the story.
Volatility isn't all bad news for policymakers in Egypt, though:
#1- The price of oil is now down almost 20% from its peak in late October: Oil — the single-biggest item on Egypt's import bill — remained close to its recent three-month low on Friday and Brent fell as much as 5.7% on Thursday. The fall came as OPEC+ announcing on Thursday that, while it will go ahead with plans to add another 400k bbl/d to the market in January, the group will "make immediate adjustments if required" should the spread of Omicron cause demand to weaken.
#2- Wheat prices are finally falling back after soaring to record highs last month: Wheat futures had their worst week in three months, falling 4% last week due to concerns about Omicron's impact on the global economy. The market is still being supported by flooding in Australia — the world's sixth-largest wheat producer — and significant demand, Bloomberg says. Egypt was a big buyer last week, taking advantage of the drop in prices by ordering 600k tonnes in what was the country's biggest tender in years.
CIRCLE YOUR CALENDAR-
News triggers to keep your eye on:
Foreign reserves: November's foreign reserves figures will be released this week.
Inflation: Inflation figures for November will be released this Thursday, 9 December. Data for inflation typically appears on the 10th of every month, but is moved up one day if that falls on a Friday.
Interest rates: The Central Bank of Egypt's Monetary Policy Committee will hold its final meeting for the year to review interest rates on Thursday, 16 December.
Check out our full calendar on the web for a comprehensive listing of upcoming news events, national holidays and news triggers.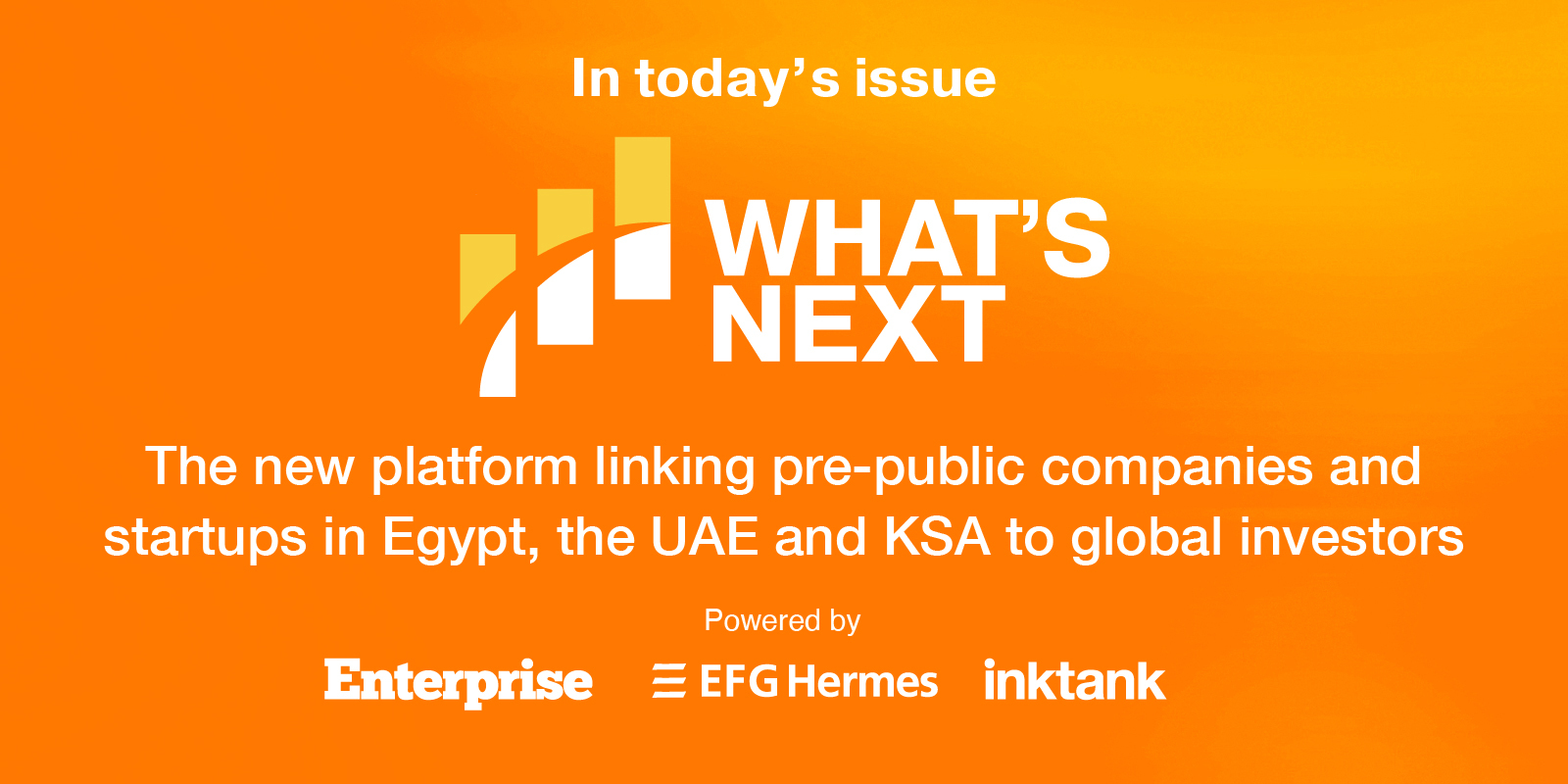 *** It's What's Next day: We have our weekly deep-dive into what makes and shapes pre-listed companies and startups in Egypt, the UAE and KSA, touching on investment trends, future sector insights and growth journeys.
In today's issue: In our debut What's Next column last week, we took a look at the nascent trend in Egypt that is seeing young businesses buying up other early-stage firms as part of their growth strategy. In the first part of a three-part series, today we look at privately-held companies that are further along in their journeys: family businesses.
Family-owned businesses are critical if you want to know where the next generation of great Egyptian companies is coming from, though the vast majority fail to last long after their founders pass the torch to new generations. Today is part one in a three-part series about what family-owned businesses need to do, not to be prepared for What's Next, but to make sure that they're still around to be ready for it.
Are you a company exec or investor and want to learn more about What's Next, including our flagship conference? Drop us a line on whatsnext@enterprise.press.