Sunday, 28 November 2021
Editor's Note: Introducing What's Next
Good morning, wonderful people, and welcome to a very special edition of Enterprise. Since we started back in fall 2014, we've believed that among other things, an Enterprise story needs to orient you in time and space. It needs to tell you not just what happened, but why it happened and — critically — what's next in the story. Cabinet gave the thumbs-up to a piece of legislation? Great — what's next? Company "A" is bidding to acquire Company "B"? Wonderful — what's next?
"What's next?" has for years been our internal shorthand for "Where does the story go from here?" It's an idea that has expanded to include everything from Enterprise Explains ("What's a securitized bond?" through to "What's an NFT?") to our coverage of how technology is changing our lives and the way we do business. And as longtime readers know, when we ask "What's next?", it goes hand in hand with two key followups: What does it mean? And why is it important?
This morning, What's Next becomes the first exclusive platform in frontier markets to identify the next generation of great businesses in Egypt, the UAE and Saudi Arabia.
We're honoured to be launching What's Next in partnership with our friends at EFG Hermes and Inktank. What's Next is our newest weekly vertical (appearing every Sunday morning). It's also a platform through which we're going to introduce readers, investors and the wider business community to the next generation of outstanding businesses. There's never been a more exciting time to do this: Our part of the world is being reshaped by a boom in entrepreneurism that's changing everything from how family businesses run themselves to how we build startups and bootstrapped companies alike.
What's Next will see us take 20 Egyptian companies to a very special face-to-face investor conference taking place in early 2022.
What's in it for What's Next companies? The visibility, advice and access to capital and ideas that you need to grow your business. We're going to give founders and c-suite officers from 20 hand-selected companies visibility to our wider community, the strategy and materials they need to engage with global investors — and then face-to-face access to the financial and strategic investors who could help them take their businesses to the next level. Participating companies will get exposure and access to new ideas from Enterprise. Outreach, access to a global network of investors, world-class advisory services, and sector research from EFG Hermes. And investor decks, reporting and transaction support from Inktank — and more.
What's in it for investors? We're offering venture capital, private equity and public market investors a look at the companies whose people, ideas, technologies, products and markets will literally be What's Next. They're the businesses that are driving the tempo of M&A, who are entry points to Egypt and regional markets for multinational giants, and who have it in them to become the next generation of great publicly traded companies.
We'll also be talking about the ideas and technologies that are going to transform all of our businesses, from garden-variety tech to artificial intelligence and gender equity.
*** Is your business What's Next? Reach out to us on whatsnext@enterprise.press to learn more.
The launch of What's Next caps a big year for us here at Enterprise, from the introduction of our very popular PM edition in partnership with CIB and Act Financial to our weekly Going Green vertical produced in association with our friends at Infinity. And all of that was made possible by our big redesign and investment in technology, which we unveiled a year ago tomorrow (look for lots more on that front in 2022…).
None of this would have been possible were it not for the steadfast support of the 180k readers who start and end their workdays with us, month in and month out.
Thank you, all of you, from the bottom of our hearts.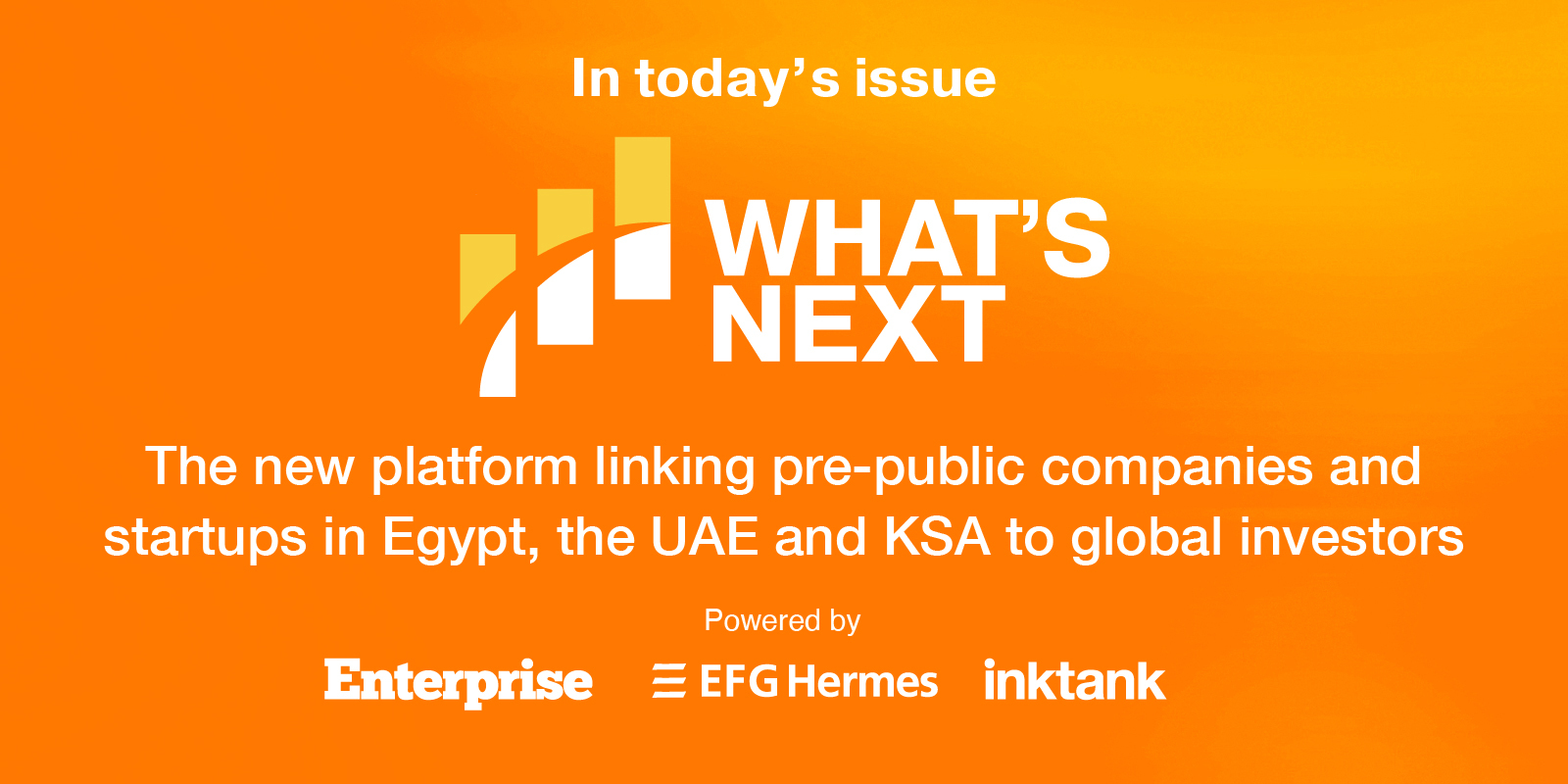 In today's issue: Startups buying startups isn't just an "American" thing — an increasing number of Egyptian companies are looking to grow through acquisition. Now that a handful of pioneers have proven the market, you can expect the inflow of VC and private equity funding and higher valuations (among other factors) to make it even more common.
The industries most likely to see startup-driven waves of consolidation in the coming years? Look at fintech, logistics and last-mile delivery, edtech and, later, healthcare. Top execs from Swvl, Klivvr, MaxAB, A15, AUC V-Lab and Tyro are your guides in this week's issue of What's Next, below.