Monday, 22 November 2021
THIS MORNING: e-Finance shares up almost 32% in first month's trading; Covid, Fed uncertainty unnerves markets; Veteran actress Soheir El Bably dies, aged 86; Sudan's Hamdok returns, protests continue.
Good morning, wonderful people, and welcome to a brisk-but-not-overwhelming news day, where the big story is the Financial Regulatory Authority's unveiling of rules it hopes will see the EGX get both wider and deeper through SPACs.
Not sure what a SPAC is? Don't sweat it, we have a link to our full explainer below. Think: IPO, but without half the fuss — and with a bit less clarity on exactly which asset you'll wind up owning.
CHECKING IN- Shares of state-owned fintech player e-Finance gained again yesterday, finishing the day up 0.3% at EGP 18.44 apiece even as the benchmark EGX30 was down 0.6% for the day (+4.0% YTD). Now a full month into its journey as a publicly traded company, e-Finance's shares are up 31.9% since their market debut on 20 October. The company is pushing ahead with its expansions into B2B e-commerce, digital health and the tech-end of tourism, senior execs recently told us.
RANDOM NEWS CLIPPING- And folks say Egyptians are clueless about the rest of the continent? Kenyan daily newspaper The Star is perplexed about how "seemingly from nowhere," Egypt has brought "new competition for the better-known startup ecosystems of Nigeria, South Africa and Kenya."
Egypt bade farewell to Bakiza yesterday: Veteran actress Soheir El Bably passed away yesterday at age 86, Youm7 reports. El Bably's career began in 1957 and saw her bring to life some of the most memorable characters in Egyptian theater and TV, most notably Bakiza and Zaghloul's Bakiza and the strict teacher in Madraset El Moshaghbeen.
PSA- It's officially time to bid farewell to our summer clothes, with our favorite weather app calling for a high of 22°C and low of 15°C in Greater Cairo today. Coastal and delta governorates should keep their rain boots on as they are to expect light to moderate rain, although nothing as crazy as the weekend's showers.
THE BIG STORIES ABROAD-
Hamdok's return has so far failed to quell protests in Sudan: Pro-democracy protesters in Khartoum aren't satisfied with military chief Abdel Fattah Al Burhan's decision to reinstate ousted Sudanese civilian prime minister Abdalla Hamdok from office. Some have instead returned to the streets demanding an end to military rule after Burhan yesterday signed a pact with Hamdok. The story is everywhere from Bloomberg and CNBC to CNN and the AP by way of just about every major global media outlet in between. We have more in this morning's Around the World, below.
ALSO MAKING HEADLINES- China has fired a hypersonic weapon over the South China Sea, leaving the United States to "struggle to understand how Beijing mastered technology that tests constraints of physics." The WSJ, meanwhile, reports that there are early signs that global supply-chain problems may be easing.
MARKET WATCH-
Covid's resurgence in Europe and uncertainty at the Federal Reserve is causing jitters in global equity markets: Asian markets are starting the week on a mixed footing this morning, continuing a downbeat end to last week caused by a deteriorating health situation in Europe and uncertainty at the Federal Reserve. Stocks in Hong Kong, Japan and Australia are all in the red this morning, while Brent futures fell 1% at the market open, with oil continuing where it left off last week, when it fell to its lowest level since early October.
There was selling pressure across MENA yesterday, with all of the region's exchanges closing in the red. Saudi's benchmark index were the hardest hit, closing the day down 1.9%. (See our market summary in Planet Finance, below, for more.)
This followed a poor end to the week in the US and Europe on Friday as new lockdowns in European countries triggered angst about their impact on economic growth and the potential for a surge in cases in the US. Stocks were in the red across Europe as traders reacted to the Austrian government's dramatic announcement of a new national lockdown and compulsory vaccination, and Germany's refusal to rule one out, days after the Netherlands, Hungary, Slovakia and the Czech Republic reimposed restrictions. The Dow and the S&P 500 both fell on Friday.
Protests in Europe against covid measures continued yesterday: Demonstrations spread to Brussels yesterday, which saw tens of thousands of people turn out into the street to protest against the government's use of covid passes to restrict the movement of unvaccinated people. The AP and the BBC have more.
Uncertainty at the Fed is also weighing on markets: Worries over how the Federal Reserve will tackle inflation and when it will raise interest rates, combined with uncertainty over who President Biden will nominate to head the Fed when Jay Powell's term ends in February, took a toll on trading. Several Fed officials indicated over the weekend that the central bank could accelerate the taper of its bond-buying programme in order to quell inflation, which reached highs not seen since 1990 last month.
Who's next at the Fed? Biden has said he will announce who will head the Fed for the next four years before the Thanksgiving holiday on 25 November. The race is between incumbent Jay Powell, and the more liberal Fed Governor Lael Brainard, who is expected to be more dovish when it comes to raising interest rates.
For more: Reuters | Bloomberg | MarketWatch | NBC.
---
HAPPENING TODAY-
The Home Appliances and Table Show (HATS Egypt) starts today and wraps up on Wednesday. The event is organized by the Engineering Export Council of Egypt and brings together companies working in the home appliances sector.
HAPPENING THIS WEEK-
The new administrative capital plays host to a Comesa summit starting tomorrow, the same day the state's SECC hosts a webinar on fintech in Egypt.
ITIDA and the Software Engineering Competence Center are hosting a webinar on the future of fintech in Egypt tomorrow. The event will look at the current landscape and expected changes in light of new tech, regulations and market changes. You can register to attend here.
BOOK LAUNCH- Up and Doing, a memoir penned by Egyptian-American Enterprise Fund Chairman James Harmon (Morning Routine), will be published tomorrow. The memoir recounts Harmon's career as a banker and discusses "how markets can move the world forward by creating stable, growing economies and sound [transactions] that promote economic development."
Startup gathering RiseUp starts on Thursday and runs through Saturday.
The Cairo International Film Festival kicks off its weeklong run this coming Friday.
Check out our full calendar on the web for a comprehensive listing of upcoming news events, national holidays and news triggers.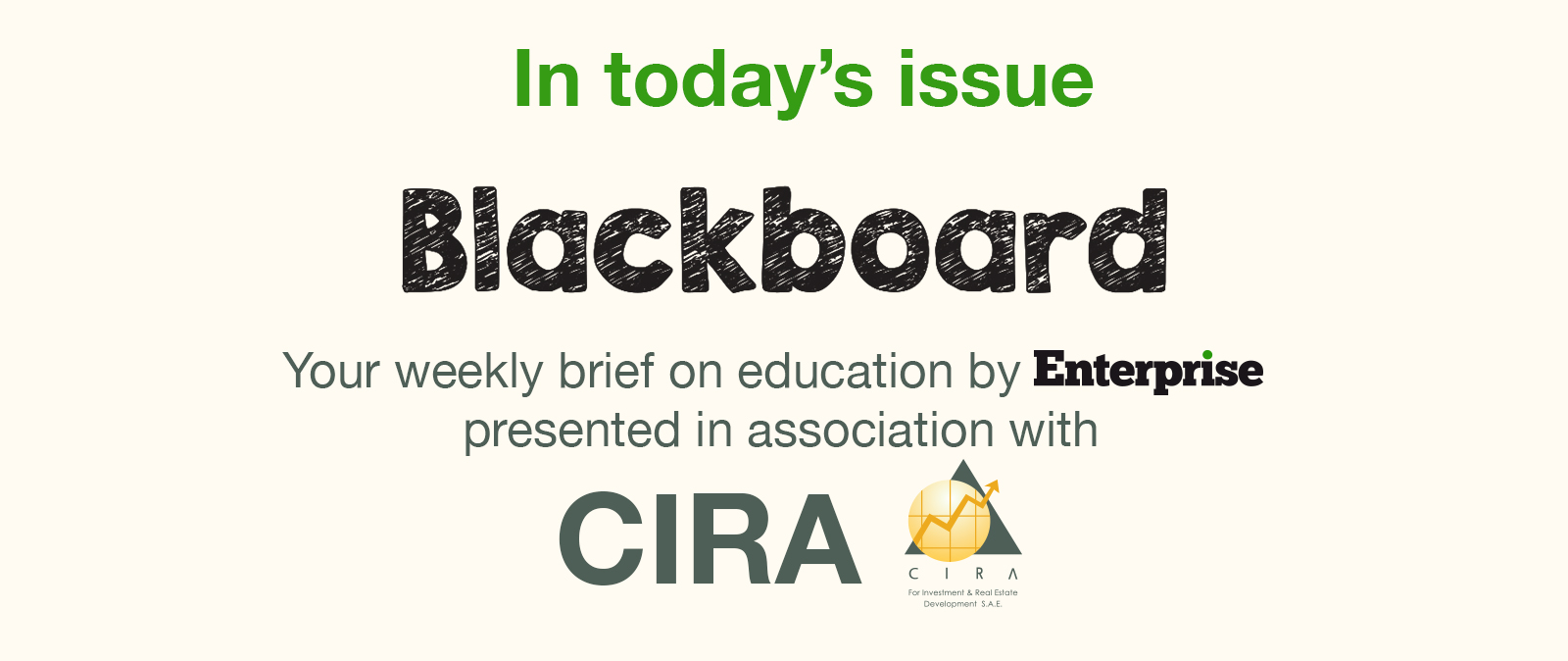 *** It's Blackboard day: We have our weekly look at the business of education in Egypt, from pre-K through the highest reaches of higher ed. Blackboard appears every Monday in Enterprise in the place of our traditional industry news roundups.
In today's issue: Non-traditional university degree programs have been popping up more frequently all over the world. So what's on offer in Egypt? From games development to motorsports engineering, we have a run-down of some of the most weird and wonderful degrees you can study at Egyptian universities nowadays.