Monday, 26 July 2021
THIS MORNING: Russian team to assess covid in Sharm, Hurghada tomorrow; Abu Dhabi slashes business fees; Political crisis in Tunisia after president fires PM amid protests.
It seems that with each passing day, the global news agenda is being taken over by the delta variant and the increasing concerns about what it might mean for the global economy and for efforts to end the pandemic. Whether we're talking about recent moves in the US financial markets, new restrictions in Europe, a "perilous moment" for global supply chains, or an escalating political crisis in Tunisia, the resurgence of covid-19 is back front and center in the pages of the international press.
Fortunately for us, the picture couldn't be more different here at home. With Egypt so far dodging the delta bullet and seeing daily cases at their lowest levels since the first wave over a year ago, the domestic news agenda is refreshingly covid-lite. We lead today's issue with a double dose of optimism on the fiscal front: Fresh figures released yesterday showed that the government easily outperformed its 2020-2021 primary surplus and budget deficit targets, while the IMF is projecting a strong rebound in FDI and tourism over the coming years. A fresh securitized bond issuance and a seven-figure seed investment round out this morning's news well.
HAPPENING THIS WEEK-
A Russian delegation will visit Egypt tomorrow to assess the covid-19 situation in Hurghada and Sharm El Sheikh, Civil Aviation Minister Mohamed Manar said in a phone interview with Ala Mas'oulety's Ahmed Moussa last night (watch, runtime 13:50). This comes as a prelude to the return of Russian flights to the Red Sea resort towns on 9 August following a six-year hiatus.
The Senate is now on recess, having wrapped up its final session on 19 July, according to a presidential decision published in the Official Gazette (pdf) yesterday.
When will MPs follow suit? It's still not clear when MPs will be following senators to Sahel. Typically, the end of the legislative cycle coincides with the end of the fiscal year, but this year's session has dragged on into July, with lawmakers still needing to hold final votes on several bills.
THE BIG STORY IN THE REGION- Tunisian president Kais Saied has removed the country's prime minister and suspended parliament in response to violent clashes between police and protesters angry with the government's handling of the covid-19 pandemic and the economy. In a challenge to Tunisia's nascent democracy, Saied said he would assume executive power alongside a new prime minister who would be appointed in the coming hours. Protesters, who had directed their ire at the dominant Ennahda Party and called for early elections, reacted to the news by celebrating in the streets. The story is getting a lot of attention in the foreign press: Associated Press | Bloomberg | Sky Arabia | Reuters.
***CATCH UP QUICK on the top stories from yesterday's edition of EnterprisePM:
Aldar gets more time for SODIC MTO: The UAE real estate developer has another 30 working days to submit a mandatory tender offer to acquire at least 51% of Sodic after regulators extended the deadline for the third time.
UAE's Bee'ah is lobbying for more contracts in new cities: The waste management company could also be looking to extend its 15-year contract to provide waste management services for the new administrative capital as new phases of the city are inaugurated.
Tech, vocational education get more German funding: German development bank KfW will provide EUR 41 mn to the Education Ministry over the coming year for projects that aim to develop technical and vocational education in Egypt.
---
M&A UPDATE- Bank ABC yesterday confirmed in a disclosure (pdf) to the Bahraini stock exchange that it has received approval from the Financial Regulatory Authority to go ahead with its acquisition of up to 100% of Blom Bank Egypt's shares. The mandatory tender offer period will run from Sunday 25, July to Thursday, 5 August, during which it will offer to purchase 300 mn shares for EGP 22.33 apiece, valuing the bank at at USD 427 mn (EGP 6.7 bn).
Advisors: HSBC Bank Middle East is providing financial advice to Bank ABC, and Freshfields Bruckhaus Deringer and Zulficar & Partners are acting as legal advisors. CI Capital is acting as the financial advisor to Blom Bank, and Baker McKenzie is providing legal counsel.
SMART POLICY- Abu Dhabi is slashing business fees as it looks to stimulate private sector-led economic growth. From 27 July, business setup fees will be reduced by 94% to just AED 1k, while license renewal fees for existing businesses have also been cut to AED 1k, the Abu Dhabi media office said yesterday.
CIRCLE YOUR CALENDAR-
The Clean Energy Business Council will host a webinar focused on female entrepreneurs in the MENA renewable energy scene at 3 pm on Wednesday, 28 July.
Egypt will host the Africa Food Manufacturing exhibition at the Egypt International Exhibition Center on 2-4 August.
The Central Bank of Egypt will meet to review interest rates on Thursday, 5 August.
Check out our full calendar on the web for a comprehensive listing of upcoming news events, national holidays and news triggers.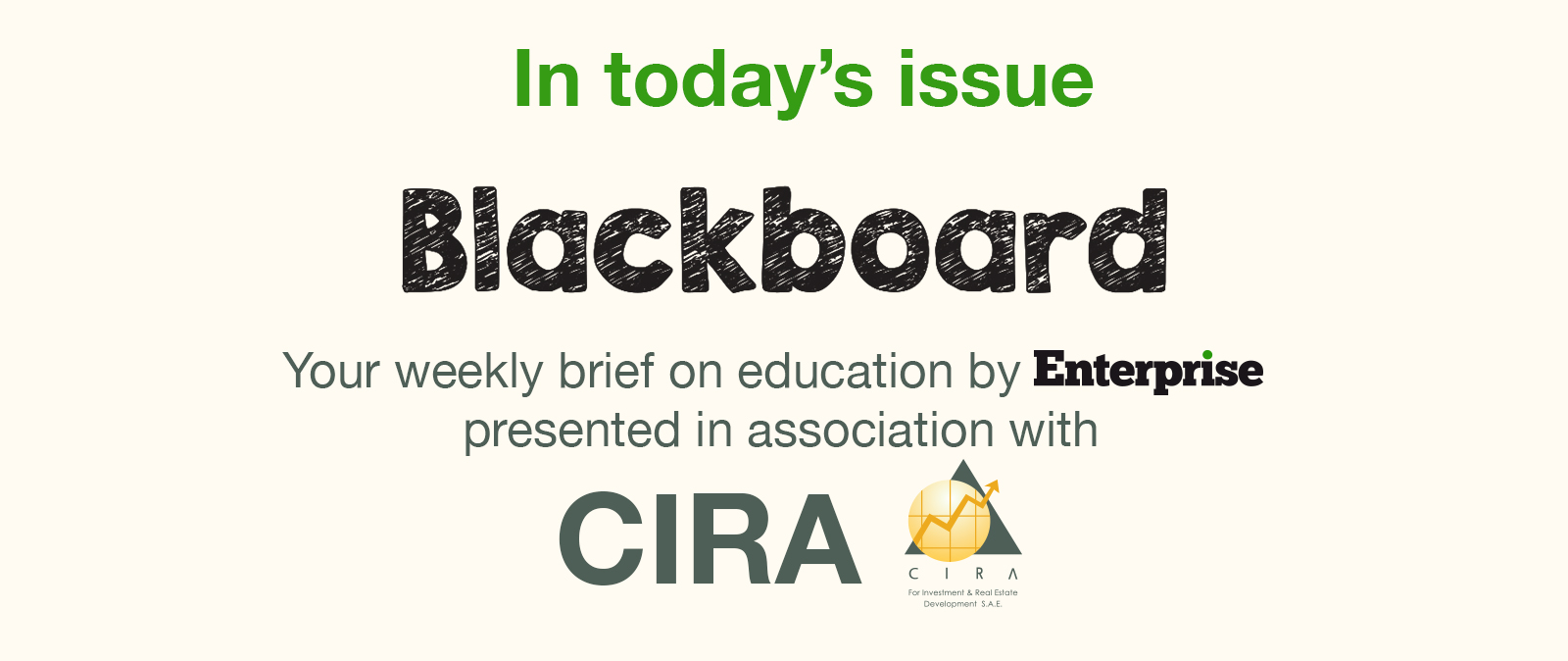 *** It's Blackboard day: We have our weekly look at the business of education in Egypt, from pre-K through the highest reaches of higher ed. Blackboard appears every Monday in Enterprise in the place of our traditional industry news roundups.
In today's issue: Launching new technical colleges designed to produce students whose skills better match labor market needs is key to the government's current higher education strategy, and six new colleges are due to be launched during the current fiscal year. CIRA, meanwhile, is setting up Egypt's first private sector tech college in September 2023. But will we see more private sector companies follow CIRA's lead and enter the sector?