Monday, 19 April 2021
THIS MORNING: US Chamber wanted Egypt to attend Biden's climate fest + Reviving tourism in Esna
Good morning, nice people, and welcome to day seven of Ramadan. The big story this morning: at least 11 people were killed and nearly 100 injured in yet another train accident yesterday. There are at least a half-dozen investigations now underway into various accidents as well as infrastructure spending, training procedures and safety protocols at Egyptian National Railways. The news dominated the talk shows last night and is all over front pages this morning. We have chapter and verse in the news well, below.
***CATCH UP QUICK on the top stories from yesterday's edition of EnterprisePM:
Shakeup at CI Capital: Hesham Gohar is now the group CEO of CI Capital, with Hazem Badran and Tarek Tantawi leaving by 20 May.
E-payments: Banque du Caire is looking to expand its digital services and e-payments regionally.
Startup watch: Innoventures is in talks with a potential LP based in the GCC for its EGP 200 mn VC fund.
WHAT'S HAPPENING TODAY-
Amendments to the Disabilities Act will be with the House Constitutional and Legislative Committee and the House Social Solidarity Committee for review today. The proposed amendments, which earned Senate approval earlier this month, would toughen penalties for those convicted of bullying persons with disabilities.
PSA- It's going to be stinking hot again today, with the mercury heading to 41°C this afternoon. One bright spot: It's going to be a very dry heat, with the humidity at no more than 10%, according to our favorite weather app. Temps will fall back to a more seasonally appropriate low-to-mid 30s starting tomorrow.
** So, when do we eat? We'll break our fast this evening — and mark one full week of Ramadan — at 6:25pm. Eat your yogurt and guzzle your water (and coffee) before fajr prayers at 3:52am.
SIGNS OF THE TIMES as we wade through the second quarter of the year:
Consumers around the world have accumulated some USD 5.4 tn (yes, tn) in extra savings since the start of the pandemic thanks to a combination of government stimulus and delayed buying. Booming consumer confidence suggests businesses are looking at a robust second half of the year as covid restrictions are dropped and borders reopen. Read all about it in the Financial Times.
Investors managing some USD 11 tn in assets want banks to set tougher emission targets for their lending activity ahead of a meeting of world leaders at the end of this week, Reuters reports.
Global covid infections hit a new weekly record despite vaccinations, "with the worst outbreaks accelerating in many countries that are ill-equipped to deal with them," Bloomberg writes.
Speaking of climate: Egypt has been left out of the US-hosted Leaders Summit on Climate, which will see 40 world leaders head to the United States this Thursday through Saturday, but it's still good to remember who our friends are: The US Chamber of Commerce encouraged the Biden administration to invite President Abdel Fattah El Sisi to the summit in a bid to bolster Egypt-US ties in the energy, digital economy, health, education, and environmental sectors. Read this set of policy recommendations on Egypt by the chamber's VP for Middle East Affairs, Steve Lutes.
MORNING MUST-READ, particularly for the Gen Xers among you: The New York Times columnist Charles M. Blow is out with a particularly thoughtful piece on My second phase of adulthood, meditating on what it means to be dealing with kids who are becoming adults, with parents who are in the twilight of their life, with dying friends and how he remains optimistic despite "having more summers behind me than in front of me."
Speaking of summers: Have you made plans for Sahel yet? We have just 73 days left until high season really kicks into gear on 1 July, so if you're in the market for a rental, now is the time to act.
MORNING MUST-WATCH- Reviving tourism in Esna: A project to revive tourism in Luxor's Esna by restoring and rehabilitating the city's heritage sites and surrounding buildings has helped retain local talent and support businesses in the city, Esna residents say in this feel-good video about how the work on their hometown has changed their lives (watch, runtime: 4:18). The nice people at USAID partnered with the International Cooperation Ministry, the Tourism Ministry, and urban developer Takween on the project, which kicked off back in 2016.
CIRCLE YOUR CALENDAR-
New goodies for iSheep? Apple is running a virtual event tomorrow at which pundits think it will unveil AirTags and a new iPad Pro with an improved display and faster processor, among other new products. The headline: Spring Loaded. The event will stream at 7pm CLT on Apple's website and on YouTube.
EBRD President Odile Renaud-Basso could visit Egypt sometime this month, Al Masry Al Youm reported last week following a meeting with Egypt's ambassador to the UK Tarek Adel. This would be her first official visit to Egypt since she was appointed to head the bank in November.
The Central Bank of Egypt will meet to review rates next Thursday, 29 April. We'll have our customary poll of economists and analysts on the expected outcome from the central bank's Monetary Policy Committee at the beginning of next week.
Check out our full calendar on the web for a comprehensive listing of upcoming news events, national holidays and news triggers.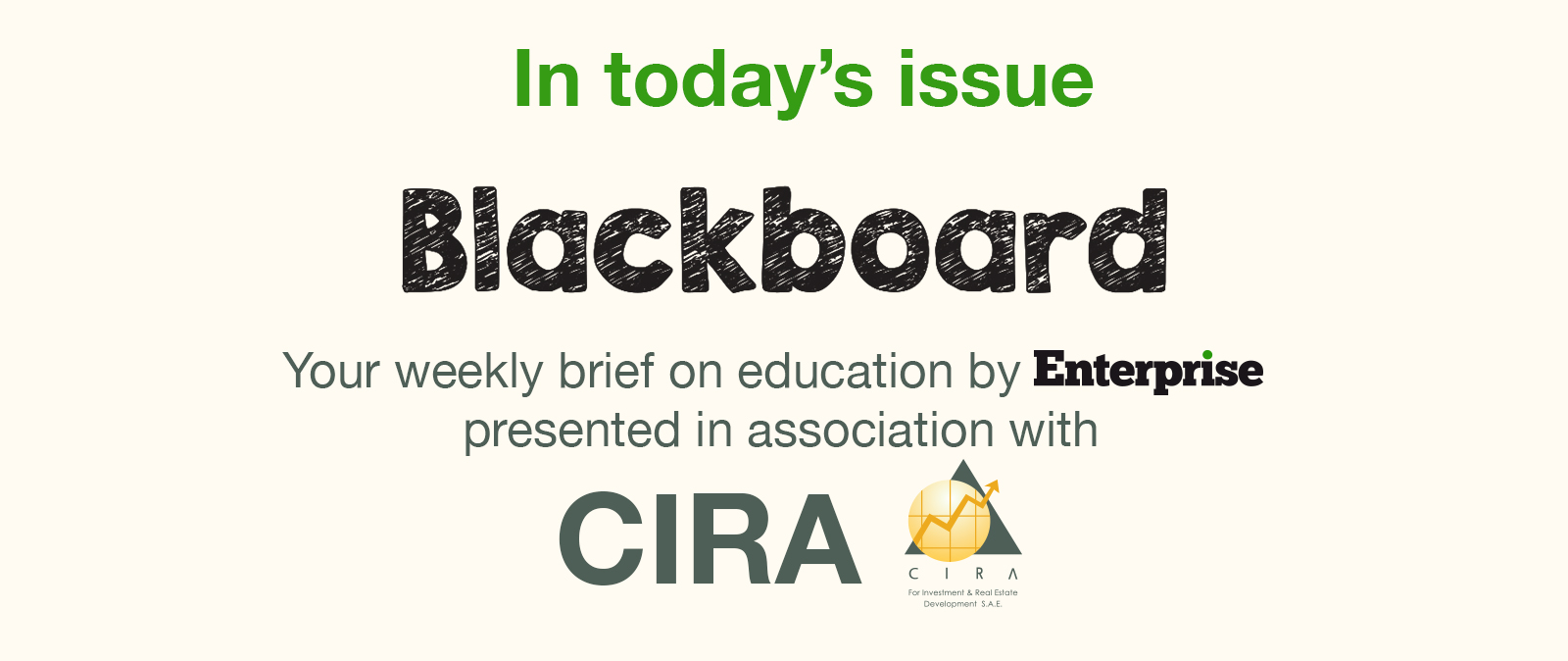 *** It's Blackboard day: We have our weekly look at the business of education in Egypt, from pre-K through the highest reaches of higher ed. Blackboard appears every Monday in Enterprise in the place of our traditional industry news roundups.
In today's issue: Universities play a key role in Egypt's entrepreneurship scene, offering a range of services to help students start their own businesses, we reported last week. Today, startup program leaders, entrepreneurs and VCs talk about what these programs do particularly well: early-stage awareness-raising, access to resources and sector-specific knowledge, mentorship and helping students develop skills with market applicability.