Monday, 22 February 2021
What we're tracking on 22 February 2021
Good morning, ladies and gentlemen, and welcome to what unexpectedly shaped up to be an eventful Monday.
THE BIG STORY HERE AT HOME? It's a toss-up between the upcoming rollout of vaccines to elderly citizens and those with chronic illnesses, and the revival of the Damietta LNG facility after an eight-year hiatus. We have the details on both in this morning's news well.
***
We're are absolutely delighted to welcome Infinity to Enterprise this morning as our newest pillar advertiser and as the anchor sponsor of our forthcoming weekly green economy vertical. Many of you will remember that last fall we singled out renewable energy in specific, and the green economy in general, as being among our "big themes" going forward, alongside topics including AI, gender equity and ESG.
We can think of no better partner with whom to turn the spotlight on all things green than Infinity, the nation's leader in clean energy with six utility-scale projects installed nationwide, ambitious plans to build out the infrastructure that powers our electric vehicle future, and a range of solutions for commercial clients.
It is thanks to Infinity and our longtime partners that we're able to keep bringing you EnterpriseAM each weekday without charge, so please join us in thanking our good friends at Pharos, CIB, Sodic and Somabay. We're also very grateful to the partners who help us bring you our weekly industry verticals — CIRA with Blackboard (education) and Orascom Construction with Hardhat (infrastructure). And last, but not least, thanks to all of you, our >150k readers, for choosing to start your workday with us.
***
*** CATCH UP QUICK on the top stories from yesterday's edition of EnterprisePM:
WHAT'S HAPPENING TODAY-
DIVERSITY- The state budgeting process is on track to becoming more gender-conscious thanks to a special Planning Ministry unit dedicated to that goal, with one eye on its UN sustainable development goals, Minister Hala El Said announced in a statement yesterday. The new unit will advocate for women's fair share in the state budget and help equip them with tools to join the labor force while balancing family life, and increase transparency on how the budget is put together, El Said said.
The timing of the disbursement of the final instalment of the monthly stipend for informal laborers will be decided today, Youm7 reports, citing unnamed government sources. The stipend was introduced last year to support day laborers through the economic fallout from covid-19.
International sporting delegations are in town to take part in the World Shooting Championships, which kicks off today and runs until next Thursday, 4 March at the Shooting Club in 6th of October, the Youth Ministry announced in a statement.
PSA- Expect showers and possible thunderstorms across Sahel and Sinai today, with the wet weather extending to Cairo and Upper Egypt tomorrow. High winds are expected throughout the country, the National Weather Service warned in a statement.
CIRCLE YOUR CALENDAR-
US ambassador to Egypt Jonathan Cohen is speaking about US-Egypt relations in a webinar hosted by AmCham Egypt tomorrow at 3pm CLT. The webinar, titled "The US-Egypt Partnership and Outlook for 2021," will see Cohen cover bilateral relations between the countries and share his outlook for this year.
Calling all exporters: Learn how to navigate the new Nafeza pre-registration customs system at this webinar hosted by the Food Export Council and the Customs Authority. The event takes place this Wednesday, 24 February, at 12pm CLT. Tap or click here to register.
The Afro Future Summit is taking place this Thursday, 25 February. The summit will be held virtually.
The Egypt International Art Fair also kicks off this Thursday at Dusit Thani Lakeview Cairo, and is set to wrap on Saturday, 28 February.
The Aswan Forum for Peace and Development begins a week from today, on Monday, 1 March. The virtual event will run through Friday, 5 March under the title "Shaping Africa's new normal: Recovering stronger, rebuilding better." Representatives from governments, civil society, academia, financial institutions, and international organizations, will all weigh in on the risks, challenges, and potential solutions for sustainable development in the continent.
Check out our full calendar on the web for a comprehensive listing of upcoming news events, national holidays and news triggers.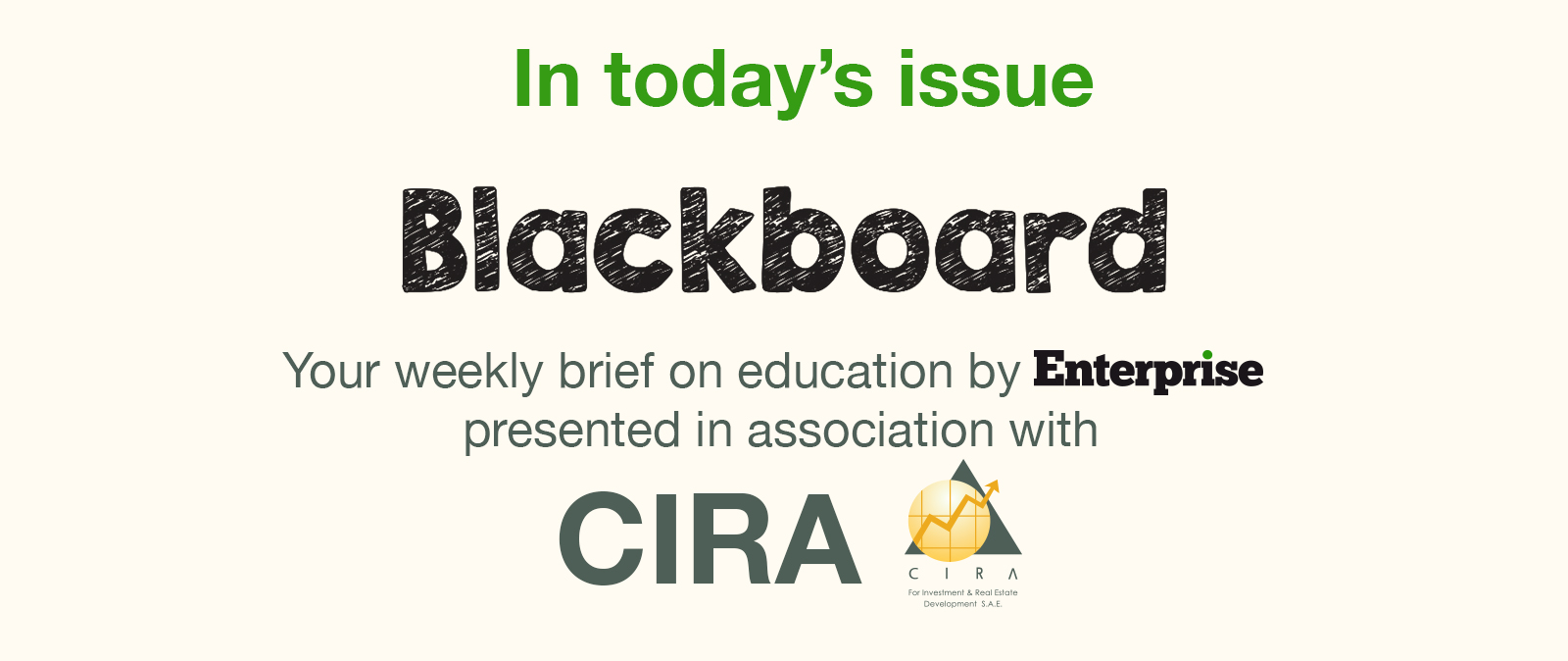 *** It's Blackboard day: We have our weekly look at the business of education in Egypt, from pre-K through the highest reaches of higher ed. Blackboard appears every Monday in Enterprise in the place of our traditional industry news roundups.
In today's issue: Demand for Egypt's private sector education continues to be high, raising questions on what needs to happen to encourage investors to capitalize on that market. Earlier this month, we looked at the growth potential for the K-12 segment. In part two of this series, we focus our attention on higher education.