Wednesday, 16 December 2020
What we're tracking on 16 December 2020
The end of year news slowdown has finally hit, and with only 15 days to go to the end of the year, a lot of what we're seeing is retrospectives on the year that passed and macroeconomic predictions for what's to come.
ONE BIG THING- CIB has released its eagerly awaited 3Q2020 financial results, the first since Hisham Ezz Al Arab stepped down as chairman and managing director after a probe by the regulator. A favorite of investors, the bank is normally the poster child for timely disclosure, and the delay in releasing third quarter numbers (which were due by mid-November) had some folks starting to get on edge. The results were out overnight and look very solid — and critically show no gap in the balance sheet, as CEO Hussein Abaza promised investors early in the flap. We have the full rundown in the news well, below.
It's official: The House of Representatives' five-year term is now over and sessions are adjourned until the new set of MPs begin their first legislative cycle next month, House Speaker Ali Abdel Aal announced yesterday. Outstanding pieces of legislation on the outgoing Parliament's roster will now be deferred to the next class of MPs. That includes the law that would allow Egypt to move ahead with its first-ever sovereign sukuk sale, which we recap in detail in this morning's Legislation Watch, below.
WHAT'S HAPPENING TODAY- Students in Cairo, Giza, Damietta, and Marsa Matrouh seem to have prayed hard enough and are getting the day off. The national weather office says there's a good chance of significant rainfall and is warning of potential flooding. Cairo Governor Khaled Abdel-Aal said that it's still not clear whether schools in the capital will open on Thursday or not.
But it won't be another "Dragon Storm," with only moderate amounts of rain expected over the next couple of days, head of the Egyptian Meteorological Authority's Remote Sensing Center Iman Shaker said last night on Masaa DMC and Ala Mas'ouleety.
TRIGGER WARNING- It's been nearly 10 years since the events of the Arab Spring. Brace yourselves for paper-thin punditry and platitudes galore as media outlets trot out their "10 years on…" pieces. Reuters got an early start with this piece, out the day before the 10 year anniversary of Tunisian fruit seller Mohamed Bouazizi's self-immolation.
---
It's Fed day 2: The US Federal Open Market Committee will announce later today if it will expand a USD 120 bn per month bond-buying program it launched earlier in the pandemic, which would signal easy monetary policy and near-zero interest rates for years to come. Other central bankers — particularly in emerging markets — are watching closely to determine if they ought to push forward with stimulus policies and monetary easing.
Vaccination rollouts across the Middle East are expected to boost equity markets, especially as the inoculation distributions come together with a lower USD and higher oil price expected to create "the perfect recipe" for recovery, Bloomberg reports. Tourist-exposed equity markets — think Egypt and Dubai, especially — are more likely to immediately benefit from the recovery than oil-dependent economies, analysts say.
Saudi Arabia is getting ready to roll out the Pfizer / BioNTech jab in a three part program that will see citizens over 65, those with immunodeficiencies and chronic illnesses, as well as healthcare workers be first in line for the vaccine, according to a Saudi Press Agency statement. The pilot group will be followed by those over 50 getting the jab and eventually a rollout to just about everyone else. The Saudi government had last week approved the vaccine and is now asking people to sign up for the country's vaccination drive, which will be provided without charge.
CIRCLE YOUR CALENDAR- The Central Bank of Egypt is scheduled to meet on Thursday, 24 December. Economists here are anticipating a hold on interest rates this time around after cutting rates 400 bps in 2020 on the back of food prices driving the headline inflation rate up for the second consecutive month, to 5.7% in November from 4.6% in October.
Also worth keeping an eye out for this month is the Egypt-UK post-Brexit trade agreement coming to effect on New Year's eve. It is hoped that the agreement will unlock a spate of UK investments in Egypt, including in the Suez Canal Economic Zone, oil and gas, manufacturing, agribusiness, healthcare and education sectors, UK Trade Envoy to Egypt Sir Jeffery Donaldson said last month.
Taxpayers only have until 12 February 2021 take advantage of a partial waiver of penalty fees on late tax payments, Tax Authority boss Reda Abdel Kader said, according to Masrawy. Late taxpayers that clear their full dues before this date could get up to a 50% discount on penalty fees for late payment. Those that had made full payments in the previous four months were handed better discounts of 90% and 70% under an act passed by the House earlier this year.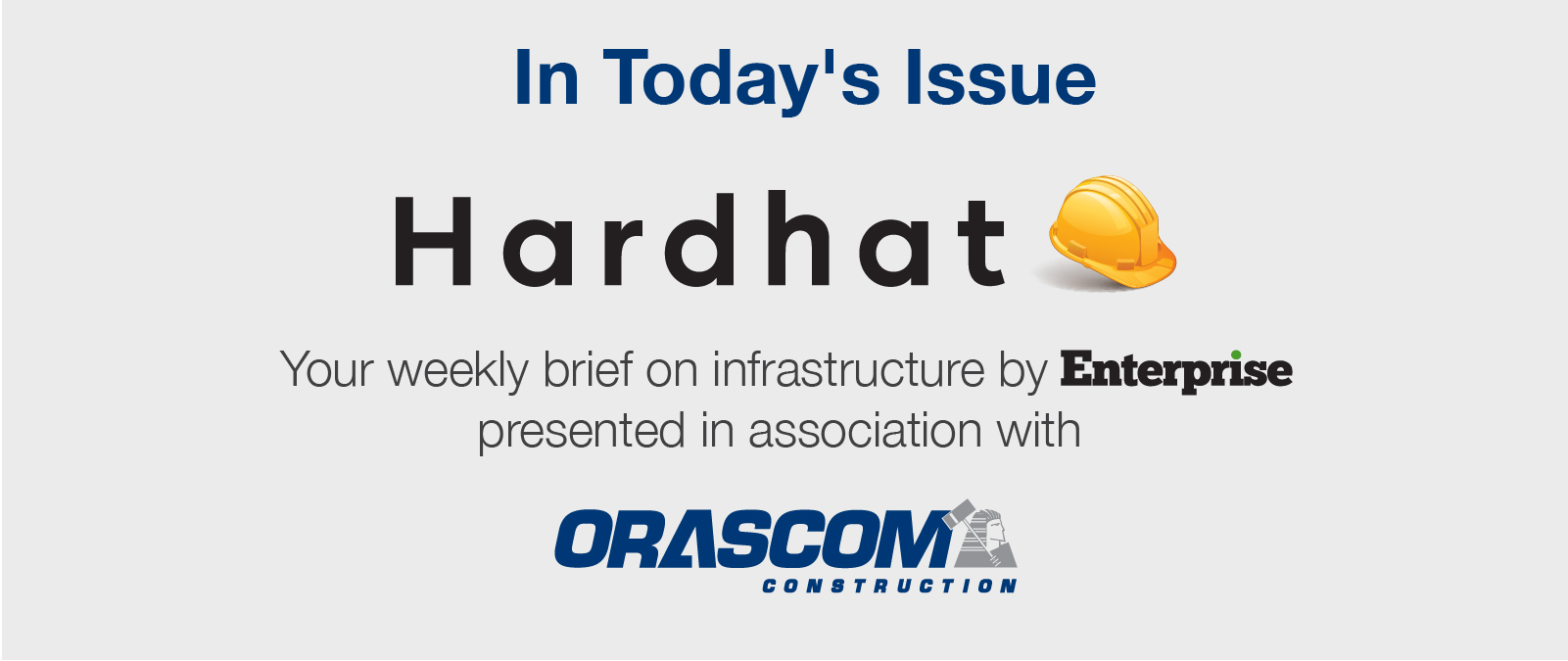 *** It's Hardhat day — your weekly briefing of all things infrastructure in Egypt: Enterprise's industry vertical focuses each Wednesday on infrastructure, covering everything from energy, water, transportation, urban development and as well as social infrastructure such as health and education.
WE'RE DOING SOMETHING DIFFERENT THIS MONTH- Our first issue of Hardhat came out in January, and since then we've seen industries working in infrastructure face ups and downs that none of us could have pictured a year ago. In a special two-part Hardhat Year in Review, we examine the major trends and developments of infrastructure in 2020. In part 1, we look at how covid-driven supply-chain disruptions and price volatility impacted energy, construction and shipping — and how they bounced back.