Monday, 10 August 2020
What we're tracking on 10 August 2020
Happy Monday morning, friends. The big stories in a slow "peak summer" week here in Egypt: Interest rates, foundering talks with Ethiopia and another return to the polls.
Egyptians abroad: Today is the last day you can vote in the Senate elections. The polls opened for expats yesterday and will close tonight. Voters here at home head to the ballot box tomorrow and Wednesday. Voters will elect 200 of the 300 members of chamber; the remaining 100 are appointed by presidential order. This is the first-ever election for the newly reconstituted upper house of parliament, which replaces the disbanded Shura Council.
What does a senate do, anyway? Among other things, the upper house of our soon-to-be bicameral parliament will be called to weigh in on the government's economic and social policies in general and to ratify international treaties. Senators may also be asked to comment on any future constitutional amendments and any other policy issues the president sends its way. One key here is the word "opinion," namely that the Senate will "give its opinion on these matters" to the presidency and to the speaker of the House of Representatives.
GERD talks could resume today … with Ethiopia talking to itself. Negotiations over the filling and operation of the Grand Ethiopian Renaissance Dam are supposed to restart today, but Egypt and Sudan have both suggested they may boycott them over Ethiopian intransigence. We have more in this morning's Diplomacy + Foreign Trade, below.
The Central Bank of Egypt will meet to review interest rates on Thursday. The CBE is poised to leave rates on hold, Bloomberg suggests, noting that we offer "one of the world's highest inflation-adjusted interest rates" that have "made the nation [attractive] to carry-trade investors again. Rates in Egypt are on par with Malaysia's at the head of the list of 50 major economies the business information service tracks.
Inflation data for July is due out today. Annual urban inflation ticked up to 5.6% in June after hitting six-month lows in May.
RiseUp is holding a three-day digital conference starting Thursday: RiseUp from Home will bring together regional entrepreneurs for its first event since the onset of the pandemic and feature talks from some regional entrepreneurs, investors and business experts.
What will the upcoming year look like for public schools and universities? We'll get a better idea on 20 August. That's when the ministers of education and higher education are set to present a comprehensive plan to Prime Minister Moustafa Madbouly, according to a cabinet statement. Some form of blended learning is on the menu for the nation's educational institutions, which will see students divided into smaller groups for the in-person portion of their classes, and will rely on the government's remote learning platforms for homework, assignments, and tests.
The blended learning model could be here to stay, even when the covid-19 pandemic abates, the statement suggests. Details on the government's plans moving forward are still scant, but the statement suggests the ministers are looking at how to use the model in the long term. We've delved into the transition to blended learning, including what schools and parents think of online education, Blackboard, our weekly deep dive into the education industry.
Starting a new company is an act of optimism — one Egyptians repeated 2,209 times in July. GAFI registered 2,209 new companies last month — an uptick of 2.2% year-on-year and the second month in a row of y-o-y increases after new company formation plunged in April under lockdown measures in place to stem the spread of covid-19.
Qalaa Holdings announced three recipients of full scholarships to pursue graduate studies at top universities in a "limited" edition of the annual program, according to a statement (pdf). The largest private-sector scholarship program, which has been going strong for 14 years, typically awards scholarships to 15-20 recipients each year. However, the Qalaa Holdings Scholarship Foundation elected to limit the number of recipients in its fourteenth class due to disruptions from the pandemic, including restrictions on travel and online learning. This year's winners will study finance, psychology and law at top universities in the United Kingdom.
---
THE LATEST ON COVID-19-
The Health Ministry reported 178 new covid-19 infections yesterday — the fifth consecutive day of rising single-day case numbers after the country hit a 15-week low on 4 August. The ministry also confirmed 17 new deaths from covid-19 yesterday, bringing the country's total death toll to 5,009. Egypt has now disclosed a total of 95,492 confirmed cases of covid-19.
Hospitals in Egypt are gearing up for an anticipated second wave of covid-19 infections and are re-opening isolation facilities following a directive from Health Minister Hala Zayed, according to the head of Matrouh's Al Negila Hospital, Mohamed Taleb. The hospital was Egypt's first isolation facility when the pandemic broke out. Taleb told Masaa DMC's Eman El Hosary last night that while case counts have been decreasing over the past month, the hospital has begun admitting new cases over the past three days (watch, runtime: 3:08).
Hotels didn't have a great Eid: Hotel occupancy rates during the Eid break ranged between 25-30%, as fears of covid-19 and the uncertain economic situation continue to weigh on the sector, deputy head of the Hotel Establishment Chamber Hisham Al Shaer said, according to the local press. Things haven't looked much better for hotels in the first week of August either, with occupancy rates in the Red Sea, South Sinai, and Matrouh governorates ranging between 20-30%. Hotels that have obtained health and safety certificates are allowed to operate at a maximum 50% capacity.
USAID has donated 250 ventilators to hospitals in Egypt under a cooperation framework with multilateral and bilateral development institutions launched in April by the International Cooperation Ministry, Minister Rania Al Mashat was quoted as saying by MENA.
Covid-19 vaccines may be only 75% effective: White House covid-19 advisor Anthony Fauci said the chances of having a highly effective vaccine — one that offers a minimum of 98% protection — are slim, according to CNBC. Scientists are instead hoping for a vaccine that is at least 75% effective while 50% or 60% would also be acceptable. The US Food and Drug Administration (FDA) said it would approve any vaccine that is at least 50% effective.
---
---
Lebanese gov't resignations are beginning to roll in as anger mounts over explosion: Lebanese Information Minister Manal Abdel Samad and Environment Minister Damianos Kattar have resigned amid nationwide protests against the government's failure to prevent last week's deadly explosion in Beirut, state television announced, according to Bloomberg. Protestors demanding a regime change clashed yesterday with police as they broke into the housing and transport ministry offices. On Saturday, they briefly occupied the foreign, economy, and energy ministries.
Lebanon isn't the only country in the region whose government is coming under pressure: Thousands of people protested outside Israeli PM Benjamin Netanyahu's house on Saturday demanding that he resign over corruption allegations and for his response to the pandemic, Reuters reports.
Aramco sticks to its guns on dividend payouts: Saudi Aramco remains committed to paying out USD 75 bn in dividends this year despite dwindling profits and mounting debt after a tumultuous year for the company, Bloomberg reports. The state-owned oil producer said net income crashed 73% in the second quarter due to the collapse in oil prices in April. At the same time, the company's debt has surged, due largely to the USD 70 bn loan taken from the country's sovereign wealth fund to take a 70% stake in chemicals company SABIC from the Public Investment Fund.
Israel's Leviathan field could be transformed into a global gas supplier with the entry of Chevron as a stakeholder through its acquisition of Noble Energy, Delek Drilling CEO Yossi Abu said, according to Reuters. Chevron will "bring a significant LNG capability" to the concession, Abu said. The Houston-based energy group had last month announced its plan to acquire Noble, which controls the Leviathan natural gas field alongside Delek. For those of you keeping track at home — Noble and Delek are the two companies that had signed a landmark USD 15 bn agreement to export natural gas to Egypt from the field.
Asia, Africa and Latin America saw deforestation accelerating 77% since the start of the pandemic in comparison to 2017-2019 average rates, as many people unable to go to work began to chop down trees for crop production and the sale of wood, according to Global Land Analysis and Discovery data picked up by the Financial Times. Satellites detecting a loss of tree cover showed a sharp uptick in deforestation in Africa and Asia during the first half of the year, especially April and May.
Netflix released its first look images of Egypt's first Arabic original series on the streaming platform, "Paranormal," an adaptation of the novel by late author Ahmed Khaled Tawfik. The show follows Dr. Refaat Ismail (Ahmed Amin) and his colleague Maggie Mckillop (Razane Jammal) who experience a series of paranormal incidents and try to save their loved ones from danger. The series is written, produced, and directed by Amr Salama, with Mohamed Hefzy as executive producer. Paranormal is slated for a Fall 2020 release.
Instagram has launched its wholly original app Reels in Egypt, the company said in a statement (pdf) yesterday. Totally not taking its cue from another wildly popular social media app, Reels allows users to take short video clips, set them to music and share them with friends.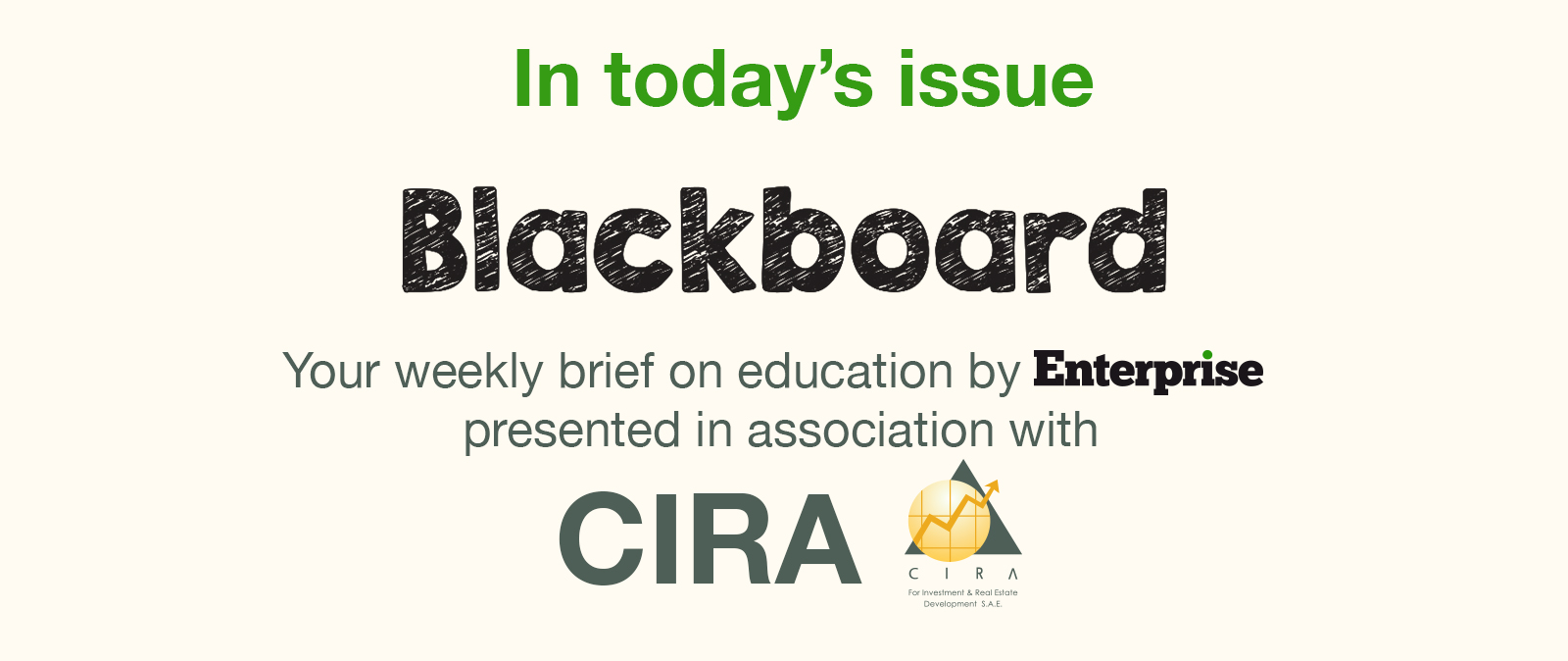 *** It's Blackboard day: We have our weekly look at the business of education in Egypt, from pre-K through the highest reaches of higher ed. Blackboard appears every Monday in Enterprise in the place of our traditional industry news roundups.
In today's issue: We revisit the education services sector's performance on the EGX since the outset of the covid-19 pandemic. The sector has proven itself as a defensive sector, outperforming the broader stock market in the past five months.