Monday, 4 May 2020
What we're tracking on 4 May 2020
Egypt took a big step last night toward the reopening of an economy that never went fully to sleep as the Madbouly government said it would allow hotels to re-open by mid-month for domestic tourism. We have full details on the state's drive to promote staycations in this morning's Speed Round, below.
We're now at 3.5 mn cases of covid-19 globally, but the "rate of fatalities and new cases has slowed from peaks reached last month," Reuters' tells us, adding that, "North America and European countries accounted for most of the new cases reported in recent days, but numbers were rising from smaller bases in Latin America, Africa and Russia."
Predicting the Future #1- We've been wondering aloud for some time why certain countries are really hard hit by the virus that causes covid-19, while others … simply aren't. There are still no good answers. A recent roundup by the New York Times offers everything from genetics to demographics by way of government policy and simple luck as possible explanations.
With prospects of a second, deadlier wave this fall (see: 1918, the pandemic of) and a third wave next year, we'd all do well to keep in mind Harvard health expert Ashish Jha's words of wisdom, as American as they sound: "We are really early in this disease. If this were a baseball game, it would be the second inning and there's no reason to think that by the ninth inning the rest of the world that looks now like it hasn't been affected won't become like other places."
Predicting the Future #2- What do markets want? The Financial Times argues that a pandemic-induced slump in demand and the Great Oil War of 2020 may have hastened the approach of peak oil, while the Wall Street Journal notes that the earnings apocalypse and an unprecedented slowdown in global growth are "so obscuring the outlook for financial markets that some investors say it is as if they are flying blind."
Oh, and the notion of immunity passports? The science still doesn't back up the idea. Still, Switzerland's Roche has gotten FDA approval for an antibody test for exposure to the virus that causes covid-19, according to a company statement. The company says it could have "high double-digit" mns of tests ready to deploy this month.
---
The EGX30 closed down 3.4% yesterday as shares in Egypt caught up with the Friday sell-off in US markets — and were dragged down by a slump in regional equities led by Saudi Arabia, where the Tadawul plunged 7.4%. Saudi's main index tumbled after the kingdom's finance minister said over the weekend that strict fiscal measures would be needed to face down fallout from covid-19 and the recent slump in oil prices.
Markets today: It's the start of the trading week in global markets, and shares in South Korea, Hong Kong, and Japan opened sharply lower amid fears that tensions between Beijing and Washington are again flaring after the US alleged the virus that causes covid-19 originated in a Chinese research lab (we have more on this below). Chinese shares were up as we headed toward dispatch this morning, while futures point to US and European equities opening in the red later today.
We have more on what the month of May could have in store for global stocks and risky assets in this morning's Macro Picture, below.
---
So, when do we eat? Maghrib prayers are at 6:34pm and you'll have until 3:33am to finish caffeinating. Fajr is coming one minute earlier every day through the end of the Holy Month.
COVID-19 IN EGYPT-
Egypt has now disclosed a total of 6,465 confirmed cases of covid-19 after the Health Ministry reported 272 new infections yesterday. The ministry also said that another 14 people had died from the virus, taking the death toll to 429. We now have a total of 2,041 confirmed cases that have since tested negative for the virus after being hospitalized or isolated, of whom 1,562 have fully recovered.
EBRD could open lines of credit worth a combined USD 850 mn for five unnamed local banks as part of covid-19 assistance package that would help plug liquidity gaps and support SMEs and businesses in industries hard-hit by covid-19, according to Al-Mal. The NBE and Banque Misr had submitted requests last month for help from the EBRD to help shore up their liquidity positions. The newspaper says the funding would be targeted to industries hardest-hit by covid-19 including tourism as well as front-line sectors including transport, agriculture and producers of medical supplies.
The court system began the slow process of reopening yesterday, with criminal courts set to operate two days a week instead of six and focusing on hearings to decide on the extension of pretrial detention orders, Youm7 reports. Criminal and family courts alike will also focus on handing down final rulings in cases where verdicts had been reached, but postponed by the corona-induced shutdown. Appeals courts will also tiptoe back into session, but neither appellants nor the public will be allowed in open court. The nation's courts had been closed since 15 March.
Make sure you keep up with your kid's vaccination schedule, Unicef warns, suggesting that as many as 10 mn children under the age of five across the Middle East are at risk of missing out on polio vaccinations and another 4.5 mn may miss out measles vaccinations as healthcare efforts are being diverted to treating covid-19, the UAE's The National reports.
DONATIONS-
Al-Ahram Beverages has donated EGP 5.6 mn to the government, in addition to providing ethanol supplies to the Unified Procurement Authority to produce disinfectants and sanitizers for hospitals and medical facilities, according to Youm7.
Cairo Festival City mall and Misr El Kheir Foundation have launched an initiative to support service workers in hospitals and quarantine facilities, according to a statement carried by the domestic press. The initiative aims to donate Ramadan provisions to 20k workers.
ON THE GLOBAL FRONT-
"It's all China's Fault": US policymakers are ramping up rhetoric claiming that the virus that causes covid-19 escaped from a lab in China. Secretary of State Mike Pompeo said yesterday that "enormous evidence" points to SARS-CoV-2 originated in a research lab in Wuhan, while The Donald suggested obliquely that "I think they made a very horrible mistake," adding, "They tried to cover it." Bloomberg and the New York Times have the story.
The Warren Buffett Show is still commanding the attention of the global financial press a little more than a day after Berkshire Hathaway held its AGM via videoconference. You can watch the full, epic live stream here (watch, runtime: 5:23:49), catch a cutdown version on video (watch, runtime: 15:31) or get the highlights in the Financial Times, Reuters, Bloomberg or CNBC. The Coles / Cliffs Notes version: "The pandemic can't stop Amreeka — or Berkshire. But I've sold all my airline stock." The meeting included a call-in question from none other than actor Bill Murray.
Developed economies could be hit by a "second wave of job losses," despite governments moving to ease lockdown measures, says the Financial Times, as some businesses revisit their ability to cope with continued social distancing.
US and European banks are getting ready to set aside over USD 50 bn in loan loss provisions for the first quarter, "an indication of the severe economic damage wrought by coronavirus," according to the FT. US-based banks are the most cautious, booking USD 25 bn for bad loans, up 350% y-o-y.
US 1Q2020 earnings season continues this week: InvestorPlace has a list of seven to keep an eye on — including Disney, PayPall, Uber, the once great Activision Blizzard, Canada's Shopify, beer giant AB InBev, and pharma chain CVS Health.
Saudi Arabia is cautiously rolling back lockdown measures just as plummeting crude oil prices have left Saudi's bonds more vulnerable than neighboring Abu Dhabi and Qatar, Vanguard Asset Management reps tell Bloomberg. We noted yesterday that investors were mostly bearish on Saudi stocks and mixed on those in the UAE, according to a Reuters poll.
Saudi is under pressure to push fiscal reforms instead of abandoning its peg to the USD, Goldman Sachs suggests in a research report picked up by Bloomberg wherein the bulge bracket bank says it sees oil at USD 40 / bbl by the end of this year and USD 60 by the end of 2021. If oil stays at USD 30 with the FX rate unchanged, KSA would face substantial pressure to abandon the peg lest it run reserves dry.
Are we looking at the return of inflation> That's what some analysts are expecting as policymakers take measures that, along with supply chain disruptions and the release of pent-up consumer demand, may "stoke inflation" once lockdown measures are lifted, according to Bloomberg. Although a contained uptick in prices would actually be welcome for some economies, others — particularly developing countries — would likely struggle to contain inflation in the aftermath of the pandemic.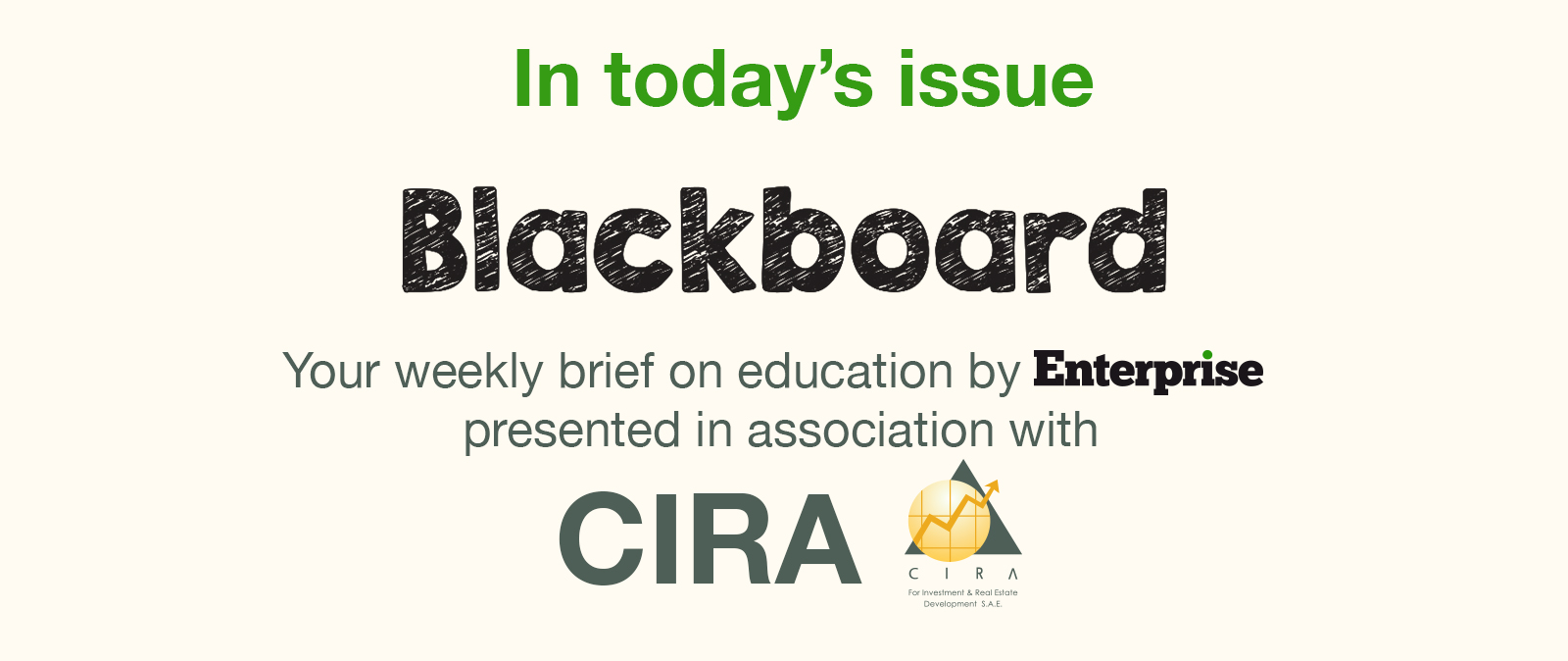 *** It's Blackboard day: We have our weekly look at the business of education in Egypt, from pre-K through the highest reaches of higher ed. Blackboard appears every Monday in Enterprise in the place of our traditional industry news roundups.
In today's issue: As Egypt settles in for a month of heavy prime-time TV watching, we ask whether film and TV accurately depict the realities of private education in Egypt.