Wednesday, 1 April 2020
What we're tracking on 01 April 2020
Can you believe it's the first day of 2Q2020? Our heads are still spinning over here.
Ten of 11 analysts in our Enterprise interest rate poll see the CBE leaving rates on hold when its monetary policy committee meets tomorrow. We have all the details in this morning's Speed Round, below.
The government will also review petrol prices tomorrow or next Sunday at the latest, Al Mal reports, citing unnamed government sources. Petrol prices are allowed to move up or down 10% when the committee meets every three months, moving in tandem with oil prices. The committee met for the first time last October and left prices unchanged at its January meeting.
News triggers triggers to keep your eye on as April starts.
PMI figures for Egypt, Saudi Arabia and the UAE will land (doubtless with a thud) on Sunday, 5 April.
Foreign reserves figures for March will be released on or around Sunday, 5 April.
Inflation figures for March are due on Thursday, 9 April.
The House of Representatives will review the Madbouly government proposed 2020-2021 budget when MPs return from recess on 12 April, Al Mal reports. We had the full report on the draft budget and its targets yesterday.
Two covid-19 trends to keep your eye on going forward:
Will "immunity passports" become a thing? Germany is planning to issue certificates to folks who have recovered from covid-19, allowing them to return to work and daily life — with all of the creepiness attendant to living in that kind of world. Business Insider and the Guardian have more.
European hospitals are reporting shortages of meds thanks to supply chain disruptions. We suspect disruption of the supply chain will be a theme across industries and around the world for several months after the crisis abates.
Markets this morning: Asian markets are up as they approach mid-session at dispatch time — major indexes in Hong Kong, China and South Korea are all up, as are India, New Zealand and Australia. The exception: Japan. Futures currently point to a lower open for the Nasdaq, Dow and S&P across the pond, while Europe is looking mixed right now.
The EGX30 closed up 0.8% yesterday on moderately heavy trading, with total turnover coming in at 39% above the trailing 90-day average.
---
COVID-19 IN EGYPT-
Egypt now has 710 confirmed cases of covid-19 after the Health Ministry reported 54 new infections yesterday, all Egyptians. Five Egyptians were reported to have died of the disease, bringing total deaths in the country to 46. A total of 157 patients are now reported to have fully recovered, while another 205 appear to be on the path to recovery after having tested negative following treatment.
Egypt's private airlines want a bailout package, Reuters reports, saying Civil Aviation Minister Mohamed Enabah met yesterday with the heads of private carriers. A ministry statement later said that the companies are asking for help to "stop the bleeding … suffered by the private companies and help them overcome this crisis." The government has so-far been silent about any assistance it may be providing to EgyptAir, the national flag carrier. All international flights except cargo hauls are suspended until mid-April.
They're not alone: Dubai has announced it will provide a bailout package to Emirates Air to keep the airline afloat, Bloomberg reports.
Tourists who want to ride out covid-19 in Egypt can do so, the government signaled yesterday. Tour operators and hotels have been directed to work with the Interior Ministry to renew visas (the visa and passport office is otherwise closed for business at the moment under covid-19 restrictions). Tourists who want to stay will also need to be tested for the virus that causes covid-19, Youm7 reports.
The state-owned Holding Company for Metallurgical Industries (MIH) is looking to manufacture ventilators after Minnesota-based Medtronic announced that it's putting the intellectual property behind its PB560 model into the public domain, MIH Chairman Medhat Nafea said. Medtronic is making all design files for the PB560 model available to the public on its website.
Emergency fund for construction workers? The Real Estate Development Chamber is considering setting up an emergency fund for construction workers facing mandatory unpaid leave of they're furloughed to help slow the spread of covid-19, Al Mal reports.
Egypt should temporarily ban the export of food commodities and medical supplies, a group of MPs said yesterday, according to Al Mal.
Price cuts on electricity for factories are now in effect. The cuts were part of the government's economic response to covid-19 and reduce prices for peak and offpeak times for medium, high and ultra-high voltage users. The price change was made official with its publication in the Official Gazette yesterday. Other moves to support industry announced earlier last month included lower natural gas prices for factories and the payout of EGP 1 bn in overdue arrears to exporters by no later than April.
Egyptians have collectively sunk EGP 39.2 bn into 15% fixed-rate savings certificates launched by Banque Misr and the National Bank of Egypt in the 10 days since the certificates were offered, Masrawy reports, citing unnamed banking officials.
The MoH has set up two hotlines to offer a friendly ear to folks suffering during the ongoing lockdown or from covid-related fear, anxiety or distress. The numbers: 080 888 0700 and (02) 2081-6831.
ON THE GLOBAL FRONT-
GLOBAL STORY OF THE DAY: The Trump administration says 100k-240k people in America could die of covid-19 based on a model released overnight. The news dominates front pages in the global business press: Reuters | FT | WSJ.
Global stocks wrap one of the worst quarters on record: US stocks have had their worst quarter since 2008 as a sell-off in late trading yesterday brought losses to 20% year-to-date. It was worse for the Dow Jones which experienced its largest quarterly sell-off since 1987 as the covid-19 pandemic put the market through a historic bout of turbulence. The Financial Times and Bloomberg are both out with post-mortems.
Believe it or not, there were actually two companies that held their heads above water in the sea of red. Microsoft made it through unscathed by the closest of margins, closing up 0.00006% in the green for the quarter. The big winner though was Jeff Bezos, who saw Amazon's shares gain 5.43% over the three months as consumers threw money at emergency supplies and Slack and Zoom did the same for Amazon Web Services. CNBC has more.
New PMI out of China suggests hopes for a v-shaped recovery may not be totally pie in the sky: China's manufacturing purchasing managers' index (PMI) surged last month in the first sign that the economy could be making a speedy recovery after several months of shutdown. Figures released yesterday by the National Bureau of Statistics showed manufacturing sector activity expanding after falling to an all-time low in February.
Encouraging signs but the country has a long way to go, says Capital Economics: "This does not mean that output is now back to its pre-virus trend. Instead, it simply suggests that economic activity improved modestly relative to February's dismal showing, but remains well below pre-virus levels," said Julian Evans-Pritchard, senior China economist at Capital Economics, in a note picked up by Reuters.
Whatever the state of the Chinese economy, the figures helped to perk European stocks — which closed out their worst first quarter on record: European stocks rallied yesterday after the PMI figures were released but still ended up clocking in their worst quarter since 2002, CNBC reports.
And the dire economic predictions of the day go to S&P Global Ratings and Goldman Sachs, who are back to remind us how [redacted] we're going to be in the months ahead:
S&P Global Ratings has scaled back its 2020 global growth forecast to a dire 0.4% in light of the covid-19 outbreak's impact on global economies and markets, according to its chief economist Paul Gruenwald. It's a drastic drop from the 3.3% estimated before the pandemic, and the forecast hasn't been seen since the 1982 economic crash which saw global growth calculated at 0.43%. Gruenwald also predicts a rebound to 4.9% in 2021.
Goldman Sachs has somehow managed to blacken its outlook for the US economy even further: The investment bank is now predicting the US economy to contract by a stunning 34% in the second quarter, lower than its previous forecast of a 24% contraction, Reuters reports. It also dropped its 1Q target to 9% from 6%, and sees unemployment reaching 15% by midyear instead of its previous 9% estimate.
Saudi Arabia has begun to flood the market with ultra-cheap crude: Saudi Aramco is delivering on its promises to ramp up production to record levels and slash its prices in April, with tankers already on their way to Europe and the US, and several supertankers hired earlier this month to boost exports now loaded, Bloomberg says.
What is about to take place is going to have effects on the oil market for years to come: As Ben Sharples writes for Bloomberg: "Oil is entering a period of unparalleled demand destruction this month that promises to transform the industry for years to come."
In other international covid-19 news:
Dubai imposed the UAE's first lockdown on its famous gold and spices market for two weeks, expanding the partial curfew in place to curb the spread of the covid-19, according to Reuters.
Communities across Italy and Spain are starting to push back against lockdown, some out of desperation having depleted their resources and others just rebelling against the draconian restrictions, the Financial Times reports.
*** We've never asked you for a penny, but we're doing so today — not to put a coin in our pocket, but to help the folks at the Breathe campaign raise funds to acquire ventilators the nation needs.
The Breathe Campaign is raising funds to purchase mechanical ventilators from suppliers around the world. As the number of covid-19 cases rises in Egypt, so does the need for ventilators across the country. For critically ill patients, mechanical ventilation can be the difference between life and death — all of you reading Enterprise have seen the stories about shortages in developed economies including Italy and the United States. The Breathe Campaign, a pilot project by charity startup Humankind with the aid of the Egyptian Cure Bank, has created a star-studded campaign featuring public figures including Yosra, Amina Khalil and Naguib Sawiris simply inhaling and exhaling.
Keep up to date with the campaign on Instagram and check out the ad (watch, runtime: 1:08).
Want to make a contribution? Hit up the Egyptian Cure Bank, Fawry or the FawryApp or check out the description section of the Youtube page for other options.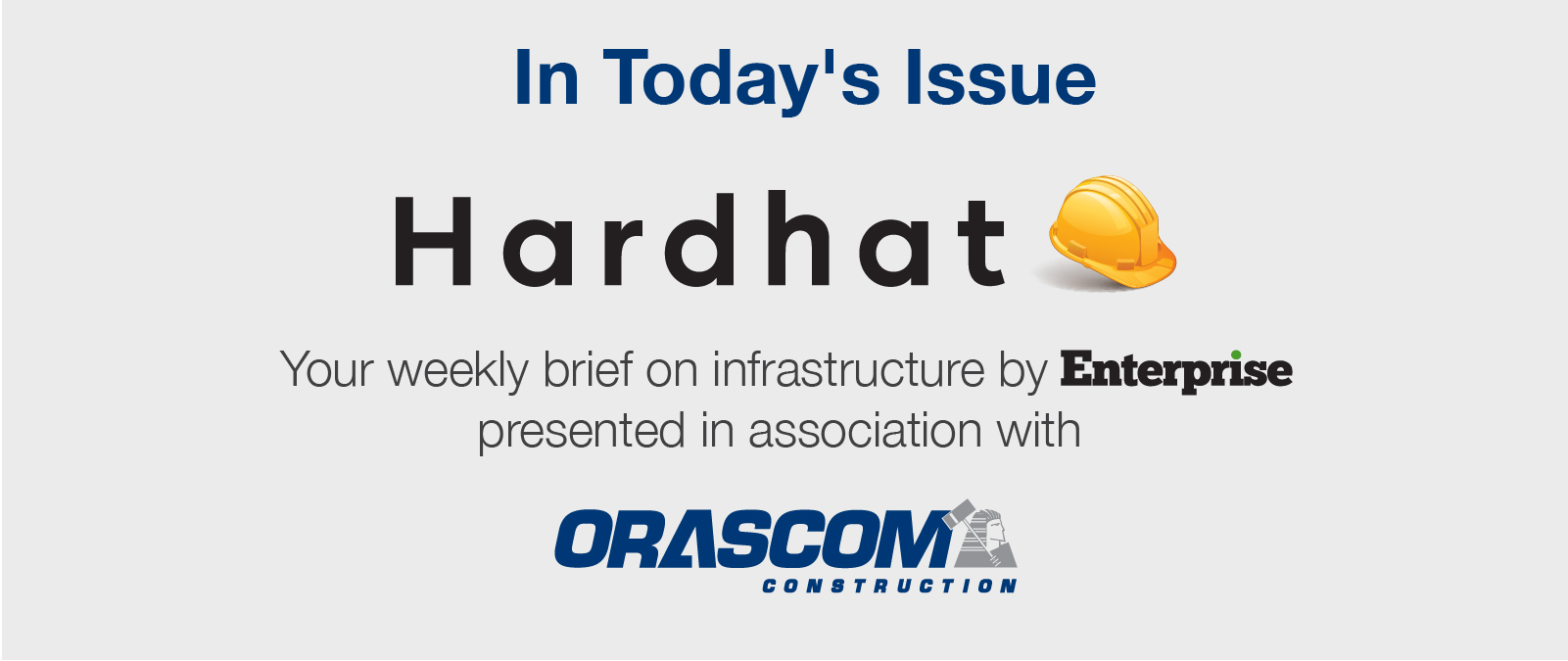 *** It's Hardhat day — your weekly briefing of all things infrastructure in Egypt: Enterprise's industry vertical focuses each Wednesday on infrastructure, covering everything from energy, water, transportation, urban development and even social infrastructure such as health and education.
In today's issue: Our exclusive sitdown with Amr and Hassan Allam, Co-CEOs of Hassan Allam Holding, the second in a two-part series on how the construction industry is managing the covid-19 crisis. The brothers spoke with us on the state of the sector during covid today, what can we expect on the long term, and what lessons or positive outcomes we can draw in a post-covid-19 world. Part one, which ran last week, featured a sit-down with Orascom Construction CEO Osama Bishai.