Wednesday, 18 March 2020
What we're tracking on 18 March 2020
Would anyone care to explain how it is not yet Thursday? Time moves simultaneously in slow motion and at the speed of light during weeks like this.
Some (not so) random notes to get us started this morning:
SMART POLICYMAKING #1- The Madbouly government's initial fiscal response to the threat of covid-19 includes tax breaks to support interest in the EGX, real estate tax relief for businesses, and cuts to energy prices for factories. It's a good start, and we look forward to hearing more in the days ahead about measures to support the rest of the business community — support that may be coming as the government says it will fast-track legislation through the House of Representatives. A good start: Cut dividend taxes for privately owned businesses, too.
SMART POLICYMAKING #2- The central bank said on Monday that it will waive interest for private citizens at risk of defaulting on debt of less than EGP 1 mn each.
(We have more on points 1 and 2 in this morning's Speed Round, below.)
SMART POLICYMAKING #3- Domestic tourism is suspended on the Red Sea and workers in the tourism industry there will be quarantined for 14 days before being allowed to travel home. The decision, handed down by the governor of the Red Sea, applies to workers at hotels, restaurants and bazaars, among others. More here (including a copy of the decision) and here.
WE WANT TO SEE MORE OF THIS: Grocery chain Oscar has dedicated its first hour of business (8am-9am) exclusively to senior citizens so they can shop comfortably and safely. Older people face the highest risk of death from covid-19 if infected. Oscar's move mirrors steps taken by US grocers H.E.B. and Dollar Stores as well as Iceland in the UK and Ireland.
Similarly: Mobile network operators are allowing just one client to enter each branch at any time and are directing clients to (a) reserve their time online or (b) move their transaction entirely online.
---
Egypt now has 196 covid-19 cases after 30 more were confirmed yesterday, according to the Health Ministry. All new cases yesterday are Egyptians who came into contact with previously infected people, the ministry said. Of the 196 total cases, 26 have now fully recovered and been discharged from hospital. Eight others have had a first negative PCR test and are still in hospital under observation.
The MoH also announced two more deaths, both of them people over the age of 70, bringing the total loss of life to six.
A NOTE FROM ALL OF US AT ENTERPRISE: With new cases being reported daily, it is inevitable that there will be news (real and invented) of cases at business "X" or business "Y". That happened yesterday as one business reported on its (very responsible, in our view) handling of a case. We have decided that we will not be covering these reports — they are of no tangible value to the community.
Businesses around the country have put in place procedures for what to do when / if a customer or client tests positive, including notification to staff and other clients, deep cleaning of facilities, etc. We think the business community has generally stepped up to the plate and shown responsibility this past week by enacting policies to curb the spread of the virus and reporting these policies to the wider public via email and on their websites. We're not going to get into the tick-tock of who does / doesn't have a case on hand.
The government is actively helping Egyptians get on flights to ensure they're back home before planes are grounded for two weeks starting at noon this coming Thursday, according to a Cabinet statement. National flag carrier EgyptAir will put on additional flights until then to accommodate demand.
Egypt won't be completely sealing off its airspace once it enacts the flight ban, the civil and aviation ministers said yesterday. Cargo flights will continue and the government has signalled it will evacuate foreign visitors to Egypt who choose to finish their trips rather than leave by Thursday's deadline.
---
MARKETS TODAY- Mixed. Stocks are up in Japan and China, down in Korea and Hong Kong at dispatch time this morning. Futures point to a mixed open for European markets when they ring the bell later this morning, while the Dow, the Nasdaq and the S&P all look set to open in the red later today. The EGX30 closed down 2.4% yesterday and mercifully failed to trip circuit breakers as the sell-off cooled for a day.
---
The Finance Ministry and Tax Authority want private citizens to complete their tax filings online before the tax season ends this month, according to Youm7. Individuals will be joining companies, who began online tax filings at the start of the year as part of Egypt's new unified digital tax payment system.
Other covid-19 news of note here in Egypt:
The CBE wants banks to minimize in-person meetings: The Central Bank of Egypt (CBE) has issued directives that allow for more meetings by conference call or video — including meetings by bank boards of directors, Al Shorouk reports.
Cinemas and theatres have been ordered closed until further notice, according to a cabinet statement.
The Environment Ministry is curbing visits to national parks, according to a cabinet statement. Zoos, meanwhile, are shutting down.
Government agencies are telling staff to stay home in line with a decree earlier this week to limit the number of employees who show up each day at ministries, government agencies and state-owned companies. Among those announcing measures to keep some of their people home yesterday were the ministries of social solidarity, electricity, labour, the Suez Canal Authority, CAPMAS and Al-Azhar.
Compensation for seasonal workers: The Manpower Ministry has announced it will pay EGP 500 to each seasonal worker as compensation for income lost as a result of covid-19.
The Tourism Ministry has ordered a deep cleaning of all hotels during the two-week period starting Thursday that air traffic will be suspended, Al Shorouk reports. It will also run an awareness campaign for the industry.
The Trade and Ministry will halt exports of rubbing alcohol, its derivative products, and surgical masks for three months to ensure that domestic needs are covered, a cabinet statement said.
A covid-19 test co-created by an Egyptian doctor will be used to test up to 1k people every day, CBS reports. Dr. Heba Mostafa, who helped to develop the test with a fellow doctor at Hopkins University, said they are working to shorten the results time to just three hours, filling a vital gap in the US which has struggled to test widely for the virus.
---
*** PSA: Our webinar on how to work remotely, which was scheduled to take place tomorrow, 19 March at 2 pm CLT, has been postponed. We're all fine here, just completely overloaded at both Enterprise and Inktank at the moment. We'll have a new date for all of you very soon. Those who had registered should have received an email from us yesterday.
---
WHAT'S HAPPENING AROUND THE WORLD: With pundits declaring a global recession a certainty (the issue is, for how long?), the task at hand now is to ward off a depression: Markets have yet to price in a full-on depression, but investors and economists appear to see the "D-word" as increasingly likely as the fallout from the covid-19 outbreak continues to widen, Reuters says.
Fortress Europe: EU leaders yesterday banned foreign nationals from entering the bloc for 30 days as covid-19 cases continued to rise, Bloomberg reports.
Fortress America: Canada and the US are expected to announce an agreement today to close their border to non-essential travel, the Globe & Mail reports.
Iran has warned that mns of its citizens may die from covid-19 "if people keep traveling and ignore health guidance, the Associated Press reports. The country has reported 988 deaths and some 16,000 cases since the outbreak began.
The US is looking at handing out cash to every citizen: The Trump administration is proposing an unprecedented USD 1 tn stimulus plan, half of which would either be handed directly to individuals or given out as tax cuts, CNBC reports. An official said the rescue package would see USD 500-550 bn dispersed in direct payments or tax cuts, USD 200-300 bn given to small businesses and USD 50-100 bn allocated to help bail out airlines and industry.
The Fed announced a facility to purchase commercial paper: In a bid to supply much-needed liquidity to businesses, the Federal Reserve has relaunched a 2008-era facility that will see it purchase short-term unsecured and asset-backed debt.
Italy, Spain, France have placed restrictions on short selling in a bid to reduce market volatility, CNBC reports.
The UK announced a new GBP 350 bn support package for businesses and individuals in financial difficulty. Loans worth GBP 330 bn will be extended to businesses and individuals, GBP 20 bn will be given to businesses making losses because of the virus, and mortgage payments will be suspended for people facing financial difficulties, the BBC says.
Chinese authorities have greenlit the start of clinical trials on its first vaccine to combat covid-19, Reuters reports/
The Euro 2020 football championship has been postponed to 2021, the Associated Press reports.
Hotel group Marriott will be placing tens of thousands of staffers on unpaid leave, as the covid-19 outbreak continues to devastate bookings, the Financial Times reports.
---
The IMF needs to help emerging markets weather the storm: With emerging markets in a more vulnerable position, the IMF should expand its allocation of special drawing rights (SDRs) to member countries, allowing them to receive more of an artificial currency that can be exchanged for the basket of currencies it represents, Marcos Buscaglia writes in an opinion piece for the Financial Times. While not currencies in themselves, SDRs are held by the fund's member countries as a way to hedge against their reliance on costly debt to build up stocks of foreign reserves. They are made of unequal parts USD, EUR, RMB, JPY, and GBP. An SDR expansion similar to that of 2008 is essential to help economies less able to boost asset purchases and liquidity funding to do so, Buscaglia says.
Is covid-19 going to re-shape the global economy for years to come? Renewable energy will be set back by a decade by having to compete with cheaper fossil fuels, universities may face an existential challenge, China's dominance in manufacturing is likely to dissipate while Africa's star may ascend, predicts Andy Kessler in the Wall Street Journal. Tech will of course continue to be a transformative force, he believes, with all kinds of businesses being shaped by AI systems and the developing world poised to benefit from productivity improvements to attract increasing levels of investment.
COVID TIP OF THE DAY: How to ride out the financial crisis. This round-up of thoughts seasoned investors by the New York Times has some advice for newbies. The highlights? Don't be too driven by emotion, make rash decisions, or stay glued to every single new development. Remember that businesses are still running and the world is still operating, but do start preparing calmly for an uncertain job market and possible future job search.
---
Egypt's GERD tour continues: Foreign Minister Sameh Shoukry is resuming his tour to rally support from African leaders in light of the Grand Ethiopian Renaissance Dam (GERD) dispute, according to Ahram Online. Shoukry landed in Burundi yesterday and is planning to head to South Africa, Tanzania, DR Congo, South Sudan, Niger, and Rwanda next. This came as Kenyan President Uhuru Kenyatta signalled support for Egypt during a meeting with President Abdel Fattah El Sisi in Cairo yesterday. Foreign ministry officials this week visited Algeria, Tunisia and Mauritania after Shoukry toured several European and Arab capitals in search of diplomatic backing.
---
Amidst all the craziness, it's easy to forget that primary season is still underway in the US of A: Joe Biden looks to be building up an insurmountable delegate lead in the Democratic primary race after sweeping the three primaries yesterday. The former vice president looks to have taken the lion's share of the delegates in Florida, Illinois and Arizona, leaving progressive rival Bernie Sanders with the increasingly impossible task of acquiring a delegate majority.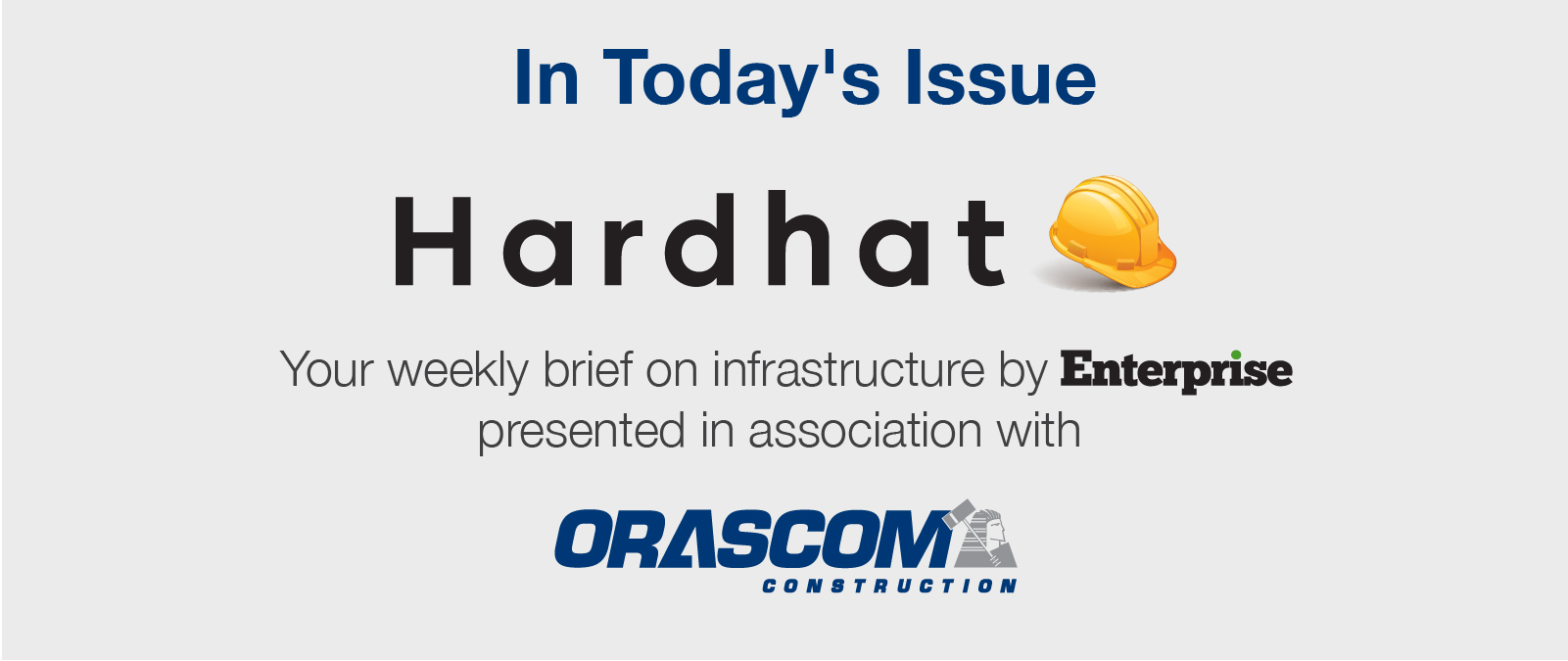 *** It's Hardhat day — your weekly briefing of all things infrastructure in Egypt: Enterprise's industry vertical focuses each Wednesday on infrastructure, covering everything from energy, water, transportation, urban development and even social infrastructure such as health and education.
In today's issue: We look at Egypt's rainwater infrastructure after the damage wreaked by last week's "dragon storm," what it would take to get our infrastructure in shape to handle future weather events caused by climate change — and how economically feasible this all is.