Monday, 17 February 2020
What we're tracking on 17 February 2020
The central bank's push to develop SME and digital banks and M&A news lead an otherwise reasonably quiet morning. We'd also like to quitely note that the Brits are back as direct flights to Sharm El Sheikh from the UK resume. We have chapter and verse on all of this in this morning's Speed Round, below.
What everyone's going to be talking about instead: El Corona, where we are pleased to report that as of dispatch time, there were no new cases in Egypt after one was reported over the weekend.
Reactions to Egypt's first confirmed covid-19 case:
The virus outbreak could infect two-thirds of the global population, said Ira Longini, an adviser to the World Health Organization (WHO), according to Bloomberg, based on a model of the virus' spread in China. Some public health officials fear the outbreak may have reached a "turning point" after an incident in Cambodia that saw hundreds of people disembark from a cruise ship and then head to airports — only to find later that at least one passenger was infected.
The numbers as of dispatch this morning are more than 70k cases of coronavirus worldwide with 1,670 deaths, according to a Bloomberg live tracker, as China's Hubei province reported more cases than the day before.
---
The Central Bank of Egypt will meet this Thursday, 20 February to review interest rates. Our poll showed yesterday a division among analysts about whether the CBE's Monetary Policy Committee will resume its easing cycle or leave rates unchanged to study the effects of last year's rate cuts and potentially inflationary effects of the covid-19 outbreak.
Foreign Minister Sameh Shoukry is on his way back from Germany, where he attended the Munich Security Conference. The minister held talks with several of his regional and European counterparts during the three-day event, and urged the international community to do more to combat the threats posed by terrorism and political instability in North Africa during a discussion session on regional security. The Munich conference is one of the world's largest gatherings for international security experts and policymakers.
On the latest episode of "The Robots Cometh": Robo-analysts tend to outperform their human counterparts in generating returns for investors, particularly since they don't have the innately human biases that sometimes stand in the way of making the right call, according to a study by Indiana University professors picked up by Bloomberg. The small and largely experimental branch of fintech using robo-analysts was found to produce more sell ratings than traditional firms, and are more balanced in their buy/sell recommendations.
BlackRock has become a target for France's Yellow Vest protesters, who allege that the US asset manager is attempting to influence French President Emmanuel Macron's overhaul of the country's pension system for its own gain, the New York Times reported. Blackrock, which manages over USD 7 tn in assets — more than twice France's economic output — has denied the accusations, but the Gray Lady notes that "financial firms could get some business from part of the pension overhaul that encourages high earners to invest in stocks."
---
Foreign creditors are getting anxious as opinions diverge on Lebanon's scheduled debt repayment deadline next month. International creditors Ashmore and Pimco are at odds over whether to push Beirut to repay its debt in full, with Pimco saying that Ashmore's attempts to pressure the "effectively bankrupt" government to repay is "just delaying the inevitable," the Financial Times reports. The country seems likely to default on its debts as public pressure mounts to avoid further budget cuts and rapidly eroding confidence in the country's local currency is pushing it into even tighter fiscal territory.
---
British communications regulator Ofcom has come up with proposals to tighten regulations on internet businesses under a mandate from the UK government to regulate the internet, according to the Guardian. One of the proposals Ofcom has put forth would require annual transparency reports from internet firms, particularly companies that allow user-generated content such as Facebook and Google, on how they define and handle harmful content.
Mark Zuckerberg thinks El Face should be regulated as a newspaper-telecom company hybrid — only, without the whole "responsibility" thing. He told the Munich Security Conference that Facebook shouldn't be responsible for the content circulated on the platform like newspapers with editors normally would be, according to the Wall Street Journal. The Facebook CEO thinks his company's accountability should be akin to a telecom operator, which can't be reprimanded for what customers say over the phone, but he didn't really explain the thought beyond that.
---
PSA- Expect cold, rainy weather in the capital city this evening, with lows expected to reach 13°C, according to the Egyptian Meteorological Authority, and a daytime high of 18°C. Nighttime readings elsewhere in the country — including Alexandria, Port Said, and Ismailia — will also range between 11-13°C, with a chance of light to medium rain.
---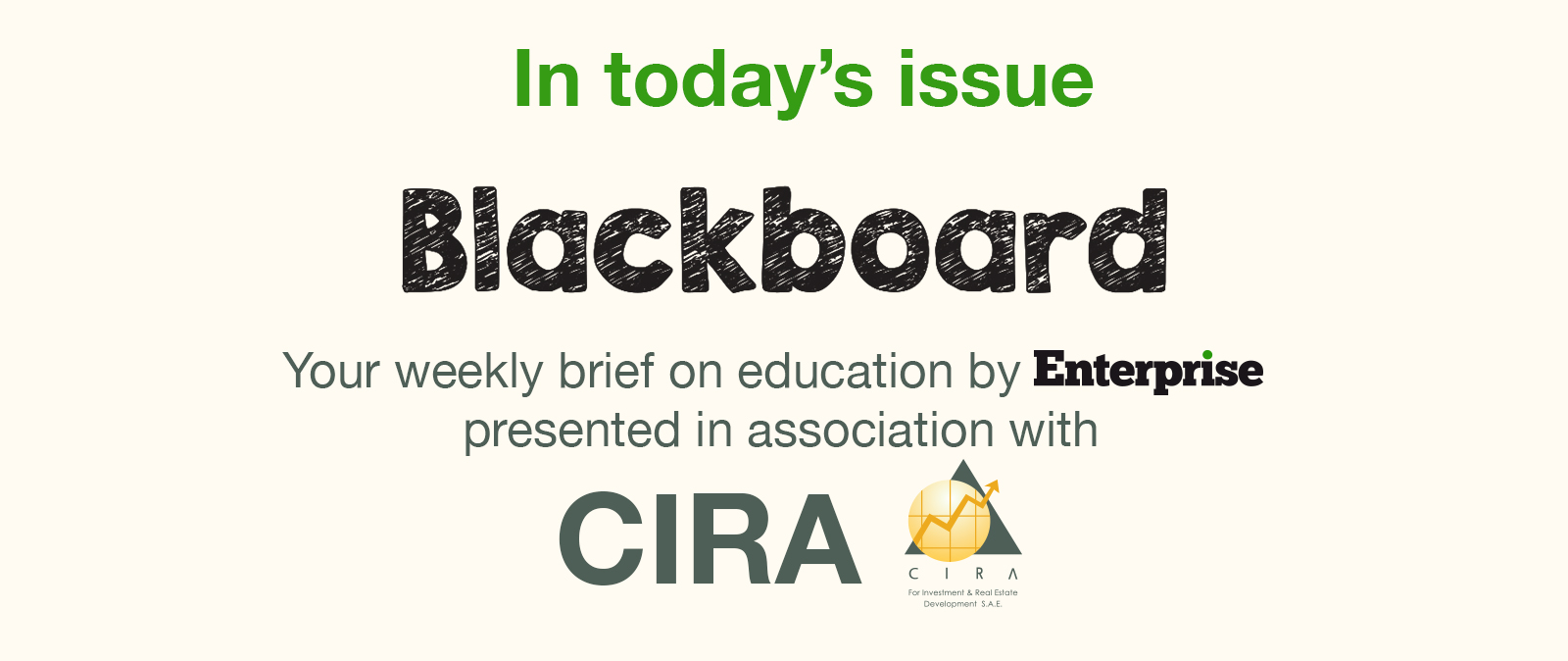 *** It's Blackboard day: We have our weekly look at the business of education in Egypt, from pre-K through the highest reaches of higher ed. Blackboard appears every Monday in Enterprise in the place of our traditional industry news roundups.
In today's issue: We look at how the government is looking to foreign universities to ensure the quality of private sector higher education, and with that, turn most private sector operators into international universities.