Wednesday, 29 January 2020
What we're tracking on 29 January 2020
We have big news for you this morning, ladies and gents: Vodafone Group yesterday confirmed earlier reports that it was looking to leave Egypt and sell its stake in Vodafone Egypt to Saudi Telecom. The two companies will apparently be signing a memorandum of understanding that could lead to an acquisition (though we're not quite sure when that will happen).
An announcement coming today? Youm7 reported that Vodafone Egypt CEO Alexandre Froment-Curtil will today hold a press conference to address the announcement — and maybe to officially announce an acquisition by STC, if the company source that talked to the press is to be believed. We wait with bated breath.
The world's most prolific headline generator continues to dominate the news cycle this morning: President Trump yesterday unveiled his administration's long-awaited plans to make Israel great again. The proposals give Israel the all-clear to a large-scale land grab in the West Bank, and in return the Palestinians would receive international investment and be allowed to form a "state" (emphasis on the inverted commas). We explain in this morning's Speed Round below.
A bit of perspective courtesy of the New York Times: "Rather than a serious blueprint for peace, analysts called it a political document by a president in the middle of an impeachment trial working in tandem with a prime minister under criminal indictment and about to face his third election in the span of a year."
Speaking of which, the Donald's ongoing impeachment trial continues to spam our news feeds. Senators will over the coming two days debate whether to allow witness testimony after Trump's defense yesterday wrapped up their arguments. Trump's team may soon be looking for a plan B after Monday's potentially-damning allegations from ex-national security chief John Bolton increased uncertainty about whether Senate Republicans would have the votes to block witnesses. The Atlantic definitely hasn't been shy about what it thinks of proceedings, calling the trial an "absurdity", Trump's legal arguments "kafkaesque," and the Senate "utterly ridiculous."
---
It's GERD deadline day (again): We have our fingers crossed that today is the day that Egypt and Ethiopia finally kiss and make up, as talks in Washington come to a close. The original deadline for a final agreement passed earlier this month when Egyptian, Ethiopian, and Sudanese officials agreed on the terms of the initial filling timetable for the dam. Technical talks last week produced what the Sudanese irrigation minister called "convergence," but as far we are aware there remained points of disagreement heading into the talks yesterday.
Cabinet will today announce the winner of the Sixth of October dry port tender at its weekly meeting: It's looking like the contract is going to the Elsewedy-Concorde-AE International consortium, if reports over the last two days are to be believed (see here and here).
Stuff you can go to this week:
CI Capital's annual three-day MENA Investors Conference wraps tomorrow at the Four Seasons Nile Plaza.
The British Embassy and IFC's StartEgypt Forum 2020 will pit 45 startups against each other in a pitch competition today at the Greek Campus.
This year's Cairo International Book Fair runs through to Tuesday, 4 February at the New Cairo International Exhibition and Convention Center.
News triggers to keep your eye on with the new month approaching:
The purchasing managers' index for Egypt, Saudi Arabia and the UAE is due out on Tuesday, 4 February at 6:15am CLT.
Foreign reserves figures for January will be released on Tuesday, 4 February.
Inflation figures for January are out Monday, 10 February.
DEBT WATCH- Egypt's external debt rose 18% y-o-y to reach USD 109.4 bn at the end of 1Q2019-2020, according to the Central Bank of Egypt's monthly statistical bulletin (pdf).
Domestic debt also rose 8% to USD 270 bn during the quarter.
As China succumbs to coronavirus, Europe's top luxury brand stocks take a USD 46 bn tumble: The top nine European luxury goods stocks have seen a wipe-out of USD 46 bn as one of their main markets is focusing less on designer getup and more on the spread of the coronavirus, according to Bloomberg. China contributes to around 35% of luxury goods revenue with many of the biggest European luxury players having an average revenue exposure to Asia in excess of 40%. Citi believes the stocks most at risk are Swatch, Prada and Ferragamo, but so far LVMH has taken the biggest blow with half of the cumulative market cap wipe-out coming from them.
All of this market turmoil isn't just about the virus — it's concerns about how it will affect the global economy. Investors are growing worried again about the outlook for global economic growth after these concerns were quelled in recent weeks with the approaching US-China trade agreement and the cooling off of tensions between Washington and Tehran, Peter Goodman writes for the New York Times. A large part of these concerns is the lack of adequate information available to accurately assess the severity of the issue and just how much it will impact the world as a whole, which has pushed investors the world over to reduce their exposure to risk. "What was left to the imagination resonated as a reason for investors to unload anything less than a sure thing," Goodman says.
---
In tech miscellany:
WhatsApp revealed it saw a spike in security flaws last year but denies its vulnerabilities were to blame for the now infamous hacking of Amazon chief Jeff Bezos's iPhone, the Financial Times reports,
Big Tech execs jump aboard the regulation bandwagon before it's too late: Heads of Microsoft, Google, Facebook and Apple are now asking for governments to regulate them. Why might tech companies want more rules in play despite actively resisting controls in the past? The answer is likely more strategic than altruistic suggests the WSJ.
Johnson risks wrath of the Donald by giving go-ahead to Huawei: UK Prime Minister Boris Johnson has approved the limited use of Huawei equipment in UK's 5G infrastructure despite repeated warnings from the US that the move will make the UK vulnerable to Chinese spying, according to the Financial Times.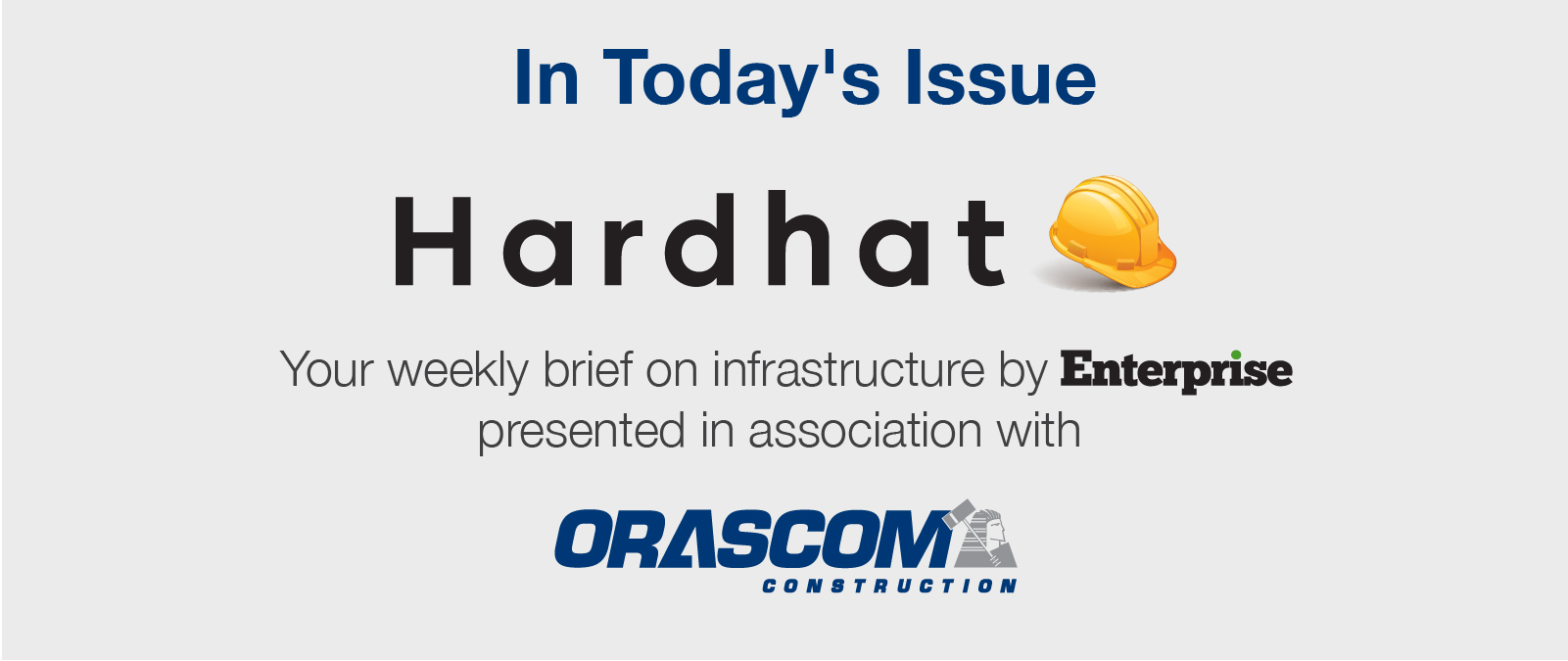 It's Hardhat day — your weekly briefing of all things infrastructure in Egypt: Enterprise's industry vertical, Hardhat, will focus each Wednesday on infrastructure, covering everything from energy, water, transportation, urban development and even social infrastructure such as health and education.
In today's issue: Hardhat gives an extensive primer on the Dabaa nuclear power plant, where the project currently stands, and some insight into the ongoing debate over its safety and economic viability.