Tuesday, 12 March 2019
What we're tracking on 12 March 2019
It's a slow news morning, ladies and gentlemen, as we slide into the final days of the week.
Better investor appetite saw an Egypt-focused exchange-traded fund get highest inflows since 2014: The VanEck Vectors Egypt Index ETF recorded inflows of USD 11.5 mn in the week ending 8 March, the highest on a weekly basis since September 2014, Bloomberg reports. The US-based fund's assets under management rose to its highest level since August, reaching USD 52 mn. "After the stellar week for the VanEck fund, Egypt ranked first on a list compiled by Bloomberg that tracks ETF flows to different countries globally." (You can lean more about ETFs in general here.)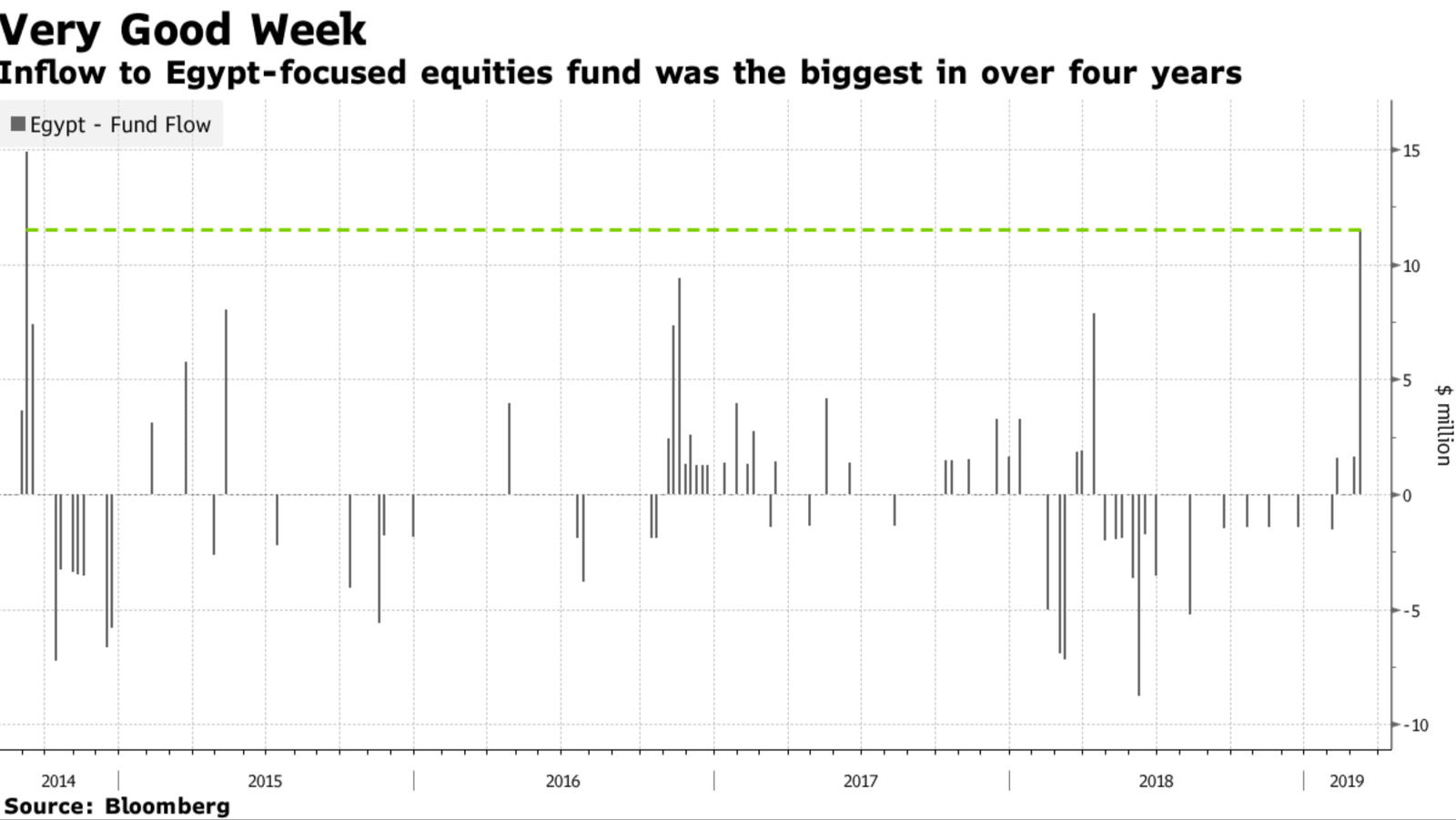 Algerian President Abdelaziz Bouteflika will not seek a fifth term in office. The ailing, 82-year-old president's hand appears to have been forced after generally peaceful protests expanded to include a strike in the country's critical (and sprawling) state-owned petroleum sector. Elections originally scheduled for 18 April have been postponed as Bouteflika "signalled his intention to preside over a transition that would include a national conference to debate political and economic reforms, draft a new constitution and set the date of a presidential election before the end of the year. The constitution would be submitted to a popular referendum." Ring any bells? There's plenty more on Reuters, the FT, Washington Post and New York Times.
---
The Donald has put forward a record USD 4.75 tn budget for the 2020 financial year. The plans would see spending increases in defense and national security and bring the axe down on environmental spending and foreign aid. Also up for cuts: Earmarks to support health, education and transportation. Notably, the budget would increase government spending on small businesses by 17%. The NYT has more.
The document hints that US military aid to Egypt would remain intact, stating that it "fully supports the US diplomatic and security partnership in Egypt." The US earmarks about USD 1.3 bn in military aid for Egypt each year. The US earmarked about USD 1.381 bn in aid (military and economic) to Egypt for FY2019, down from USD 1.419 bn the year before.
Trump's budget is not likely to pass though: The WSJ reminds us that Congress has ultimate authority over drafting and amending the federal fiscal budget. And with the response from House Democrats being far from welcoming, the budget may well result in another government shutdown later this year. For a bit of light reading, we've attached the budget here for your reading pleasure.
---
The world's largest oil and gas giants now seek diversified portfolios, combining projects that pay back quickly with larger, more traditional projects, allowing them to be more responsive to price fluctuations, Bloomberg reports. The approach has allowed them to emerge stronger from the late-2014 fall in energy prices and regain profitability.
Good news for Egypt as well: While investments had already been made in natural gas before the price fall, its value since then has only increased, with one BP executive now calling it "the fastest growing hydrocarbon" and "the future."
In miscellany worth knowing this morning:
Turkey has fallen into recession for the first time in a decade, with official data released on Monday recording a 3% y-o-y slump at the end of 4Q2018. Full-year GDP growth was down to 2.6% in 2018 from 7.4% in 2017. A "collapse" in the lira following last summer's tension between Ankara and Washington and the subsequent raising of interest rates to 24% triggered the crisis, according to the Financial Times and Bloomberg.
The position of Egypt-backed Libyan military commander Gen. Khalifa Haftar has been strengthened by a successful recent offensive in the south-west, the Guardian reports. Haftar now controls two-thirds of the country, including most border crossings and key oil installations, and is more able to dictate the terms of a peace settlement to his rival Fayez al-Sarraj.
Apple is expected to announce a subscription-based streaming TV service at a press event on 25 March, the Verge reports. Reuters also has the story.