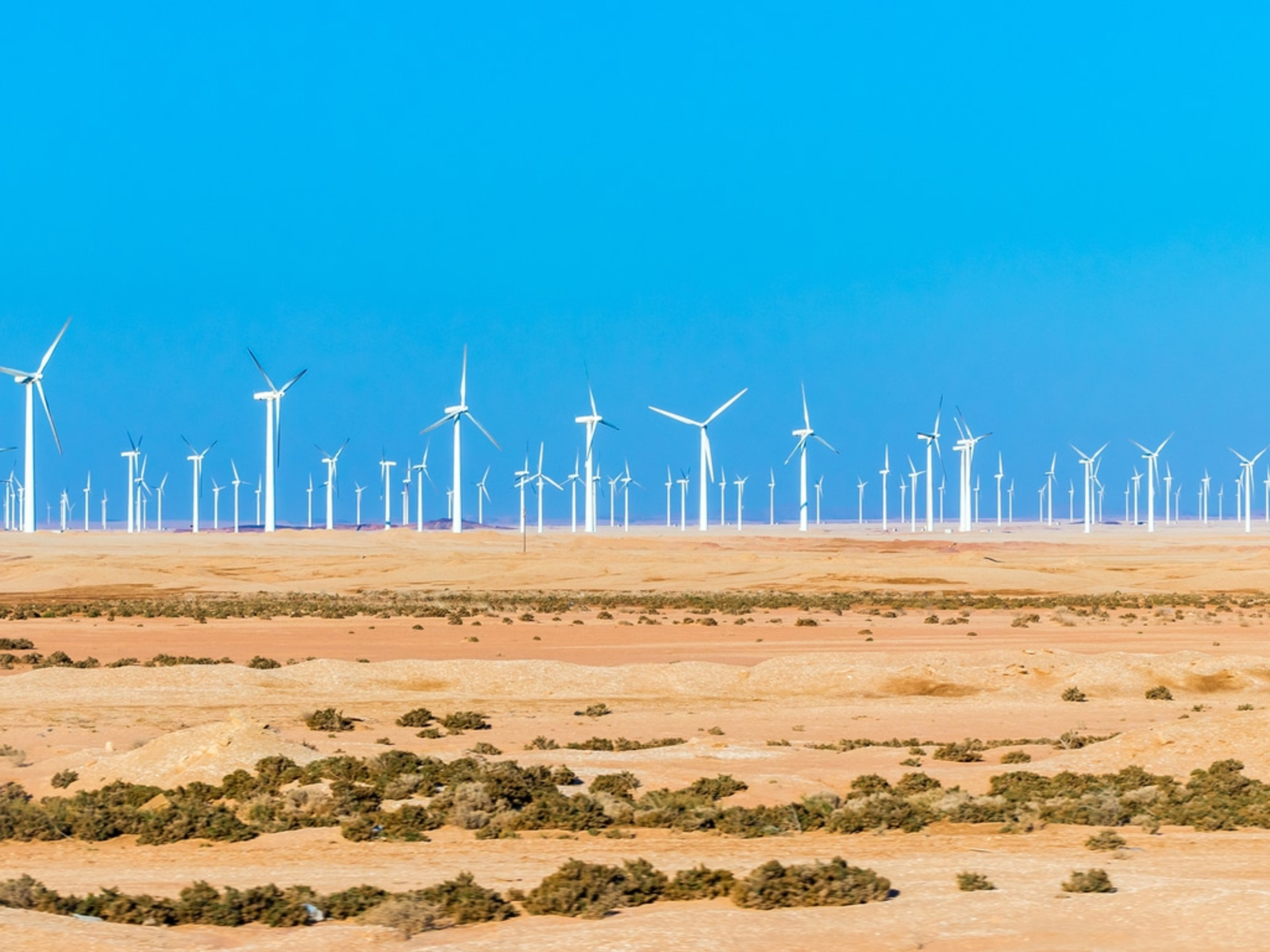 Investing in Egypt's renewables sector: risks and returns. Which of Egypt's energy sub-sectors offer investors the highest returns, and which carry the greatest risks? These are the questions the Economist Intelligence Unit (EIU) attempts to answer in its latest bi-annual examination of Egypt's energy market, tying together production and consumption projections for the coming decade and asking what these could mean for investors in a world recovering from a devastating pandemic and a country still undergoing economic and structural reforms.
In Part I: We look at what the EIU has to say about the development of Egypt's renewables sector over the coming decade. Next week, we'll examine what the 2020s have in store for non-renewable energy in Egypt, including what the natural gas boom means for oil.
First: A look at the macro picture. Egypt is the fourth-largest consumer of energy in the MENA region, but its consumption per head is still relatively low. The large agricultural sector, the country's low reliance on desalination for its water supply, and relatively small hydrocarbon reserves means that Egypt has a lower per capita consumption rate, the report says.
This is set to gradually increase over the coming decade: 2020 saw gross domestic energy consumption reaching 89 mn tonnes oil equivalent (TOE) — a number that will rise to 107 mn TOE by 2030, according to EIU estimates. 2021 is expected to see a 1.8% growth in Egypt's energy consumption, as energy-intensive sectors are revived after a covid slump, according to the report. Egypt's growing domestic energy supplies, such as the Zohr gas field, will help in meeting that demand.
Egypt's energy sector: moderate returns. "Egypt's solid return score is underpinned by its status as MENAs fourth-biggest consumer of energy and by a brighter outlook for domestic energy supplies … Demand for gas and electricity, including from renewable sources, will grow rapidly, supported by an improving economy due to structural reforms," the report says.
And moderate risk: "The global economic contraction caused by the pandemic will remain a major risk in the medium term," EIU writes, as social distancing norms and lockdowns undermine productivity and demand. The global uncertainty will also continue to negatively affect investor sentiment. On the local level, opposition to increased energy prices, currency volatility and fiscal pressure are considered moderate threats to energy investments, the report adds.
Renewable energy capacity will grow rapidly over the next decade: Wind and solar capacity will more than double to more than 8.5 GW by the end of the decade, from 3.7 GW in 2020. Including hydro — which will remain flat over the next nine years — Egypt will have more than 11.5 GW in renewable energy capacity in 2030, from 6.6 GW in 2020.
As will energy generation: Generation from solar and wind energy will more than double over the coming decade, rising to almost 8.4 GWh per year from 4 GWh in 2020.
But the government will fall short of its ambitious targets: The government wants some 10 GW of capacity to be provided by wind — around 12% of the country's electricity supply — by 2022. EIU projections fall far short of this, though still predict wind capacity to "increase markedly" in the coming years, rising to more than 1.8 GW in 2022 before reaching 3 GW by 2030. Solar capacity will follow a similar trajectory, surging from 2.2 GW in 2020 to 5.5 GW by the end of the decade as more large-scale projects come online.
And consumption of renewables won't match the surge of capacity: Consumption is due to rise 22% to 4.7 mn TOE by 2030 from 3.9 mn TOE in 2020. Compared to 67 countries, Egypt is ranked 35th for hydropower consumption for 2030, and 32nd for non-hydro renewables.
The natgas boom might be the biggest obstacle to a true renewables revolution: The low consumption projection has led to the EIU handing renewables one of the lowest risk / return scores — and this is mainly due to the flood of cheap gas entering the market. "The proportion of non-hydro renewables (wind and solar power) in the electricity mix will grow quickly, but — given the ready availability of gas — fall short of the government's highly ambitious targets," the report said.
Another key risk: the GERD will not only mess with our water, but also with our power. "During the forecast period generation of hydroelectric power from the Aswan High Dam is likely to be affected by reduced flows down the Nile, as a result of the filling of the reservoir behind the Great Ethiopian Renaissance Dam," according to the EIU.
---
Your top infrastructure stories for the week:
Al Ahly Sabbour Development will invest EGP 2.5 bn this year to complete real estate projects, CEO Ahmed Sabbour said.
Heliopark tender deadline extended again: Heliopolis Housing has extended for the second time the deadline for private sector firms to bid for developing the Heliopark project in New Cairo to 27 July from 29 June.
Gov't approves multi-bn electric rail contract: Cabinet has approved a contract with a Siemens-led consortium to construct the USD 23 bn high-speed electric rail network.