Monday, 6 March 2023
THIS MORNING: EFG Hermes' One on One investor conference starts today + Foreign reserves rise in February
Good morning, everyone. It's a big day for the regional finance community as the EFG Hermes One on One gets underway in Dubai in just a few minutes' time. But before we jump in, please join us in extending our deepest sympathies to our friends in the Allam family as Hassan, Amr, May, and Mariam mourn the loss — and celebrate the memory — of their father.
IN MEMORIAM- Hassan Allam Holding's Essam Allam passed away yesterday. Essam was an elder statesman of one of the nation's most prominent and storied business families and the father of Amr and Hassan Allam, the company's CEOs today. Hassan Allam Holding traces its roots to 1936, when Hassan Mohamed Allam (Essam's father) founded Hassan Allam Construction. The business flourished and was eventually nationalized in the 1960s, with family members remaining in control of the company even as ownership passed to the state.
Essam and his brothers, including chairman Kamal, launched Hassan Allam Sons in 1976. In testing the boundaries of Sadat's Open Door policy, the brothers built the foundation of a world-class business. Where only one third of family businesses make it through the second generation, they prepared a third generation to lead.
Essam passed on to his sons the human decency, competitive drive, and innovative spirit that characterize the business today. With the second generation's support, Amr and Hassan have transformed Hassan Allam into a champion of the private sector — a fully institutionalized business with 34k employees, a growing international footprint, and a board dominated by both independent and non-executive members.
The aza will be held tomorrow (Tuesday, 7 March) at Field Marshal Tantawi Mosque in New Cairo. Essam Allam's obituary is here in Al Ahram. His passing is being widely noted in the press: Al Shorouk | El Watan | Masrawy.
---
The global emerging and frontier market finance community is gathering in Dubai as the EFG Hermes One on One kicks off in a few short minutes. The largest investor conference in frontier and emerging markets — which is running this year under the theme Outplaying Challenges — brings together more than 560 fund and portfolio managers and C-suite execs from almost 180 companies in 29 countries.
What to expect from day one: The day will kick off with a welcome note from EFG Hermes Holding CEO Karim Awad, followed by a chat and Q&A session with our friend Sovereign Fund of Egypt CEO Ayman Soliman. EFG Hermes Research managing director and head of strategy Simon Kitchen will also be running the conference's customary live poll. Attendees will then break out for one-on-one meetings that will see global investors meet face-to-face with top execs from top frontier and emerging market companies.
We'll have coverage of day one and the results of the 2023 One on One Survey for you tomorrow.
ALSO HAPPENING TODAY-
Today in the Senate:
The Senate will examine a request by Senator Hayam Benjamin to offer Egyptian expats incentives to increase remittances;
Financial Regulatory Authority head Mohamed Farid will join the Senate Economic and Financial Affairs Committee to discuss regulating guarantees from clients of NBFS firms;
The Industrial Committee will look into efforts to support SMEs;
The Education Committee will review the Education Ministry's efforts to clamp down on tutoring centers. Minister Reda Hegazi last year scrapped plans to start licensing private tutoring centers following backlash.
---
WATCH THIS SPACE #1- Has the CBE moved forward its March policy meeting? That's according to economist Mostafa Badra, who said on Ala Mas'ouleety last night that the central bank will now meet on Saturday, 18 March, rather than 30 March as is currently scheduled (watch, runtime: 17:14). Badra didn't explain how he obtained this information. As of this morning the meeting schedule on the CBE's website is unchanged.
WATCH THIS SPACE #2- Signs of more investment from ADP? The CEO of Abu Dhabi Ports was in town yesterday for talks with President El Sisi about developing ports and logistics zones, Ittihadiya said in a statement.
REMEMBER- The ADQ-owned company has been pushing aggressively into Egypt's maritime sector. It said in 2021 that it could invest USD 500 mn to develop a terminal at Ain Sokhna port and one at Safaga port, and is expected to bid in the upcoming tender for the Tenth of Ramadan dry port. It also recently purchased a controlling stake in local shipping and logistics firm International Associated Cargo Carrier. It was also reported to be in talks to take over the development and management of the Suez Port, which the government has denied.
DATA POINT: Egypt's net foreign reserves inched up to USD 34.35 bn in February from USD 34.22 bn in January, according to central bank data out yesterday. Reserves have been on a gentle upward slope the past six months and are now up by more than USD 1.2 bn since the end of August. Reserves fell 20% last spring on the back of the war in Ukraine and tightening financial conditions.
FACT CHECK- No, public transport fares have not increased. The cabinet released a statement yesterday denying rumors that mass transit (microbuses and buses) fares increased in response to the latest round of fuel price hikes. Last week's decision by the fuel pricing committee should have no impact on fares because diesel prices were left unchanged at EGP 7.25 per liter, the statement said.
PSA- The mercury in the capital is set to dip in the coming days following a brief balmy spell, with daytime highs falling to 21-23°C through to Wednesday, according to the latest forecast from the Egyptian Meteorological Authority. Temperatures will rise to 26°C by the end of the week.
HAPPENING THIS WEEK-
The Higher Education Ministry is due to unveil a national strategy for higher education tomorrow.
The US defense secretary is in Egypt: US Secretary of Defense Lloyd J. Austin is in the region this week for a multi-day trip that will take him to Egypt, Israel and Jordan. The Pentagon has not disclosed Austin's itinerary.'
Austin started the visit in Jordan yesterday, where he met with King Abdullah to discuss the escalating violence in the West Bank. Abdullah emphasized "the need to restore calm and de-escalate in the Palestinian Territories, as well as cease any unilateral measures that undermine stability and peace prospects, the palace said in a statement following the talks.
Inflation figures for February will land at the end of this week. Consumer prices accelerated at their fastest pace in five years in January on the back of record food price inflation triggered by the devaluation of the EGP.
---
THE BIG STORY ABROAD-
There's no single story dominating the global conversation this morning: US politics is getting play in the Associated Press, Reuters and the New York Times, which are running stories on Biden's trip to Selma to commemorate Bloody Sunday, growing conflict in the Republican Party ahead of the 2024 presidential race, and Trump rival Ron DeSantis' potential run for the Republican nomination.
MEANWHILE- The Wall Street Journal reports that public companies are revealing CEO pay for the first time while the Financial Times leads with the news that one of Credit Suisse's oldest shareholders has offloaded his entire stake.
In Tunisia: Things are getting ugly as President Kais Saied pivot to anti-immigrant rhetoric triggered attacks on sub-Saharan Africans and the arrest of hundreds of migrants by authorities, according to the Wall Street Journal. Saeid — who's facing mounting opposition following his power grab in 2021 — last month accused opposition parties of a "criminal plot" to replace Arabs and Muslims with black African immigrants.
SIGNS OF THE TIMES–
Things aren't getting easier for US tech startups: Having burned through more than USD 12 bn last year, newly-listed US tech companies are struggling for cash and many face having to make a difficult choice between steep capital raises, major cutbacks or takeovers. (Financial Times)
People aren't rushing to the Metaverse: Facebook's parent company Meta has cut the price of some of its Quest virtual reality headsets by up to a third, in part thanks to lower-than expected demand. (Bloomberg)
The US army loves robot dogs: Robotic quadrupeds of the sort popularized by Boston Dynamics are increasingly being integrated into US military ops for surveillance and security. (Task and Purpose)
Missed this week's Inside Industry? In our weekly vertical exploring all things industry and manufacturing, we looked at how the government's recent steps to reduce our reliance on imports and cut down on the trade deficit have affected export growth.
MARKET WATCH-
UAE denies report claiming it wants to split with OPEC: The UAE "has no plans" to exit the OPEC oil cartel, unnamed officials told Bloomberg, denying a report in the Wall Street Journal that claimed the country was considering splitting from the group amid a rift over output levels. The officials told Bloomberg the country has for years been considering a move away from the cartel but decided that the potential fallout with key neighbors would be too great a price to pay. The UAE has repeatedly said it will stick to planned OPEC production cuts through the end of 2023, though investment bank RBC Capital Markets has said the country may be itching to up output as it deploys USD bns to boost upstream production.
The WSJ report triggered an oil sell-off: Brent crude fell as much as 2.8% on the WSJ report on Friday, before paring losses to finish 1.3% in the green. Brent was down 0.6% ahead of dispatch this morning.
We are delighted to share with you that the Enterprise Exports & FDI Forum will be taking place on Monday, 15 May at the Four Seasons Hotel at Nile Plaza.
DO YOU WANT TO ATTEND? The first wave of invites is going out soon. If you're a C-suite exec, exporter, investor, official, banker, or someone who should be part of the conversation, please TAP OR CLICK HERE to request a spot at this exclusive event.
What's the Enterprise Exports & FDI Forum? It is the latest in our series of must-attend, invitation-only gatherings for C-suite-level business leaders. The Enterprise Exports & FDI Forum will discuss the critical topics of exports and foreign direct investment (FDI) in Egypt.
We will be taking an in-depth look into some of the most vital industry topics, including:
How to effectively break into new export markets
How to leverage domestic trends in order to create export opportunities
What foreign investors are looking for
What the government's role should be
Why now? Exports and foreign direct investment (FDI) have never been more important to our economy — or our businesses — than in the wake of the float of the EGP. We think we have a once-in-a-lifetime chance to build an export-led economy that makes us a magnet for FDI, and all the benefits that will come with it for our nation.
Think of the Enterprise Exports & FDI Forum as a hands-on lab for how to turn the devaluation of the EGP into something that will turbocharge your company and our economy.
WANT TO SHARE YOUR STORY ON STAGE? Drop a note to Patrick here and let's talk.
WANT TO BECOME A COMMERCIAL PARTNER? Ping a note to Moustafa, our head of commercial, here.
---
CORRECTION- The Samih Sawiris-led redevelopment of the Mogador resort in Essaouira, Morocco could be worth upwards of MAD 4 bn, not as much as AED 4 bn as we wrote in yesterday's EnterpriseAM and EnterprisePM. The story has since been updated on our website.
CIRCLE YOUR CALENDAR-
The House is still out: The House of Representatives will reconvene on Sunday, 19 March.
RiseUp Summit 2023: The annual RiseUp Summit takes place at the soon-to-open Grand Egyptian Museum at the Giza pyramids complex from 16-18 March. The event brings together more than 150 startups and 250 speakers from around the world to talk entrepreneurship and innovation. Tickets can be purchased at TicketsMarche.
Check out our full calendar on the web for a comprehensive listing of upcoming news events, national holidays and news triggers.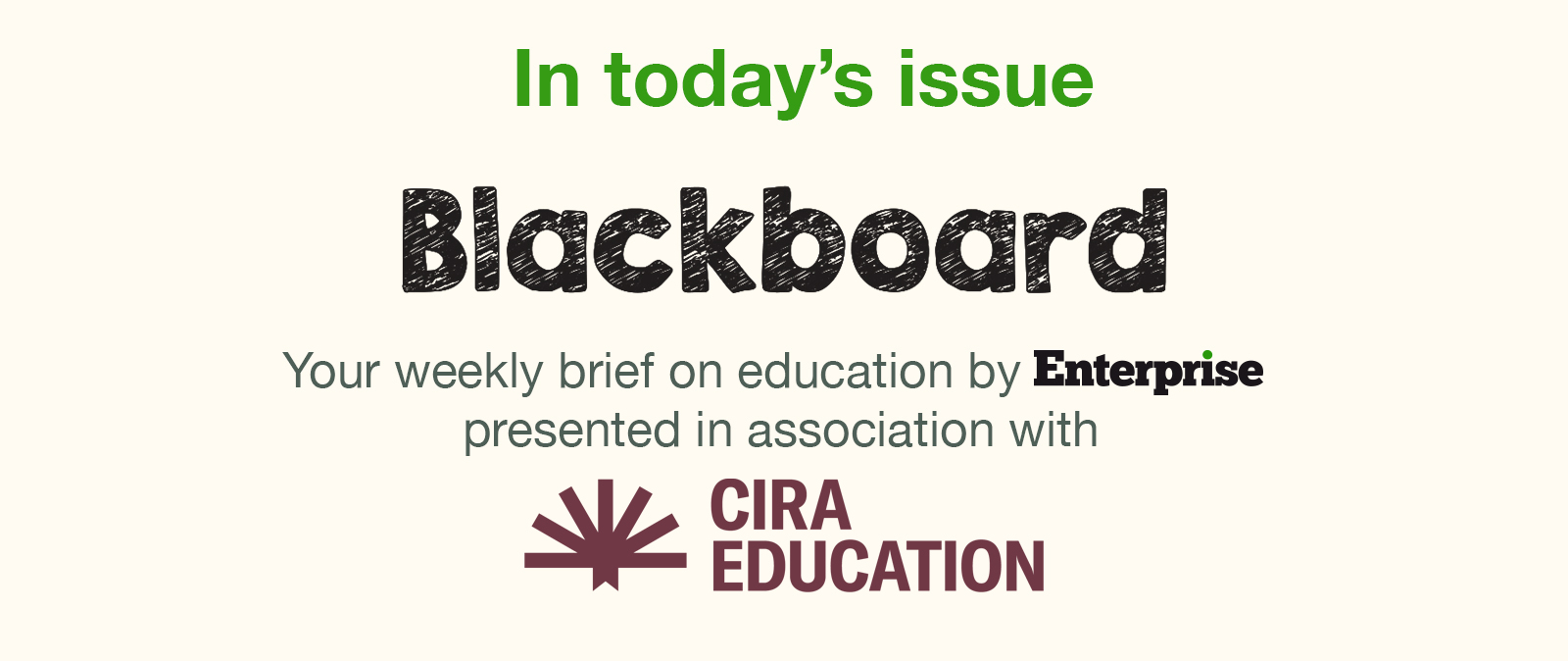 *** It's Blackboard day: We have our weekly look at the business of education in Egypt, from pre-K through the highest reaches of higher ed.
In today's issue: We give a rundown of the scholarships and financial support packages available for students amid soaring living costs.