Sunday, 15 January 2023
THIS MORNING: Chinese Foreign Minister Qin Gang is in town
Good morning, wonderful people, and welcome to a brand new week.
THE BIG STORY here at home continues to be movements in the EGP: Signs last week that foreign investors are starting to return to the local market have set the stage for an interesting day in the interbank FX market today. We'll be keeping a close eye to see which way the EGP / USD rate moves from its current level of 29.61 to the greenback on Day Three of the float.
What to watch for: Trading dynamics on Wednesday and Thursday suggest that the start of the business day in London means a lot for the EGP — it started rebounding against the USD just after 10:30am CLT both days. The workday begins for most London-based institutions at 8:30am local time.
DATA POINT #1- Egypt's trade deficit widened in October 2022 to USD 3.58 bn, up 21% from October 2021, according to figures (pdf) from the state statistics agency Capmas.
Exports fell almost 10% y-o-y in October to USD 3.77 bn, down from USD 4.16 bn in October 2021. Capmas attributed the lower exports to declining oil and fertilizer prices.
Imports rose slightly to USD 7.35 bn, up 3.0% y-o-y from USD 7.11 bn last year.
THE BIG STORY ABROAD: The revelation that more classified documents were found at US President Joe Biden's Delaware home marks a reputational blow to the president just as he gears up for a tough re-election bid. The Financial Times, Reuters, AP, the WSJ, WaPo, and the NYT have more.
There's bad press for the other world superpower, too: Chinese authorities reported a country wide death toll of 60k covid patients in five weeks after Beijjing relaxed strict covid restrictions, the Financial Times and Reuters report.
MEANWHILE- Egypt shocked Croatia 31-22 at the start of 2023 World Men's Handball Championships. It was Egypt's first-ever victory over Croatia. Egypt next takes on Morocco tonight at 7pm CLT, while Croatia will play the United States at 9:30pm. Whatever happens tonight, Egypt will play its next group stage match against the United States on Tuesday at 7pm.
HAPPENING TODAY-
Chinese Foreign Minister Qin Gang will meet with Foreign Minister Sameh Shoukry in Cairo, state-owned agency MENA reports. The pair will hold a press conference after their meeting. Egypt is the last stop on an African tour that saw Qin last week visit Ethiopia, Gabon, Angola, and Benin.
THIS WEEK-
Tourism Minister Ahmed Issa is making an appearance at AmCham's monthly luncheon tomorrow, where he will speak on the government's strategy to develop Egypt's tourism industry. The event will be held at the Four Seasons Nile Plaza Hotel, Plaza Ballroom, from 1:30pm.
It's Davos time: The great and the good of global finance, business, politics and media will converge on the Swiss town this week to chew over the biggest challenges facing the planet. With "Cooperation in a Fragmented World" the chosen theme for this year's event, expect discussions to be dominated by the war in Ukraine, deglobalization, and food and energy security.
Representing Egypt at this year's event are Planning Minister Hala El Said and International Cooperation Minister Rania Al Mashat, who will take part in a number of panel discussions over the five days.
PSA- It's a short week in the US of A: Our readers in the US are off tomorrow in observance of Martin Luther King Day. Here at home, we'll next observe a public holiday on Thursday, 26 January.
---
We have a COP28 president: Sultan Al Jaber, the head of the UAE's state oil company, Adnoc, has been appointed to lead the COP28 climate summit which will be hosted in Dubai later this year. He will take the reins from current COP president Sameh Shoukry, who will spend the remainder of his presidency trying to negotiate the details of the landmark loss and damage fund agreed at COP27.
His appointment hasn't gone down well with the activist set, who are questioning the decision to allow the head of one of the world's largest oil companies to preside over the climate summit.
Al Jaber's appointment and backlash is getting coverage from several international media outlets: AP | Reuters | Bloomberg | FT | BBC | CNBC.
The House of Representatives is back in session and has a busy agenda for the next three days.
Today is econ heavy. The House is set to discuss and vote on agreements that could see Egypt join three multilateral economic entities:
The African Development Bank's food security and economic resilience support program, which has offered us a USD 271 mn loan;
the BRICS economic group's USD 100 bn multilateral lender New Development Bank;
and a multilateral agreement offering administrative assistance on tax matters.
MPs will also table 30 questions on recent economic developments, ranging from the IMF loan to newly introduced budget cutbacks. The House will also discuss and vote on amendments to the law regulating police officers' performance and disciplinary measures against them.
Oil exploration bill on Monday: The House will vote tomorrow on a draft law that allows the Oil Minister to contract the Egyptian General Petroleum Corporation (EGPC) and Brenco to explore for oil offshore North Sinai.
Tuesday will see Water and Irrigation Minister Hani Sewilam face questions from MPs.
MEANWHILE- National dialogue kickoff postponed: The board of trustees of the national dialogue has pushed back the 14 January date set for its launch, after political parties failed to name their representatives to the sessions on time, National Dialogue General Coordinator Diaa Rashwan said on Friday (watch, runtime: 36:15). The board will meet midweek to set a new date for the kickoff, which will be "very soon," Rashwan said. The dialogue's 19 subcommittees are set to meet 3-6 times per week to discuss around 122 issues in total, Rashwan said, with high inflation and public debt topping the agenda of the 45 issues set to be discussed by the economic subcommittee.
---
DATA POINT #2- The majority of our wheat imports (57%) came from Russia in 2022, up from 50% in 2021, Reuters reports. Russia accounted for the lion's share of our wheat imports last year despite a 6.7% y-o-y in decline in shipments from the country, as total wheat imports fell 18.7% y-o-y to 9.5 mn tons. Ukrainian shipments, meanwhile, made up just 8.9% of the total, down from 28% in 2021.
If the price is right: "It's about the prices of course. We tender, and we check free-on-board and freight costs and then we buy no matter the origin," Supply Minister Ali Moselhy is quoted as telling Reuters.
ICYMI- War in Ukraine sent international grain prices soaring last year, forcing Egypt — the world's largest importer of wheat — to rely more on the local harvest, diversify the source of its imports, and pivot from international tenders to direct purchases on the global markets.
CORRECTION- In Thursday's edition of EnterpriseAM, we incorrectly said Tarek Metwally is currently the deputy managing director of Blom Bank Egypt. Metwally resigned from his position in 2018. Rabih El Halabi (LinkedIn) is Blom Bank Egypt's current deputy managing director. The story has been amended on our web edition.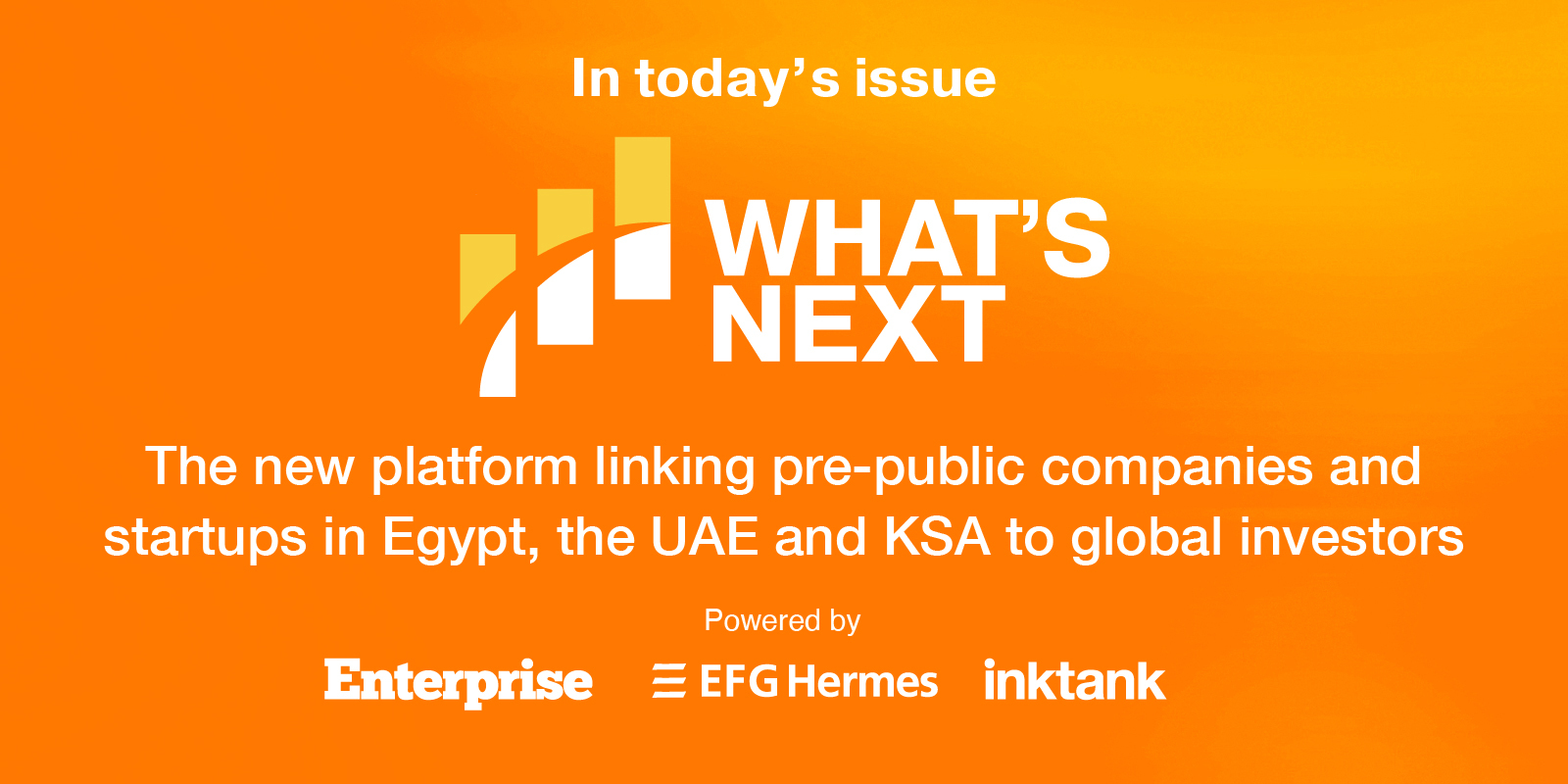 *** It's What's Next day: We have our weekly deep-dive into what makes and shapes pre-listed companies and startups in Egypt, the UAE and KSA, touching on investment trends, future sector insights and growth journeys.
In today's issue: What does 2023 have in store for StartupLand?