Wednesday, 11 January 2023
THIS MORNING: Goldman Sachs thinks the EGP has further to fall — even though its has probably already overshot its fair value
Good morning, friends, and welcome to the first "big" news day of 2023.
THE BIG STORY HERE AT HOME remains the EGP, but we also have news of CIB getting in on the high-yield CD frenzy, the Finance Ministry's five-year tax policy document, and the World Bank's move to (slightly) downgrade Egypt's growth forecast.
EGP WATCH- The EGP fell around 0.25% against the greenback yesterday to settle at 27.70, according to the central bank rate, after dropping almost 2% on Monday. The currency is down more than 11% since its level immediately before the central bank allowed it to slip further against the USD on 4 January, and has fallen around 75% from its 15.78 / USD level immediately before the initial devaluation last March.
The question we all need to be asking ourselves: Are we there yet? According to Goldman Sachs, not quite. "We believe that the adjustment is as yet incomplete and has significantly further to run before the supply-demand equilibrium in the FX market is restored," Goldman's Farouk Soussa wrote in a note to clients yesterday. While Soussa says we have made "progress in recent weeks," the absence of big inflows from the GCC and the Central Bank Egypt's limited ability to provide FX liquidity to the market "implies further EGP weakness and / or increases in local rates in the coming days."
So, where will we settle? "How much further the EGP will depreciate is unclear to us," Soussa writes, reiterating that the EGP probably needs to hit the depreciation implied by the parallel market. While we're at EGP 27.70 to the greenback right now, "the ADR-implied parallel rate is closer to 35 EGP / USD (the gold price-implied rate is around 33 EGP / USD," he says.
Still, we shouldn't lose hope: The EGP has already overshot its far value "as implied by deviations of the real effective exchange rate from its long-run average," Soussa writes. As happened back in 2016, the overshoot is "likely to prove temporary," he suggests, as it triggers both foreign direct and portfolio investment, bringing the EGP closer to its fair value "in the medium- to long-term."
MEANWHILE- CIB is getting in on the CDs frenzy, launching 18-month, 22.5%-yield certificates of deposit (CDs). The minimum buy-in is EGP 100k, according to its website. Buyers can opt for a one-time payment of 22.5% when their CDs mature, or can go for monthly interest payouts at a reduced 20.0% annualized rate. The CDs from the nation's largest private-sector lender come on the heels of the one-year, 25% CDs released by state-owned Banque Misr and National Bank of Egypt last week, which as of yesterday morning had attracted at least EGP 155 bn.
---
THE TAXMAN ALWAYS RINGS TWICE- What to expect from the government's tax policy document: Finance Minister Mohamed Maait gave us an early look at the ministry's five-year tax policy document yesterday ahead of its unveiling in a few weeks by President Abdel Fattah El Sisi. The document could introduce changes to the capital gains and income tax but the 22.5% corporate income tax rate will remain unchanged, Maait said. Tax amendments are on the Madbouly government's agenda as part of its commitments to the IMF under its USD 3 bn loan agreement. We have more on this in the Economy section below.
We're getting what business longs for: Predictability. After the document's ratification, the tax system will remain untouched for five years' time, Maait said. The state has been working to drum up more investments after 2022 saw almost USD 20 bn in outflows as rising interest rates around the world and soaring inflation triggered a global risk-off and sent Egypt's real interest rate into negative territory.
ALSO- More details on the budget cutbacks to come: The Finance Ministry is currently working with the Planning Ministry on instructions for all state agencies on where they need to trim the fat. The cabinet announced budget cutbacks for FY2022-2023 earlier this week in response to rising inflation (more on that below) and the ongoing FX crunch.
---
GROWTH FORECAST- The World Bank has revised down its growth forecast for Egypt this fiscal year to 4.5% from a previous forecast of 4.8%, according to its latest Global Economic Prospects report (pdf). The multilateral lender said high inflation, weakening external demand in our manufacturing and tourism sectors, fiscal and monetary tightening, our "large" current account deficit, and potential trade disruption from "rules governing sourcing of foreign currency" would all work to bring growth down from the estimated 6.6% it registered in FY 2021-2022.
The whole world is hurting: The bank slashed its global growth forecast for 2023 by almost half to 1.7%, down from its June prediction of 3.0%, on soaring inflation, aggressive policy tightening cycles and other knock-on effects of the war in Ukraine. The bank revised down growth forecasts for 95% of advanced economies and nearly 70% of EMs, it said in a statement accompanying the report. For EMs, "weakness in growth and business investment will compound the already-devastating reversals in education, health, poverty, and infrastructure and the increasing demands from climate change," said World Bank President David Malpass.
---
THE BIG STORY ABROAD in the international business press is the kickoff of Goldman Sachs' biggest cost-cutting drive since the global financial crisis. The cuts, which could see Goldman slash some 3k jobs, is getting top billing at the Financial Times, while the WSJ hones in on the recent rally in European stocks. Crypto exchange Coinbase, meanwhile, has laid off another 20% of its workforce, the New York Times notes.
I REALLY DON'T CARE, DO U?
The Golden Globes entertainment awards were wrapping up as we approached our dispatch deadline this morning.
The World Economic Forum takes place next week in Davos, running 16-20 January.
---
FROM THE REGION- Has Libya called off its Med energy exploration agreement with Turkey? A Libyan court on Monday suspended the controversial energy exploration pact the country made with Turkey last year, Reuters reports citing an unnamed judiciary source.
Why we care: Egypt and Greece had rejected the Libyan-Turkish agreement, arguing that Libya's Tripoli-based government did not have the authority to conclude any international agreements or MoUs. While details of the agreement remain obscure, Reuters reported last year that it could include exploration rights in the so-called "exclusive economic zone" drawn up by the two countries in 2020, which Egypt and Greece disputed with their own rival agreement demarcating the maritime border in the oil and gas-rich East Med.
CIRCLE YOUR CALENDAR-
The national dialogue will kick off on Saturday, 14 January.
Davos 2023: The usual suspects will descend on the Swiss town for the annual meetings of the World Economic Forum on 16-20 January.
Egyptian expats have until 14 March to import cars for cheap: The expat car import scheme will conclude on Tuesday, 14 March with no wiggle room for extensions or exemptions, Finance Minister Mohamed Maait said during a presser yesterday, according to a Finance Ministry statement. The deadline was initially set for 15 February but was pushed after the ministry introduced amendments to make it easier for Egyptians abroad to take advantage of the scheme. Some 34k accounts have been created on the system for the scheme, though it's not clear how many of those have submitted applications so far (the number of applications stood at just 4k toward the end of December.)
Check out our full calendar on the web for a comprehensive listing of upcoming news events, national holidays and news triggers.
ENTERPRISE IS LOOKING FOR SMART, TALENTED PEOPLE of all backgrounds to help us build some very cool new things. Enterprise — the essential daily read on what's happening in business, finance, economics and policy in Egypt and the wider region — is looking for writers, reporters, and editors to help us build new publications. We're looking for gifted story-tellers from all walks of life and across all professions, as long as they show a keen interest in learning to write about the stories, topics, businesses, and ideas moving markets. Egyptian and foreign nationals alike are welcome to apply.
NEVER WORKED IN A NEWSROOM BEFORE? We have the Enterprise Business Writing Development Program. The four-month program will see full-time, paid participants take part in workshops and lectures from veteran business journalists, while also working on and filing stories that will run in our publications. Those who successfully complete the program will then be offered full-time positions on staff.
During the program you will learn:
The key news stories and trends shaping business and the economy in Egypt and the region, across various sectors;
Business and finance for non-finance people: Whether it's industry jargon, key concepts, or simply how to read a an income statement;
How to construct an Enterprise story: From idea formulation down to the structure, style, and tone of writing;
The ins and outs of a newsroom, including how to develop sources that will give you the key insights needed to tell a complete story;
How to communicate these stories with the confidence and language of an insider.
Apply directly to jobs@enterprisemea.com and mention "writing development program" in your subject line.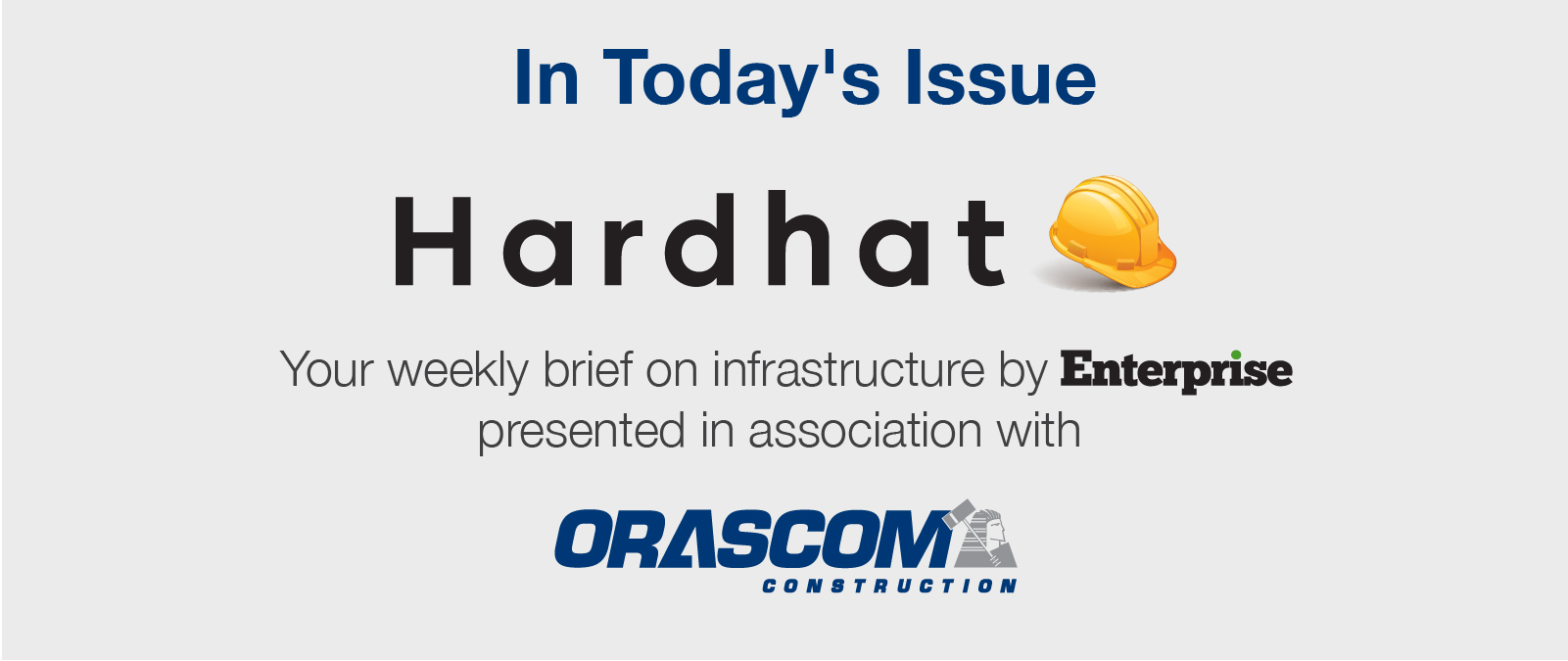 *** It's Hardhat day — your weekly briefing of all things infrastructure in Egypt: Enterprise's industry vertical focuses each Wednesday on infrastructure, covering everything from energy, water, transportation, and urban development, as well as social infrastructure such as health and education.
In today's issue: Will new rules for classifying contracting companies help stem the industry's losses?