Monday, 5 December 2022
THIS MORNING: The Enterprise Climate X Forum is happening tomorrow + It's PMI today
Good morning, friends, and happy Monday.
We're looking forward to meeting many of you tomorrow at 8am at the Grand Egyptian Museum for our inaugural Enterprise Climate X Forum.
If you're attending: Please plan to arrive on time for our 8am standing networking breakfast. Traffic in the area surrounding the GEM has been heavy of late, so you will likely want to leave a few minutes early.
** You will need a special QR code to gain admission to the GEM. Everyone who received and completed our online registration form got their QR code by email yesterday. If you registered online and did not receive a QR code, please reach out to us today.
We regret that overwhelming demand from the community meant we could not welcome everyone who expressed interest in attending.
STAY TUNED- The Enterprise Climate X Forum is our first large-scale event, but it's not our last. We look forward to welcoming many more of you at our slate of Enterprise X Forums coming up in 2023.
---
HAPPENING TODAY-
It's PMI day: S&P Global will tell us how Egypt's private sector performed in November when it publishes its latest purchasing managers' index a few minutes after we hit send on this morning's issue. You'll find it here at about 6:15am CLT.
REWIND- The private sector was continuing to struggle with the impact of inflation and supply chain snarls in October, with the PMI remaining effectively unchanged at 47.7, firmly below the 50.0 threshold that separates growth from contraction.
The smart money: Expect the contraction to have deepened in November on the back of the EGP float and heightened inflationary pressures.
FYI- Another month of contraction and it will have been two years since private-sector business activity last recorded growth — the last time the PMI was in the green was all the way back in November 2020.
MEANWHILE- It's the opening day of Food Africa 2022 at the Egypt International Exhibitions Center. More than 440 exhibitors from 28 countries will be at the food expo, which runs through to Wednesday.
On the House agenda today:
Competition Act: The remaining articles of the Competition Act are set to be discussed and passed by the House today, with a final vote expected tomorrow.
Western Desert exploration agreements: The General Assembly will discuss three oil exploration agreements in the Western Desert signed with Energean and Croatia-based INA; Kuwait Energy Egypt; and Egyptian National Petroleum For Exploration and Development Company (Enpedco).
FRA boss to discuss fintech regs: Financial Regulatory Authority Chairman Mohamed Farid will appear before the House Economic Affairs Committee to discuss the legislative impact of amendments to the Fintech Act and the Capital Market Law.
LATER THIS WEEK-
Samir in the hot seat: Trade and Industry Minister Ahmed Samir will face questions from MPs tomorrow on issues facing manufacturers, including on licensing and exports, as well as what the ministry is doing to solve the crisis in the automotive industry.
---
WATCH THIS SPACE-
#1- The Electricity Ministry will start allocating land for the nine green hydrogen projects signed at COP27 within the next few days, Electricity Minister Mohamed Shaker reportedly told Al Mal. The cabinet had signed off last week on agreements with international power companies to construct nine green hydrogen and ammonia facilities in the Suez Canal Economic Zone, which were made during last month's climate summit and could require as much as USD 83 bn to complete. The facilities would collectively produce up to 7.6 mn tons of green ammonia and 2.7 mn tons of hydrogen a year when fully operational.
#2– Expect new rules for short selling to arrive in 1Q 2023: That's according to Al Shorouk, which reported comments made by FRA boss Mohamed Farid at an event yesterday. Farid's statements come as authorities look to boost short selling, which was introduced in Egypt in 2019 but has failed to take off. The FRA, EGX and Misr for Central Clearing and Depository (MCDR) have been in talks with foreign investors and experts, including Citibank, on best practices to boost short selling activity and improve clearing procedures in the country.
WORLD CUP-
France to take on England in World Cup quarter-final: France and England eased through their round of 16 ties yesterday, setting up a tasty quarter-final clash later this week. It was a comfortable 3-0 victory against Senegal for the Three Lions, with Harry Kane getting his first goal of the tournament and Jordan Henderson and Bukayo Saka also finding the net. Earlier in the day, Kylian Mbappe continued his ruthless form in front of goal, scoring twice in France's 3-1 win against Poland and putting him ahead in the race for the Golden Boot.
The R16 continues today (all times CLT):
Shock Group E winners Japan play 2018 finalists Croatia at 5pm.
Tournament favorites Brazil will take on South Korea at 9pm.
THE BIG STORY ABROAD-
Leading the conversation in the global business press this morning: Oil is surging this morning as traders react to yesterday's OPEC+ meeting, the introduction of the Russia oil price cap, and the easing of covid-19 curbs in China — all of which look set to tighten global supply. Brent jumped 2.3% to USD 87.38 a barrel in Asia this morning while US crude was up 2.1% to USD 81.66.
OPEC+ left oil output unchanged at its virtual meeting yesterday as it assesses the impact of Western sanctions on Russian crude and the relaxation of China's covid restrictions on the global market, Bloomberg reports. The alliance, which is led by Saudi Arabia and Russia, had made a surprise 2 mn barrels-per-day production cut at its last meeting in October in efforts to support falling oil prices.
G7 price cap + EU embargo now in force: Today marks the start of an EU embargo on Russian seaborne crude and the introduction of the G7's price cap mechanism, which bans shipping and ins. companies from transporting Russian oil priced at more than USD 60 a barrel.
Moscow's response could have major implications for the oil market: Russian Deputy Prime Minister Alexander Novak said yesterday that Russia will refuse to sell oil subject to the price cap and will opt to reduce production, potentially removing mns of barrels from the global market. Reuters quoted him as saying.
OPEC+ at the ready: The alliance said following its meeting it could "meet at any time" and could "take immediate additional measures" in response to market instability, according to the Financial Times.
MARKET WATCH-
Investors are calling the Fed's bluff: Traders in US treasuries are predicting that the Federal Reserve will resort to two rate cuts at the end of next year as the economy slows, despite the Fed's signals that it will not be reversing course on its monetary tightening cycle, the Financial Times reports. Treasuries futures markets are penciling in a peak for interest rates in May 2023, before they fall back by about 50 bps by the end of the year.
Fed head Jerome Powell recently said the US central bank could start slowing the tightening cycle as soon as its next meeting on 13-14 December, though he also reiterated that more evidence is needed to prove inflation is declining. A strong US jobs report (pdf) published over the weekend also means the Fed is likely to stay on course with its tightening cycle.
ICYMI- Missed this week's Inside Industry? In our weekly vertical exploring all things industry and manufacturing, we asked whether Egypt has what it takes to become an electronic design and manufacturing hub.
CIRCLE YOUR CALENDAR-
Key news triggers to keep an eye on this week and beyond:
Inflation: Inflation data for November will land on Thursday, 8 December.
Foreign reserves figures for November should be out sometime this week.
Interest rates: The Central Bank of Egypt's Monetary Policy Committee meets on Thursday, 22 December to review interest rates.
The cabinet's Information and Decision Support Center (IDSC) will kick off the first session of its new intellectual forum on Thursday, 8 December, according to a statement. The weekly forum will see experts including government officials, academics, representatives of multilateral institutions, MPs, and national dialogue members meet to discuss key policy questions and make recommendations on them to the prime minister.
Thursday's session will cover fiscal discipline and sustainability. The remainder of the December sessions will focus on our investment environment; ways to support sustainable agriculture in line with Europe's Green Deal; and the latest in Ukraine.
Check out our full calendar on the web for a comprehensive listing of upcoming news events, national holidays and news triggers.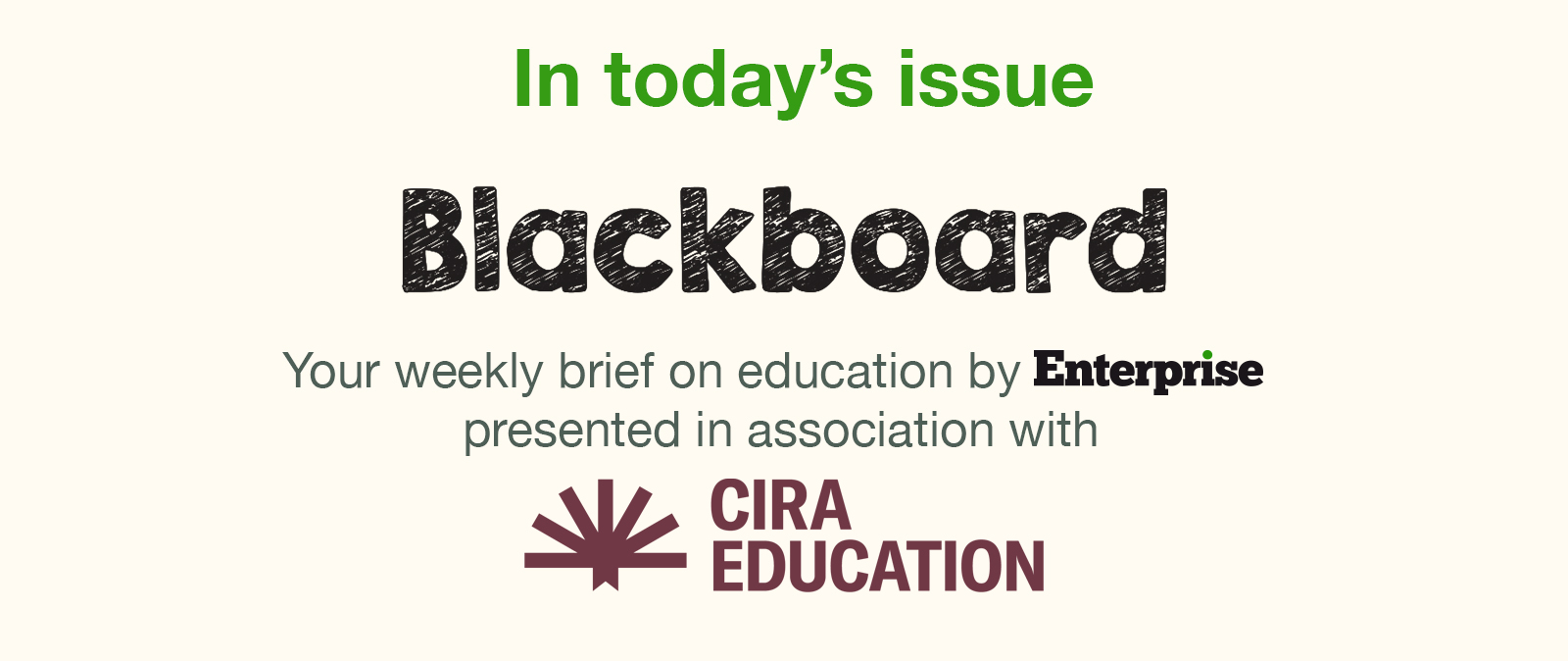 *** It's Blackboard day: We have our weekly look at the business of education in Egypt, from pre-K through the highest reaches of higher ed.