Monday, 28 November 2022
THIS MORNING: More of us are banked than ever before
Good morning, wonderful people, and welcome to one of those good-news, bad-news kind of mornings:
FROM THE DEPT. OF GOOD NEWS: New figures from the CBE suggest that more than 60% of Egyptian adults are now participating in the formal financial system — more than double where we stood just a few short years ago.
FROM THE DEPT. OF NOT GOOD NEWS: Importers are reportedly saying they still can't get goods out of port as the shortage of hard currency lingers even as the central bank moves to lift import restrictions.
There are some near-term catalysts that offer hope the shortage may start to ease in the new year, including the expected approval in December of our IMF facility, continued investment from GCC countries, and the long-awaited opening of the stunning Grand Egyptian Museum, which pundits expect to draw more (bigger-spending) tourists.
(As of this morning, the IMF executive board has released its meeting schedule through 7 December, and we're not on the list.)
BUT BIG-NAME CEOs AGREE- We need a long-term solution. As we all look ahead to 2023, we're more convinced than ever that foreign direct investment and exports need to be at the heart of our nation's economic growth strategy. That's why we published a five-step recipe that has the power to transform Egypt into a major global export hub and turn us into a magnet for FDI — and then talked it over with 20 top CEOs at an invite-only breakfast. In our CEO poll on FDI and exports that will run through December, we asked each leader two simple questions: If you could pick just one champion industry, what would it be? And why do you think FDI and exports are the way forward?
SPEAKING TODAY: McKinsey & Company Senior Partner Jalil Bensouda, at the head of our news well, below.
Did you miss yesterday's installment? We spoke with Mohamed El Dababy, general manager of GSK in Egypt.
We're happy to see frank discussion of how to boost FDI in the Senate: The Senate's financial and economic affairs committee yesterday discussed a report by the pro-government Mostaqbal Watan party that aims to overhaul how we approach FDI.
The 190-page study cites ten obstacles to growing FDI to Egypt, including red-tape, a lack of incentives, gaps in digital government services, and a lack of transparency and accountability. It also highlights the country's investment advantages, including the availability of affordable, skilled labor, and robust infrastructure and transport links. There's also a chapter on how to take the example set on FDI by neighbors including Saudi Arabia, the UAE, and Turkey. Plenty of that meshes with our five-step recipe to boost FDI and exports.
DATA POINT: Our external debt to GDP ratio remains within a "safe range" at 34.6%, Finance Minister Mohamed Maait said at an Egyptian-Chinese investment forum yesterday, according to Hapi Journal. Our high debt levels have been flagged as a risk in parts of the international business press, as the country's external position is pressured by surging commodity prices, rising interest rates, a hot greenback, and turmoil in the financial markets.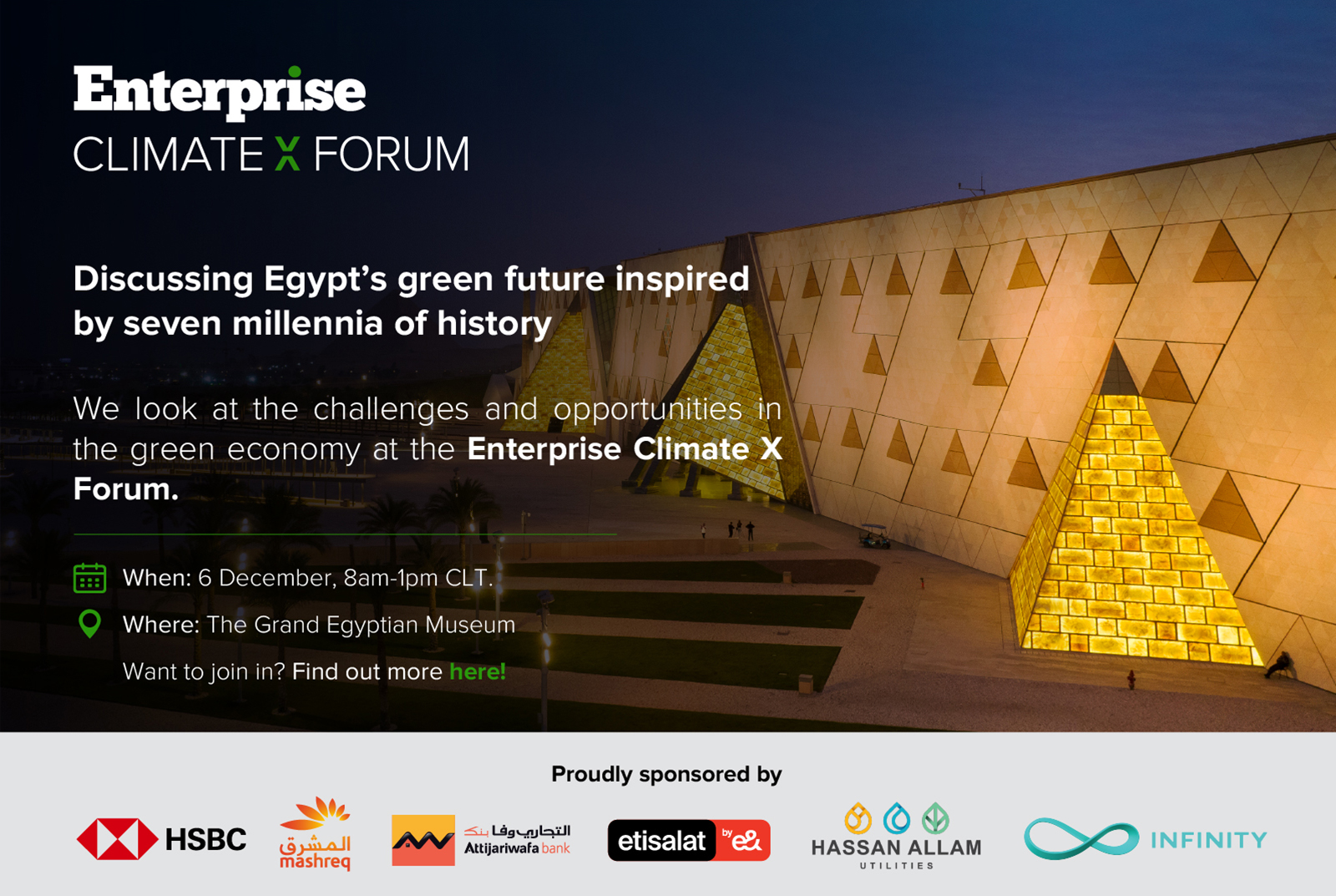 Some of the biggest names in Egypt's climate industry are appearing at our inaugural Enterprise Climate X Forum, which takes place on Tuesday, 6 December at the Grand Egyptian Museum. Are you?
Hydrogen: What is it, what does a "hydrogen economy" look like and how will we know it's becoming real? Jorgo Chatzimarkakis, CEO of industry association Hydrogen Europe, is flying in to help us unpack it.
Three industry leaders will talk about climate as the biggest (and most important) business opportunity of our generation: Mohamed Mansour is co-founder and CEO of Infinity. Amr Allam is co-CEO of Hassan Allam Holding. Jointly and separately, they're building and operating GW worth of renewable energy projects, charging stations, desalination, wastewater, and more. They'll be joined on stage by Sherif El Kholy, partner and head of MENA at private equity giant Actis, who has a passion for investing in green businesses — and for helping conventional businesses put ESG at the core of what they do.
How are we going to pay for it all? Todd Wilcox, CEO and deputy chairman of HSBC Egypt; Tarek El Nahas, group head of international banking at Mashreq; Khaled Hamza, director and head of Egypt at the European Bank for Reconstruction and Development (EBRD); and Nader Abushadi, group treasurer at Dar Group, will help us get our heads around topics including green, sustainability-linked, blended, and concessional finance, as well as how much you need to know about your supply chain.
We'll also be meeting Shift EV's Aly El Tayeb and Algebra's Karim Hussein, the guys who want to be Egypt's first climate bn'aires. They'll be talking with USAID Egypt Mission Director Leslie Reed as well as EFG Hermes Head of Strategy Simon Kitchen, who's flying in from London to talk with us about how business leaders across frontier and emerging markets are getting their heads around climate.
** Have you confirmed your attendance? We'll be sending you on Sunday, 4 December the QR code you'll need to gain admission to the Grand Egyptian Museum, along with a Google Maps link and some other pointers.
Tap or click here for the full agenda.
HAPPENING TODAY-
In the House today: The House of Representatives' manpower committee will hold hearings on the new draft Labor Act today and tomorrow. Representatives from the Egyptian Trade Union Federation and the Federation of Egyptian Industries are expected to attend. The 245-article bill, which was approved by the Senate in February, extends both maternity leave and notice periods, caps working hours, and changes minimum raise increments, among other things. If the House passes the Act, it would replace the current Labor Act of 2003. We have more on the bill's finer points here.
Senate to pass wildcat building bill today: The Senate is today expected to pass legislation aimed at making it easier for owners of illegal buildings to go legit. Senate Speaker Abdel Wahab Abdel Razek postponed yesterday's vote by a day to give more members a chance to speak on the bill.
MORNING MUST READ-
Missed this week's Inside Industry? In our weekly vertical exploring all things industry and manufacturing, we looked at Green Star, the recently announced government program laying out guidelines for companies that will favor low-carbon products for government purchases. The program will be offering a number of incentives to businesses compliant with the new environmental standards.
THE BIG STORY ABROAD–
Protests are spreading from Shanghai to other Chinese cities as citizens take to the streets to voice frustration over years of strict covid restrictions including ongoing lockdowns. Demonstrations spread to the capital Beijing and dozens of university campuses across the country, in a show of civil disobedience the likes of which hasn't been seen in mainland China in decades. China's Hang Seng stock index dropped some 3.7% on this morning's open. Reuters, AP, Bloomberg, and the FT have more.
Goodbye, ordinary Twitter. Hello, "The Everything App": New Twitter boss Elon Musk plans to transform the social media platform into "The Everything App," with features like longfrom tweets, encrypted direct messages, and payments, as part of his plan for "Twitter 2.0," according to slides from an internal presentation he shared in a tweet. The slideshow also claimed new user signups are at an "all-time high" since Musk took over the platform late last month, recording 2 mn new users a day last week, up 66% y-o-y.
WORLD CUP UPDATE–
It's day nine of the World Cup: Teams in Group G and H face off today (all times CLT):
Cameroon v Serbia (12pm)
South Korea v Ghana (3pm)
Brazil v Switzerland (6pm)
Portugal v Uruguay (9pm)
ICYMI- Yesterday's games saw Costa Rica beat Japan 1-0 and Croatia lock in a convincing 4-1 victory against a young, enthusiastic Canadian side that scored its first-ever World Cup goal. The much-anticipated match between Germany and Spain ended in a 1-1 tie. The Germans now need a victory in their next game against Costa Rica to have a chance of advancing to the knockout stage.
Fans riot in Brussels: Violence broke out in several Belgian and Dutch cities after Morocco upset Belgium with a 2-0 victory yesterday, the AP reports. Police in Brussels used tear gas and water cannons to disperse the crowds.
Never a dull moment between the US and Iran: Iran's football federation has called for the US national team to get a ten-game ban for "offending the dignity" of the country, after the US federation displayed Iran's flag on social media without the emblem of the Islamic Republic, the Guardian reports. The US Soccer Federation said it decided to post the image in "support for the women in Iran fighting for basic human rights." The graphic was soon deleted after a wave of outrage on social media. It's all ramping up the tension ahead of the two teams' final Group B match on Tuesday.
MARKET WATCH-
Iraq will ring in the new year with more oil exports: OPEC's second-biggest oil producer will boost its oil export capacity by 150-250k barrels per day starting next year, the country's national representative at OPEC Mohammed Saadoon said in an interview with Saudi broadcaster Al Ekhbariya (watch, runtime: 11:15). Next year's increase is part of Iraq's longer-term plans to add 1-1.5 mn bpd to its oil exports by 2025, from a current 3.3 mn bpd. The country will fix up its Khor Al Amaya port and marine pipelines to help it increase export capacity, Saadoon said.
Expect a wild week in the oil markets: Geopolitical uncertainty has sent global crude prices on a rollercoaster ahead of a planned price cap on Russian crude and a meeting of the OPEC+ cartel next week, the Wall Street Journal reports. OPEC+ will meet next Monday, 4 December, amid reports that it could look to partially reverse production cuts agreed in October. The next day, the EU will likely move to ban imports of most Russian crude while Western allies are expected to introduce a price cap. Brent futures have swung by 1% or more almost every trading day in November thanks to the uncertainty. Brent is currently trading at around USD 83.74.
CIRCLE YOUR CALENDAR-
PSA- The deadline to apply for the Chicago Booth Executive Program in El Gouna has been pushed one week to next Sunday, 4 December. The two-week program, which kicks off in March 2023, offers executives from Egyptian public and private sector the skills to help them "become a better leader for your organization and support Egypt's growth in the years ahead." You can find more information here.
Payment and fintech conference Pafix is being held as part of Cairo ICT 2022 through Wednesday at the Egypt International Exhibition Centre in New Cairo. The conference kicked off yesterday.
The US and Russia will hold nuclear talks in Cairo this week: Washington and Moscow will discuss resuming mutual nuclear inspections during week-long talks from tomorrow until next Tuesday, 6 December, Russian Deputy Foreign Minister Sergei Ryabkov said, according to CNN.
EGX-listed Pachin will brief shareholders on acquisition offers it has received in its ordinary general assembly on Tuesday, 20 December, according to an EGX disclosure (pdf). Dubai-based National Paints Holdings is offering to purchase 100% of Pachin for EGP 29 per share — far outbidding earlier offers from Universal Building Materials and Chemicals (Sipes) and Saybad Industrial Investment that have since been withdrawn.
Pachin's board gave the Emirati firm the greenlight to conduct due diligence on 13 November, Al Mal reports, citing an EGX disclosure.
Check out our full calendar on the web for a comprehensive listing of upcoming news events, national holidays and news triggers.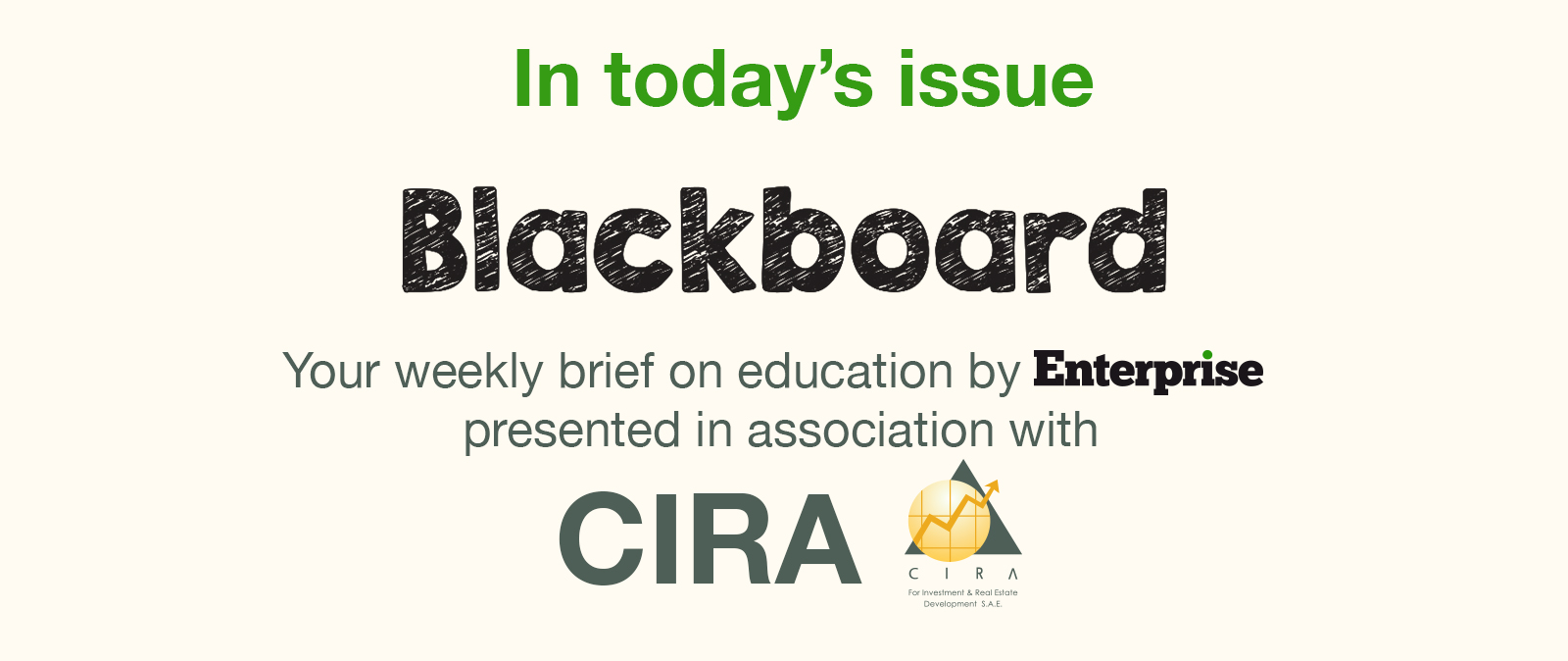 *** It's Blackboard day: We have our weekly look at the business of education in Egypt, from pre-K through the highest reaches of higher ed.
In today's issue: We discuss how the education sector is surviving a tougher economy in part two of our sit-down with Mohamed El Kalla, CEO of CIRA Education.