Sunday, 27 November 2022
THIS MORNING: The Enterprise CEO poll on FDI and exports + Our commodities exchange launches today
Good morning, friends, and welcome to what we think is going to be a very busy week for the business community and policymakers alike as the sprint to the year-end holiday season begins.
As we all look ahead to 2023, we're more convinced than ever that FDI and exports need to be at the heart of our nation's economic growth strategy. A little over a month ago, we published a five-step recipe that has the power to transform Egypt into a major global export hub by integrating us with the supply chains of major industries and selling into a once-in-a-lifetime energy opportunity. Doing so will also turn us into a magnet for foreign direct investment — not hot money that leaves the moment it smells risk or an extra 50 bps of return, but long-term capital that creates jobs and brings with it global know-how.
We then held an invite-only breakfast for 20 top CEOs to talk through our plan — and to a person, they believe it is the way forward. Why? Because it is both focused and commonsense:
Set an audacious long-term goal — USD 50 bn worth of FDI in the 12 months ending June 2033.
Choose five champion industries. Ultimately, it may have to be more: Five with potential today, five with potential a decade from now. But the point is that it is focused and unchanging.
Make it really, really easy to do business in Egypt. Digitize everything and accept no excuses.
Build an independent investment promotion agency like the one that has been so incredibly successful in India.
Stay focused: Back the plan, the champion industries, and the agency for the long term — no matter who whines.
This morning, we're kicking off a series that will run through December. In this CEO poll on FDI and exports, we asked each top exec two simple questions: If you could pick just one champion industry, what would it be? And why do you think FDI and exports are the way forward?
SPEAKING TODAY: GSK General Manager Mohamed El Dababy, at the head of our news well, below.
WE'RE NOT THE ONLY ONES WITH FDI ON THE BRAIN- The Senate is back in session today and its financial and economic affairs committee will discuss a report by the pro-government Mostaqbal Watan party that aims to overhaul how we approach FDI. The 190-page report focuses on ways to attract more FDI to six key industries, including agriculture, construction, industry, tourism, transport and oil and natural gas. We're not saying we necessarily agree with the full list, but the key here, friends, is that it is focused.
MEANWHILE- We're in the countdown stage for the Enterprise Climate X Forum with just nine days to go before we meet with some of you in Cairo at the Grand Egyptian Museum on Tuesday, 6 December 2022. Invitations are out, and judging by the emails we've gotten, it sounds like some of you're as excited as we are.
*** YOU MUST REGISTER TO ATTEND by clicking the link on your registration email. Attendance is by invitation only and your invite is personalized. You will require a special QR code to gain access to the GEM on event day — we'll be sending them out at the end of the week.
Have you not received an invitation? If you're a C-suite exec, business owner, climate professional, DFI staff, investor, or senior banker, please email us at climatexrsvp@enterprisemea.com to signal your interest, letting us know your name, title, and where you work. You can learn more on our conference website here.
The agenda: We get underway with a networking breakfast at 8am CLT. Then we jump right in with live interviews and panels made up of CEOs, execs, bankers, and development finance folks, who will mull over a variety of topics, including:
Is there truly a business case for green hydrogen in Egypt?
What policies, regulation and legislation should the government be looking at to drive investment in the green economy?
Practical advice from industry insiders on how to get your climate-focused business started.
How do we finance our green transition?
How startups and VCs are embracing the green economy.
---
HAPPENING TODAY-
The Egyptian Mercantile Exchange (EMX) goes live today. Egypt has registered 40 mills ahead of the commodity exchange going live today, Ibrahim Ashmawy, the head of the Supply MInistry's Internal Trade Development Authority (ITDA), told Reuters. Wheat specifications and quantities that would be traded will be made public immediately before first trades. Ashmawy said that oil, sugar and rice trading under the EMX would follow later.
Russian wheat will be traded on the exchange today, Ashmawy, who is also chairman of the EMX, told Ala Mas'ouleety (watch, runtime: 5:09). State grains buyer GASC will sell the wheat to private mills in an auction lasting from 2pm until 4pm CLT he said, with contracts awarded to bidders at 5pm. Big ambitions: The EMX could be the biggest commodities exchange in the region within a year or two, Ashmawy added, (watch, runtime: 3:06).
Speaking of commodities: Rice producers, sellers and distributors now have until Sunday, 4 December to notify the Supply Ministry of what they've stockpiled and where they're keeping it, according to a statement by the Supply Ministry. Rice has been designated as a "strategic commodity" for at least three months under efforts to deter traders who try to exploit the opportunity to hoard rice amid a global shortage of commodities. The 4 December deadline is a one-week extension.
---
ALSO- The Senate is back from a two-week recess and is expected to discuss legislation aimed at accelerating the reconciliation process for illegal buildings. The bill, which is designed to make it easier for owners of unlicensed buildings to go legit, is expected to get a signoff by Senators.
In the House of Representatives, the Economic Committee will reopen debate today of amendments to the Competition Act. Today's session comes just days after Mahmoud Momtaz, the head of the Egyptian Competition Authority (ECA), answered questions from the committee on whether legislation needs to be amended to improve competitive neutrality.
WHY IT MATTERS- Amendments to the existing law, which have been up in the air since last year, would among other things give the ECA more power to regulate M&A. The House discussed the amendments extensively with members of the business and legal communities during the last legislative session, but failed to reach common ground on a handful of contentious articles.
WATCH THIS SPACE-
#1: Egypt will announce its green hydrogen strategy by the end of the year, Electricity Minister Mohamed Shaker said. Shaker reviewed with PM Moustafa Madbouly the long list of new renewable energy and green hydrogen agreements inked at COP27, which together could bring up to USD 119 bn in fresh investment. We had been expecting the hydrogen strategy to be unveiled at COP.
#2: More grist for the PIF-Egyptalum rumor mill: EGX-listed Egypt Aluminum (EgyptAlum) could appoint an independent financial advisor to determine its fair value ahead of a potential acquisition by Saudi Arabia's sovereign wealth fund, Al Borsa reports, citing sources it says are in the know. The fair value study could be finalized within weeks, with an approval by the Financial Regulatory Authority on the acquisition by Saudi Arabia's Public Investment Fund (PIF) expected before the end of the year, the sources are cited as saying.
BACKGROUND- Local media has previously reported that the PIF is looking to take a position in EgyptAlum's capital increase, which is set to help finance a USD 300 mn overhaul of the company. Then-public enterprises minister Hisham Tawfik said in May that the state could sell a 20-25% stake in the company to an unnamed Arab sovereign fund.
#3- EGX boss Ramy El Dokany said the program to offer stakes in state-owned firms should be "activated quickly" to take advantage of improving conditions on the EGX, according to a Finance Ministry statement. El Dokany made the comment in a meeting with Finance Minister Mohamed Maait and officials from the Muscat stock exchange to drum up Omani investment. The EGX30 is now up 7.0% year-to-date in the wake of the float of the EGP.
#4- The company running the new New Administrative Capital could float units on the EGX, Chairman Khalid Abbass said. The company is looking to get more Gulf real estate developers to invest in the new capital and it has plans to start selling plots for phase two of the city by 2H 2023, Abbass added.
WORLD CUP UPDATE-
It's day eight of the World Cup: Teams in Group E and F face off today (all times CLT):
Japan v Costa Rica (12pm)
Belgium v Morocco (3pm)
Croatia v Canada (6pm)
Spain v Germany (9pm)
France is through to knockouts, and it's goodbye to Qatar. Defending champion France became the first to reach the FIFA World Cup knockout stage on Saturday, sealing a 2-1 victory against Denmark thanks to a late goal from the magnificent Kylian Mbappe. Host Qatar will be the first team to bid farewell to the tournament after losing 1-3 to Senegal on Friday in a second straight defeat. The host country plays one more match on Tuesday, taking on the Netherlands.
Elsewhere, Lionel Messi saved Argentina's World Cup dream yesterday, helping secure a 2-0 victory against Mexico. Poland now leads Group C with 4 points, after beating Saudi Arabia 2-0 yesterday despite a notable performance by the Saudis. Tunisia lost 0-1 against Australia yesterday in Group D, putting its chances to qualify in jeopardy. The Tunisian team will have to beat France to have any chance of qualifying to the knockout stages.
World Cup drama spills off the pitch and onto the business pages: Qatar is reportedly "reviewing their current and future investments" in London, after the city's public transport authority banned adverts by the Gulf country amid criticism of its human rights record, the Financial Times reports. Qatar is "considering investment opportunities in other UK cities and home nations" after taking the ban as "a message from the mayor's office that Qatari business is not welcome in London," the FT quotes a Qatari source as saying.
No plans after Qatar? Come pay us a visit. The Tourism Ministry has launched a promotional campaign letting holders of the Hayya card — Qatar's entry permit for World Cup attendees — know that they can use the card to enter Egypt and get offers on tourist activities (watch, runtime: 0:15.)
CIRCLE YOUR CALENDAR-
Payment and fintech conference Pafix will be held as part of Cairo ICT 2022 from today until Wednesday at the Egypt International Exhibition Centre in New Cairo.
The US and Russia will hold nuclear talks in Cairo this week: Washington and Moscow will discuss resuming mutual nuclear inspections during week-long talks from Tuesday, 29 November through to 6 December, Russian Deputy Foreign Minister Sergei Ryabkov said, according to CNN.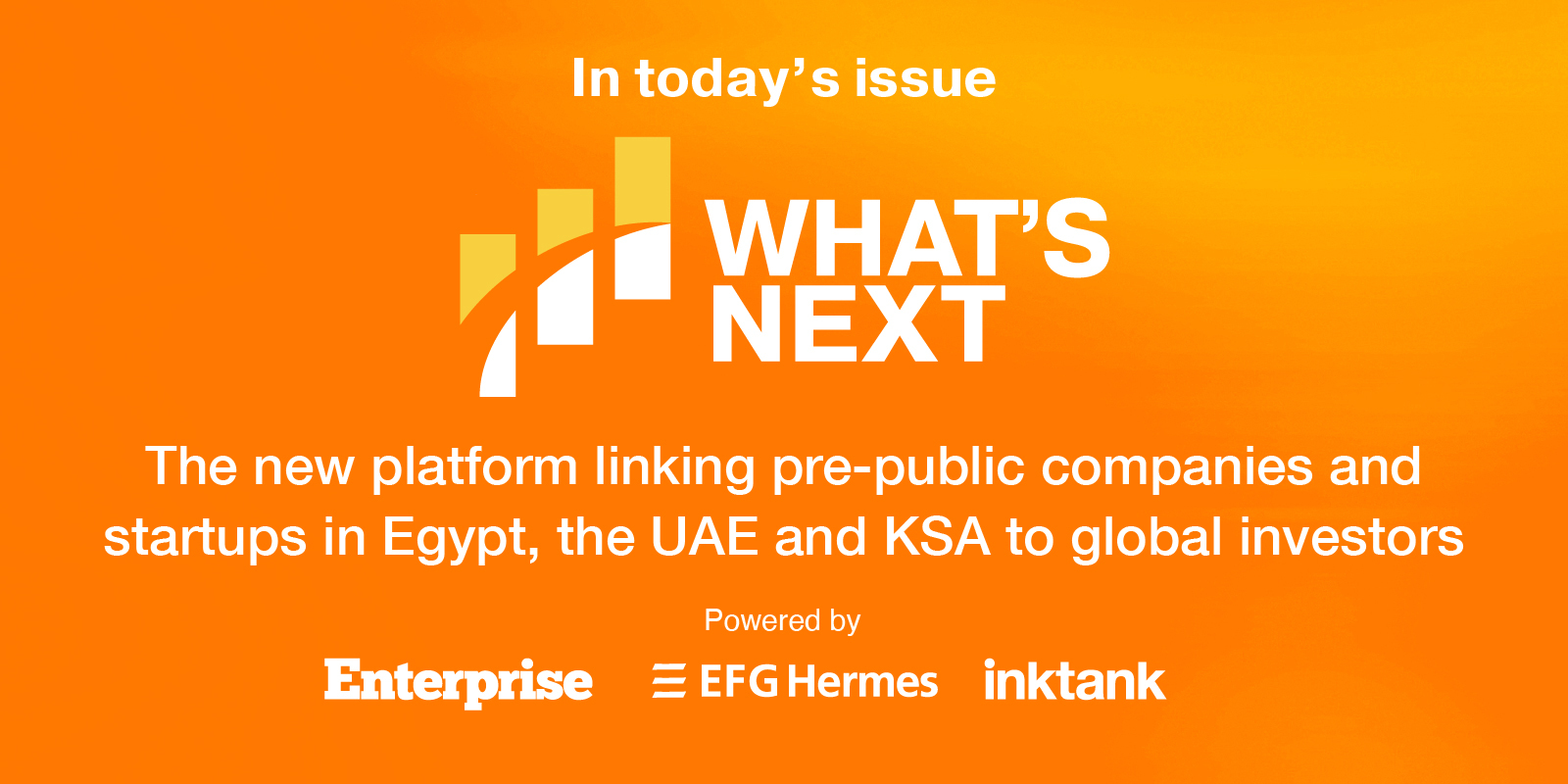 *** It's What's Next day: We have our weekly deep-dive into what makes and shapes pre-listed companies and startups in Egypt, the UAE and KSA, touching on investment trends, future sector insights and growth journeys.