Wednesday, 16 November 2022
THIS MORNING: There are only three days left of COP27. Or are there?
Good morning, wonderful people. Climate is again the big story of the day, as you might expect with just three days of COP27 left to go.
BUT, BUT, BUT… There's an outside chance that delegates could be staying in Sharm El Sheikh past Friday in a bid to reach an agreement. That was from COP27 President Sameh Shoukry yesterday, who said that the summit could go on longer than planned if talks drag on. Shoukry expressed optimism that countries would come together and agree on a collective way forward on divisive topics including finance from rich nations for climate-related loss and damage. Enterprise Climate has more on the story.
Today is biodiversity day in Sharm, with sessions focusing on the impact of climate change on oceans, endangered species, and coral reefs.
Highlights from Sharm yesterday:
ALSO- Egypt will launch its voluntary carbon market through an alliance between the Sovereign Fund of Egypt and the private sector, according to Planning Minister Hala El Said (watch, runtime: 13:54).
BIG CLIMATE NEWS OVERNIGHT- The US and Indonesia have reached the world's largest-ever agreement on climate finance, with Washington set to provide up to USD 20 bn in funding to help Indonesia curb emissions, Bloomberg reports.
The G20 summit wraps: G20 leaders are in Indonesia for the 2022 summit which wraps up in Bali today. On the agenda: everything from Ukraine and the global economy to ongoing climate talks and food and energy security.
China says it supports giving the AU a seat at the G20: China's President Xi Jinping told leaders of the world's top 20 economies that the African Union should be allowed to join the group in a speech, Xinhua reports.
---
PSA #1- The government has launched its "Sayarat masryeen bel khareg" (Egyptian Cars from Abroad) mobile app, which helps expats apply to the car import scheme. The app automatically calculates the required USD payment for expats based on the car model they choose to import. Get it here: App Store | Google Play.
---
THE BIG STORIES ABROAD-
Trump 2024: The Donald will run for the Republican nomination for the 2024 presidential election. About an hour before we hit send on this morning's issue, Trump announced his presidential campaign in a speech to supporters at Mar-A-Lago, pledging to "make America great and glorious again." Before the rally, aides to the former president submitted paperwork declaring his candidacy. Trump's early entry into the race comes a week after the Republican Party's disappointing results in the midterm elections, which saw many MAGA candidates defeated by the Democrats. (Reuters | Bloomberg)
Joe Biden held an emergency meeting of Nato, G7 after a Russian-made missile struck a village in Poland, killing two people. The US leader said it was "unlikely" that it was fired from Russia while Moscow called it a "deliberate provocation aimed at escalation." Washington has promised to stand by Poland as its investigation continues. (AP | WSJ | NYT | Reuters | Bloomberg).
MARKET WATCH-
An end to jumbo rate hikes in sight? Analysts are penciling in smaller rate hikes from the world's major central banks over the coming months, as inflation begins to slow in many parts of the world while the risk of recession ramps up, the Financial Times reports. Capital Economics now sees most of the 20 central banks it tracks — including the US Federal Reserve, the European Central Bank and the Bank of England — going for 25-50 bps rate hikes during their next meetings. Fed Vice Chair Lael Brainard has already signaled that the Fed will likely go for a 50 bps hike during its next 13-14 December meeting, following data published last week that showed inflation slowing faster than anticipated. Many central banks have gone for multiple 75 bps rate hikes — their biggest in decades — over the past year in a bid to tame inflation.
Good news for global grain prices: Odds are Russia will greenlight the extension of the UN- and Turkey-brokered pact to allow the export Ukrainian grain through the Black Sea amid the Russia-Ukraine war, Bloomberg reports, citing four sources it says are close to the matter. The agreement — which was briefly halted by Russia earlier this month following a drone attack on its Black Sea fleet — is set to expire on Saturday, 19 November. Chicago wheat futures fell as much as 2.1% during yesterday's trading on the news.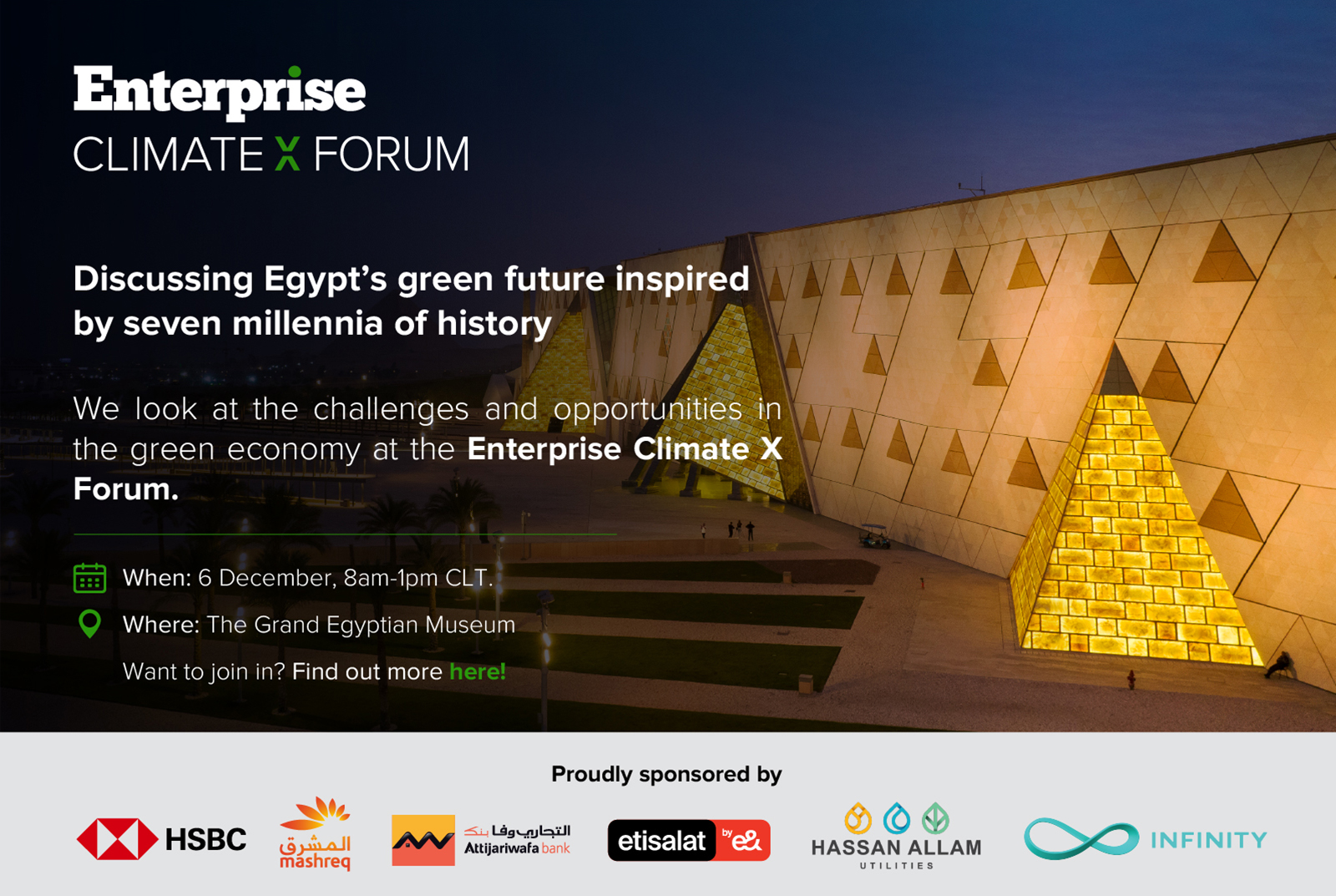 ** TAP HERE OR CLICK THE IMAGE ABOVE to learn more about the Enterprise Climate X Forum, our 6 December event at the Grand Egyptian Museum. Interested in attending? Drop us an email at climatexrsvp@enterprisemea.com.
???? CIRCLE YOUR CALENDAR-
PSA #2- If you're self-employed, you have to register in the Tax Authority's e-invoice system by 15 December. This includes self-employed doctors, engineers, lawyers, and artists, the Egyptian Tax Authority said in a statement. Only e-invoices will be considered for VAT deduction or refunds as of 1 April, 2023.
What e-invoicing system? In late 2020, the Tax Authority launched a pilot program for B2B e-invoicing with 134 companies, before expanding the system to all large taxpayers in July 2021. All B2B and B2C invoices across the country should be fully automated by December. We have a primer on the system, its purpose, the timeline of implementation along with a list of phase one companies here.
PSA #3 Good news for Upper Egypt startups: Applications for a Uplift4UpperEgypt — startup program run by Orascom's Gemini Enterprises Africa, in partnership with the Sawiris Foundation, aimed at businesses in Upper Egypt, will open on 17 November, according to Al Mal.
Check out our full calendar on the web for a comprehensive listing of upcoming news events, national holidays and news triggers.