Sunday, 30 October 2022
THIS MORNING: Russia bails on Ukraine grain pact following Crimea drone attack
Good morning, wonderful people. We hope the weekend was good to you — and that you've had plenty of time to digest the float of the EGP and rate hike at the same time as you put your your Halloween decorations.
Our special issue of EnterprisePM had the rundown on everything you need to know. Tap or click here to give it a read or head below to the start of the news well for the Cliff's / York / Coles notes version, to which we've added some analyst feedback from over the weekend.
THE QUESTION OF THE MORNING: Where will the EGP settle? It closed at 23.03 to the greenback on Thursday, fractionally higher than most bankers we spoke with early in the day had expected — and higher than our Fall 2022 Reader Survey and most analysts had predicted just a few short weeks ago.
About 10x more FX changed hands in the interbank market on Thursday than usual, we're told, suggesting that 23.03 likely not far off the market-clearing price that finds sellers willing to sell and buyers happy to buy.
Let the price gouging begin? Some companies are already re-pricing goods — and more than a few of them are being greedy. Don't be greedy, warns Prime Minister Moustafa Madbouly, particularly when it comes to imported commodities. Madbouly told a meeting of the nation's 27 governors this weekend that folks hoarding, price gouging or trying to corner the market on a given commodity would face "harsh penalties." We have that and more in Last Night's Talk Shows, below.
The bottom line: Hassan Abdalla's medicine was just what the doctor ordered. While he'll be busy in the weeks and months to come, the ball is now in Cabinet's court to push ahead with the policy reforms necessary to ensure that we don't wind up in the same position two or three or five years down the road.
A good starting point? Building an economy based on exports and FDI.
UPCOMING NEWS TRIGGERS-
It's almost at the start of a new month- The key news triggers as we slide towards November:
PMI: We'll know how Egypt's private sector fared in October on Wednesday when S&P Global releases the purchasing managers' index. A 22-month contraction in private sector activity didn't show signs of abating in September as high inflation continued to weigh on demand and output.
Foreign reserves figures for October will be released next week.
Inflation: Capmas and the central bank will release October's inflation figures on Thursday, 10 November.
And, of course, COP27 starts just one week from today in Sharm El Sheikh. Big days to look out for include:
World leaders' summit: November 7-8 (tons of details here)
Finance day: November 9
Decarbonization day: November 11
Adaptation and agriculture day: November 12
Water day: November 14
Energy day: November 15
A fairly detailed schedule is online here and available for download as a .pdf here.
PSA #3: Heading to COP27? The app is now available for download from the App Store as well as from the Google Play Store.
HAPPENING TODAY-
The Senate is back in session today: Senators are returning from a two-week holiday to discuss and vote on legislative amendments that would tighten controls on telecom equipment considered a threat to national security. Changes to the 2003 Telecommunications Act would ban the possession, import and manufacture of certain types of equipment without a license. Lawmakers have not publicly announced what types of equipment would be banned by the legislation — those details are quite likely to be left to the executive regulations of the act, which must be made public six months after the bill is signed into law by the president.
Egypt Energy opens its doors today: The three-day energy conference brings together policymakers and business leaders from the regional energy sector to discuss topics including power generation, clean energy, and PPP and foreign investment. The event is taking place at the Egypt International Exhibition Center and runs through Tuesday.
PSA #1- Clocks shifted back an hour in the UK this weekend, so London is now two hours behind Cairo. Areas of the United States and Canada will follow suit next weekend. Egypt dumped daylight saving time back in 2016, with the peak of DST madness having come in 2014, when clocks changed four times in one year (forward in spring, back for Ramadan, forward again after Ramdan, and then back in fall at the end of DST).
PSA #2- We don't expect a re-run of Thursday's rain anytime soon. Our favorite weather app shows nothing but clear skies (with cloudy periods) for the next 10 days. Look for daytime highs this week of 25-27°C and overnight lows of 14-15°C.
LATER THIS WEEK-
Importers, exporters and customs agents have two days left to register to join the Finance Ministry's digital customs system Nafeza before they can no longer clear goods out of customs at seaports. (Statement | Al Mal)
The Federal Reserve will hold its penultimate policy meeting of 2022 on Tuesday and Wednesday: The folks over at the Fed aren't expected to take their feet off the gas when they meet this week to review interest rates. The market is pricing in a fourth consecutive 75-bps rate hike on the back of another disappointing inflation release which showed core inflation reaching a new 40-year high in September despite the central bank embarking on its most aggressive tightening cycle in decades. And in reports yesterday, two other indexes closely watched by the Fed provided additional evidence that inflationary pressures continued unabated in September.
How high? Economists surveyed by Bloomberg now see the Fed pushing interest rates up to 5% by March 2023 — a level which would likely push the US and the global economy into recession. The central bank has jacked up the Fed Funds Rate by 300 bps since March, and an additional 75-bps hike on Wednesday will raise the target range to 3.75-4% — its highest level since early 2008.
COUNTDOWN TO COP (7 days to go)-
Egypt has some sort of climate initiative in the making: Egypt will unveil an initiative to confront climate change during COP27, Foreign Minister Sameh Shoukry told Al Arabiya (watch, runtime: 27:48), without giving any details. He added that the state is revising its national plan to reduce emissions.
Protests welcome at COP: Egypt will allow environmental activists to protest near the conference hall and their voices to be heard, Shoukry said. Activists will have a designated area across the street from where COP will be taking place, he said.
We'll definitely be seeing Biden at COP27… US President Joe Biden will be heading to Egypt next week to attend COP27 on 11 November, White House spokesperson Karine Jean-Pierre confirmed Thursday.
…but No King Charles or Sunak: The UK government has confirmed that King Charles will not make an appearance at COP. Also not making the trip is new UK Prime Minister Rishi Sunak who reportedly has "other pressing domestic commitments."
Our friends at Hassan Allam Holding have signed up as a provider sponsor at COP27, the company said in a statement (pdf).
THE BIG STORY ABROAD- That Turkey-brokered wheat pact is dead. The world could be heading back to the bad old days of pre-23 July wheat shortages after Russia yesterday withdrew from the landmark UN-brokered wheat pact that allowed Ukraine to resume exporting grain via the Black Sea. In a statement yesterday, the Russian Defense Ministry announced it would be suspending its participating in the agreement following what it said was a "terrorist" drone attack by Ukraine on its Black Sea naval fleet in Sevastopol, Russian news agency TASS reported. The agreement, signed at the end of July, has allowed Ukraine to export more than 9 mn tons of grain around the world, helping to ease a global food supply crisis triggered by the war in Ukraine. The story is everywhere, including the Associated Press | Reuters | Bloomberg | Financial Times | WSJ | CNBC.
Also getting a lot of attention this morning: At least 149 people celebrating Halloween in Seoul were killed in a stampede yesterday. Some 150 others were injured in the crush, with many in critical condition. The exact cause of the incident remains unknown. The AP | Reuters | CNN | and Washington Post have the story.
BRIEFLY NOTED-
DATA POINT- Suez Canal revenues rose 27% y-o-y in October, clocking in at USD 703.4 mn compared to USD 552.9 mn in October 2021, the canal's chairman Osama Rabie said Friday.
Al Ahly claimed the Egyptian Super Cup on Thursday beating Zamalek 2-0 in Abu Dhabi to deny their cross-town rivals the treble. This marks the club's 12th Super Cup title, and comes just a couple of months after suffering a 2-1 defeat to Zamalek in the Egypt Cup final.
IN MEMORIAM- Bahaa Taher, the Egyptian author and recipeint of the first iteration of the Arabic Booker prize, passed away Thursday at the age of 87 after a long battle with illness, according to the State Information Service. The acclaimed author is best known for his novel Sunset Oasis, which won the inaugural International Prize for Arabic Fiction in 2008.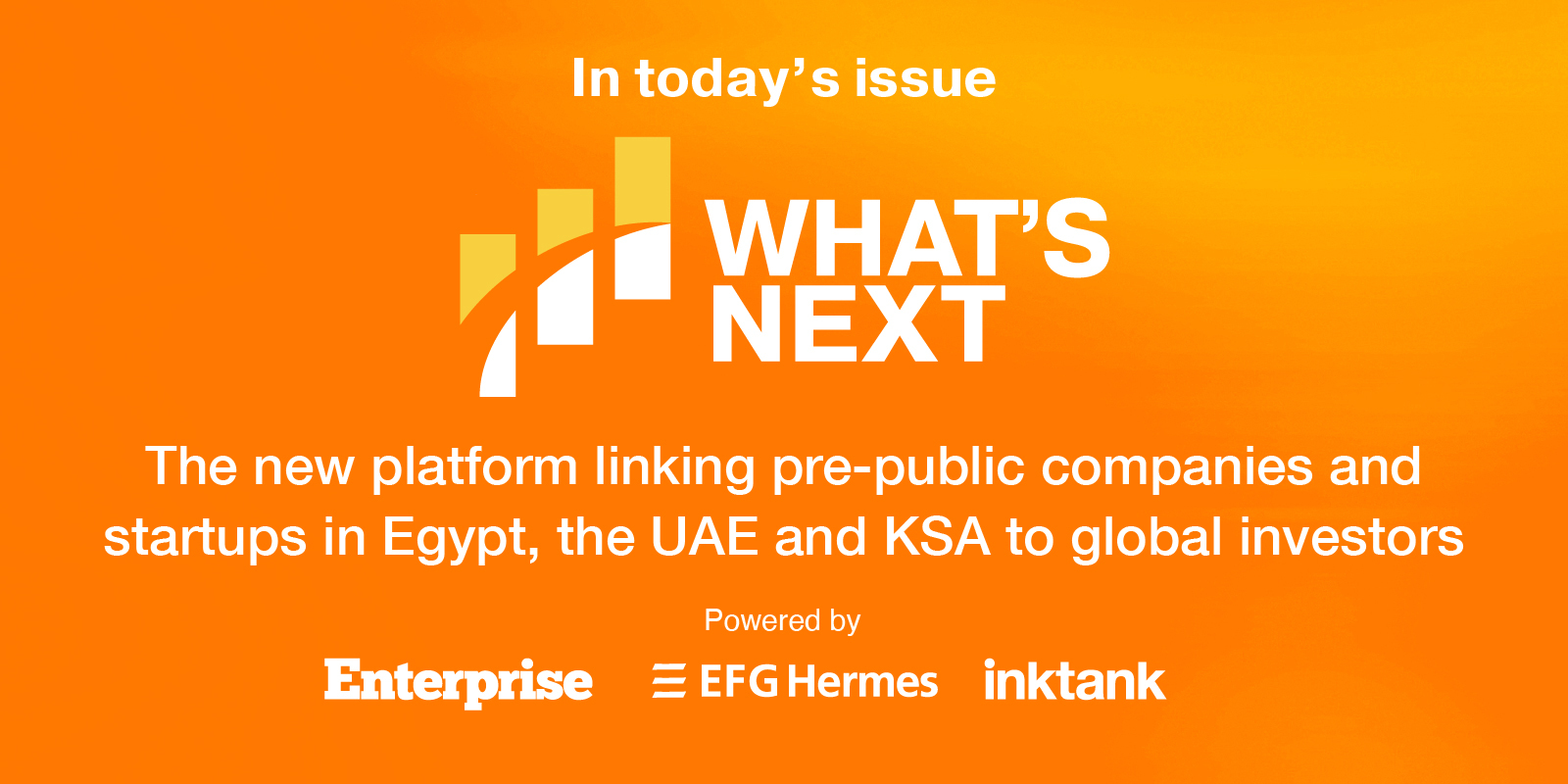 *** It's What's Next day: We have our weekly deep-dive into what makes and shapes pre-listed companies and startups in Egypt, the UAE and KSA, touching on investment trends, future sector insights and growth journeys.
In today's issue: We sit down with angel investor Biola Alabi who recently joined Cairo Angels Syndicate Fund as a venture partner to talk about the African startup scene, collaboration between African VCs, access to capital on the continent, and the global VC funding squeeze.